MLB Picks Today | Odds, Expert Projections for Wednesday, June 7
Credit:
Getty Images. Pictured: Joey Wiemer, Elly De La Cruz, Carlos Correa
Welcome to Opening Pitch, my column that you'll find daily throughout the 2023 MLB season.
My goal for Opening Pitch is to highlight my top daily projection edges for MLB moneylines and totals, share my favorite bets and provide some betting notes and analysis, mainly as I react to opening and overnight lines while using my baseball betting model.
I will look to release a new version of Opening Pitch daily between midnight and 3 a.m. ET; after I enter my overnight bets in the Action Network App and update the MLB projections. Hopefully, you will use it as your morning betting guide to get ahead of the baseball markets.
You can find my projections for every MLB game in the Action App (on both the PRO Projections tab and the game pages) and our Projections Hub (which you can bookmark).
You can also shop for the best lines on our odds page.
Expert Picks for Wednesday, June 7
Seattle Mariners vs. San Diego Padres
George Kirby vs. Michael Wacha
First Pitch: 4:10 p.m. ET
These two teams generally project to play low-scoring games against one another. The Mariners and Padres rank in the bottom 10 among all offenses (tied with a 95 wRC+), and each has an above-average bullpen, including the Mariners' league-best 3.65 xFIP for their relievers. Both teams play above-average defense, too, ranking 5th (San Diego) and 14th (Seattle) in Defensive Runs Saved.
Among all 173 starting pitchers (min. 20 innings pitched) this season, George Kirby ranks sixth in Pitching+ (109), tied with Zack Wheeler and Gerrit Cole. Kirby rarely walks hitters (career 3.4% walk rate) and seemingly has command like a young Zack Greinke, but he also has above-average stuff and generates a ton of weak contact (3.22 xERA).
In that same group of 173 starters, Wacha ranks 54th in Pitching+ (102), thanks to excellent command (105 Location+) despite his below-average arsenal (90 Stuff+). I expect slight regression for Wacha (3.48 ERA, 4.22 xERA) — his BABIP (.272) and HR/FB rate (7.4%) should eventually move in line with his career averages (.297 and 12.7%, respectively).
Still, he has outperformed preseason expectations — after posting xERA marks of 4.56, 5.51, 4.54, 5.77, and 5.26 in the past five seasons — and I think he can continue to pitch toward the more optimistic of his projected ERA range (4.09 to 4.76) the rest of the way.
I projected the totals in this matchup at 3.83 for the first five innings (F5) and 7.18 for the full game.
Bet an F5 Under 4.5 to -128, and play a full game Under 8 to -121 or Under 7.5 to -103.
Minnesota Twins vs. Tampa Bay Rays
Pablo Lopez vs. Shawn Armstrong
First Pitch: 6:40 p.m. ET
Returning to that same list of 173 qualified starters (min 20 innings pitched) that I mentioned above, Pablo Lopez ranks fifth in Pitching+ (110) — one spot ahead of George Kirby — and behind the following four pitchers: Jacob deGrom (injured), Spencer Strider, Drew Rasmussen (injured), and Bryce Miller.
For comparison's sake, that puts Lopez in the top 3.5% of all starting pitchers this season; last year, he ranked 63rd out of 235 qualified starters in Pitching+ (102), in the top quartile of starters. After adding a sweeper to the mix, his Stuff+ has improved from 95 to 101, and Lopez's command had gone up a few points, too, leading to a career-best 22% strikeout minus walk rate or K-BB%.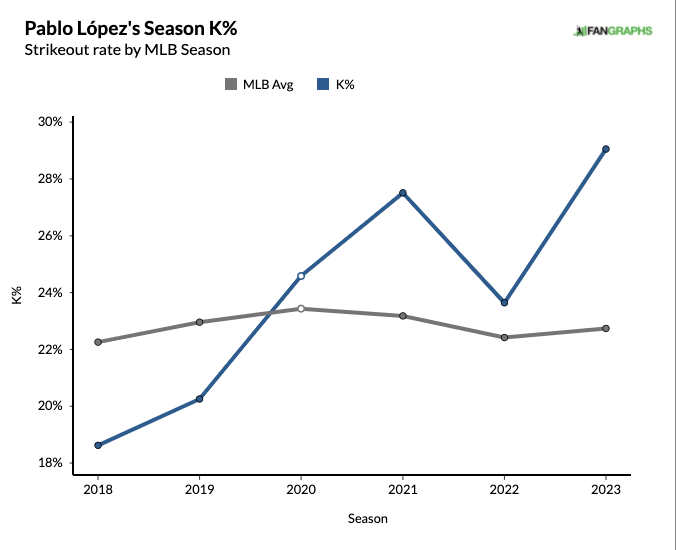 Still, Lopez has posted his worst results (4.54 ERA) since 2019, despite a slight improvement in his xERA (from 3.75 to 3.44) relative to last season. Based on his pitching model data, Lopez is closer to justifying a sub-three ERA rather than carrying a mark north of four.
If he continues to trust his new sweeper — particularly against righties while saving his changeup for lefties — I think Lopez's best results are ahead of him.
The Rays will utilize a bullpen game on Monday led by Shawn Armstrong, but I give the Twins the bullpen advantage in this matchup. Many pitching injuries have victimized Tampa Bay, and their league-best offense has disguised a significant drop-off in reliever quality. The Rays rank 29th in xFIP (4.82) and 29th in K-BB% (8.7%). Pitching models (97 Pitching+) rank them 28th.
Conversely, the Twins are third by bullpen Pitching+(104), they rank second in Stuff+ (113), and are around league-average by both FIP (4.16) and K-BB% (14.8%).
Despite a banged-up offense, you can bet the Twins down to +114 (46.8% implied odds) for Wednesday, at a two percent edge compared to my projection (48.8%, +105 implied)
Los Angeles Dodgers vs. Cincinnati Reds
Noah Syndergaard vs. Brandon Williamson
First Pitch: 7:10 p.m. ET
The fact that the Dodgers keep having to start Noah Syndergaard (5.44 xERA) says more about their pitching depth than it does about him. Thor is no longer mighty — his K-BB% has fallen near league average the past two seasons (11.4%), thanks to a consistently diminishing fastball velocity and strikeout rate.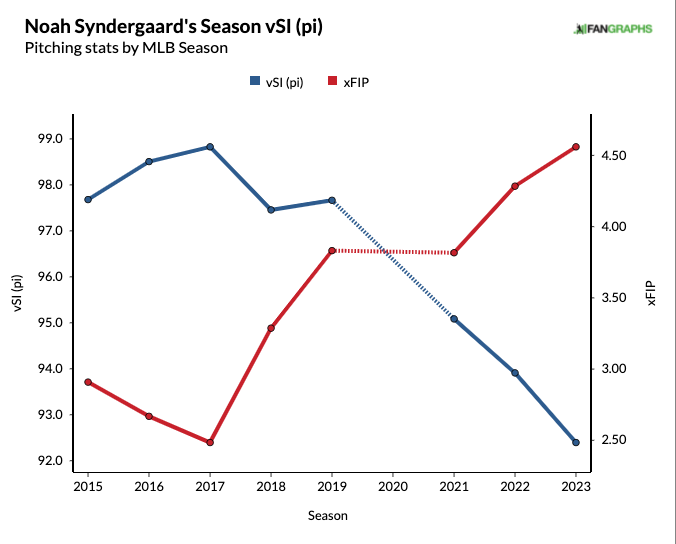 He has also been victimized by the new ruleset as much as any pitcher, permitting 16 steals on 17 attempts. Syndergaard never held runners well (permitted 185 steals on 207 attempts; 89.3% success rate), but he has allowed 0.3 props/stolen-bases">stolen bases per inning this season. He permitted 48 steals in 2016 (0.26 per inning) and 42 steals (on 45 attempts) in 2019 (0.21 per innings), but with the larger bases and the new disengagement rule, Syndergaard struggles with baserunners.
He's allowed a .797 OPS with the bases empty but a .928 OPS with runners on base, in addition to those consistent base advancements.
The first thing I did was look for odds on Elly De La Cruz to steal his first base at the MLB level (+350 at DraftKings). You can bet that line down to +300; he only needs to get on first base and not have someone standing on second — Syndergaard can't stop him if the opportunity arises. Look at some other Reds' stolen base props, too; they rank third in MLB, with 58 steals and 73 stolen base attempts this season.
And I also like the Reds, down to +145 F5 and +137 full game (projected +125).
Brandon Williamson (93 Stuff+ and 6.30 xERA through four starts) offers an extensive range of outcomes, but at a minimum, he forces the Dodgers' offense into their lesser split (120 wRC+, 1st vs. righties since the start of last season; 114 wRC+, 8th vs. lefties). Given Syndergaards' low floor, I have no issue backing Cincinnati.
Boston Red Sox vs. Cleveland Guardians
Kutter Crawford vs. Tanner Bibee
First Pitch: 7:10 p.m. ET
The Red Sox remain the best "Over" team in baseball, sitting at 35-24-2 (+$855 for a consistent $100 bettor; 14% ROI), including a 21-11-1 record at home, which encompasses the majority of their profit (14-13-1 on the road).
I'm betting Under 8 (to -111) for Wednesday's matchup, with cool temperatures for June (65 degrees at first pitch) and strong winds (12.6 mph) blowing in from left-center field.
On a weather-neutral day, I would set the same matchup closer to 8.3; but in Wednesday's conditions, I projected the total at 7.44.
I'm also high on Kutter Crawford (3.03 xERA), and pitching models (110 Stuff+, 103 Pitching+ as a starter) prefer him to Tanner Bibee (100 Stuff+, 101 Pitching+).
Bet Boston to +109 in the first half (F5), and +130 for the full game.
New York Mets vs. Atlanta Braves
Max Scherzer vs. Charlie Morton
First Pitch: 7:20 p.m. ET
Truist Park should see decent hitting weather on Wednesday; temperatures at 86 degrees at first pitch, with 9 mph winds blowing out to left center field.
Max Scherzer (3.31 xERA) has pitched exceptionally well in three starts (combined 20 IP, 14 H, 2 ER, 2 BB, 22 K) since missing a turn in the rotation and nearly going on the IL. I remain convinced that he had a cortisone injection — or some other sort of temporary procedure — that will give him short-term success but end up costing him.
Still, even in those past two outings, Scherzer has posted a 95 Stuff+ and 110 Location+, compared to 106 and 104 from last season or 110 and 104 during his time with the Dodgers in 2021. His fastball velocity (93.3 mph) is down a tick relative to last season, and it isn't easy to project Scherzer much better than his 3.31 xERA the rest of the way. Pitching Models would project his ERA closer to four.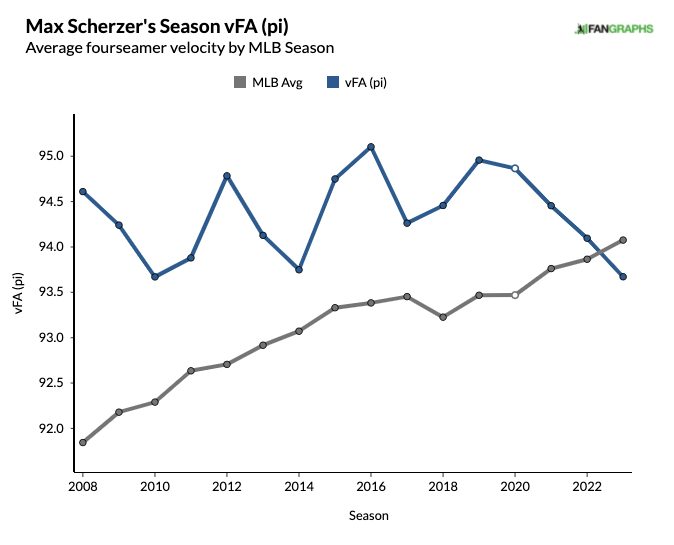 Charlie Morton also feels the effects of age — showing his worst K-BB% (16.1%) since 2016 before he joined the Astros. Morton showed skills slippage last season (4.11 xERA) after posting a sub-four expected mark for five consecutive seasons. The struggles have continued this year (4.33 xERA), and, as with Scherzer, it's difficult to project Morton as a much better arm than his expected ERA as he nears age 40.
With two potent offenses and a bottom-10 Mets bullpen, I set Wednesday's total at 9.44; bet Over 8.5 to -126, or Over 9 to -107.
Baltimore Orioles vs. Milwaukee Brewers
Dean Kremer vs. Corbin Burnes
First Pitch: 7:40 p.m. ET
While Corbin Burnes has experienced other skills slippage this season (K-BB% down from 30.4% in 2021 to 24.1% in 2022 and 13.1% in 2023), I still view him as a significantly better pitcher than Dean Kremer (6.38 xERA), despite comparable command (12.7% K-BB% for Kremer).
Returning to that same list of 173 qualified starters (min. 20 innings), Kremer ranks 92nd (100 Pitching+) while Burnes ranks 30th (104). His Stuff+ (119) has declined compared to last season (126) or 2021 (133), but Burnes' command (101 Location+) has stayed intact. And even though we have bet against him a few times, I think the adjustment to his ratings has gotten slightly disrespectful.
While their respective xFIP marks (4.40 for Burnes, 4.58 or Kremer) say they are comparable, the batted ball data sees nearly a two-run difference in their overall quality; Burnes allows significantly less hard contact and permits significantly more weak contact than Kremer.
Bet the Brewers to -143 for Wednesday, at roughly a two percent edge compared to my projection (-155). Play their F5 line up to -160 (projected -175)
Zerillo's Bets for Wednesday, June 7
For additional bet notifications, follow me in the Action Network App. 
Arizona Diamondbacks F5 (-115, 0.5u) at BetMGM (bet to -122)
Arizona Diamondbacks (-120, 0.5u) at WynnBet (bet to -123)
Boston Red Sox F5 (+115, 0.5u) at WynnBet (bet to +109)
Boston Red Sox (+130, 0.5u) at WynnBet (bet to +130)
Boston Red Sox / Cleveland Guardians, Under 8 (-110, 0.5u) at DraftKings (bet to -111)
Cincinnati Reds F5 (+145, 0.5u) at DraftKings (bet to +145)
Cincinnati Reds (+150, 0.5u) at WynnBet (bet to +137)
Elly De La Cruz, Over 0.5 Stolen Bases (+380, 0.25u) at DrafKings (bet to +300)
Los Angeles Angels F5 (-130, 0.5u) at WynnBet (be to -130)
Milwaukee Brewers F5 (-160, 0.5u) at WynnBet (bet to -160)
Milwaukee Brewers (-135, 0.5u) at DraftKings (bet to -143)
Minnesota Twins (+125, 0.5u) at WynnBet (bet to +114)
New York Yankees F5 (-110, 0.5u) at FanDuel (bet to -123)
New York Yankees (-125, 0.5u) at DraftKings (bet to -125)
San Francisco Giants / ColoradoRockies, Over 10.5 (-120, 0.5u) at DraftKings (bet to -123 or 11, -104)
Seattle Mariners / San Diego Padres, F5 Under 4.5 (-118, 0.5u) at FanDuel (bet to -128)
Seattle Mariners / San Diego Padres, Under 8 (-110, 0.5u) at DraftKings (bet to -121 or 7.5, -103)
How would you rate this article?
This site contains commercial content. We may be compensated for the links provided on this page. The content on this page is for informational purposes only. Action Network makes no representation or warranty as to the accuracy of the information given or the outcome of any game or event.