MLB Picks Monday | Odds Today, Expert Projections for May 15
Credit:
Getty Images. Pictured: Salvador Perez and Seiya Suzuki
Welcome to Opening Pitch, my column that you'll find daily throughout the 2023 MLB season.
My goal for Opening Pitch is to highlight my top daily projection edges for MLB moneylines and totals, share my favorite bets and provide some betting notes and analysis, mainly as I react to opening and overnight lines while using my baseball betting model.
I will look to release a new version of Opening Pitch daily between midnight and 3 a.m. ET; after I enter my overnight bets in the Action Network App and update the MLB projections. Hopefully, you will use it as your morning betting guide to get ahead of the baseball markets.
You can find my projections for every MLB game in the Action App (on both the PRO Projections tab and the game pages) and our Projections Hub (which you can bookmark).
You can also shop for the best lines on our odds page.
Expert Picks for Monday, May 15
Seattle Mariners vs. Boston Red Sox
George Kirby vs. Tanner Houck
First Pitch: 7:10 p.m. ET
The Boston Red Sox have been the best "Over" team in baseball this season, standing at 26-13-2 (15-7 at home, 11-6 on the road), even with a few early season games in the mixture with chilly northeast temperatures.
While I like both starting pitchers — George Kirby and Tanner Houck — both offenses are in their superior split on Monday. Per wRC+, the Red Sox rank third, and the Mariners 17th against right-handed pitching, compared to 16th and 27th against southpaws.
And we have decent hitting weather at Fenway Park: 70 degrees at first pitch, with 11 mph winds blowing out to right field.
I projected this total at 10; bet Over 9.5 to -110.
Chicago Cubs vs. Houston Astros
Jameson Taillon vs. Framber Valdez
First Pitch: 8:10 p.m. ET
Jameson Taillon has probably been the unluckiest pitcher in baseball this season. Through five starts, Chicago's offseason signing has a bloated 6.41 ERA, thanks to a .364 BABIP and a 56.5% strand rate, which should regress toward his career averages (.296 and 73.9%) or the major league average — which is essentially the same level.
Often, a pitcher can have a BABIP well off from the major league average, but the expected ERA (xERA) shows that it is justified because they are allowing a ton of hard contact.
That's not the case for Taillon, however. His xERA is 3.85, alongside a career-best strikeout rate and strikeout minus walk rate (K-BB%).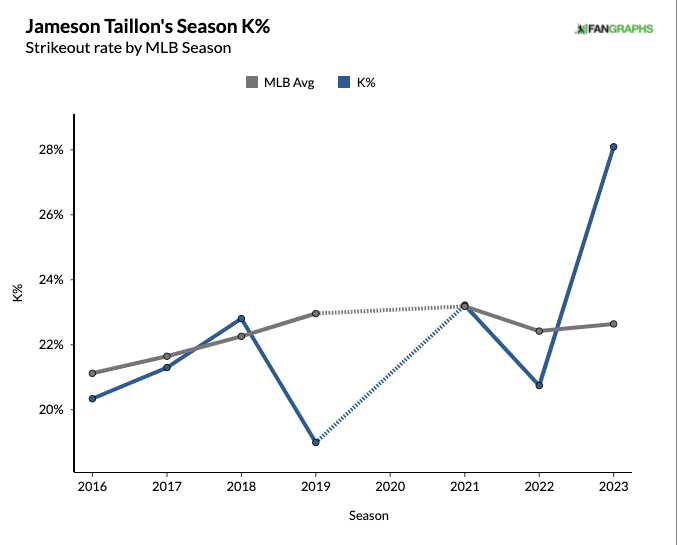 Additionally, the Cubs have the better offensive split on Monday, with a top-five offense against lefties, while the Astros rank 24th against righties (83 wRC+) — 17% below league average. The two teams rank 10th and 18th in their opposite split.
It's surprising to see Taillon so regularly victimized by his defense; the Cubs have a top-five defensive ranking after adding Danby Swanson and Cody Bellinger up the middle.
I projected the Cubs closer to +130 in either half. Bet their F5 (first five innings) moneyline to +139 and their full game line to +143.
Cincinnati Reds vs. Colorado Rockies
Hunter Greene vs. Connor Seabold
First Pitch: 8:40 p.m. ET
Much of Monday's total projection at Coors Field depends on your opinion of Connor Seabold, who has a 4.13 xERA in 23 2/3 innings this season between the bullpen and the rotation. Seabold posted a 5.60 xERA in five starts for the Red Sox last season.
Seabold's FIP projections (projected range 4.85 to 5.87) align with his career 5.48 xFIP. Still, the Rockies play solid defense (10th in Defensive Runs Saved), and the Reds (83 wRC+ vs. righties, 22nd) are a relatively soft matchup.
Similarly, the Rockies are an easy draw for Hunter Greene (81 wRC+), and he has to worry far less about defensive quality (Cincinnati ranks 27th) as more of a three-true outcomes pitcher.
While my projection aligns with the full game total, I set the F5 line at 5.76; bet F5 Under 6.5 to -130 or Under 6 to +105.
Kanas City Royals vs. San Diego Padres
Bryce Keller vs. Michael Wacha
First Pitch: 9:40 p.m. ET
I have mentioned Keller's constant tinkering throughout the season. To reiterate, the righty went to Driveline Baseball over the winter and emerged with a new pitch mix, swapping his four-seamer for a cutter, changing his slider to a sweeper, and adding a curveball.
In his first four starts of this season, Keller used that curveball nearly 30% of the time (40% cutter, 20% slider, 10% changeup). In his past four outings, Keller has gradually pulled back on his curveball usage (11.1% combined, 6.8% in his last start) while relying more on both his sweeper (30.3% combined; 49% in his last start) and changeup (13.8% combined).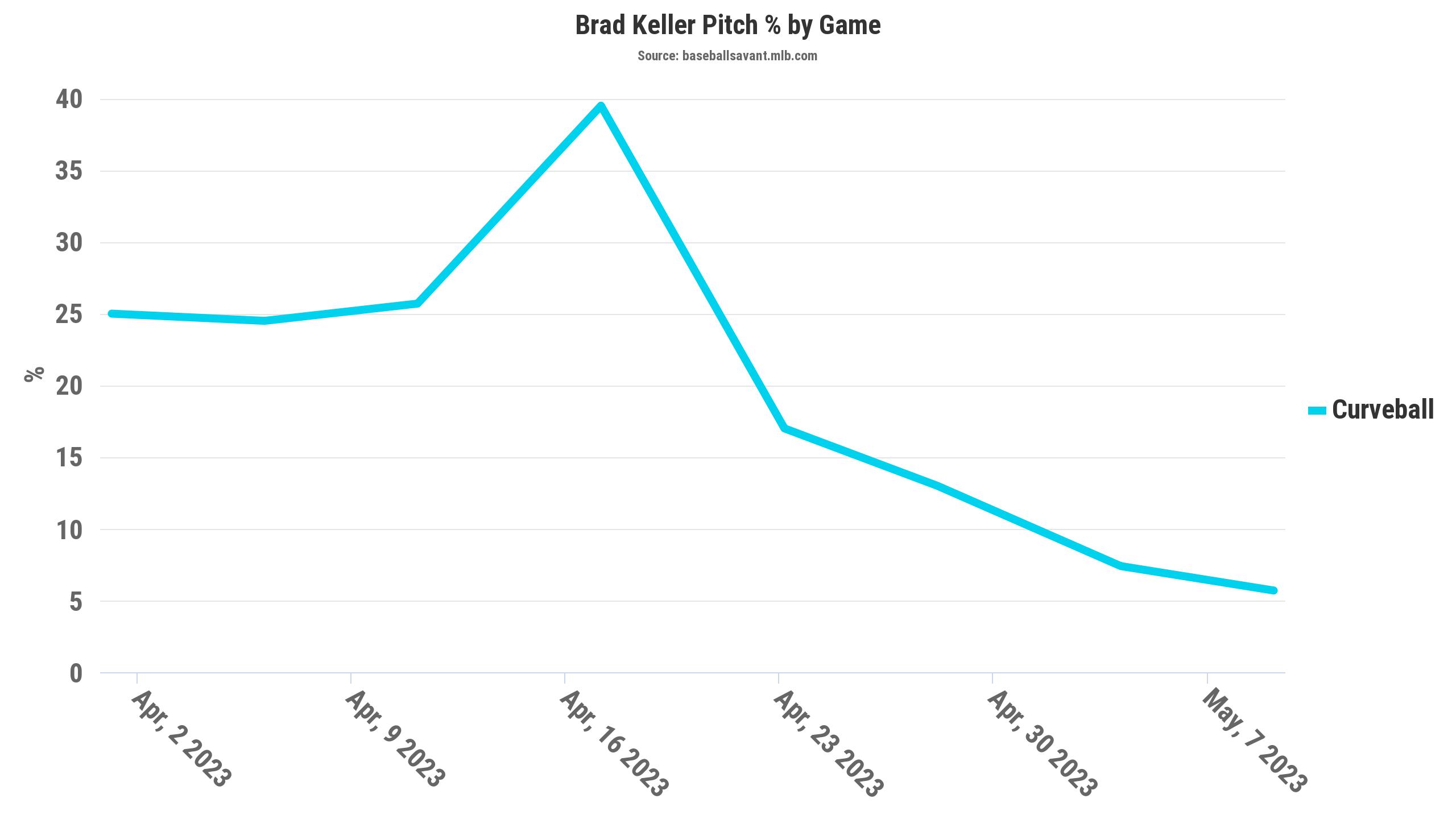 While he hasn't found the right mix yet — with a horrific 13:24 strikeout-to-walk ratio in his past five outings — I believe that Keller will find the right mix — and his peak form — at some point soon. And regardless of any anecdotal observations, projections don't see a significant difference between Keller and Michael Wacha; five different projection systems give the pair essentially the same FIP range (4.6 to 5.15) over the remainder of the 2023 season.
I projected the Royals around 40% in either half of this matchup; bet their F5 moneyline to +165 and their full game line to +172.
Philadelphia Phillies vs. San Francisco Giants
Bailey Falter vs. Alex Wood
First Pitch: 9:45 p.m. ET
The Giants and Phillies have ranked among the worst defensive teams in baseball in recent seasons. Per Defensive Runs Saved, the Phillies were 30th in 2021, the Giants overtook them in 2022, and both teams remain in the bottom 10 of the defensive rankings this season.
The Phillies figure to move further down the board at some point, too. Bryce Harper's return forces Kyle Schwarber or Nick Castellanos out of the DH spot and into a corner outfield position more regularly.
Poor defensive teams give opposing offenses additional outs to generate runs. And these teams have about-average offensive units, albeit in a lesser split against southpaw starters.
I am low on both pitchers, however. Bailey Falter and Alex Wood possess xERA marks in the high 4's over the past two seasons, on the borderline of the No. 5 starters and replacement-level pitchers.
I like the Over in both halves of this matchup, to 4.5 (-125) and 8.5 (-120), compared to my projections of 5.2 and 9.3.
Minnesota Twins vs. Los Angeles Dodgers
Pablo Lopez vs. Noah Syndergaard
First Pitch: 10:10 p.m. ET
While I am impressed by the new pitch mix and career-best strikeout rate (31.2%) for Pablo Lopez, his underlying metrics (3.38 xERA) are only about a quarter of a run better than in previous seasons, and he'll draw his most difficult matchup of the season so far on Monday against the Dodgers — the second-best offense (119 wRC+) against right-handed pitching.
I'm far less impressed by Noah Syndergaard (4.79 xERA), whose 64% strand rate could be more sustainable than you might think. Thor has already permitted nine steals this season, and since 2019 he has permitted more steals than any other pitcher, with a success rate north of 90%. Syndergaard has a 72.8% strand rate for his career – in line with the major league average.
However, since 2019 — when teams started running wild on him — his strand rate has dipped to 69.8%, since more runners are winding up on second base and in scoring position.
Surprisingly, the Twins have struggled on offense this season despite their bat collection. Still, they rank much better against righties (18th, 98 wrC+) than lefties (76 wRC+, 28th), putting both teams in their superior split against these starters.
While I don't see value on the full game total, I set the F5 number at 4.93; bet F5 Over 4.5 to -110.
Zerillo's Bets for Monday, May 15
For additional bet notifications, follow me in the Action Network App. 
Cincinnati Reds F5 (-125, 0.5u) at WynnBet (bet to -125)
Chicago Cubs F5 (+152, 0.5u) at FanDuelt (bet to +139)
Chicago Cubs (+160, 0.5u) at WynnBet (bet to +143)
Kansas City Royals F5 (+172, 0.5u) at WynnBet (bet to +165)
Kansas City Royals (+180, 0.5u) at WynnBet (bet to +172)
Kansas City Royals / San Diego Padres, Under 9 (-115, 0.5u) at DraftKings (bet to -115)
Minnesota Twins / Los Angeles Dodgers, F5 Over 4.5 (-106) at FanDuel (bet to -110)
Philadelphia Phillies / San Francisco Giants, F5 Over 4.5 (+100, 0.5u) at FanDuel (bet to -125)
Philadelphia Phillies / San Francisco Giants, Over 8.5 (-105, 0.5u) at DraftKings (bet to -120)
Seattle Mariners / Boston Red Sox, Over 9.5 (-105, 0.5u) at WynnBet (bet to -110)
Texas Rangers (+150, 0.5u) at WynnBet (bet to +149)
How would you rate this article?
This site contains commercial content. We may be compensated for the links provided on this page. The content on this page is for informational purposes only. Action Network makes no representation or warranty as to the accuracy of the information given or the outcome of any game or event.