MLB Picks, Predictions, Odds Today for Mets vs Brewers, More on Wednesday, April 5
Credit:
Jeffrey Phelps/MLB Photos via Getty Images. Pictured: Corbin Burnes and the Brewers.
Welcome to a new column I am doing this season where I break down my favorite bets from Wednesday's slate. It's the first full afternoon slate of the season with some fantastic pitching matchups, including Aaron Nola vs. Gerrit Cole and the Orioles highly touted prospect Grayson Rodriguez against Jacob deGrom.
Be sure to check out our MLB odds page for up-to-the-minute odds changes across multiple sportsbooks, and our projections page which helps you find the best value across the board.
---
Follow all of B.J. Cunningham's bets in the Action Network app! Click here.
---
Cubs vs. Reds, 12:35 p.m. ET
Marcus Stroman vs. Hunter Greene
I'm projecting a little bit of value on the Reds for the first five innings to open up Wednesday's slate. Marcus Stroman had a good start on Opening Day, going six scoreless innings, while also only giving up three hits. Marcus Stroman is a pitcher who has over performed for some time now:
| | | | |
| --- | --- | --- | --- |
| Year | ERA | xERA | xFIP |
| 2019 | 3.22 | 3.72 | 3.99 |
| 2021 | 3.02 | 4.30 | 3.57 |
| 2022 | 3.54 | 3.94 | 3.49 |
Data via FanGraphs
The thing with Stroman is that he has great stuff, but once hitters are able square him, they hit him hard.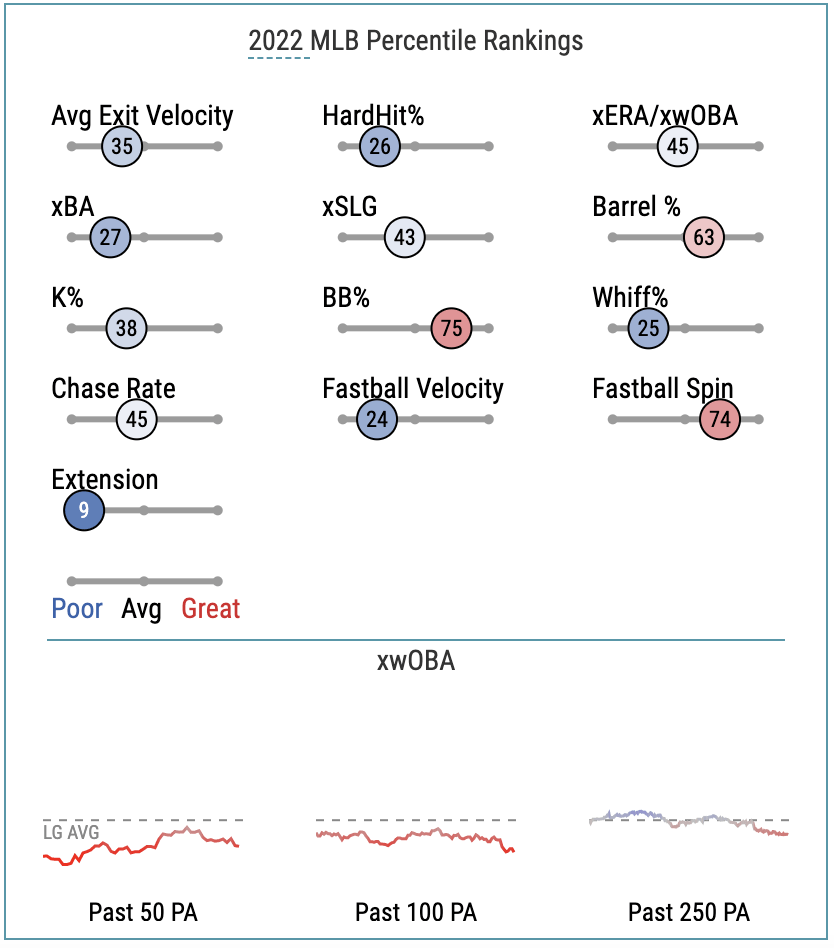 Image via baseballsavant.com
Stroman is a heavy sinker ball pitcher, going to it a little over 44% of the time and was decently effective with it in 2022 allowing a .240 xBA and .319 xwOBA. The problem in this matchup is the Reds crushed right-handed sinkers last season to the tune of a .283 xBA and +29.5 run value.
The Reds ace Hunter Greene will be on the mound after a poor Opening Day start against the Pirates. Greene has some of the best stuff in baseball, as his Stuff+ rating was 129,  the highest in the National League last season. He averaged 98.9 mph on his fastball in 2022 and on Opening Day he threw his fastball 57 times and averaged 100.4 mph.
His problem is controlling his stuff. His BB/9 rate was 3.44 in 2022 along with a 1.72 HR/9 rate. The Cubs were very average against right-handed fastballs last season and Greene shut them down in his final start of last season going six innings and giving up two hits.
I have Greene projected at -124 for the first five innings, so I like the value on -109, which is available at BetRivers.
Pick: Reds First Five Innings -109
Phillies vs. Yankees; 1:05 p.m. ET
Aaron Nola vs. Gerrit Cole
This is the best pitching matchup on the slate and one that I think favors a first five under.
Aaron Nola was incredible last season, posting a 2.74 xERA, a 10.32 K/9 rate with only a 1.27 BB/9 rate, that is insane control and stuff. It's no wonder he was 16th in Stuff+ and tops in Location+ with a rating of 109.
He has mainly a four-pitch arsenal of fastball, curveball, sinker and changeup. He was incredibly dominant with all four pitches, as all of them allowed an xwOBA under .285. His fastball produced a whiff rate of 24.2% and only allowed an xBA of .196.
Guess what? the Yankees actually weren't that great as a team against right-handed fastballs last year, as they had a -15.5 run value, .236 xBA, and a .319 xwOBA. Nola's curveball is unreal as well, as it also allowed an xBA under .200 and produced a whiff rate of 39.4%.
The Yankees had a .196 xBA against right-handed curveballs last season along with a -12.8 run value. So this is not a good matchup for New York's lineup.
Cole continues to be one of the best pitchers in baseball. He has gone five straight seasons now with an xERA below 3.4 and a K/9 rate above 11.5, which is elite level stuff.
Cole dominates with his fastball that averaged 97.8 mph in 2022. That level of average velocity produces a 28.9% whiff rate and allowed opposing hitters to only have a .299 xwOBA. He backs it up with a deadly slider that opposing hitters only had a .160 xBA against last season. It's no wonder he led MLB in Stuff+ with a rating of 130.
With these two starters on the mound in a chilly 48 degrees in New York City on Wednesday afternoon, I think we are in for a pitchers duel.
I only have 2.90 runs projected for the first five innings, so Under 3.5 runs at anything -125 or better is good enough for me.
Pick: First Five Innings Under 3.5 runs (-120) (BetMGM)
Pirates at Red Sox, 1:35 p.m. ET
Mitch Keller vs. Corey Kluber
Mitch Keller continues to show improvement year after year. He didn't have a great Opening Day start against the Reds, but going back to 2021, he was a 5.65 xERA pitcher, but in 2022 he lowered that to 4.23. How'd he do it? He started keeping the ball under the hitter's sweet spot. Just take a look at some of the differences between seasons:
| | | |
| --- | --- | --- |
| | 2021 | 2022 |
| Average Exit Velocity allowed | 91.5 mph | 87.9 mph |
| Sweet Spot % allowed | 40.1% | 33.3% |
| Hard Hit % allowed | 47.5% | 37.3% |
| Ground Ball Rate | 40.4% | 49.0% |
Data via FanGraphs & Baseball Savant
Keller is a heavy fastball pitcher, so a lot of the improvements you see above are due to improvements on his fastball. From 2021 to 2022 he lowered his xBA allowed from .313 to .269 and his xwOBA from .367 to .305. The Red Sox were very good against fastballs last season, ranking 13th in MLB, so Keller will have to be on his game.
Corey Kluber did not have a great start to his Red Sox career, but if you look through his last three seasons, although he's getting up there in age, his xERA has never been above 4.1. Last season, his control was impeccable, as his BB/9 rate was 1.15, which was one of the best marks in MLB.
He was also in the 75th percentile or above in average exit velocity and hard hit percentage allowed, per baseballsavant.com. The Pirates were one of the worst teams in MLB against right-handed hitting last season, putting up a measly .291 wOBA and 86 wRC+.
Most importantly, it's going to be cold in Boston on Wednesday with the game time temp sitting at 38 degrees with the wind blowing in from right field at 10+ mph.
I only have 8.2 runs projected for this game, so I like the value on Under 9.5 at -120 (DraftKings) and would play it down to -129 or Under 9 to -103.
Pick: Under 9.5 (-120)
Mets vs. Brewers, 1:35 p.m. ET
David Peterson vs. Corbin Burnes
Both the full game and first five lines are way too low for pitcher of the caliber of Corbin Burnes.
Yes, he wasn't very sharp on Opening Day, and he did regress in 2022 from his Cy Young season in 2021. However, he still had a 3.05 xERA, which was top 10 in MLB. He does it all by throwing a cutter over 50% of the time, but it's one of the most deadly pitches in baseball. In 2022, Burnes cutter allowed a .310 xwOBA and produced a whiff rate over 27%.
He backs it up with an almost unhittable curveball that had a whiff rate of 47.7% and opposing hitters only had a .118 xBA against it, per baseballsavant.com.
The Mets had a -9.3 run value and .220 xBA against right-handed cutters and curveballs last season, so this is not a great matchup for them.
David Peterson had a good first start of the season against the Marlins, but last season he was a 3.94 xERA pitcher, which is around the MLB average. He struggled with his fastball in 2022, which was his most thrown pitch, allowing a .254 xBA and .347 xwOBA. The Brewers were above average against left-handed fastballs last season with a +5.9 run value.
I have Burnes and the Brewers projected at -181 for the full game and -192 for the first five innings, so I am doubling up on Milwaukee's first five and full game moneyline.
Picks: Brewers First Five Innings -140 (FanDuel) & Full Game Moneyline -135 (DraftKings)
Orioles vs. Rangers, 1:35 p.m. ET
Grayson Rodriguez vs. Jacob deGrom
Welcome to the Grayson Rodriguez show. The Orioles have finally called up their first round pick from 2018 who dominated Triple-A last season with a 2.20 ERA.
Rodriguez has a really good four-pitch mix that projects him as a top-end starter in the big leagues. His fastball can touch triple digits and can also average 96 mph+ on it deep into starts. His changeup, though, is amazing. Scouts have described it as "a mid-80s off-speed pitch that he tunnels well off his fastball to create deception and hard, late life," per MLB.com.
He also has a slider with a ton of movement, so you can see why the Orioles are so high on him.
His composite projection going into this season is that of a 3.85 ERA pitcher.
He will be going up against one of the best pitchers in MLB in Jacob deGrom. Although he had a bad Opening Day start against the Phillies, deGrom's xERA for that start was 3.34 and his xFIP was 1.79, so no cause for concern. This is the same deGrom that over the second half of last season put up a 2.24 xERA an absurd 14.27 K/9 rate, and only had 1.12 BB/9 rate.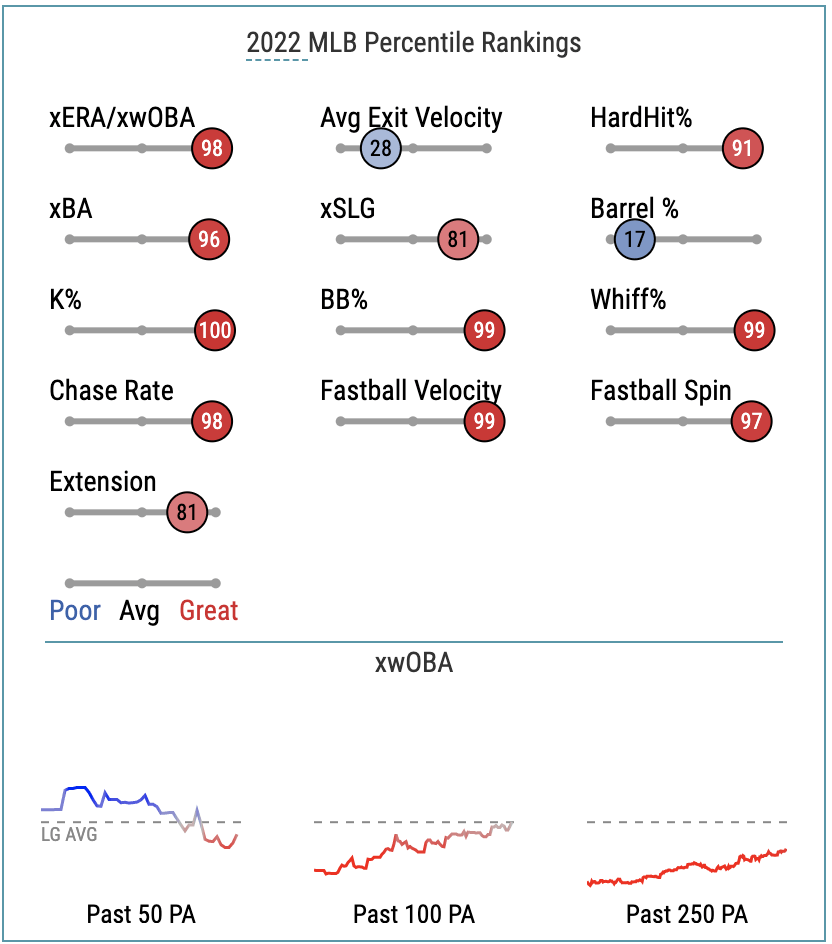 Image via baseballsavant.com
With these two starting pitchers on the mound, I think this is going to be a pitchers duel. I only have 3.1 runs projected for the first five innings, so I love the value on Under 4.5 runs at -125 (PointsBet) or Under 4 at anything -122 or better is also +EV.
Pick: First Five Innings Under 4.5 runs (-125)
How would you rate this article?
This site contains commercial content. We may be compensated for the links provided on this page. The content on this page is for informational purposes only. Action Network makes no representation or warranty as to the accuracy of the information given or the outcome of any game or event.