MLB Picks Today | Odds, Expert Projections for Wednesday, May 17
Credit:
Getty Images. Pictured: Matthew Liberatore, Graham Ashcraft, Spencer Strider
Welcome to Opening Pitch, my column that you'll find daily throughout the 2023 MLB season.
My goal for Opening Pitch is to highlight my top daily projection edges for MLB moneylines and totals, share my favorite bets and provide some betting notes and analysis, mainly as I react to opening and overnight lines while using my baseball betting model.
I will look to release a new version of Opening Pitch daily between midnight and 3 a.m. ET; after I enter my overnight bets in the Action Network App and update the MLB projections. Hopefully, you will use it as your morning betting guide to get ahead of the baseball markets.
You can find my projections for every MLB game in the Action App (on both the PRO Projections tab and the game pages) and our Projections Hub (which you can bookmark).
You can also shop for the best lines on our odds page.
Expert Picks for Wednesday, May 17
Pittsburgh Pirates vs. Detroit Tigers
Rich Hill vs. Eduardo Rodriguez
First Pitch: 1:10 p.m. ET
We have regularly targeted the Tigers against left-handed pitchers (99 wRC+ vs. lefties; 76 wRC+ vs. righties), and Rich Hill (6.55 xERA or expected ERA) is one of their easier matchups of the season.
I expect Eduardo Rodriguez to fall back to earth eventually — you cannot maintain a .209 BABIP or a 90.4% stand rate forever (career averages of .301 and 74.1%). Here's an appropriate bailout compilation:
Eduardo Rodriguez has been FANTASTIC this season.

And so has the defense behind him

He's among those who have had the most Good Fielding Plays behind him this season.

And he's pitched to a 1.57 ERA in 8 starts pic.twitter.com/JB2D3307qO

— SIS_Baseball (@sis_baseball) May 10, 2023
Still, Rodriguez has pitched better than ever this season (2.59 xERA) with a career-low 5.3% walk rate. While there isn't significant skills growth in his profile, Rodriguez is arguably peaking in his career arc amid a potential opt-out year. I expect him to stay incredibly focused for the duration of the season — even on a bad team — as he seeks one big final contract in his early 30s.
I projected Rodriguez as a -174 favorite (63.5% implied odds) for the first five innings (F5). Bet Detroit on the F5 moneyline to -160 (61.5%) at a two percent edge compared to my number.
Cincinnati Reds vs. Colorado Rockies
Graham Ashcraft vs. Austin Gomber
First Pitch: 3:10 p.m. ET
I view Graham Aschraft (4.30 xERA in 2023, 4.02 in 2022) as a significantly better pitcher than Austin Gomber (6.42 xERA; 4.59 in 2022), even though Ashcraft has shown relatively pedestrian command in his MLB career (8.3% K-BB% of strikeout minus walk rate; about five percent below the MLB average).
Still, the righty seems to be built to stifle Coors Field, with a career 53.7% groundball rate while allowing just 0.91 home runs per nine innings (HR/9) with a sizable sample at the offense-friendly Great American Ball Park.
Teams score at Coors because the huge outfield helps string together rallies; however, every infield is the same size, and the Coors Field environment should have a lessened effect on Ashcraft's game than his colleagues.
For reference, Gomber (career 42.4% groundball rate, 1.31 HR/9) regularly succumbs to those conditions; but surprisingly, his home and road splits are relatively neutral. I don't like Gomber at any ballpark.
I project a sizable first-half edge on Cincinnati (projected -138). Bet the Reds F5 moneyline to -127 (and increase your unit size to -117). Additionally, play the Reds full game moneyline to -104 (projected -113).
Minnesota Twins vs. Los Angeles Dodgers
Sonny Gray vs. Dustin May
First Pitch: 3:10 p.m. ET
Even though I like both starters — Sonny Gray and Dustin May — Dodger Stadium should see favorable hitting conditions on Wednesday afternoon, with temperatures in the mid to high 70s and the wind blowing out.
Both offenses prefer to face righties (Dodgers rank 2nd in wRC+, Twins 11th) over lefties (22nd and 27th, respectively).
The only potential concern is unexpected lineup absences in a day game after a night game. That's likelier for the Dodgers, who will immediately fly to St. Louis after the game. The Twins have a planned off-day on Thursday but will remain in southern California to face the Angels.
I set this total at 9.2 overnight and would bet Over 8.5 to -116.
Los Angeles Angels vs. Baltimore Orioles
Griffin Canning vs. Kyle Bradish
First Pitch: 6:35 p.m. ET
Griffin Canning (1.54 HR/9) and Kyle Bradish (1.26 HR/9) should benefit from the conditions at Oriole Park on Wednesday: 68 degrees at first pitch, with 10-mph winds blowing in.
The wind and weather specs triggered a profitable Action Labs Under system, which has generated an 8.4% ROI since 2005.
After adjusting my projection for the conditions, I modeled the total at 8.48. Bet Under 9 to -110.
Seattle Mariners vs. Boston Red Sox
Marco Gonzales vs. Brayan Bello
First Pitch: 7:10 p.m. ET
While he has allowed hard contact this season (5.06 xERA), I feel optimistic about the improved command for Brayan Bello, whose K-BB% is up six percent over his rookie season.
And I'm always interested in betting against Marco Gonzales (4.6 xERA over the past two seasons). Unfortunately, the Red Sox rank far better against righties than lefties, while Seattle should have a more favorable split; otherwise, I would see a more significant edge on these bets.
Still, you can bet the Red Sox to -125 (F5) and -116 (full game) in both halves.
We have cashed several Red Sox overs this season, especially at Fenway of late. However, Wednesday seems like a decent spot to bet an Under.
Temperatures will be in the low 50s to high 40s throughout the game, with 12-mph winds blowing in from left field and a pitcher-favoring umpire in Mike Estabrook (career 55.1% to the Under) behind the dish.
However, even after making my weather adjustment, I set the line at 9.25 and would need plus money to fire at Under 9.5 (or -118 for Under 10).
Milwaukee Brewers vs. St. Louis Cardinals
Corbin Burnes vs. Matthew Liberatore
First Pitch: 7:45 p.m. ET
I have highlighted Burnes' performance decline throughout this season, but to quickly reiterate, his K-BB% has fallen from a peak of 30.4% in 2021 to 24.1% last season and now 11.3% this year, below the major league average (13.9%).
As his skills have slipped. Burnes has essentially gone from the best pitcher in baseball (2.00 xERA in 2021) to a high-end No. 2 starter (3.05 xERA last year) and now something closer to a mid-rotation arm (3.61 xERA)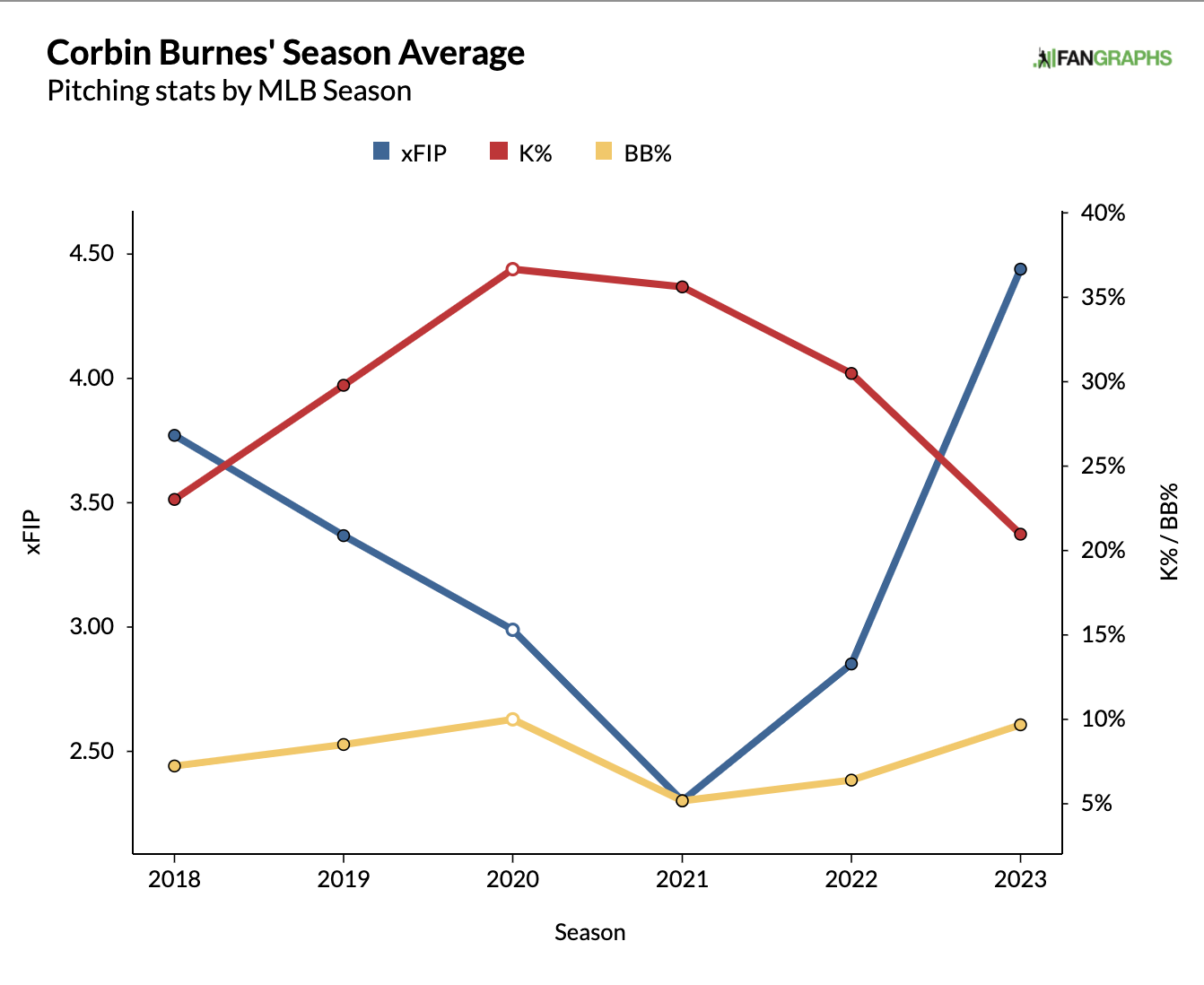 If it wasn't for a career-best .258 BABIP (.287 career), Burnes might have an ERA north of four. The timing could not be worse for the pending free agent.
I will forgive 23-year-old Matthew Liberatore for most of his contributions last season (5.49 xERA in 34 2/3 innings).
Compared to last season, he has improved his strikeout rate in Triple-A by seven percent, alongside an eight percent uptick in groundball rate.
2023 projections put Liberatore's FIP range between 4.47 and 4.71 — a relatively narrow window — but certainly an improvement over last season's 5.02 mark (4.93 xFIP).
I'm using something on the less optimistic end of that scale, and I still make this matchup around a coin flip; bet the Cardinals at +110 or better.
Atlanta Braves vs. Texas Rangers
Spencer Strider vs. Nathan Eovaldi
First Pitch: 8:05 p.m. ET
Spencer Strider and Zac Gallen are currently the top-two choices for the NL Cy Young Award; while Gallen has a slight lead in WAR — 2.6 to 2.0 — he has also made an extra start. For my money, Strider is the superior pitcher.
The explosive righty has picked up right where he left off last season, with a matching 2.39 xERA while improving his strikeout rate by nearly five percent. For comparison, Gallen has a 2.98 xERA this season, an improvement over his 3.17 mark from last year.
Nathan Eovaldi has also improved his strikeout rate to a career-best mark (27.2%) this season and impressed for his new club (2.70 ERA, 2.83 xERA).
Still, with Jacob deGrom (1.84 xERA) on the IL, I view Strider as the best starting pitcher in baseball right now; and rate him around a tier or two higher than an improved Eovaldi.
Watch him carve through one of the best lineups in baseball in his last outing while generating an astounding 51% called strike plus whiff rate or CSW% (including 16 whiffs on both his fastball and his slider):
Health provided, Atlanta has both the NL MVP in their lineup and the NL Cy Young in their rotation.
I set the Braves' F5 moneyline at -169; back Strider in the first half up to -160.
Cleveland Guardians vs. Chicago White Sox
Peyton Battenfield vs. Mike Clevinger
First Pitch: 8:10 p.m. ET
I would typically never look to back an Under involving two pitchers I dislike; both Peyton Battenfield (5.36 xERA) and Mike Clevinger (4.76 xERA) rank as replacement-level starters.
Still, we should see beneficial pitching conditions in Chicago on Tuesday: 56 degrees at first pitch (and closer to 50 degrees by the middle innings), with a cross-breeze.
I projected the total at 8.42; bet Under 9 to -110.
Zerillo's Bets for Wednesday, May 17
For additional bet notifications, follow me in the Action Network App. 
Atlanta Braves F5 (-155, 0.5u) at BetMGM (bet to -160)
Boston Red Sox F5 (-124, 0.5u) at FanDuel (bet to -125)
Boston Red Sox (-115, 0.5u) at WynnBet (bet to -116)
Cincinnati Reds F5 (-105, 1u) at BetMGM (bet to -127; reduce risk at -117)
Cincinnati Reds (+105, 0.5u) at WynnBet (bet to -104)
Detroit Tigers F5 (-148, 0.5u) at FanDuel (bet to -160)
Kansas City Royals (+245, 0.25u) at WynnBet (small to +245)
Los Angeles Dodgers F5 (-130, 0.5u) at WynnBet (bet to -135)
Minnesota Twins / Los Angeles Dodgers, Over 8.5 (-110, 0.5u) at FanDuel (bet to -116)
St. Louis Cardinals (+110, 0.5u) at WynnBet (bet to +109)
St. Louis Cardinals / Milwaukee Brewers, Over 8 (+100, 0.5u) at Caesars (bet to -108)
How would you rate this article?
This site contains commercial content. We may be compensated for the links provided on this page. The content on this page is for informational purposes only. Action Network makes no representation or warranty as to the accuracy of the information given or the outcome of any game or event.