UFC on ESPN+ 10 Betting Odds: Kevin Lee's Welterweight Debut vs. Rafael Dos Anjos, More
Credit:
Joshua Dahl-USA TODAY Sports. Pictured: Kevin Lee
See full betting odds for the UFC on ESPN+ 10 card, including prelim fights.
Kevin Lee (-110) makes his welterweight debut against Rafael dos Anjos (-120).
The UFC heads to Rochester this weekend for a fight card that will mark the company's 10th on ESPN+. The seven-fight preliminary card will kick things off at 5 p.m. ET before the six-fight main card gets going at 8 p.m. ET.
UFC on ESPN+ 10 is headlined by a welterweight clash between No. 3 ranked welterweight contender Rafael dos Anjos and No. 7 ranked lightweight Kevin Lee.
Dos Anjos has dropped consecutive fights by way of unanimous decision to the current 170-pound champion Kamaru Usman in November as well as the division's No. 1 contender and former interim champion Colby Covington last June. Overall, RDA is 3-2 since moving up from lightweight.
Meanwhile, Lee has lost two of his past three fights, with the most recent coming via unanimous decision to Al Iaquinta during their much-anticipated rematch in April 2018. Lee, who missed weight during his last win over Edson Barboza in April 2018, will be making his 170-pound debut with the UFC.
The story of the fight could be whether RDA will be able to keep it standing against Lee, who has emerged as one of the UFC's top takedown artists regardless of division.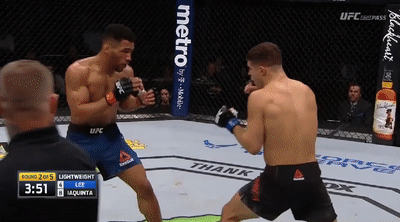 You can find personal attributes and metrics for each fighter in the table below. All statistics are courtesy of UFC.com and UFCStats.com.
Each fighter's official weight is listed in pounds in parenthesis.
UFC on ESPN+ 10
Welterweight Fight: Rafael dos Anjos (170.4) vs. Kevin Lee (170.2)
Monday lines: dos Anjos (-120); Lee (-110)
Tuesday: dos Anjos (-120); Lee (-110)
Wednesday: dos Anjos (-115); Lee (-115)
Thursday: dos Anjos (-120); Lee (-110)
Friday: dos Anjos (-120); Lee (-110)
Middleweight Fight: Antonio Carlos Junior (185.6) vs. Ian Heinisch (185.6)
Monday lines: Junior (-190); Heinisch (+155)
Tuesday: Junior (-200); Heinisch (+160)
Wednesday: Junior (-175); Heinisch (+145)
Thursday: Junior (-170); Heinisch (+140)
Friday: Junior (-170); Heinisch (+140)
Women's Featherweight Fight: Megan Anderson (145.8) vs. Felicia Spencer (145.6)
Monday lines: Anderson (-150); Spencer (+120)
Tuesday: Anderson (-155); Spencer (+125)
Wednesday: Anderson (-170); Spencer (+140)
Thursday: Anderson (-205); Spencer (+165)
Friday: Anderson (-205); Spencer (+165)
Lightweight Fight: Charles Oliveira (154.2) vs. Nik Lentz (155.6)
Monday lines: Oliveira (-360); Lentz (+270)
Tuesday: Oliveira (-360); Lentz (+270)
Wednesday: Oliveira (-360); Lentz (+270)
Thursday: Oliveira (-350); Lentz (+265)
Friday: Oliveira (-350); Lentz (+265)
Lightweight Fight: Davi Ramos (156) vs. Austin Hubbard (155.4)
Monday lines: Ramos (-450); Hubbard (+325)
Tuesday: Ramos (-450); Hubbard (+325)
Wednesday: Ramos (-500); Hubbard (+350)
Thursday: Ramos (-500); Hubbard (+350)
Friday: Ramos (-500); Hubbard (+350)
Prelims
Women's Bantamweight Fight: Aspen Ladd (135.4) vs. Sijara Eubanks (134.8)
Monday lines: Ladd (-305); Eubanks (+235)
Tuesday: Ladd (-300); Eubanks (+230)
Wednesday: Ladd (-300); Eubanks (+230)
Thursday: Ladd (-315); Eubanks (+245)
Friday: Ladd (-315); Eubanks (+245)
Lightweight Fight: Desmond Green (155.2) vs. Charles Jourdain (155)
Monday lines: Green (-500); Jourdain (+350)
Tuesday: Green (-550); Jourdain (+375)
Wednesday: Green (-650); Jourdain (+425)
Thursday: Green (-900); Jourdain (+550)
Friday: Green (-900); Jourdain (+550)
Welterweight Fight: Danny Roberts (170.6) vs. Michel Pereira (170.6)
Monday lines: Roberts (-260); Pereira (+200)
Tuesday: Roberts (-260); Pereira (+200)
Wednesday: Roberts (-260); Pereira (+200)
Thursday: Roberts (-250); Pereira (+195)
Friday: Roberts (-250); Pereira (+195)
Featherweight Fight: Mike Trizano (145.6) vs. Grant Dawson (145.8)
Monday lines: Trizano (-155); Dawson (+125)
Tuesday: Trizano (-145); Dawson (+115)
Wednesday: Trizano (-135); Dawson (+105)
Thursday: Trizano (-105); Dawson (-125)
Friday: Trizano (-105); Dawson (-125)
Light Heavyweight Fight: Patrick Cummins (205.2) vs. Ed Herman (206)
Monday lines: Cummins (-240); Herman (+190)
Tuesday: Cummins (-250); Herman (+195)
Wednesday: Cummins (-250); Herman (+195)
Thursday: Cummins (-250); Herman (+195)
Friday: Cummins (-250); Herman (+195)
Middleweight Fight: Zak Cummings (185.8) vs. Trevin Giles (185)
Monday lines: Cummings (+120); Giles (-150)
Tuesday: Cummings (+130); Giles (-160)
Wednesday: Cummings (+135); Giles (-165)
Thursday: Cummings (+135); Giles (-165)
Friday: Cummings (+135); Giles (-165)
Featherweight Fight: Julio Arce (145.6) vs. Julian Erosa (146)
Monday lines: Arce (-550); Erosa (+375)
Tuesday: Arce (-700); Erosa (+450)
Wednesday: Arce (-700); Erosa (+450)
Thursday: Arce (-850); Erosa (+525)
Friday: Arce (-850); Erosa (+525)