UFC on ESPN+ 12 Betting Odds: Moicano Favored Over Korean Zombie, More
Credit:
Mark J. Rebilas, USA Today Sports. Pictured: Chan Sung Jung aka "The Korean Zombie."
UFC on ESPN+ 12 takes place on Saturday, June 22 in Greenville, South Carolina.
The card is headlined by Renato Moicano vs. Chan Sung Jung, aka "The Korean Zombie."
Ian Hartitz breaks down the odds for every match on Saturday's UFC card.
The UFC travels to Greenville, South Carolina this weekend for a 12-fight card that will take place at Bon Secours Wellness Arena.
Things will get started at 4 p.m. ET on ESPN 2 with a seven-fight preliminary card, then will shift over to ESPN+ at 7 p.m. ET for the event's five-fight main card.
UFC on ESPN+ 12 is headlined by a featherweight clash between Renato Moicano and Chan Sung Jung, who are the division's No. 5 and No. 12 ranked contenders, respectively.
Moicano's only two losses to date have come to two of the division's finest fighters in Jose Aldo (TKO, punches) and Brian Ortega (submission, guillotine choke).
The Brazilian has been an unsolvable problem for pretty much everyone else, as Moicano is a muay thai specialist that utilizes a high-volume attack consisting of leg kicks and an educated jab. His ability to complement his striking with a capable ground came, superior cardio, and an impressive killer instinct has led to a 5-2-0 record inside the UFC.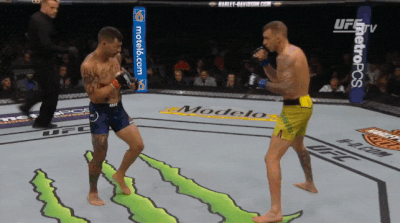 Moicano's opponent is Chan Sung Jung, who is more commonly known as 'The Korean Zombie.' Jung has earned a reputation for entertaining the masses, as he's amassed five post-fight bonuses in six career fights in the UFC.
The Korean Zombie most recently lost to Yair Rodriguez via last-second KO (elbow) in the fifth round of a fight that Jung was winning on the scorecards. His consistent pressure and knack for turning fights into an all-out brawl should lead to fireworks one way or another Saturday night.
You can find personal attributes and metrics for each fighter in the table below. All statistics are courtesy of UFC.com and UFCStats.com.
Each fighter's official weight is listed in parenthesis in pounds.
UFC on ESPN+ 12
Featherweight Fight: Renato Moicano (146) vs. Chan Sung Jung (146)
Monday lines: Moicano (-200); Jung (+160)
Tuesday: Moicano (-200); Jung (+160)
Wednesday: Moicano (-200); Jung (+160)
Thursday: Moicano (-200); Jung (+160)
Friday: Moicano (-200); Jung (+160)
Bantamweight Fight: John Lineker vs. Rob Font – CANCELLED
Monday lines: Lineker (-220); Font (+170)
Tuesday: Lineker (-220); Font (+170)
Wednesday: Lineker (-220); Font (+170)
Thursday: Lineker (-220); Font (+170)
Friday: N/A
Welterweight Fight: Bryan Barberena (170) vs. Randy Brown (170.5)
Monday lines: Barberena (-275); Brown (+215)
Tuesday: Barberena (-275); Brown (+215)
Wednesday: Barberena (-270); Brown (+210)
Thursday: Barberena (-270); Brown (+210)
Friday: Barberena (-270); Brown (+210)
Women Flyweight Fight: Andrea Lee (125) vs. Montana De La Rosa (126)
Monday lines: Lee (-230); De La Rosa (+180)
Tuesday: Lee (-230); De La Rosa (+180)
Wednesday: Lee (-230); De La Rosa (+180)
Thursday: Lee (-210); De La Rosa (+170)
Friday: Lee (-210); De La Rosa (+170)
Middleweight Fight: Kevin Holland (186) vs. Alessio Di Chirico (186)
Monday lines: Holland (-225); Di Chirico (+175)
Tuesday: Holland (-225); Di Chirico (+175)
Wednesday: Holland (-225); Di Chirico (+175)
Thursday: Holland (-225); Di Chirico (+175)
Friday: Holland (-225); Di Chirico (+175)
Prelims
Featherweight Fight: Dan Ige (146) vs. Kevin Aguilar (145.5)
Monday lines: Ige (+110); Aguilar (-140)
Tuesday: Ige (+120); Aguilar (-150)
Wednesday: Ige (+120); Aguilar (-150)
Thursday: Ige (+120); Aguilar (-150)
Friday: Ige (+120); Aguilar (-150)
Women Strawweight Fight: Ashley Yoder (115.5) vs. Syuri Kondo (115.5)
Monday lines: Yoder (-110); Kondo (-110)
Tuesday: Yoder (-120); Kondo (-110)
Wednesday: Yoder (-120); Kondo (-110)
Thursday: Yoder (-120); Kondo (-110)
Friday: Yoder (-120); Kondo (-110)
Lightweight Fight: Matt Wiman (155) vs. Luis Pena (155.5)
Monday lines: Wiman (+275); Pena (-365)
Tuesday: Wiman (+285); Pena (-375)
Wednesday: Wiman (+290); Pena (-380)
Thursday: Wiman (+290); Pena (-380)
Friday: Wiman (+290); Pena (-380)
Heavyweight Fight: Allen Crowder (255) vs. Jairzinho Rozenstruik (246)
Monday lines: Crowder (+180); Rozenstruik (-230)
Tuesday: Crowder (+180); Rozenstruik (-230)
Wednesday: Crowder (+175); Rozenstruik (-225)
Thursday: Crowder (+175); Rozenstruik (-225)
Friday: Crowder (+175); Rozenstruik (-225)
Women Flyweight Fight: Ariane Lipski (126) vs. Molly McCann (126)
Monday lines: Lipski (-275); McCann (+215)
Tuesday: Lipski (-275); McCann (+215)
Wednesday: Lipski (-275); McCann (+215)
Thursday: Lipski (-275); McCann (+215)
Friday: Lipski (-275); McCann (+215)
Middleweight Fight: Deron Winn (185.5) vs. Eric Spicely (185.5)
Monday lines: Winn (N/A); Spicely (N/A)
Tuesday: Winn (N/A); Spicely (N/A)
Wednesday: Winn (-285); Spicely (+225)
Thursday: Winn (-285); Spicely (+225)
Friday: Winn (-285); Spicely (+225)
Bantamweight Fight: Andre Ewell (135) vs. Anderson Dos Santos (135.5)
Monday lines: Ewell (-115); Dos Santos (-115)
Tuesday: Ewell (-115); Dos Santos (-115)
Wednesday: Ewell (-115); Dos Santos (-115)
Thursday: Ewell (-115); Dos Santos (-115)
Friday: Ewell (-115); Dos Santos (-115)