NBA Playoffs Odds & Props: Value on Knicks, Trail Blazers, Grizzlies Entering the Season
Credit:
Sarah Stier/Getty Images. Pictured: Kemba Walker #8 of the New York Knicks.
The NBA regular season is almost here, but it's never too early to start thinking about which teams will make or miss the playoffs.
The NBA allows eight teams per conference to make the postseason and the addition of the play-in tournament has allowed the chance for even more teams to enter the playoff race.
Despite being the most predictable of the four major sports, with so many teams making the postseason, there's value to be had in the make/miss playoff props that sportsbooks release before the start of every season and allow you to wager on periodically throughout the year.
So what teams present the best value to make or miss the playoffs?
Odds to Make the Playoffs: Yes (-150) / No (+122) — FanDuel
The one place in sports were you can buy an edge is coaching and the Pacers certainly did that by hiring former Pacers and Dallas Mavericks head coach Rick Carlisle to replace Nate Bjorkgren after just one season.
In the preseason, the Pacers are attempting 45% of their field goals from behind the arc, up from 37% last regular season. It appears this team is moving towards a more modern style of play.
Last season this team was snake bitten by injuries — TJ Warren played just four games all season, Malcolm Brogdon missed 16, including 10 straight to end the regular season, and Myles Turner missed 25 games.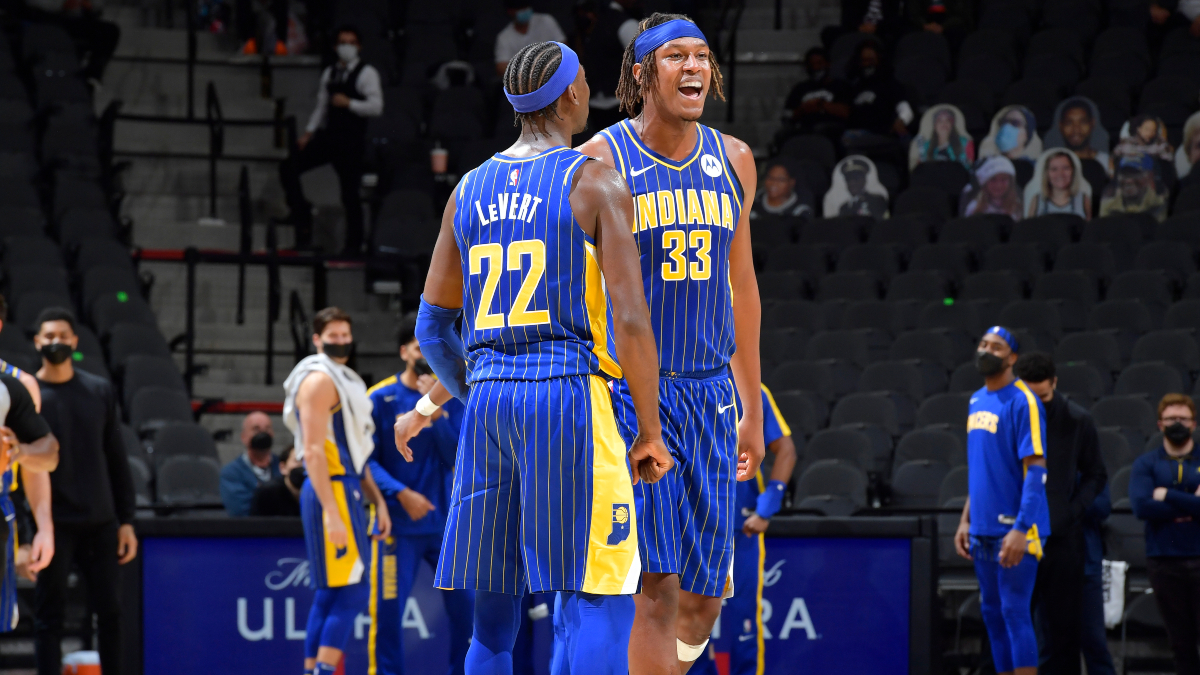 Although Warren won't be ready to play for their first game on Oct. 20, he should play more than four games this season. Turner's return is key as he's the defensive catalyst for this team. The Pacers were 4.8 points per 100 possessions better defensively with him on the floor.
With Domantas Sabonis and Brogdon, this team has the talent to complete nightly. Overall, I'm expecting Carlisle to manage all the talent on this roster and turn this team into a playoff team. The -150 seems steep, but this is a bargain when looking at the rest of the Eastern Conference landscape.
Pick: Yes -150
Odds to Make the Playoffs: Yes (+150) / No (-175) — Caesars
Zion Williamson is one of the league's rising stars and comes off an All-Star season in which he averaged 27 points, 7.2 rebounds and 3.7 assists on 61% shooting. Unfortunately for the New Orleans Pelicans, keeping Williamson healthy is easier said than done.
After having offseason foot surgery, he missed training camp, the entire preseason and will sit out at least two more weeks before being reevaluated.
Zion Williamson (foot) will be re-evaluated in two weeks and there's no return timetable for now, Pelicans' David Griffin says.

— Shams Charania (@ShamsCharania) October 14, 2021

Is injury status is troubling to say the least given his impact on the team. The Pelicans scored 116.8 points per 100 possessions with him on the floor vs 110.2 with him off (+6.6).
Even more problematic is the rest of this roster. Although Brandon Ingram is an All-Star and Jonas Valanciunas should be an upgrade over the older Steven Adams, it feels like this roster took a step back when it lost Lonzo Ball.
Ball was the Pelicans' best defensive guard, he provided playmaking as well as shooting and it remains to be seen if Nickeil Alexander-Walker, Devonte Graham and Kira Lewis can provide what Ball did at that position.
The fit between Williamson and Ingram has always been clunky and their vast number of young prospects and new head coach Willie Green will all have a steep learning curve.
I'm not seeing a realistic chance of the Pelicans challenging for a playoff spot in the crowded West.
Pick: No -175
Odds To Make the Playoffs: Yes (-132) / No (+108) — FanDuel
The first season of Tom Thibodeau's tenure as head coach of the Knicks was a success. He led the team to a 41-31 record, the No. 4 seed in the Eastern Conference with the league's third-best Defensive Rating (108.2). Where the Knicks struggled, though, was on offense — they scored just 110.6 points per 100 possessions, which ranked 23rd in the NBA.
They were overly reliant on reigning Most Improved Player of the Year, Julius Randle, for offense. And while he did deliver (24.1 points per game on 45.6% shooting) the Knicks need more offensively to compete in today's NBA. For what it's worth, starting Elfrid Payton, who shot 28.6% from behind the arc, didn't help much either.
Fortunately for the Knicks, they've let Payton and Reggie Bullock walk and upgraded offensively by adding Kemba Walker and Evan Fournier in the offseason. With Walker poised for a bounce back season and Fournier adding more 3-point shooting to a team to a young core that includes RJ Barrett, Immanuel Quickley and Obi Toppin, the Knicks should be much better offensively.
Oddsmakers priced the Knicks win total at 41.5 and their postseason odds at -150 with an implied probability of 60%, but that feels too low. The Knicks will go all out in the regular season under Thibodeau and should have no problems making the postseason for the second season in a row.
Pick: Yes – 150
Odds to Make the Playoffs: Yes (+115) / No (-140) — BetMGM
The Grizzlies have made the play-in game two seasons in a row and come off a season in which they knocked off the Golden State Warriors on the road in a play-in game on their way to stealing one game from the Utah Jazz in the first round of the playoffs.
This is an experienced young team led by a rising star in Ja Morant who averaged 19.1 points, 7.4 assists and 3.1 rebounds in his sophomore season. They are also loaded with talented rotation players: Dillon Brooks, Brandon Clarke, Tyus Jones, De'Anthony Melton, Desmond Bane and Jaron Jackson who played just 11 games after returning from a knee injury last season.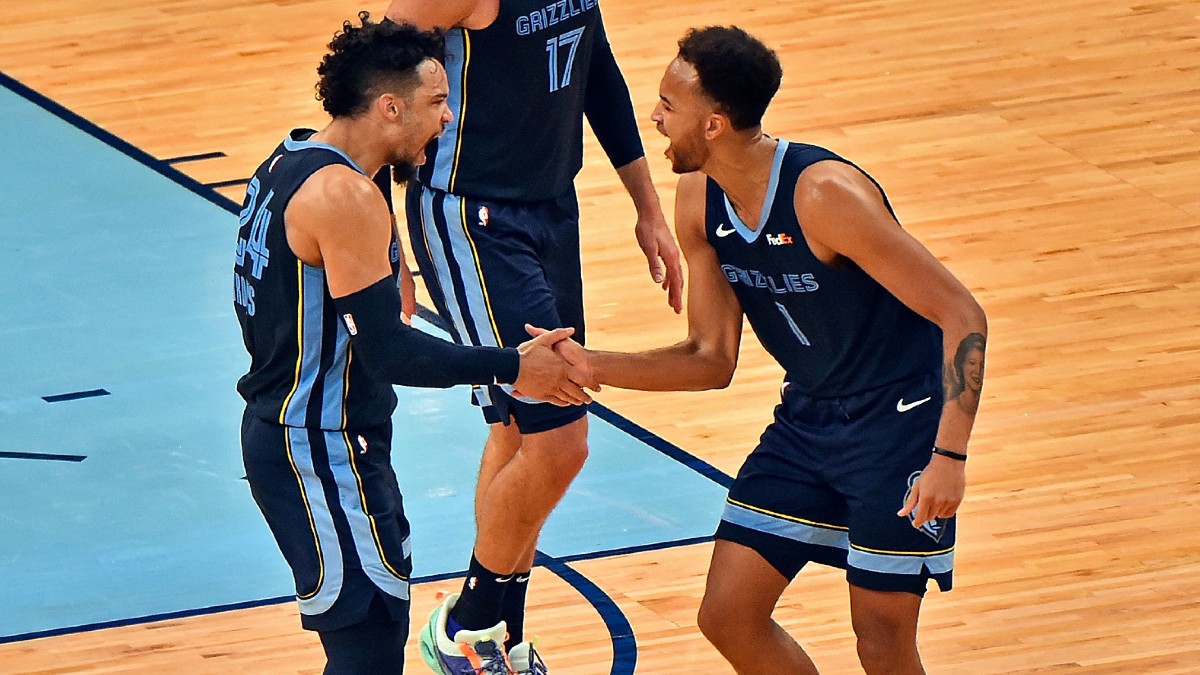 With this team suffering the sixth-most losses due to injuries last season, a healthier version of this team should be even better. The 2020-21 campaign had the Memphis Grizzlies playing 40 games over the final 68 days, but that won't be the case this season.
Look for the Grizzlies to not only go over their win total of 41.5 games but make the playoffs as well.
Pick: Yes +115
Odds to Make the Playoffs: Yes (-160) / No (+130) — PointsBet
The Bulls are primed to make a playoff push after making major upgrades to their roster to build around Zach LaVine. They traded for two-time All-Star Nikola Vucevic last season, then added Lonzo Ball and DeMar DeRozan in the offseason.
Last season, the Bulls finished 31-41 in Billy Donovan's first season a head coach, improving over the 22-43 campaign under Jim Boylen despite underperforming their Pythagorean Expectation of 34-38.
Nevertheless, with an improved roster I expect this team to get even better in Donovan's second year and while it may be tough to build a solid defense with Vucevic, LaVine and Derozan, the offense should be good enough to get this team into the postseason.
Pick: Yes -160
Odds to Make the Playoffs: Yes (-165) / No (+140) — BetMGM
The Trail Blazers have yet to miss the playoffs since Damian Lillard's second season in the NBA and I don't expect it to start here.
The Blazers have a brutal start to the season with their first 20 games coming against opponents that had a cumulative winning percentage of 0.542 last season, the highest among all NBA teams. Typically that 20-game stretch is predicative — only four teams have won fewer than seven of their first 20 games and made the postseason.
Still, the Blazers scored a whopping 117.8 points per 100 possessions last season (second in the NBA) and there's nothing to suggest they won't score as efficiently again with the three guard line up of Lillard, CJ McCollum and Norman Powell.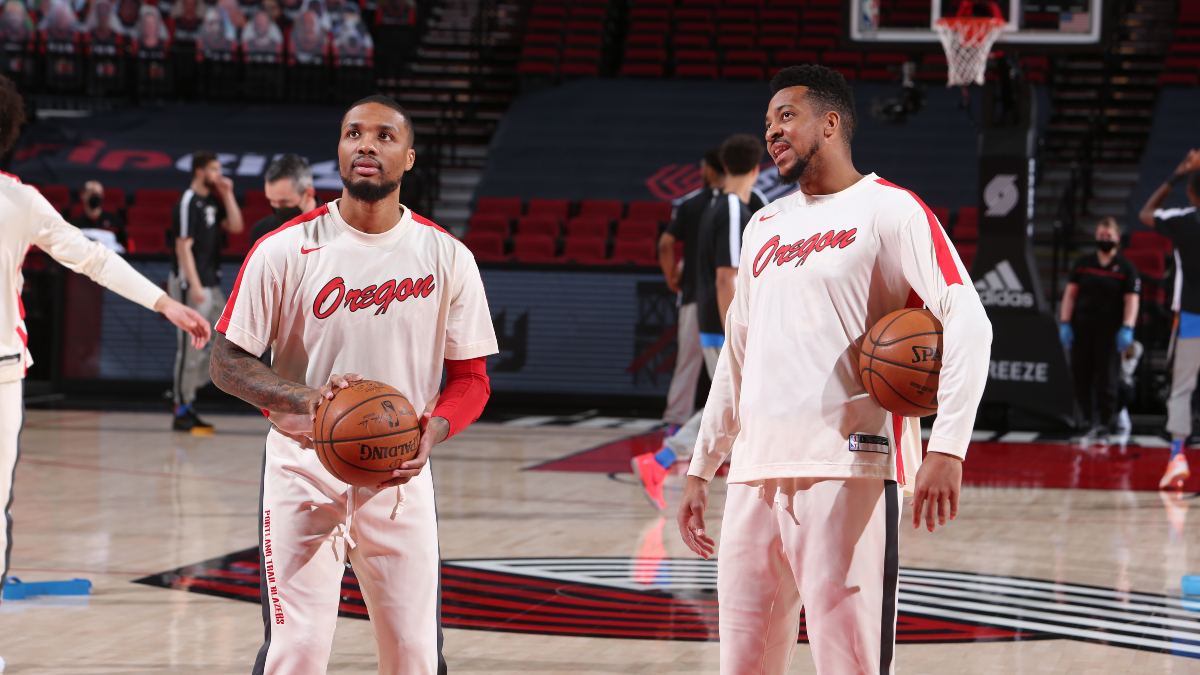 I'm not expecting Lillard to go on the trade block and the additions of Larry Nance Jr, Cody Zeller and Tony Snell, feel like quality upgrades compared to previous iterations of this roster.
Nance in particular had a huge impact on the defense for the Cleveland Cavaliers as they held teams to an Offensive Rating of 103.4 while he was on the floor and 107.7 while he was off the floor (-4.3). For a Blazers team that ranked 29th in Defensive Rating (116.0), Nance should be a worthy addition.
Expect the Blazers to make the playoffs for their ninth consecutive season and feel confident laying -165.
Pick: Yes -165
---
Not Quite Worth the Price (Yet)
Odds to Make the Playoffs: Yes (-265) / No (+210) — FanDuel
The Los Angeles Clippers are priced at -285 to make the postseason, which gives them an implied probability of 74%. Although I do like the Clippers to make the playoffs and go over their win total (44.5 games) — I also believe Paul George is a dark horse MVP candidate — this price is a too step for me to get involved.
George was the No. 1 option on a team before getting traded to Oklahoma City and now L.A.. He showed that he was fully capable of leading this team even when Kawhi Leonard went down with a torn ACL in the playoffs.
As my colleague Matt Moore stated in his win totals article, the Clippers outscored opponents by 3.5 points per 100 possessions when George was on the floor without Leonard.
With Reggie Jackson, Terrance Man, Nicolas Batum, Ivica Zubac and Eric Bledsoe, the Clippers should still make the postseason. However, there's some uncertainty surrounding Leonard, and they have one of the tougher schedules that includes the longest road trip of the season: Eight games from Jan. 19-31.
Right now, this number is way too high. Play the over on the Clippers' win total, but wait until they slip in the regular season to play them to make the playoffs.
Odds to Make the Playoffs: Yes +280 / No -360 — DraftKings
After a pandemic season where the Raptors played their home games in Florida, they now return home to Toronto for some much needed normalcy. This season they'll be without their All-Star veteran point guard Kyle Lowry, who signed with the Miami Heat in free agency.
The core of Fred VanVleet, Pascal Siakam, and OG Anunoby (who appears to be strong play for Most Improved Player) should make this team competitive in the Eastern Conference. Gary Trent Jr. and Precious Achiuwa are solid rotational pieces, but this team doesn't have a ton of talent.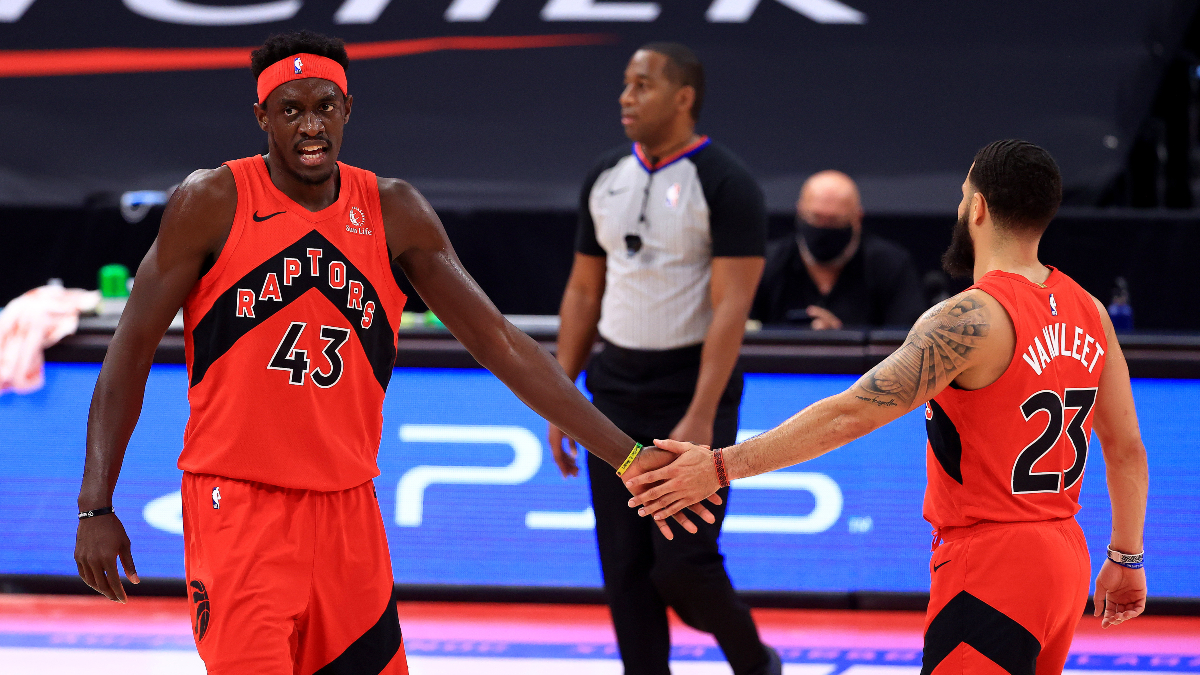 While I'm sure Nick Nurse can get the best out of what's here Siakam will miss the start of the season as he recovers from shoulder surgery and there's always the chance Masai Ujiri could punt on the season.
Monitor this one during the season and maybe you can find an edge, but as of now there's no play.
Odds to Make the Playoffs: Yes (+475) / No -650) — BetMGM
On the surface, I think the Wizards are a good flyer to take for a team that made the play-in tournament last season, eventually losing to the Boston Celtics.
They traded Russell Westbrook to the L.A. Lakers for Kyle Kuzma, Kentavious Caldwell-Pope and Montrezl Harrell. They also added Spencer Dinwiddie to go along with a core of Bradley Beal, Rui Hachimura and Deni Avdija.
This team should improve offensively, but defensively they they will continue to struggle and if they aren't in a good position by All-Star break, it wouldn't be a surprise to see Beal finally request a trade to play for a contender.
How would you rate this article?
This site contains commercial content. We may be compensated for the links provided on this page. The content on this page is for informational purposes only. Action Network makes no representation or warranty as to the accuracy of the information given or the outcome of any game or event.