NBA Player Props Betting Forecast: Assessing Fit for Kevin Durant, Russell Westbrook, More
Credit:
Dustin Satloff/Getty Images. Pictured: Kevin Durant.
We are back with the NBA Player Props Forecast now that the NBA is back into the swing of things following the All-Star break.
In the first half (or two-thirds) of the season, I've looked at emerging trends that could point to value in player props markets. Now that we're entering the home stretch, each team's big picture outlook and motivation is becoming more clear.
Let's dive into this week's players to watch now that the trade deadline and buyout markets have settled.
NBA Player Props Betting Forecast

Kevin Durant Joins the Suns
Schedule: Wed. at Hornets | Fri. at Bulls | Sun. at Mavericks
Kevin Durant is expected to make his debut for the Phoenix Suns Wednesday against the Charlotte Hornets. There are tons of questions about his fit on the team, and how the Suns will make this work; however, there is one thing that is not up for debate: Durant will immediately be the best scoring threat on the Suns when he hits the court.
That should shake up the pecking order offensively for the Suns; however, I think their offense will be tremendous regardless. Booker now slots in as one of the best No. 2 options in the league, a role that I think he has needed to fall into to win a title.
On Sunday, Booker's lines were set at 27.5 points, 4.5 rebounds, 4.5 (-155) / 5.5 (+124) assists, and 2.5 3s (+145). I'd expect that points prop number to decrease on a nightly basis playing alongside Durant. It's notable that Booker and Kyrie Irving both have similar Usage Rates this season and Irving saw his points per game decrease from 30.3 to 26.0 alongside Durant.
Booker is averaging 26.5 points per game and 5.7 assists this season on almost identical volume as Irving, but Irving just more efficient, scoring 1.232 points per shot attempt compared to Booker's 1.182, per Cleaning the Glass.
Additionally, Devin Booker takes a greater percentage of his shots from midrange, so they will be occupying the same space. Booker takes 50% of his attempts from midrange and Durant takes a whopping 60% from midrange. The Suns will need to figure out their spacing to make this work best.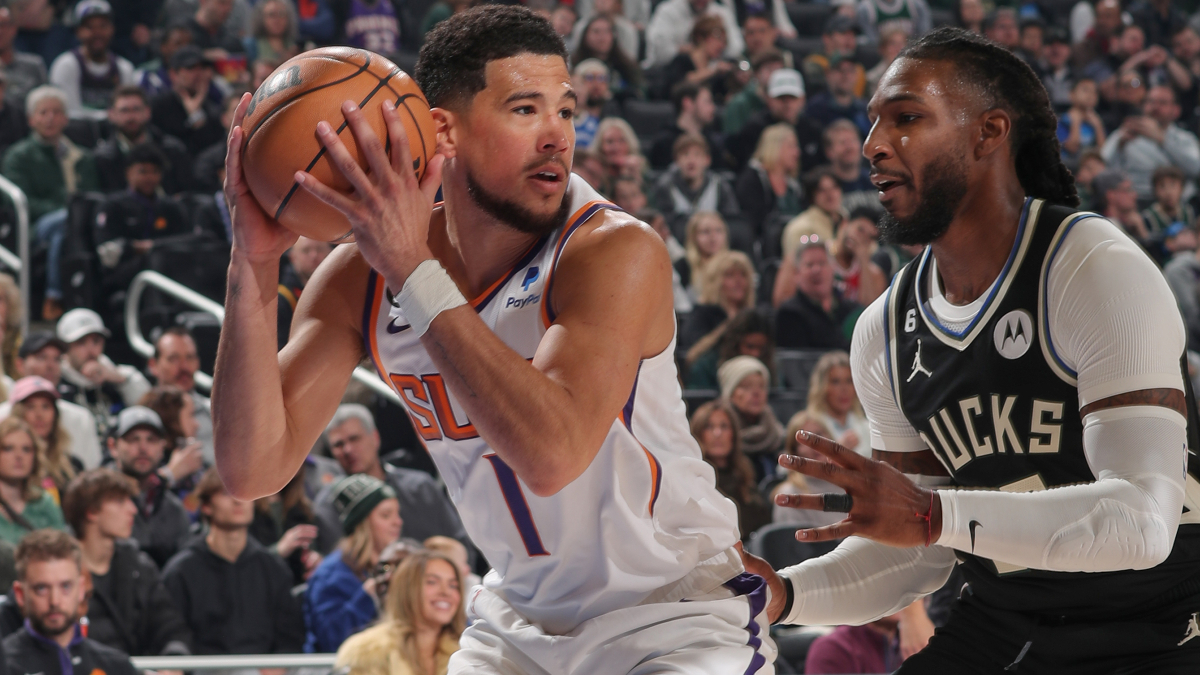 I expect this to be done with a two-man game between Booker and Durant where they can matchup hunt and run pick-and-roll with each other to force defenses to make quick decisions on how to cover them. I'd also expect a spike in Bookers' assists.
Durant will continue to be Durant. Over the past two seasons, his output is nearly identical with and without Irving, scoring roughly 29.8 points per game. He is incredibly efficient and is scoring an incredible 1.37 points per shot attempt this season. I don't think anyone ever needs to worry about Durant's fit on a team from an offensive standpoint — the team just gets better immediately.
I fully expect Durant to continue his production, and it may actually improve playing alongside a table-setter like Chris Paul. Moreover, his stats are unlikely to be impacted by a change of offensive Pace with both Brooklyn and Phoenix playing at the 21st and 22nd ranked Paces in the league.
As for defense, Durant and Ayton should be able to hold their own. Both have tremendous defensive versatility due to their length and ability to switch. Durant actually has a +1.2 Defensive EPM, which would immediately be the fourth-best mark on the Suns, per Dunks & Threes. Surprisingly enough, that's better than Mikal Bridges' mark of +0.1 and he's considered a premier defender.
This trade did create one defensive problem for Phoenix on the perimeter though. Bridges is one of the best defensive players in the league, regardless of his EPM. He can play in every type of scheme and is an excellent point-of-attack defender on the perimeter. This will now put more stress on Booker and Paul, both of whom are exploitable when directly targeted.
Jrue Holiday just shredded them for 33 points Sunday. Trae Young dropped 36, and De'Aaron Fox tallied 35. I'd look to target LaMelo Ball and Kyrie Irving against this Phoenix defense on Wednesday and Sunday.
---
Check out our NBA props page for daily player props lines and projections.
---
The Clippers' Newest Acquisitions
Schedule: Tues. vs. Timberwolves | Thurs. at Warriors | Fri. at Kings | Sun. vs. Grizzlies
The Los Angeles Clippers were fairly active at the trade deadline and in the buyout market. They brought in Russell Westbrook, Bones Hyland, Eric Gordon, and Mason Plumlee to name a few.
The two Clippers I'm most interested in are Westbrook and Plumlee. The Plumlee acquisition was necessary — the Clippers had just one true big in Ivica Zubac and he has missed time with a calf injury. Plumlee has played a reduced role for the Clippers compared to the Hornets, failing to log 30 minutes in any of his four games and averaging just 7.8 points, 7.8 rebounds, and 2.8 assists.
I'd imagine his role shrinks even more when Zubac, one of the better rim defenders in the league this season, returns from his injury. However, if Zubac is unable to go on Tuesday against Rudy Gobert and the Timberwolves, Plumlee will be needed on the floor against Gobert's size, although I do not expect that to necessarily translate into production.
Clippers head coach Tyronn Lue is not afraid to run smaller lineups and given Gobert's history against Plumlee he should feast. I'd target Gobert's rebounds on Tuesday if he plays. He has logged 17, 19, 21, 7, 19 in his last five matchups against Plumlee and even if Zubac plays, Gobert has destroyed him, grabbing 21, 13, 16, 16, 17, 15, and 20 rebounds in their last seven head-to-head matchups. This team will still be susceptible to elite rebounding centers moving forward.
As for the Westbrook acquisition, it was and still is really surprising. When the team moved Reggie Jackson, the expectation was it would open up minutes for Terance Mann. Then they added Gordon and Hyland to further cut into those guard minutes. Westbrook is the cherry on top, especially since he has started both games since he was acquired.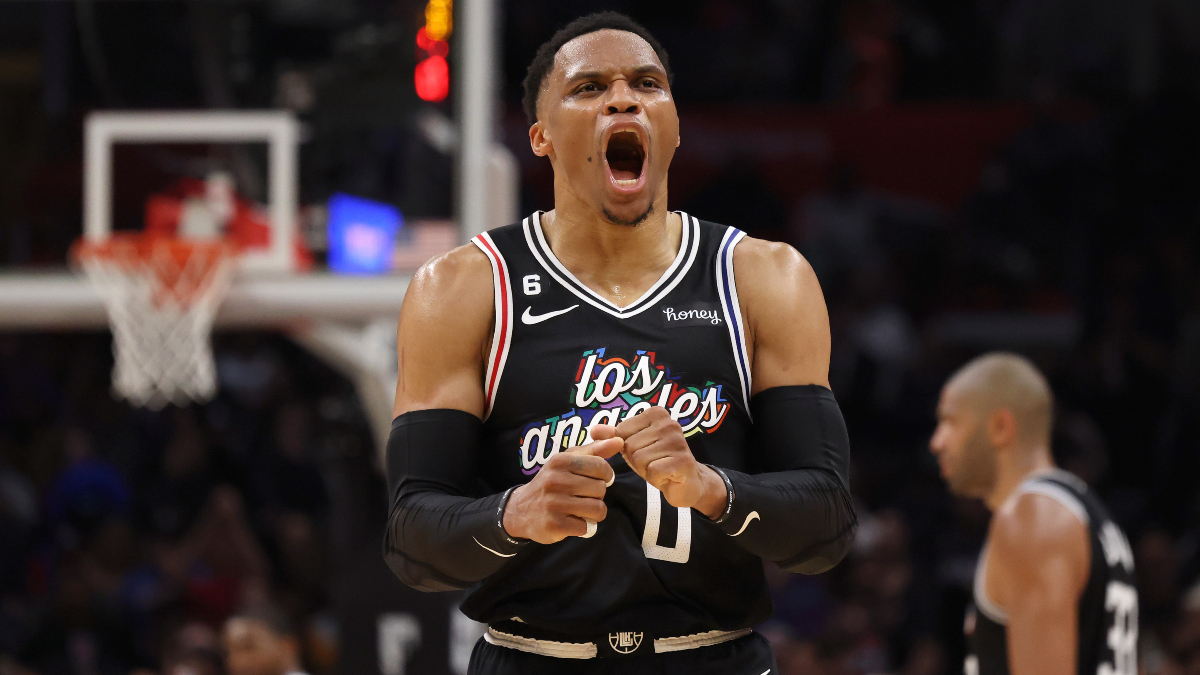 Westbrook played well in his Clippers debut against the Kings with 17 points, five rebounds, 14 assists and a +3 point differential in 39 minutes. Sunday against the Nuggets, he tallied 17 points, five rebounds and four assists in 25 minutes with a -12 point differential.
It's a limited sample size, but in the 144 possessions Westbrook has played with the Clippers, they are -6.8 points per 100 possessions — their offense has been great, scoring 120.8 but they are allowing 127.6, per Cleaning the Glass.
He's doing this mostly while playing with both Paul George and Kawhi Leonard as well, so it's particularly bad. When those two are on the floor this season, the Clippers have a +8.6 point differential and score 122.7 points while allowing 114.1.
Westbrook's props on Sunday were listed at 13.5 points, 5.5 rebounds, and 7.5 assists. He has averaged 15.9 points, 6.1 rebounds, and 7.6 assists this, but it's evident already that his Usage Rate will take a hit with the Clippers and Lue will pull him off the floor if the minutes are not good.
He has recorded Usage Rates of roughly 27.2% in the two games with LAC, compared to 32.6% this season with the L.A. Lakers. I'd look to take under on his stats moving forward, especially the counting stats of rebounds and assists as Lue should realize it is not necessarily a winning formula to have Westbrook run the offense at this stage in his career.
How would you rate this article?
This site contains commercial content. We may be compensated for the links provided on this page. The content on this page is for informational purposes only. Action Network makes no representation or warranty as to the accuracy of the information given or the outcome of any game or event.