NBA Trade Deadline Rumors: Latest on Ben Simmons, Lakers Eyeing Upgrades, More League Intel
Credit:
Kent Smith/NBAE via Getty Images. Pictured: Ben Simmons #25 of the Philadelphia 76ers.
It's NBA trade deadline day and things are bound to get interesting over the next few hours.
Here's the latest trade intel and chatter I'm hearing with the 3 p.m. ET deadline getting close.
Team Maneuvering for Bigger Deals
Whether it's gathering assets to open more deals or targeting different players, there are definitely things being navigated.
On Wednesday, the Miami Heat traded KZ Okpala to the Oklahoma City Thunder for a 2026 second-round pick. On the surface, that's pretty much nothing. It doesn't really register.
However, in doing so, the Heat also negotiated a change to the protections on the first-round pick they owe to the Thunder, allowing them to trade their 2023 first-rounder.
Miami has explored the trade market over recent weeks, most notably with Duncan Robinson as a potential asset given Max Strus' emergence this season.
Meanwhile, the Portland Trail Blazers reportedly are involved in talks for Jerami Grant after trading CJ McCollum as they look to retool the roster around Damian Lillard. League executives are still closely monitoring to see if Lillard's feelings on staying in Portland changes, but for now, the Blazers are looking for win-now moves.
The Toronto Raptors have climbed into the top six in the East, and have started seriously discussing offers for never-used point guard Goran Dragic with the Dallas Mavericks and Atlanta Hawks among those interested.
The trend is pretty clear: Good teams are not looking for tweaks but needle-movers. This alone wouldn't be noteworthy as every team is always looking for big moves to improve the team (at as little cost as possible). But with the shift of both teams looking to get under the luxury tax and others looking to retool completely, there's a little more wiggle room.
The Impact of Ben Simmons-James Harden Talks
While the Brooklyn Nets and Philadelphia 76ers continue a true battle of public posturing regarding a potential Harden for Simmons trade, the rest of the league has clearly started shifting their attention.
"There was a hangup trying to figure out what happened with Simmons before other deals happened. When Harden came on the board, to whatever extent he did, I think a lot of teams that were interested went other directions because clearly, the Sixers were going to focus on that," one source whose team had explored a Simmons trade said this week.
That doesn't mean that other teams aren't interested in Simmons, either in a direct deal should Harden talks fall apart for the Sixers or in the event the Nets would rather deal him for other players to fit around their stars. However, it does show that things aren't being held up by Simmons, which could lead to a more active deadline.
The Mavericks Are Buyers
The Mavericks have been among the more active teams in the league. While the Mavs themselves have always been notoriously quiet as an organization, league sources summed up their positions as such:
Jalen Brunson and Dorrian Finney-Smith are not available, they're not inclined to part with them and will likely commit to them long-term.
Dwight Powell, on the other hand, is available.
This creates a bit of an issue that happens from time to time. If an executive for Team X is negotiating with Team Y and Team Y has a better asset but won't include him, Team X may go in another direction simply because if they're going to do a deal with Team Y, they want that better asset.
For instance, there's probably an easier route to the upgrades the Mavericks want if they include Brunson. That's obvious. But not including Brunson directly makes all other deals harder to make.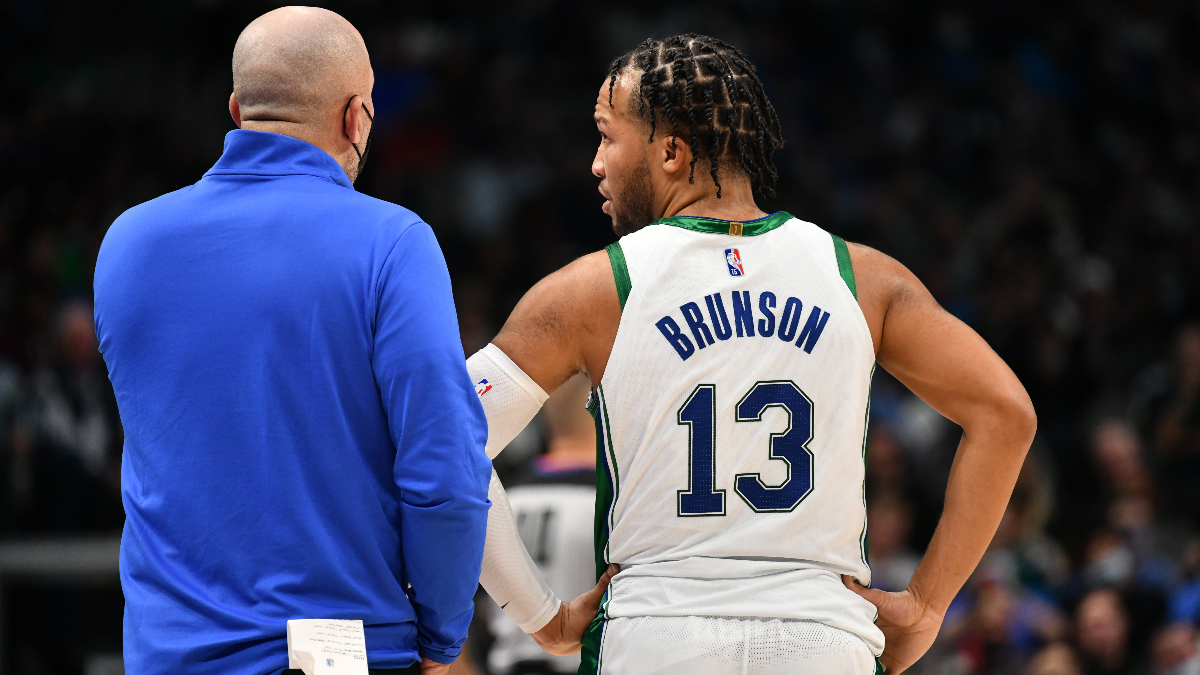 The Mavericks have looked for a replacement center before moving on to focusing on power forwards to put next to Kristaps Porzingis in recent weeks, but there's not a lot of confidence in them finding a fit for their available assets.
There's long been a thought that Dragic will eventually wind up in Dallas. It's possible the Mavericks' search for a backup big (along with half the league as I've outlined in multiple reports) is in part because of their efforts to include Powell or Maxi Kleber in such a deal for Dragic.
The most likely outcome for Dallas is that they are left wanting at the deadline. At the moment they are too good — fifth in the West — to make major disruptions and they continue to be higher on their own assets than the market value. That's not uncommon, but it means that without a bevy of picks to use, they'll have a hard time finding upgrades unless one falls in their laps.
Their best asset currently is Tim Hardaway Jr. who is out indefinitely after a stress fracture in his foot, and who just signed a new deal. THJ is the player the Mavericks have most aggressively shopped, with the Los Angeles Clippers and IndianaPacers both showing interest. Pacers head coach Rick Carlisle is a big fan of THJ's from his time in Dallas.
The Mavericks also discussed a deal with the WashingtonWizards of Hardaway Jr. for Spencer Dinwiddie, but one source suggested that deal had not gone very far on either side.
The Unfolding Mess in L.A.
Following the debacle of the L.A. Lakers losing to a G-League-level Blazers squad in Portland Wednesday, this report surfaced from Michael Scotto of HoopsHype:
Sources: The Lakers, Knicks and Raptors have discussed a 3-team trade.

Lakers get Cam Reddish and Alec Burks.

Knicks get Goran Dragic and draft picks.

Raptors get Talen Horton-Tucker and Nerlens Noel.

There's also a chance Kendrick Nunn is added to the trade as talks continue

— Michael Scotto (@MikeAScotto) February 10, 2022
This checks out: The Raptors have been chasing a backup center for some time, as I've reported, the New YorkKnicks would get future assets for Noel and the Lakers get some rotation players.
I will note that the asking price for Alec Burks has been … high. However far these talks have gone, the picks included will likely be a sticking point. The Knicks had indicated a reluctance to part with Burks as of Wednesday, but these things can always change.
One more note: Cam Reddish, who would go to the Lakers in this proposed trade, is represented by Klutch Sports.
---
Notable Available Players
After talks for Dennis Schroder have thus far not gotten them a deal, the Boston Celtics have made Grant Williams available in talks as they continue to try and get under the luxury tax line. By all accounts that is the Celtics' No. 1 priority going into the deadline. The Milwaukee Bucks are interested in Williams, among other teams, and has made Donte DiVincenzo available in talks.
The Orlando Magic are definitely open for business on Gary Harris, Robin Lopez, and Terrence Ross. Both Ross and Lopez have a first-round pick asking price attached, even if it's a high one. Lopez in particular will likely get a lot of callers on Thursday given the run on back-up bigs. There is a better-than-decent chance Harris is bought out after the deadline.
Among the teams that have called Phoenix about Jalen Smith — according to multiple sources the list is pretty long — the Spurs have shown interest. The Suns, meanwhile, have interest in Thaddeus Young who is just chilling on the Spurs' bench.
With Bradley Beal electing for surgery this week, every player on the Wizards' roster not named Kyle Kuzma is available, three different sources said this week. That doesn't mean it's a fire sale — the Wizards definitely want return value — but they are not keeping anyone besides Beal and Kuzma away from talks.
Veteran point guard Cory Joseph is gettable in Detroit, while sources were mixed on whether the Pistons were interested in a deal for Kelly Olynyk.
Notable Buying Teams
The Chicago Bulls, Hawks, and Denver Nuggets are all shopping for upgrades.
The Nuggets continue to posture to other teams that they have limited resources to work with and aren't looking to shake things up but are trying for margin moves.
The Bulls are the one team most often mentioned in bigger-concept deals like Jerami Grant. They're looking for a combo forward to go next to Nikola Vucevic, but are reluctant to include Patrick Williams in any deal, which goes back to the problem the Mavericks have with Brunson.
Likely to Stand Pat
The UtahJazz's trade of Joe Ingles for Nickeil Alexander-Walker on Wednesday was a signal to other teams they're probably done for the deadline. The Jazz will continue to take and make calls, but their priority was saving luxury tax money and the Ingles trade cleared $11 million off their books.
Atlanta has cooled as their record has stabilized, but continue to look for options involving a backup point guard. Sources indicated that talks for John Collins were mostly dormant (again) and could be revisited this summer.
How would you rate this article?
This site contains commercial content. We may be compensated for the links provided on this page. The content on this page is for informational purposes only. Action Network makes no representation or warranty as to the accuracy of the information given or the outcome of any game or event.