College Football Futures: Betting Value on Arizona State & Wake Forest Ahead of Week 6
Credit:
Christian Petersen/Getty Images. Pictured: Jayden Daniels.
Mike McNamara: We have learned a lot through five weeks of the college football season.
Alabama and Georgia are elite again. Penn State and Michigan are bouncing back in big ways after poor 2020 campaigns. The Pac-12 and ACC have had their playoff chances take heavy hits after dreadful starts.
As much as we have learned, there are still so many questions remaining.
If Cincinnati runs the table, will it be the first Group of Five team to ever get the nod to the College Football Playoff? Can teams like Oklahoma State or Texas finally knock the Sooners off the mantle in the Big 12? Who will emerge in the Big Ten, where four teams remain unbeaten?
The beauty of college football is that every week, more pieces of the puzzle begin to be put together.
Penn State heads to Iowa City on Saturday afternoon for a top-five showdown. Oklahoma and Texas meet in Dallas for the annual Red River Showdown game. Both of these matchups will go a long way in the Big Ten and Big 12 conference races.
Before those games happen… let's get into where we find value in the futures market, both from a National Championship and conference level.
---
Odds as of Wednesday afternoon and via WynnBET
---
National Championship Picture
Mike McNamara: The last time I wrote up a college football champion future to add was after Week 1, when I discussed why it was a good idea to add the Iowa Hawkeyes at 100-1 leading into the matchup with Iowa State.
Iowa is currently anywhere from 35-1 to 50-1 in the markets, and those numbers will dip heavily if the Hawkeyes can get it done against Penn State on Saturday.
This time around, I'm coming back with an even bigger longshot — in fact, far bigger — with the Arizona State Sun Devils, currently +50000 at WynnBET.
When I look at futures to add at this point in the season, for me, it's all about finding teams with big numbers that have a realistic path to making the playoff.
With Alabama and Georgia appearing to be a cut above the rest of the field, the bigger the number means more of an opportunity to hedge in the semifinals or National Championship.
I believe Arizona State is currently playing the best football of any team in the Pac-12. Third-year starting quarterback Jayden Daniels is an extremely dynamic playmaker, and he's completing over 71% of his passes.
There really isn't a weakness anywhere on the Sun Devils roster, and this is a team that should continue to get better as the year goes on.
When you look at the remaining schedule, ASU has likely already passed its most difficult road test with the win last week at UCLA. The Sun Devils do not meet Oregon in the regular season, and the game at Utah looks far less difficult after the Utes' early struggles.
It's hard to make the playoff with a "bad loss" on the resume, but given BYU's 5-0 start, Arizona State should not have to worry about that. Four turnovers in Provo led to a 27-17 loss to the Cougars, but it's always better to lose early in the year versus the alternative.
I project Arizona State to be a favorite in every remaining game on its regular-season schedule. This is a team that absolutely has the talent to run the table and then beat Oregon or whomever out of the Pac-12 North in the league title game.
At 12-1 and with a Pac-12 title, Arizona State would be firmly in the mix for one of the four playoff spots.
A loss from Cincinnati and BYU would certainly help things, but with the ACC's playoff chances looking all but dead (Sorry Wake), I feel pretty good about the Sun Devils' chances in this scenario.
I'm locking in my +50000 ticket at WynnBET this week ahead of the Friday night tilt against Stanford and will hop on the Sun Devil bandwagon the rest of the way.
Conference Picture
Kody Malstrom: This season is a better time than ever to start throwing some darts, and no conference is wilder than the ACC.
Going into the season, it was widely believed that Clemson was going to breeze by its schedule and beat either North Carolina or Miami in the championship game. As of now, I don't think any of those three are going to make it.
Clemson stinks. You read that right. It flat-out stinks. This isn't the Clemson we've seen in the past. It has glaring problems all over.
In the other division, Miami and UNC have also underwhelmed.
Miami can't stop a nosebleed and is getting torn up on the defensive end. UNC still has a chance, but it needs to perform in away games, as it's polar opposites when on the road compared to at home. That's not a recipe for long-term success.
So, who does that lead me to believe can take home the ACC crown? None other than the conference-leading Wake Forest Demon Deacons.
Wake Forest currently sits on top of the ACC at 3-0 in conference and 5-0 overall. It currently holds wins over Florida State, Virginia, and Louisville.
With Syracuse on deck and a couple of easy ones after, now is the time to take a piece of Wake Forest.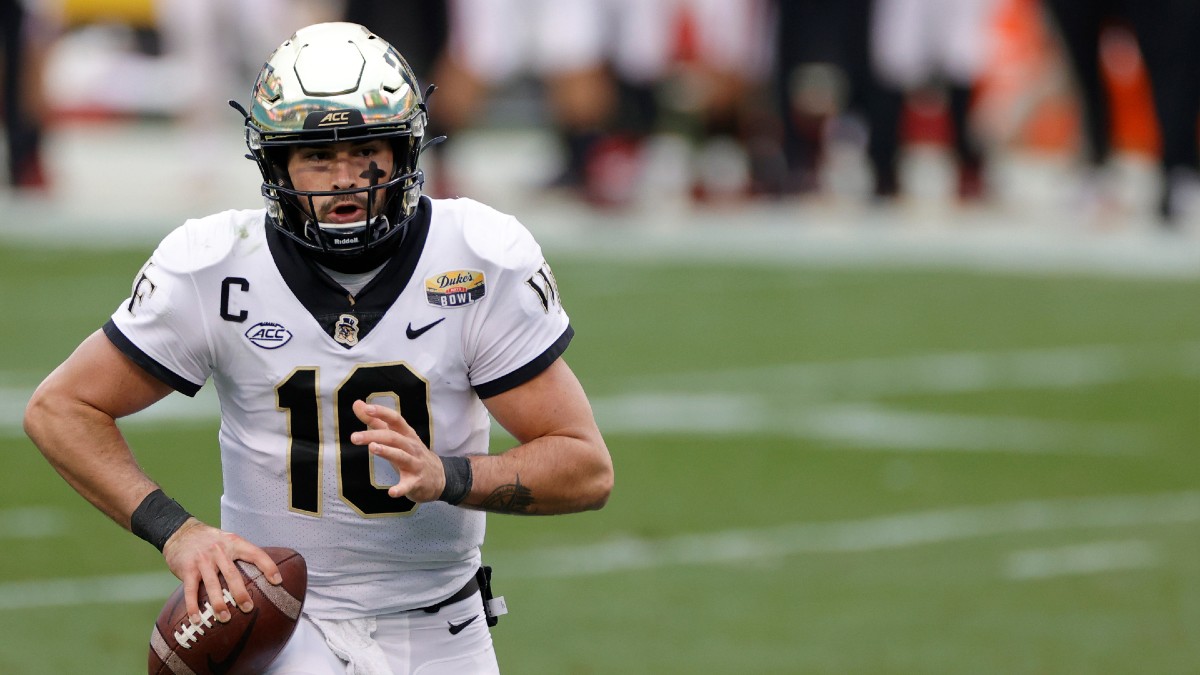 The key to Wake Forest's success is simple. It generates Havoc and limits opposing Havoc. Going into last week's Louisville matchup, Wake Forest was top-20 in both sides of the Havoc ratings.
It will need to continue to force opposing offenses into making mistakes, as the ACC schedule gets tougher when UNC, NC State, and Clemson come into town. It will also need to limit turnovers to stay in the game.
Quarterback Sam Hartman has been efficient in limiting the turnovers, throwing only two picks to his 11 touchdowns. He has been leading the charge under center with the help of a great pass-blocking unit. While Wake Forest's rush attack has been shaky, the passing attack has been lethal.
Another key metric Wake Forest is great at is Finishing Drives. Ranking 15th in Def. Finishing Drives, opposing offenses are finding it difficult to put points on the board when they cross the 40. This keeps Wake Forest in games, as it relies on small chunks at a time to move the chains without the fear of needing an explosive play to get back into it.
While they have a few cupcakes in a row for now, the schedule gets brutal later on.
The Deacons will need to continue to rely on their ability to cause disruption with their defense when more talented offenses roll into town.
If they can continue to limit scoring past the 40, and quarterback Sam Hartman can continue to limit the turnovers, then Wake Forest should be able to handle what's to come.
I'll take the number now before it adds a few more wins with the home stretch on deck.
What to Watch in Week 6 and Beyond
Kody Malstrom: Staying in the ACC, Virginia is another dart I'm tempted to toss on the board. It currently sits in the Coastal at 1-2 in conference and 3-2 overall.
Last week, it escaped with a win on the road at Miami, with Miami's kicker missing the go-ahead field goal at the buzzer.
With preseason odds leaders UNC and Miami struggling out the gate, the Coastal is now wide open for the taking — a perfect opportunity to look at the longshots.
Virginia's 50-1 stuck out to me right away,
This is a situational play. Virginia goes into Louisville this week in what is expected to be a tight one, as it currently stands at +2.5.
If the Cavaliers can come away with the win, the odds will continue to drop before they get a few winnable games with Duke and Georgia Tech on deck.
They have the offense to compete with the best. Quarterback Brennan Armstrong is a man possessed this season, throwing for 1,973 yards, 14 touchdowns, and four interceptions.
His go-to target, Dontayvion Wicks, has hauled in 24 receptions for 535 yards and five touchdowns. They form of the most lethal duos this season.
The passing game is top of the nation. Ranking top-10 in Pass Success and above average in pass blocking, Armstrong has been given ample opportunities to connect on the big play.
They will find themselves relying on more of the offense as the competition gets tougher down the road.
While the defense is horrific, there is still time for Virginia to take advantage of the opportunity of a weakened ACC. With such a large number for it to win the ACC, this would give us plenty to hedge out down the road.
If it squeaks out the win this weekend, I will look to play Virginia to win it all depending on the number.
How would you rate this article?
This site contains commercial content. We may be compensated for the links provided on this page. The content on this page is for informational purposes only. Action Network makes no representation or warranty as to the accuracy of the information given or the outcome of any game or event.