Thursday College Football Odds & Picks: 8 Best Bets, Featuring UConn vs NC State, Minnesota vs Nebraska & More
Credit:
Steven Branscombe/Getty Images. Pictured: The Nebraska Cornhuskers.
College football Week 1 kicks off with a loaded slate on Thursday, August 31.
Our staff has eight best bets for tonight's NCAAF games, including picks for UConn vs NC State, Minnesota vs Nebraska and UCF vs Kent State.
Read on for all eight Thursday college football best bets.
The week of College Football Christmas is here.
Starting today, we have college football gracing our television screens and bet slips for five straight days. That's right — college football on Thursday, Friday, Saturday, Sunday and Monday.
And what better way to kick off this glorious stretch than with a slate that features a team making its Power 5 debut, a divisional matchup in the Big Ten and a ranked team hosting a historical blue blood?
There's plenty of action to go around on this phenomenal Thursday schedule, and our staff came through with eight best bets in an attempt to help you win some money along the way.
So, let's strap in and enjoy the ride for the next five days.
---
Thursday's College Football Best Bets
The team logos in the table below represent each of the matchups that our college football betting staff is targeting from Thursday's slate of games. Click on the team logos for any of the matchups below to navigate to a specific bet discussed in this article.
Game
Time

(ET)

Pick
7 p.m.
7 p.m.
7:30 p.m.
7:30 p.m.
7:30 p.m.
7:30 p.m.
8 p.m.
8 p.m.

Specific betting recommendations come from the sportsbook offering preferred odds as of writing. Always shop for the best price using our NCAAF Odds page, which automatically surfaces the best lines for every game.
---
UCF may be jumping up to the Power 5 level from the AAC, but this roster already looks like a conference contender.
Its defense, which held its four nonconference opponents including two P5 programs to just 48 points last season, brings back plenty of experience up front and has its back seven bolstered through the portal. Cornerback Decorian Patterson and STAR DeJordan Mask have been the talk of fall camp and should help UCF patch up what turned out to be a leaky pass defense down the stretch.
They'll be facing off against a Kent State team that embodies Year 0. The Golden Flashes were gutted this offseason, losing their starting quarterback, running back and top three wide receivers. Toss in a first-time head coach in Kenni Burns, and this is simply a game to get through for Kent.
It may come as a surprise, but UCF finished only 92nd in offensive explosiveness last season because it rarely burned teams through the air. If Kent, which is replacing nearly everyone on defense, is competitive against the run, it could force UCF to chew up some clock on long drives.
With stormy conditions, UCF could opt to just run the ball down Kent's throat all game long. That could translate to a de facto running clock with the new first-down rules.
Toss in the potential for a lightning delay throwing these offenses out of rhythm, and it's easy to see why this total has crept down from its opener of 62.5.
---
By Mark Harris
Inclement weather is affecting the lives of millions of Americans in the Southeast, and it's probably going to have an effect when UCF hosts Kent State tonight. Rain showers are expected tonight in Orlando in the wake of Hurricane Idalia, and it should make for a sloppy game between the Knights and Golden Flashes.
In addition to the rain, a lightning delay would not be unexpected. If that happens midway through the game, the long break could disrupt the offensive rhythm of either team when they get back on the field. Conditions already won't be great for throwing the ball, and a potential delay would only muck things up even further.
Kent State also may have contributed to the under if it were 75 degrees and sunny. The Golden Flashes were decimated by the transfer portal following former head coach Sean Lewis leaving the program to be the offensive coordinator at Colorado.
Starting quarterback Collin Schlee, 1,300-yard rusher Marquez Cooper and the three leading receivers — Devontez Walker, Dante Cephas and Ja'Shaun Poke — all transferred out this offseason. Heck, even first-team All-MAC offensive lineman Marcellus Marshall left Kent State … to go to UCF.
With all those defections, scoring will likely be a struggle for the Golden Flashes and new head coach Kenni Burns.
As for the Knights, we know Gus Malzahn loves to run the ball and we know John Rhys Plumlee is a really good running quarterback. What better time than tonight in rainy Orlando to ground and pound Kent State? That offensive approach and the new clock rules should limit UCF's scoring in a likely blowout.
The weather, field conditions and the offensive situations of both teams make this a great opportunity to take the under.
---
---
Jim Mora returned to college football in Storrs, Connecticut, and immediately led the UConn Huskies to a 6-7 season and their first bowl appearance since 2015. They did so by running the ball and playing good defense.
UConn finished the season sixth in the country in rushing rate and returns its top two running backs, Victor Rosa and Devontae Houston. Four of its four offensive line starters are back as well.
This team will continue to rely on its strong running game, especially as it works in a new quarterback in Joe Fagnano. UConn runs one of the slowest paces in the country, ranking 128th in plays per game last year.
The defense is led by star linebacker Jackson Mitchell, who finished fourth in the nation with 140 tackles. The Huskies ranked eighth in the country at defending explosiveness, keeping opponents in front of them and preventing big plays at an elite level. Overall, UConn has the fifth-most returning production among all FBS teams.
NC State's defense continues to be one of the best in the country. It ranked sixth in Success Rate and 28th at preventing Finishing Drives Allowed. The Wolfpack create a ton of Havoc, and captain Payton Wilson is one of the best linebackers in college football.
Offensive coordinator Tim Beck left NC State to become the head coach at Coastal Carolina, and now Robert Anae took over after a year as the OC for Syracuse. Star quarterback Devin Leary transferred to Kentucky, and Brennan Armstrong transferred in to reunite with Anae. While Armstrong was terrific in 2021 with Anae and there's hope he will regain that form, he was horrible last season.
These are two strong defensive teams with one offense working in a ton of new pieces and another offense that wants to run the ball every play. Combined, these two teams went 15-8-2 to the under last season.
Expect a rock fight Thursday night.
---
By Cody Goggin
UConn was a surprise bowl team a year ago, but it became one with a largely mediocre offense. The Huskies ranked 118th in Offensive Success Rate in 2022 and relied heavily on their running game.
With nine starters back this season, Jim Mora's offense should look largely the same, which doesn't inspire much confidence.
They will be going up against an NC State Wolfpack defense that ranked sixth in FBS in Defensive Success Rate a season ago. They were especially strong against the run, ranking fourth in Rushing Success Rate and 16th in PPA Allowed.
While there's a decent amount of turnover on the NC State defense, I would not expect UConn to effectively move the ball all game long.
On the other side, we have an NC State offense that's bringing in a brand-new quarterback. Brennan Armstrong shined in 2021 when he broke Virginia's single-season passing record under then-Cavaliers offensive coordinator Robert Anae. Last season, Anae departed for Syracuse, and Armstrong struggled mightily.
There's a chance we could see Armstrong re-capture his 2021 form, but I don't know that we'll see it right out of the gate for a team replacing three of its top four receivers.
While UConn's defense ranked 123rd in Defensive Success Rate, it was eight-best in preventing explosive plays and 57th in Defensive Finishing Drives. Defensive continuity is key at this time of the year, and the Huskies bring back eight returning starters on this side of the ball, including nine of their top 12 tacklers.
Neither of these teams plays at a breakneck pace either. In 2022, the Wolfpack ranked 78th in seconds per play, while UConn came in at 123rd in FBS.
This will be a slow-moving game in which the defense is the strength of both teams. Both SP+ and my own model project this total to be 44 — well under the 47 where it currently sits.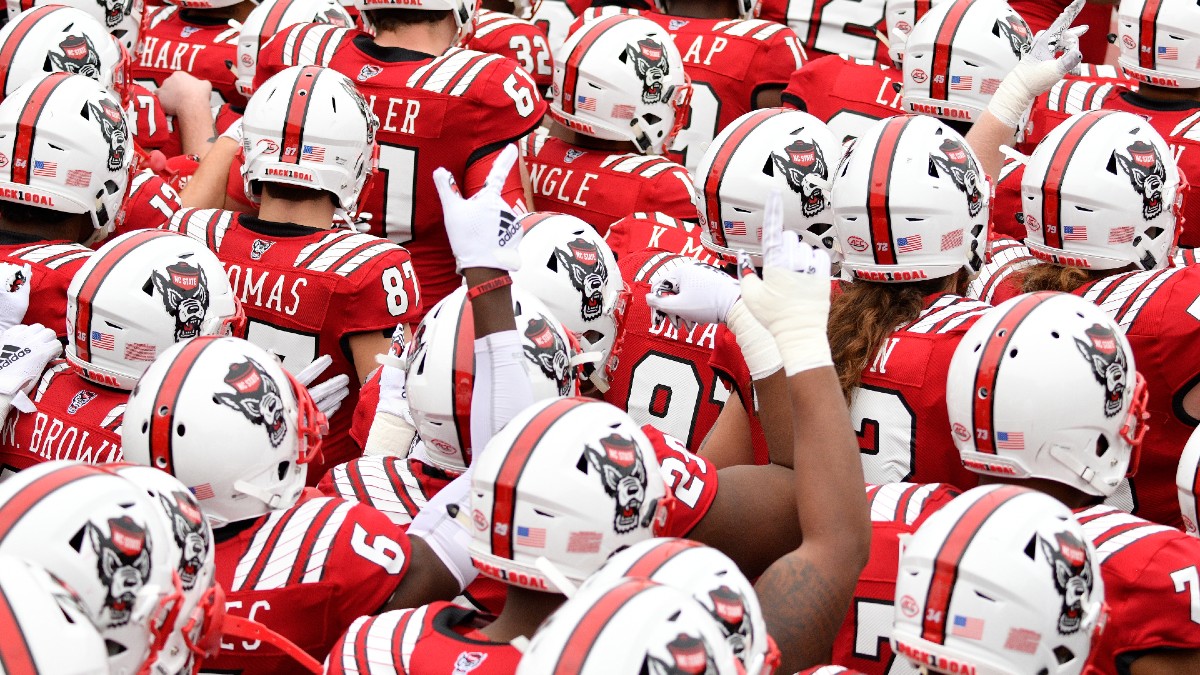 ---
North Carolina State heads to Connecticut as a dark-horse candidate to win the ACC after last season's 8-5 campaign.
The Wolfpack will look to start fast on the road and put up a repeat performance against the Huskies after knocking them off at home last season, 41-10.
There's a lot of hype around the NC State quarterback room, and justifiably so, as transfer quarterback Brennan Armstrong will be reunited with offensive coordinator Robert Anae.
During their time together at Virginia in 2021, Armstrong broke Virginia's single-season passing record, throwing for 4,449 yards, 31 touchdowns and 10 interceptions. After starting four quarterbacks last season, NC State should recognize immediate synergy with the Anae and Armstrong reunion.
In the past two seasons, 60 of the Wolfpack's 79 touchdowns have come through the air. Last year, 15 different players on the NC State roster caught a touchdown.
The Pack may have to prove they have a ground game, too, if they want to be competitive in the ACC, but Armstrong comes into a quarterback-friendly program with a very high level of familiarity with the offense.
On the defensive side of the ball, NC State will have to replace departing talent at linebacker but will once again be very stout on the defensive line due to a combination of recruiting and transfer portal activity. The matchup in the trenches will be key against Connecticut a run-heavy team, but NC State will be well-equipped to handle the Huskies' front five.
UConn will turn to FCS transfer Joe Fagnano under center this season. However, this could make for a long evening for Fagnano given that this will be one of the best defenses he'll face this season.
NC State is under the radar for the time being, but I expect this game to be a coming-out party for the reunited Armstrong and Anae connection as they face a rebuilding Connecticut secondary.
I think the Wolfpack's aerial attack will overwhelm the Huskies just as they did last year when they completed 33-of-46 passes for 323 yards and four touchdowns.
The line opened at 16.5 but can be bought at 14 now. For obvious reasons, 14 is a great number, and I will be all over this line. I recommend playing this at 14 or better but would be comfortable going to 15.
---
By Doug Ziefel
Things went about as bad as they possibly could have for Brennan Armstrong in 2022. Tony Elliott took over at Virginia, and his scheme caused Armstrong to regress mightily.
This caused Armstrong to hit the portal, and lo and behold, he winds up at NC State, where Robert Anae is the new offensive coordinator.
Last season put a damper on the hype around Armstrong, but we must remember what he did in 2021 with Anae running the offense at Virginia. He was one of the top quarterbacks in the country and posted a 31:10 touchdown-to-interception ratio while throwing for 4,449 yards, which was the fourth-most in the country.
Tonight, the two will reunite and face a UConn team that ranks 14th in defensive returning production. However, that's only a plus for Armstrong and the Wolfpack offense, as the Huskies ranked 128th in Passing Success Rate Allowed last season.
While NC State is a double-digit favorite in this matchup, it would be surprising to see this be a blowout. So, with little concern about him being pulled early, we should see Armstrong return to form and shred the UConn secondary at will.
---
---
Thursday night features an intriguing Big Ten West matchup between Nebraska and Minnesota, which are both looking for a critical conference win to begin their 2023 campaigns.
Nebraska comes into this game with plenty of roster and coaching turnover, highlighted by new head coach Matt Rhule.
Rhule will look to rebuild, particularly, on the defensive side of the ball. The Cornhuskers ranked 125th nationally in Success Rate but limited teams' big-play ability, ranking ninth nationally in explosiveness allowed. Although this defense has a lot to do, it brings back its top three tacklers from last season and moves to a 3-3-5 scheme under new defensive coordinator Tony White.
On the other side, Minnesota will struggle to maintain its top-25 Rushing Success Rate numbers as it returns just 49 offensive line starts and will be without star running back Mohamed Ibrahim, who racked up 1,665 yards on the ground in 2022.
Although Minnesota will look to expand its pass rate, I believe this offense will continue to attempt to lean on the run game with Athan Kaliakmanis under center.
Defensively, Minnesota coordinator Joe Rossi has six returning starters from a unit that executed a bend-don't-break mentality, ranking fourth nationally in Opponent Points per Opportunity.
This has all the makings for a classic Big Ten matchup highlighted by defenses, so I will gladly play the under to 43.
---
Changes are coming to the Nebraska offense. Marcus Satterfield is now the offensive coordinator, and Jeff Sims has transferred in from Georgia Tech to play quarterback.
Sims isn't a great passer, but he's an incredible runner. Last season at Georgia Tech, he averaged 5.7 yards per carry and forced 22 missed tackles.
The Huskers should have a very stout rushing attack. Last season, they transitioned from a run-based attack to a passing attack under then-offensive coordinator Mark Whipple. Now, they'll feature a heavier ground game once again.
The Huskers return 120 starts across their offensive line, and their top back, Anthony Grant, along with Gabe Ervin.
The Minnesota defense was very good last season, finishing 15th in Success Rate Allowed, 32nd in EPA/Play Allowed and fourth in Finishing Drives Allowed.
However, it's likely going to take a step back. Only three starters return in its front seven, and two of its best players in the secondary are now in the NFL. Plus, the Gophers lost two of their top three tacklers.
Minnesota was one of the most rush-heavy offenses in the country, carrying the rock on 66.3% of offensive plays — the highest average for a non-triple option offense in the country. That was because they had Mo Ibrahim, one of the best backs in the country.
The Gophers added Sean Tyler from Western Michigan via the portal, but he was a pretty average back in the MAC who averaged 4.9 yards per carry with a 72.0 PFF rushing grade. Plus, only two starters return on the offensive line.
As a result, there may be more pressure on Kaliakmanis in the pocket. He wasn't very good in those five starts at the end of the season, putting up a 69.3 PFF passing grade and a 61.3% adjusted completion percentage, so the Minnesota offense should take a step back.
Defensively, Nebraska was a mess last year. The Huskers finished the season 123rd in Success Rate Allowed, 88th in EPA/Play and 114th in Havoc. Consequently, new defensive coordinator Tony White enters from Syracuse, and he will implement a 3-3-5 defense.
Last season at Syracuse, his defense boasted a top-five PFF coverage grade and top-10 tackling grade. Nebraska finished outside the top 50 in both of those categories last season, so he should immediately improve those two aspects of the defense.
The Cornhuskers return six starters on the defensive side of the ball. They brought back their top three tacklers, four starters in the secondary and added an impressive transfer in Georgia linebacker MJ Sherman, who was a four-star recruit coming out of high school.
I don't think there is really a big gap between these two teams, so I like the value on Nebraska at +7 or better.
How would you rate this article?
This site contains commercial content. We may be compensated for the links provided on this page. The content on this page is for informational purposes only. Action Network makes no representation or warranty as to the accuracy of the information given or the outcome of any game or event.