College Football Odds, Picks: The 5 Biggest Returning Production Discrepancies in Week 0 & Week 1
Credit:
Matthew Maxey/Icon Sportswire via Getty Images. Pictured: Gavin Schoenwald.
As the new college football season kicks off, there are plenty of differences in TARP (Transferring Assets & Returning Production).
These discrepancies give plenty of betting value to a number of nonconference games on tap in Week 0 and Week 1, ranging from Nevada vs. New Mexico State to Western Michigan vs. Hawaii and Vanderbilt vs. Hawaii.
Whether it's returning passing production vs. returning passes defended or returning offensive line snaps vs. returning pressures, five games stick out most.
---
Nevada vs. New Mexico State Odds
Nevada Odds
Spread
Total
Moneyline

-12.5

-110

55.5

-105o / -115u

-550
New Mexico State Odds
Spread
Total
Moneyline

+12.5

-110

55.5

-105o / -115u

+400
Nevada OL: 11% · New Mexico State Pressures: 98%
Nevada Passing: 9% · New Mexico State Passes Defensed 47%
Do not get the teams from the Land of Enchantment mixed up in preseason betting.
New Mexico is expected to be one of the worst teams in FBS, while the Aggies from Las Cruces will have ample opportunities for betting.
After a long contract dispute with administrators, longtime New Mexico State coach Doug Martin departs after nine seasons, making way for Jerry Kill to take over a program on the rise.
The Aggies will join Conference USA in 2023, but before that move, a large number of returners on defense will lead the team in 2022.
Kill tapped former Pittsburg State head coach Tim Beck as the new offensive coordinator. Beck brings along his defensive coordinator from his final years in Pittsburg in Nate Dreiling.
Continuity in the New Mexico State staff differs from the new regime coming into Reno. New Wolf Pack head coach Ken Wilson is familiar with Nevada, but scheme change and FBS-low TARP numbers on both sides of the ball will make this a true Year 0.
Nevada will field a competition at the quarterback position in the initial post-Carson Strong season.
Shane Illingworth will look to overtake spring quarterback Nate Cox for the starting position. Illingworth, a transfer from Oklahoma State, remained in Stillwater to finish classes, thus sacrificing spring practices.
Wilson may have a different idea for this offense, hiring Derek Sage as offensive coordinator. Sage comes from UCLA with the mindset of running the ball with multiple running backs and tight ends.
The handicap in this game comes on a Nevada offensive line that returns just 11% of snaps played from the 2021 season. That will cause Havoc for Cox or Illingworth in passing downs, as New Mexico State returns 98% of pressures created last season.
With a few weeks before Week 0 kickoff, this number is expected to dip possibly through 10 as the Aggies will be the underdog darling of the weekend.
Pick: New Mexico State +12 (Play to +10)
---
Western Michigan vs. Michigan State Odds
Western Michigan Odds
Spread
Total
Moneyline

+18.5

-115

N/A

-950
Michigan State Odds
Spread
Total
Moneyline

-18.5

-105

N/A

+650
Western Michigan OL: 22% · Michigan State Pressures: 51%
Western Michigan Passing: 1% · Michigan State Passes Defensed 75%
Michigan State covered all four nonconference games in Mel Tucker's second season — the first in which he played non-Big Ten teams thanks to the 2020 pandemic season.
"The matchups were favorable for us in those games," Tucker told me at Big Ten Media Days.
The 2022 opener against Western Michigan may be another example of a nonconference game that favors the Spartans in multiple areas.
Western Michigan owns one of the lowest TARP ratings in all FBS, starting with no experience at the quarterback position. Kaleb Eleby's departure leaves the position open for a handful of freshmen and a former Alabama walk-on to compete for the job.
Jack Salopek took command of the offense in the spring game, but that may have been the default with Stone Hooenback and Mareyohn Hrabowski looking less than impressive.
The biggest issue for Salopek may be an offensive line that returns just 22% of snaps from last season. With new starters projected at the tackle position, Michigan State's edge rushers may feast in the opener.
Tucker will return a loaded back seven in the Spartans defense, as 51% of pressures and 75% of passes defensed return for Michigan State. The defense should cook against a Western Michigan team that will have a disadvantage in size and experience on offense.
Considering there's no overlook to Akron the following week, expect quarterback Payton Thorne and wide receiver Jayden Reed to get the Spartans on the board early and often.
The Action Network projection on this game is Michigan State -24, with expectations this number will steam leading up to kick.
Pick: Michigan State -18 (Play to -21)
---
Kent State vs. Washington Odds
Kent State Odds
Spread
Total
Moneyline

+21.5

-120

N/A

+700
Washington Odds
Spread
Total
Moneyline

-21.5

+100

N/A

-1150
Kent State OL: 31% · Washington Pressures: 80%
Kent State Passing: 6% · Washington Passes Defensed 36%
Jimmy Lake's dreadful stint as Washington's head coach has finally passed, as the Huskies stepped outside the Chris Petersen coaching tree to bring in offensive mastermind Kalen DeBoer.
Long known for resurrecting Indiana's offense and leading Fresno State to a 10-3 record last season, DeBoer is one of the bigger upgrades in college football after the Huskies fell outside of the top 75 in Havoc Allowed and Finishing Drives.
Indiana transfer quarterback Michael Penix Jr. joins a stable that includes highly-touted Dylan Morris and Sam Huard, who gained got experience last season. The key to this game may be on the other side of the ball.
DeBoer brings co-defensive coordinators from Fresno State who are expected to implement the 4-2-5 used last season. The cupboard was not bare for the Huskies, returning 80% of pressures recorded from last season.
Tuli Letuligasenoa's pass-rushing ability returns after recording 5.5 tackles for loss and an interception from the defensive interior.
Sean Lewis was loaded with experience in the 2021 season, returning more super seniors than any team in the nation. With the exit of those established MAC stars, Lewis now has one of the lowest numbers of experience returning, per TARP.
Junior quarterback Collin Schlee is expected to earn starting duties behind an offensive line that returns just 31% of snaps from last season. Only center Sam Allan saw the bulk of playing time from the offensive trench last season.
There has been Kent State love in the market with early betting, knocking a number of 22.5 down to 21.5. A flood of money backing the new Washington offense is expected under DeBoer if the number crosses 21.
Depth is certainly an issue that should be factored into this number. While Kent State has no experience in the two-deep on both sides of the ball, Washington has three quarterbacks expected to get reps with FCS Portland State on deck.
The play is on Washington, but a move to -21 would certainly deserve a larger bet size.
Pick: Washington -21.5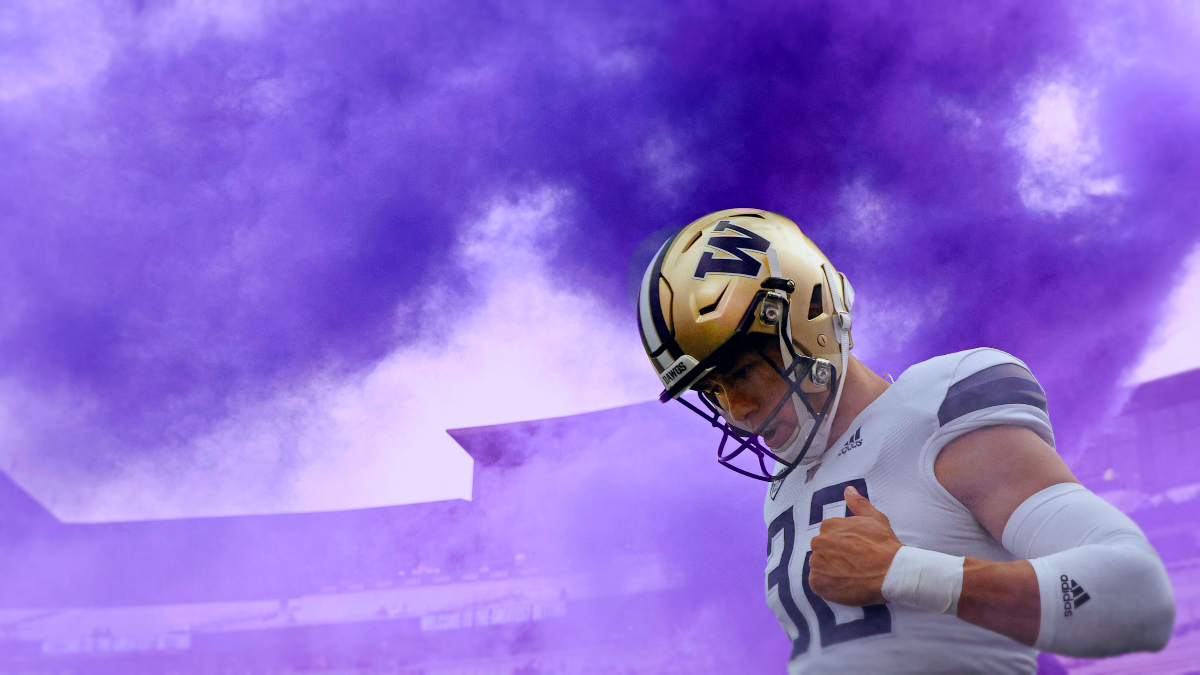 ---
Buffalo vs. Maryland Odds
Buffalo Odds
Spread
Total
Moneyline

+21.5

-110

N/A

+700
Maryland Odds
Spread
Total
Moneyline

-21.5

-110

N/A

-1150
Buffalo OL: 36% · Maryland Pressures: 67%
Buffalo Passing: 32% · Maryland Passes Defensed 68%
Similar to Mel Tucker, covering nonconference games has been a point of emphasis for Maryland head coach Mike Locksley. The Terrapins are 6-1 against the spread in nonconference play since Locksley took over the program in 2019.
Maryland will continue to be one of the most explosive offenses in the nation, searching for consistency in staying on schedule and moving the chains.
With wide receiver Dontay Demus ahead of schedule after suffering a season-ending injury in 2021, expect fireworks against Buffalo's MAC defense.
What a response from Maryland.

Taulia Tagovailoa launches a deep ball to Dontay Demus Jr. for a 66-yard touchdown.

The Terps take back the lead and are now up 10-7. pic.twitter.com/xgUJ6NjY67

— Testudo Times (@testudotimes) September 4, 2021
The Bulls enter their second season under head coach Maurice Linguist. A 4-8 record marked the program's worst number since the 2016 season, as Linguist was a late hire after spring practices following Lance Leipold's departed for Kansas.
The Bulls' roster will have plenty of turnover, expecting less than 50% back on both sides of the ball. Specifically, the offensive line gets a single starter back and just 36% of snaps from last season. That number will be tested by a Maryland defense that returns 67% of pressures recorded last season.
The Action Network projection is in line with the current market at -21.5 — a number that opened at -21 and took Buffalo money at 22 in some shops.
The Bulls finished 127th in coverage grading, per PFF, leading to a rank of dead last in FBS when it comes to defending standard downs explosiveness.
Without upgrades to Buffalo's back seven, the Maryland offense will tally plenty of explosive plays. Expect the Terrapins to dominate an inexperienced offensive line from Buffalo while lighting up the scoreboard with no overlook to Charlotte the following weekend.
Pick: Maryland -21.5
---
Vanderbilt vs. Hawaii Odds
Vanderbilt Odds
Spread
Total
Moneyline

-6.5

-110

54.5

-120o / +100u

-250
Hawaii Odds
Spread
Total
Moneyline

+6.5

-110

54.5

-120o / +100u

+210
Vanderbilt Pressures: 72% · Hawaii OL: 44%
Vanderbilt Passes Defensed: 70% · Hawaii Passing 19%
Sitting 20 feet from head coach Clark Lea, the proclamation that Vanderbilt will be the best team in the nation nearly threw me out of my chair at SEC Media Days.
The Commodores do return a minimum of 75% of experience on both sides of the ball, per TARP, but a rank near dead last in Success Rate on both sides of the ball must be addressed.
Both Mike Wright and Ken Seals return at the quarterback position, giving Vanderbilt plenty of depth at quarterback. They'll be happy under center, as 80% of the offensive line snaps return.
The strength of Vanderbilt may be on defense, where Lea brings back 70% of pressures and passes defensed from the 2021 season.
Five of the top six tacklers return in an opening game against a Hawaii offensive line that returns just 44% of snap count experience. New head coach Timmy Chang has his hands full with a group that led the Rainbow Warriors to a rank of 122nd in Havoc Allowed in the wake of a tainted Todd Graham tenure.
Identifying a quarterback and looking for tacklers will be the mission objective on the island in August camp. The defense loses six top tacklers from last season, while the offense will pick between Cammon Cooper and Brayden Schager to find a starter under center.
Schager was less than impressive last season, posting two big-time throws and nine turnover-worthy plays in 120 dropbacks.
Cooper saw limited action at Washington State before transferring to Hawaii. Chang has been mum on naming a starting quarterback, as this battle is expected to spill into the opener against Vanderbilt.
Action Network has tracked plenty of sharp signals on this spread.
The projection on this game is Vanderbilt -10, but getting investment down on a single possession is key when backing a Commodores team that should be improved in Lea's second season.
Pick: Vanderbilt -7
How would you rate this article?
This site contains commercial content. We may be compensated for the links provided on this page. The content on this page is for informational purposes only. Action Network makes no representation or warranty as to the accuracy of the information given or the outcome of any game or event.