Alabama vs. Auburn Odds, Picks, Predictions: How to Bet the Iron Bowl
Credit:
Michael Wade/Icon Sportswire via Getty Images. Pictured: Bryce Young.
Alabama vs. Auburn Odds
Alabama Odds
Spread
Total
Moneyline

-20.5

-110

57

-110o / -110u

-1375
Auburn Odds
Spread
Total
Moneyline

+20.5

-110

57

-110o / -110u

+800

The home team has won the Alabama vs. Auburn Iron Bowl in all but one season since 2013. Now, Tigers head coach Bryan Harsin gets his first taste of the biggest rivalry in the SEC.
The former Boise State coach will not be remembered in his first season for a projected Gator Bowl but will be assessed based on Auburn's performance against Alabama.
With a salary north of $5 million, Harsin has been considered a flop to this point. The coach fired a member of his staff in the first month and has lost three consecutive SEC games.
Nick Saban knows the significance of the Iron Bowl, coaching in 14 previous editions of this game. The Alabama head coach acknowledged that no matter what the final results of the season may be, the Auburn game is the measuring stick for fans and alumni.
Saban recalled that Alabama has not executed well at Jordan-Hare in recent years with pick-sixes and the legendary Kick Six.
---
The Crimson Tide posted another win in Week 12 but was far from covering the spread against Arkansas.
Questions continue to circulate around the play of the offensive line, an area Saban says will see no further changes with Darrian Dalcourt back at center.
While the head coach praised the play of Dalcourt, Damieon George and Chris Owens, the trio is a part of the lowest-graded group of offensive linemen in the SEC. Alabama is outside the top 50 in pass blocking, Line Yards and Havoc Allowed.
When quarterback Bryce Young is afforded time to throw, wide receiver Jameson Williams has been electric.
Bryce Young drops an absolute dime to Jameson Williams for the long TD. Alabama responds almost immediately to regain their 10 point lead.

ARKANSAS 7
ALABAMA 17

— CFB Blitz (@BlitzCfb) November 20, 2021
Young has been fantastic at taking what the defense leaves open, connecting on 37 touchdowns to just three interceptions this season.
With 23 big-time throws, the explosive work has been left up to Williams and John Metchie III.
An updated passing grid chart of Young shows how often the quarterback prefers to throw within nine yards or behind the line of scrimmage.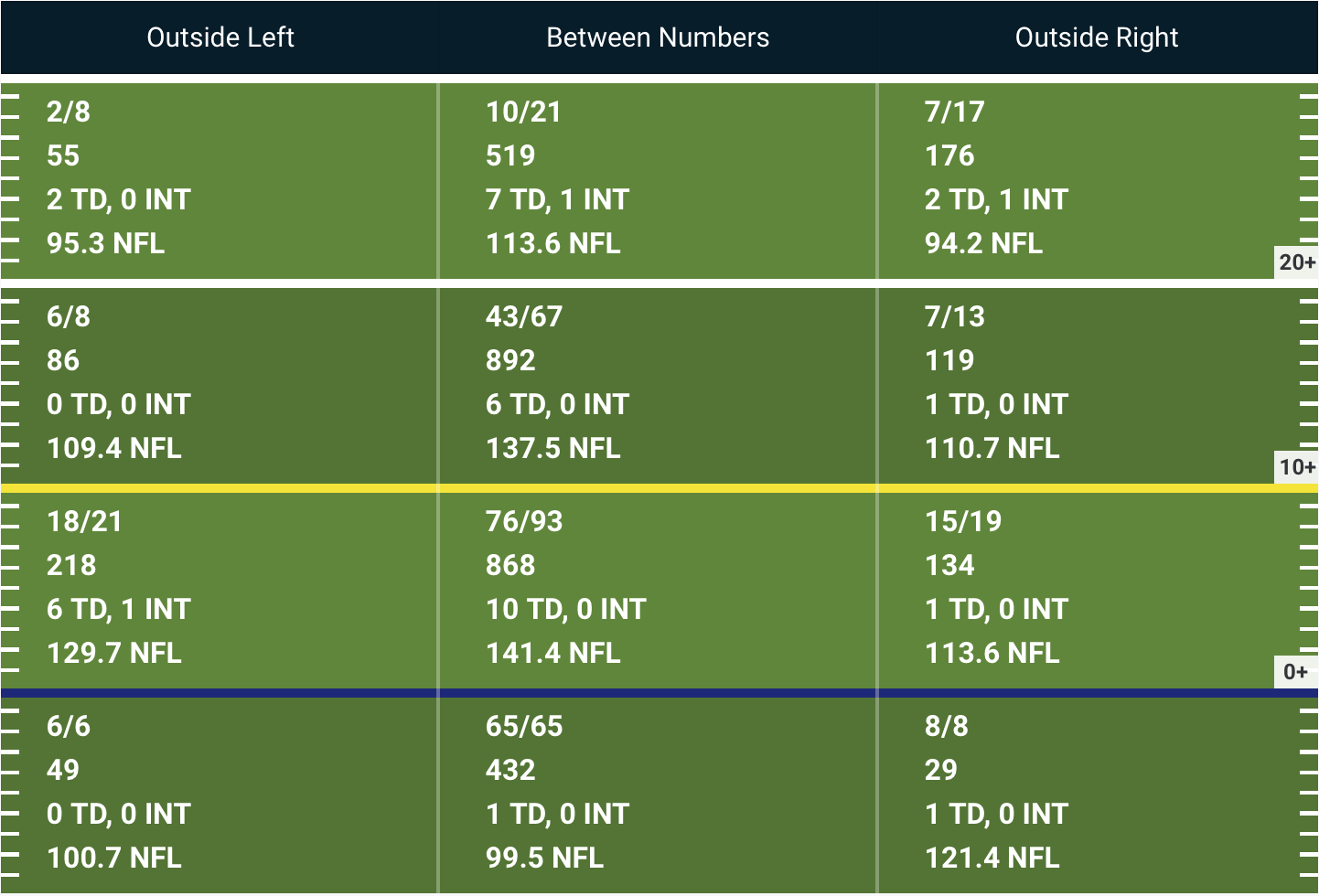 The Razorbacks dominated the Crimson Tide's defensive front. Arkansas ran 49 plays in standard downs and averaged 6.2 yards per play with a Success Rate 14% above the national average.
The Hogs played well above the national average in explosive and methodical drives. Arkansas scored a touchdown on every possession that crossed the Alabama 40-yard line, dropping the Crimson Tide Defensive Finishing Drives rank to 110th.
---
The Tigers' loss to South Carolina as more than a touchdown favorite leaves plenty of questions left unanswered in Auburn.
Auburn scored two touchdowns in the first quarter and managed just three points for the remainder of the game. South Carolina quarterback Jason Brown threw three touchdown passes on 10-of-15 passing, enough to win despite converting just a single third down.
Harsin is being held accountable for an early fourth-and-1 pass attempt at the Auburn 35 that led to a Gamecocks touchdown.
The Tigers squandered a 164-yard rushing performance from Tank Bigsby.
The Auburn secondary continues to get lit up by opposing quarterbacks. Brown threw three explosive passes against the Tigers, just one week after a Mississippi State dink-and-dunk passing attack posted 12 passes over 15 yards.
South Carolina completely avoided left corner Roger McCreary and strong safety Smoke Monday, while Mississippi State completed 6-of-9 targets against two of the best defensive backs in the SEC.
Auburn has fallen to 84th in Passing Downs Success Rate on defense, a signal that opposing offenses have found the holes around the Tigers' secondary.
---
Alabama vs. Auburn Matchup Analysis
Toggle the dropdowns below to hide or show how Alabama and Auburn match up statistically:
Alabama Offense vs. Auburn Defense

Offense

Defense

Edge

Rush Success
58
26

Line Yards
57
17

Pass Success
5
107

Pass Blocking**
53
25

Big Play
6
41

Havoc
67
45

Finishing Drives
6
45

** Pass Blocking (Off.) vs. Pass Rush (Def.)
---
Auburn Offense vs. Alabama Defense

Offense

Defense

Edge

Rush Success
21
15

Line Yards
27
5

Pass Success
63
49

Pass Blocking**
33
52

Big Play
25
49

Havoc
8
16

Finishing Drives
46
110

** Pass Blocking (Off.) vs. Pass Rush (Def.)
---
Pace of Play / Other

| | | |
| --- | --- | --- |
| | | |
| PFF Tackling | 8 | 42 |
| Coverage | 26 | 38 |
| Middle 8 | 2 | 107 |
| SP+ Special Teams | 25 | 52 |
| Plays per Minute | 78 | 31 |
| Rush Rate | 51.3% (90) | 48.8% (100) |
Data via College Football Data, FootballOutsiders, SP+, PFF and SportSource Analytics.
---
Alabama vs. Auburn Betting Pick
Both Alabama and Auburn love to score early in games, ranking top-13 in point differential through the first quarter.
Harsin spoke of how the recent losing streak was consistent with Auburn starting hot and deteriorating throughout the game. The Crimson Tide average 12 more points in the first half versus the second half, which is partially opponent-driven.
Both of these head coaches have prepared the offenses well, but the adjustments by Saban will be the difference in this game.
The evidence that Auburn has been slow to make adjustments comes in Middle 8 ranks, as the Tigers are 107th against the Crimson Tide's rank of second in the country. If there's a live bet made during the game, backing the Crimson Tide with four minutes left in the second quarter has a high probability of covering.
The handicap comes from opposing offenses dissecting the secondary of Auburn. If South Carolina's Brown can avoid Monday and McCreary, Young should have plenty of success taking what the defense gives.
Alabama is sixth in Offensive Finishing Drives, a stat that will be in play, assuming the Crimson Tide's top-15 explosive air attack doesn't put points on the board before crossing the 40-yard line.
The Alabama defense isn't without flaws, as Bigsby and quarterback TJ Finley should have success putting points on the board in the first few drives.
The Action Network projection is well below the market at Alabama -12. Auburn is down Bo Nix and kicker Anders Carlson, both inflating the spread in this game.
Crazy events happen in the Iron Bowl in Jordan-Hare, but the value is in the total. One of the biggest key numbers in college football totals is 55, where the market currently resides. With Success Rate, net yards per play and Finishing Drives in perspective, the Action Network projects this total at 63.
Because Auburn scores early and deflates before halftime, the best bet is the first-half total.
Pick: 1H Over 28 or Better
How would you rate this article?