College Football Odds, Picks & Futures: Our Staff's Favorite Win Total Bets for 2022, Including Michigan & Oklahoma
Credit:
Getty Images. Pictured: James Blackman (left), Blake Corum (center) and Marvin Mims (right).
It's finally here. The long-awaited return of college football is finally upon us.
Before we know it, players we never could have dreamed of will be juking, spinning and diving their way into our hearts just like countless players of college football's past.
But before we get there, we have some work to do and some bets to make.
Below, you will find our college football staff's favorite win totals for the 2022 season, ranging from Sun Belt unders to a couple of overs for a team that made the College Football Playoff just last season.
So, let's dive in. Before we know it, it'll be December — and hopefully it'll be a green one.
---
Our College Football Staff's Favorite Win Totals
The team logos in the table below represent each of the win totals that our college football staff is targeting for the 2022 season. Click the team logos for one of the picks below to navigate to a specific bet discussed in this article.
Specific bet recommendations come from the sportsbook offering preferred odds as of writing. Shop for the best price using our NCAAF Futures Odds page, which automatically surfaces the best lines for every game.
---
Butch Jones made history in his first year with the Arkansas State program. He tied the lowest win total for the program since 2001, finishing with just two wins.
There doesn't seem to be a light at the end of the tunnel for the Red Wolves this season.
The defense allowed just shy of 40 points per game and over seven yards per play. FBS opponents averaged over 280 rushing yards and 6.6 yards per carry last season, both the worst in the nation. Arkansas State will need to replace holes at all three levels of this defense, as it returns only 53% of last year's production.
The offense has just one offensive lineman returning from a group that mustered 2.8 yards per carry and allowed four sacks per contest.
Quarterback Layne Hatcher transferred in conference to Texas State, which leaves James Blackman leading the charge. With only 42% of its production returning, per TARP, this offense is going to struggle finding the end zone.
The schedule is a tough one with inevitable losses coming against Ohio State, Louisiana and Memphis. Arkansas State should be able to overcome Grambling State and will be favorites against UL-Monroe and UMass.
Outside of those three matchups it will be uphill sledding the rest of the season for the Red Wolves. I have them projected for less than four wins and can't envision a scenario in which this program makes it to a bowl game.
---
By Pete Ruden
Ah yes, the crisp fall August air can only mean one thing: College football is back. But that might not be a good thing for the Arkansas State Red Wolves.
Arkansas State posted ranks outside the top 100 in Offensive and Defensive Finishing Drives and Offensive Success Rate last season. One of its best categories, Defensive Success Rate, sat at 91st nationally.
This team couldn't stay on schedule on offense and couldn't score points once it did pass the opponents' 40-yard line. On defense, it wasn't bend-don't-break. It was bend-but-also-break.
Now, the offense returns 42% of its production, per TARP, while the defense brings back 53%.
The fact that quarterback Layne Hatcher — who won a bowl game in his first season as a starter and then eventually descended to 2-10 last year — decided to transfer to a team in the division also raises a red flag.
If given a choice, I don't want to put my money on a Florida State transfer in James Blackman who couldn't win the starting job at a middling Sun Belt school and has issues with ball security.
Other than potential wins over Grambling State, ULM and UMass, nothing will come easy.
Our Collin Wilson has the Red Wolves projected at 3.3 wins, while SP+ puts them at 4.3. Either way, I don't see a way this team reaches a bowl.
---
---
By Alex Hinton
Michigan is coming off its first Big Ten title since 2004, and now it may have its best offense in years. SP+ ranks Michigan sixth offensively going into the year.
Running back Blake Corum returns after rushing for 952 yards and 11 touchdowns on 6.6 yards per carry. He will form a dynamic running back tandem with Donovan Edwards, who came on at the end of last season as a freshman.
The Wolverines return eight of their top nine receivers and bring back Ronnie Bell, who led the team in receiving in 2019 and 2020. It's deep at tight end as well, led by Erick All and Luke Schoonmaker, and will have another great offensive line.
Some may be expectating Michigan to drastically fall off on defense due to the losses of Aidan Hutchinson, David Ojabo and Daxton Hill. They'll be hard to replace, but Ojabo didn't have a single sack entering last year.
Michigan has been one of the nation's best teams in producing edge rushers over the last few years. Braiden McGregor, Mike Morris and Jaylen Harrell will receive the first chances to replace them on the edge.
However, defensive tackle Mazi Smith, linebacker Junior Colson, cornerback DJ Turner and safety RJ Moten will be the stars of this year's defense. SP+ projects Michigan 17th defensively.
Michigan also has a favorable schedule with Colorado State, Hawaii and UConn at home in nonconference play. It also gets Michigan State, Penn State and Nebraska at home, while Wisconsin falls off this year's schedule.
The difficult road trips come at Iowa and Ohio State, which may decide the Big Ten East.
The question for Michigan is who will win the quarterback battle between Cade McNamara and J.J. McCarthy. I believe Michigan's ceiling is higher with McCarthy, but it can win 10 games with either, which will cash this over.
---
With offensive and defensive coordinator departures, the loss of three stud defenders in the first two rounds of the NFL Draft, a trip to Columbus and a possible College Football Playoff hangover, surely the Wolverines are destined for a sizable dropoff in 2022, right?
Wrong.
Taking a look at Michigan's schedule, and at most there are two losses. If you chalk up the trip to Ohio State in the season finale as an "L," the only other toss-up on the road comes against Iowa at Kinnick to start the month of October.
The Wolverines catch both Michigan State and Penn State in Ann Arbor this season, and a nonconference slate of Colorado State, Hawaii and Connecticut doesn't get much more forgiving.
The Wolverines received average quarterback play at best last season, which stands to improve regardless of whether or not Jim Harbaugh gives the nod to J.J. McCarthy or Cade McNamara.
The offensive line returns only 40 percent of snaps from last season, but it should marginally improve with Virginia transfer Olusegun Oluwatimi. No. 1 wideout Ronnie Bell, who missed all of last season after an injury in the season opener, also is set to return to action.
The only major pause with Michigan this season is the pass defense, but which team on the Wolverines' schedule is an actual aerial threat? Outside of the Buckeyes, and maybe if you're a believer in the Sean Clifford experiment, there aren't any to be found in the Big Ten.
There's a real chance Michigan and Ohio State both meet with 11-0 records — the Wolverines are favored in all of their first 11 games — and at that point, this bet has already cashed.
Play the juice to -130, and look for Michigan to come close to replicating last year's success.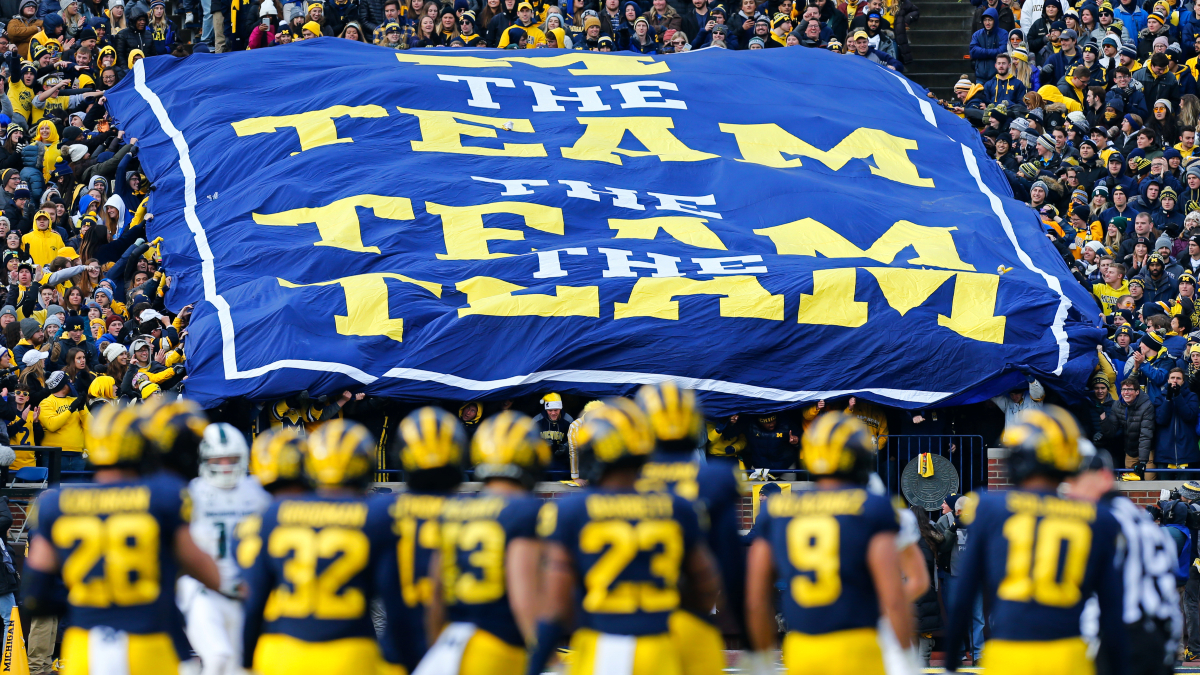 No program in America had a more chaotic offseason than Oklahoma. It all started with Lincoln Riley bolting to USC following the Bedlam game last November. Then it was star quarterback Caleb Williams hitting the transfer portal to reunite with his coach.
Brent Venables was ultimately selected to be the man to replace Riley, and that very well could be a very good hire for the Sooners long-term.
In 2022, however, I expect Venables and OU to fall on rough times. There has already been some drama in the locker room in recent weeks, with longtime assistant coach Cale Gundy resigning for using inappropriate words in a team meeting.
Venables is respected as one of the best defensive minds in all of college football, but he inherits a roster that's lacking in a lot of key areas on that side of the ball. Venables' complex defensive scheme will certainly take some time for new personnel to adapt to as well.
A ton of talent still resides on the offensive side, and UCF transfer Dylan Gabriel has plenty of experience at quarterback. That said, Riley won't be calling plays anymore, and Gabriel doesn't bring the dual-threat ability Williams did.
Lastly, the biggest reason I love this under at 9.5 is due to Oklahoma's schedule. A trip to Lincoln in Week 3 to take on an improved Huskers team in a raucous environment is a very difficult nonconference test to start the year.
Heading into league play, I see tons of games in which the Sooners could be vulnerable to an upset. None of the four true road games are easy wins (Iowa State, TCU, Texas Tech and West Virginia) — particularly trips to Fort Worth and Ames.
While OU has had Texas' number recently, that game should open right around a pick'em with the talent on the Horns' roster.
The Sooners will handle Kansas in Norman, but the other three home games are against the upper echelon of the league, with Baylor, Kansas State, and Oklahoma State all making the trip to Gaylord Family Memorial Stadium.
Ultimately, a brand new regime, some unknowns on both sides of the ball and a difficult schedule give me plenty of confidence to bet that Oklahoma will not reach double-digit wins in 2022.
---
---
By Keg
Texas Tech hopes this season will be a fresh start as it welcomes first-year head coach Joey McGuire. He might not be a big name in college football yet, but I don't think it will take him long.
McGuire has always been a defensive-minded coach; he brings in defensive coordinator Tim DeRuyter, who led Oregon to a rank of 72nd nationally in total defense last season.
And while he may be a defensive coach, don't think for a second the Red Raiders' brand as an offensive powerhouse will fade into a distant memory.
Enter Zach Kittley, who in college left the Abilene Christian basketball team as a walk-on to pursue a career in coaching college football — at Texas Tech. He transitioned from a student assistant to an assistant quarterbacks coach, during which he worked closely with Patrick Mahomes
Following that, He built powerhouse offenses from nothing at Houston Baptist and Western Kentucky, which included the development of another record-setting QB in Bailey Zappe.
Has Kittley had luck with talented quarterbacks? Maybe, but that luck will likely continue at Tech, where Tyler Shough has been named the starter.
Stough racked up 872 yards and six touchdowns in just four games last year before a season-ending injury. Kittley has other weapons on offense, including Minnesota transfer Brady Boyd and returning wideouts Xavier White & Myles Price.
There are an endless amount of questions when it comes to Texas Tech. Can Joey McGuire be a good coach? Will the defense hold up? I believe the answer to both of these is "yes."
All 11 starters on defense are juniors or seniors, with just as much experience down the depth chart.
McGuire is a fantastic defensive coach, and DeRuyter is a massive asset with experience at the college level, specifically head coaching. Meanwhile, Kittley brings with him one of the most successful offensive schemes in the college game today.
In my opinion, there's far too much upside for this team to ignore a win total of just 5.5. The Red Raiders play some of their most challenging games at home, including Houston, Texas, Baylor and Oklahoma.
They also play Baylor just before the Bears take on Oklahoma and catch the Sooners in the last game of the season after Bedlam.
There isn't a team on the schedule that I think can 100% avoid a high-scoring affair with Tech. That alone almost turns the game into a coin-flip.
I would, however, secure the critical number of 5.5, betting it as high as -125.
---
If you followed along on my weekly Future's Friday column over the summer months here at Action, then this pick should not surprise you. After profiting on their over last season, it's time to fade the UCLA Bruins.
This is more of a fade because other teams around UCLA are improving instead of the Bruins themselves.
Utah, and Oregon are expected to keep their seats on the throne of Pac-12 royalty, while Stanford and Washington are expected to make a much-needed improvement.
Plus, USC could transform into a potential juggernaut if all goes well.
UCLA's offense finished with impressive metrics last year with top-25 rankings in Off Finishing Drives, Off Success Rate, and Off Havoc.
The Bruins return quarterback Dorian Thompson-Robinson, but he will play with a whole new cast of playmakers. Gone are his top three pass-catchers in Kyle Philips, Chase Cota and Greg Dulcich.
To make matters worse, UCLA's defense takes a massive blow with a Defensive TARP rating of 51% for an already below-average unit. This includes a loss of talent in the secondary from Qwuantrezz Knight, Quentin Lake and Jay Shaw, creating a huge void at a critical position in the Pac-12.
An even bigger head-scratcher to figure out is the hiring of new defensive coordinator Bill McGovern. With limited coordinator experience, he's now being tasked to fix a defense that ranked 111th in Defensive Rushing Success Rate and 56th in Defensive Havoc.
UCLA starts with a few cupcake, giving it some padding to hit its over. But it gets very challenging from there, having to face all three Pac-12 powers, including a road game at Oregon, leaving it with six coin-flips.
The Bruins would need to win all six coin-flips to hit the over, including games against Washington and Stanford — something I'm willing to bet against.
---
---
I know what you're saying to yourself right now. "Is this nutbar really recommending that I put my hard-earned money on the over for a season win total on Vanderbilt?" Yes, I am.
And yes, I am talking about the Vanderbilt football team that has won just five games since the 2019 season.
For purposes of analyzing the Commodores' historical results, we can throw out the winless 2020 season, when they had massive COVID-19 issues, a coach with one foot out the door, and had to eventually look to the women's soccer team for reinforcements. Still, five wins across two seasons is not good.
I think this season will be different because of cultural changes and talent upgrades.
Head coach Clark Lea had his work cut out for him when he took over the depleted program in December 2020. Lea has improved the caliber of talent since earning the top job, scoring the 49th- and 32nd-rated recruiting classes (per 247Sports) in 2021 and 2022, respectively. This is up markedly from 2020 and 2019, when they ranked 52nd and 58th, respectively.
The Commodores have two experienced quarterbacks returning and a full veteran running back corps that's healthy. The offensive line was a mess last season but showed signs of improvement through training camp.
Seven starters return on defense this year, including the top four tacklers from last season.
Vanderbilt has a very easy schedule for the first four games of the season before entering the meat grinder of SEC East play.
The 'Dores open Week 0 as 8-point favorites over Hawaii. Next, they face FCS foe Elon at home in a game they should be favored in by more than 20 points. Week 2 presents a Wake Forest team that will likely be without standout quarterback Sam Hartman, which will probably be close to a pick'em. Finally, Week 3 is a road game against Northern Illinois in which the Commodores will likely be slight favorites.
I think two wins is the worst-case scenario for Vanderbilt from Week 0 through Week 3. After Week 3, the waters are muddied as Vanderbilt will likely enter each game as underdogs the rest of the way.
Vandy could start the season 4-0 with this ticket cashing by Sept. 10. If this ticket isn't cashed by Week 4, I wouldn't hold your breath — but Weeks 8 and 10 against Missouri and South Carolina will provide some hope.
I'm projecting Vanderbilt as a four-win team this season and see a large edge to the market number of 2.5. Hammer the over, and cash this futures ticket in early September.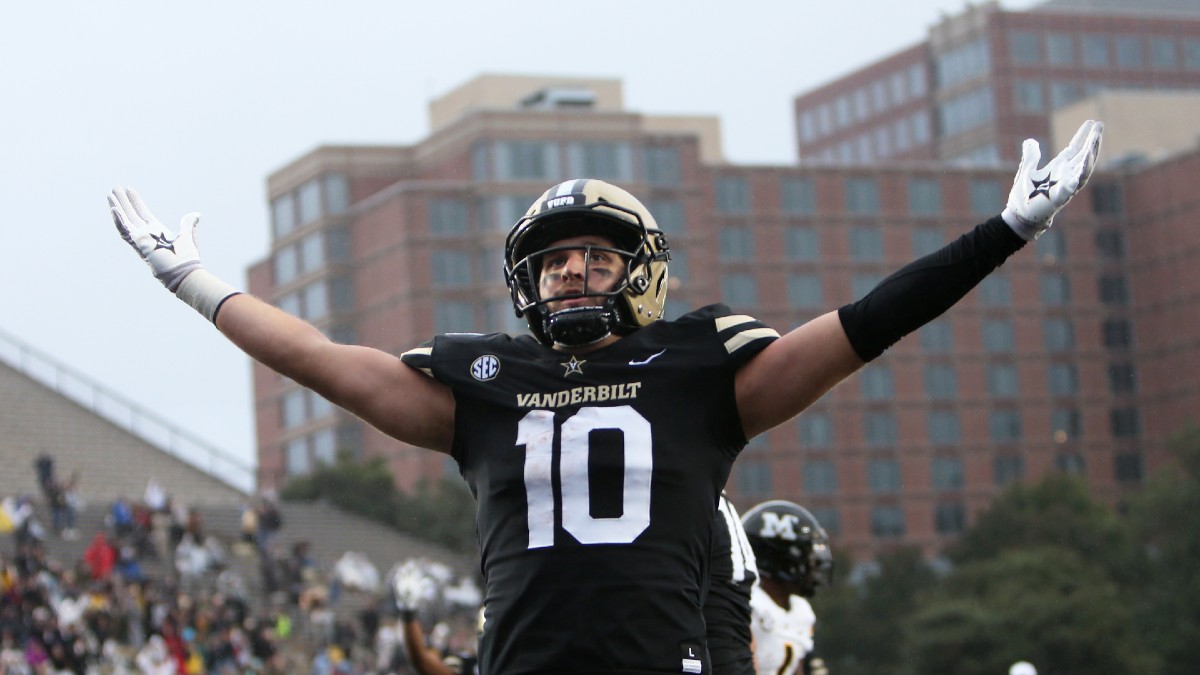 By Dan Keegan
West Virginia serves as a Rorschach test for prognosticators in 2022.
Some might look at the transfer of quarterback JT Daniels and the hire of coordinator Graham Harrel and see an offense that is primed to break out. Others look at a roster that is deeply flawed and relying on one talented but largely unproven signal-caller. Count me with the latter group.
On defense, the Mountaineers should have a strong front seven, but the secondary is a different story. The projected two-deep has only one player who has seen significant experience at the Power Five level. A glitchy pass defense is not a recipe for success in a league like the Big 12.
If you're buying West Virginia, you believe the passing offense will vault into the sport's upper tier.
JT Daniels has been injury-ridden his entire career, which seems like a bad tendency for a quarterback now taking snaps behind a line that ranked 99th in Sack Rate last season.
Daniels' weapons are unproven; fifth-year junior Bryce Ford-Wheaton is the leading returning receiver at 42 receptions for 575 yards, and youngster Kaden Prather has yet to consistently produce.
Wide receiver development has been an issue in Morgantown; Neal Brown's offenses have yet to see a pass-catcher go over 700 yards in a season.
Power ranking systems are not kind to the Mountaineers. Our Collin Wilson projects WVU at 4.1 wins, Bill Connelly's SP+ projects 5.0 wins, Rob Bowron's Beta Rank projects 5.05 and ESPN's FPI projects 5.2.
Our TARP score — which measures impactful returning production including transferring assets — for the 'Eers sits at -6.5, the third-lowest in the league behind Baylor and Iowa State.
Two other notes, for good measure:
West Virginia has the second-hardest Big 12 schedule, according to ESPN's FPI.
Neal Brown is only 5-11 on the road as the head man for the Mountaineers.
If Daniels is healthy, if the wide receivers all take a major step forward, if the veteran offensive line makes significant strides in an area it struggled in last year – that's too many ifs for my taste.
I'm not buying into this being the upper-level pass attack needed to manage this tough slate, and I will take the under.
---
---
After starting the 2021 season 4-0, Wyoming finished 2-6 to finish the regular season, including losses at home to New Mexico and Hawaii.
The Cowboys seemingly quit on head coach Craig Bohl down the stretch, and then they literally quit on him after the season ended.
Star running back Xazavian Valladay transferred to Arizona State, wide receiver Isaiah Neyor left for Texas and cornerback CJ Coldon is off to Oklahoma. Those three make sense and are understandable.
But starting quarterback Sean Chambers transferred to FCS Montana State and would-be starter Levi Williams elected to serve as the backup at Utah State. That's not a good sign.
A team that finished 84th in the country in total offense now returns just two starters on that side of the ball. The defense was great against the pass but got torched on the ground too often. Well, that side of the ball also returns only two starters.
Per Collin Wilson's TARP rankings, only six teams in the country return fewer production than Wyoming. The Pokes start the season as 10.5-point underdogs to Illinois and will be double-digit dogs at Tulsa next week too.
Northern Colorado is likely a win, but after that, their three easiest games on the schedule — New Mexico, Hawaii and Colorado State — are all on the road.
Even if Wyoming managed to win all three of those games, it would still have to pick up an upset in two of the following games to reach a bowl game: Air Force, at BYU, San Jose State, Utah State, Boise State and at Fresno State.
Wyoming will likely be at least a touchdown underdog in all of those games.
There has to be a reason for the mass exodus that took place this summer. Sixteen players left via the transfer portal during the offseason. The vibes are just off in Laramie.
With the push insurance at five, bet that Wyoming will fail to reach a bowl in 2022 as it rebuilds the majority of its roster.
How would you rate this article?
This site contains commercial content. We may be compensated for the links provided on this page. The content on this page is for informational purposes only. Action Network makes no representation or warranty as to the accuracy of the information given or the outcome of any game or event.