College Football Odds & Picks: 3 Betting Previews for Friday Night, Including AAC Clash
Credit:
Brett Carlsen/Getty Images. Design by Ryan Collinsworth/Action Network.
Welcome back to another edition of Friday Night Lights as we're now in Week 8 of the college football season.
Tonight, three games are on slate, as Princeton takes on Harvard, Tulsa duels Temple and UAB faces Western Kentucky.
Read below for insight on each showdown.
There's something special about a fall Friday night under the lights. That remains true for this Week 8 college football Friday as well.
We have three matchups for Friday night that serve as an appetizer for the main course on Saturday.
First, Keg — our resident FCS expert — takes a look at an Ivy League rivalry game between two of the most prestigious academic colleges in America when Princeton takes on Harvard.
Thirty minutes later, Anthony Dabbundo examines an American Athletic Conference matchup in the City of Brotherly Love between the Tulsa Golden Hurricane and Temple Owls.
To close out the night, Collin Wilson turns his attention to Bowling Green, Kentucky, where Western Kentucky hosts UAB in a showdown that will go a long way in determining the participants for the Conference USA Championship in December.
Check out all three of our Friday night college football bets below, and be sure to come back tomorrow for Action Network's coverage of the entire Week 8 slate.
---
Friday College Football Best Bets
The team logos in the table below represent each of the matchups that our college football staff is targeting from today's slate of games. Click the team logos for one of the matchups below to navigate to a specific bet discussed in this article.
Game

Time

Pick

7 p.m. ET

Princeton -7

7:30 p.m. ET

Temple +13

8 p.m. ET

UAB +2.5

Specific bet recommendations come from the sportsbook offering preferred odds as of writing. Always shop for the best price using our NCAAF Odds page, which automatically surfaces the best lines for every game.
---
Princeton vs. Harvard
By Keg
The top of the Ivy League standings is crowded. Four teams are currently 2-0 in conference play, with two of those being 5-0 on the season while the other two sit at 4-1.
But it won't be crowded for long as all four teams are set to square off this weekend. Dispersing the crowd begins on Friday night as the 23rd-ranked Princeton Tigers travel to take on their historic rival, the Harvard Crimson.
Harvard plays host on Friday night at 4-1 on the season, with its lone loss coming against Holy Cross. Last week, the Crimson started slow against Howard, going into half tied at 17. But Harvard dominated in the second half, winning the game, 41-25, while defensive back James Herring earned Ivy League Special Teams Player of the Week honors.
Princeton earned some weekly honors of its own as wide receiver Dylan Classi was named Offensive Player of the Reek, and Ryan Butler was named Rookie of the Week for the third time this season. The Tigers are 5-0 and well-positioned to repeat as Ivy League champions for the first time in more than 60 years.
Friday night's game will be the first at Harvard since 2018. However, the Crimson have not won in the series since 2016.  Princeton leads the all-time series that dates all the way back to 1877, 58-48.
Last year's matchup was one of the best in recent memory as Princeton edged out an 18-16 win after five overtimes.
The Tigers have not won more than four in a row in the series since 1951. Can they extend their streak while firmly positioning themselves atop the Ivy League standings Friday night?
---
The Tigers lead the Ivy League in defensive scoring, holding opponents to just 11.6 points per game.
Harvard will present their biggest challenge yet though, as the Crimson lead the conference in scoring offense with 32 points per contest. The biggest offensive test will be stopping the run because Harvard ranks third in the conference with 153 rush yards per contest.
Princeton has limited teams to an insane 46 rush yards per contest and held the fourth-best rushing offense in the conference, Columbia, to just 49 yards on the ground. However, Columbia did not have Aiden Borguet.
The Tigers offense is led by the most efficient quarterback in the Ivy League, Blake Stenstrom. The junior, who made just 12 passing attempts in his college career prior to this year, has lit up the conference. He's second in the conference in passing yards but leads all other quarterbacks when it comes to completion percentage.
Look for the passing game to flourish against a Harvard defense that ranks bottom three in the Ivy by allowing 271 passing yards per game.
---
The Crimson have scored more touchdowns than anyone else in the Ivy League, and their best bet of taking down Princeton is turning this game into a shootout.
Unfortunately for Harvard, Columbia, which ranks second in total offense and ranks ahead of the Crimson in both rushing and passing yards per contest, managed just six points against the Tigers.
However, when it comes to red-zone offense, only Penn is better than Harvard, who is scoring on 88.9% of trips. But once again, the Crimson will be challenged by a Tigers defense that gives up a score on just 60% of trips to the red zone.
To limit the Princeton defense, Harvard has to make serious improvements in converting third downs. The Crimson rank last in the conference, as they're converting just 40.3% of third-down attempts.
That isn't the only major issue they'll need to fix on a short week either; no team in the Ivy League has been worse when it comes to penalties. Harvard has racked up 43 penalties in just five games, averaging 87.4 penalty yards per game.
But it isn't all bad as this Harvard team isn't 4-1 off luck alone. The Crimson lead the conference in sacks with 20 on the season, and this is one of their biggest advantages against a Tigers team that comes in last on sacks allowed, giving up 17 on the season.
---
Princeton vs. Harvard Betting Pick
Harvard has the best running back in the conference in Aidan Borguet, who's averaging 124 yards per game and six yards per carry. However, that won't be enough to beat this Tigers defense alone.
The Crimson have a ton of underlying issues when it comes to third-down conversions, penalties, and time of possession. It's unlikely any of these greatly improve on a short week of preparation, and even if they did marginally improve in each area, I'm still not sure it would be enough to beat this Princeton team.
Yes, Harvard is 4-1 on the season, but none of those wins have been anywhere near as dominant as any of Princeton's. Against Brown, for example, Harvard nearly gave up a 35-7 lead while being outscored, 28-14, in the second half.
Princeton, meanwhile, completed a dominant win over Brown, 35-19.
Harvard's win over Howard, which is 1-5 of the season, was its first win by more than one possession on the season. However, Princeton has faced tougher competition and hasn't won a single game by fewer than 12 points this season.
Lines on the game are not yet out, and while I do expect Harvard to be a home dog likely around +3, I'm confident backing the Tigers as high as a seven-point favorite on the road.
Pick: Princeton -7 or Better
---
---
Tulsa vs. Temple
Temple seemed to be making real improvements under first-year head coach Stan Drayton when the Owls beat UMass, were competitive against Rutgers and then led Memphis until a fourth-quarter collapse.
There were some promising signs in the defensive numbers and some signs of life offensively with new quarterback E.J. Warner. Then the Owls lost to UCF last Thursday, 70-13.
Temple will look to shake off that embarrassing defeat when it returns home to host Tulsa on Friday night at Lincoln Financial Field.
The Golden Hurricane suffered a blowout loss to Navy heading into the bye and have lost three consecutive games. While there's no shame in losing by eight at Ole Miss and by 10 to conference favorite Cincinnati, Tulsa had no answer for the Midshipmen two weeks ago.
The Golden Hurricane had extra rest to prepare for this game, but they'are still overvalued after last season, and the market isn't pricing in all of the defensive regression that has hit them this season.
---
Tulsa went 7-6 last season but won five games by one score and lost a ton of production from the defense. Not only did excellent defensive coordinator Joseph Gillespie leave the program for TCU, but nine starters departed on that side of the ball.
The Golden Hurricane rank 113th in Defensive Line Yards this season and outside the top 100 in defending the run. That doesn't matter a ton against the Owls because they haven't been able to run the ball against anyone this year.
There's also very little resistance coming from Tulsa in terms of red-zone stops and creating negative plays through Havoc. The Golden Hurricane rank 119th in Havoc created and 126th in Defensive Finishing Drives.
Temple's offense has really struggled to both run the ball and score in the red zone, but those are the worst parts of the Golden Hurricane's defense too.
Tulsa also generates very little pass rush, and that means plenty of clean pockets for Warner, who's the son of Pro Football Hall-of-Famer Kurt Warner.
There's also major regression coming for Tulsa's offense in the red zone. The Golden Hurricane rank eighth in the nation in Finishing Drives, which is really impressive. But a look under the hood makes you wonder how long that will really last. An offense that sits 78th in Rushing Success Rate and 49th in Passing Success Rate won't continue to be elite in the red zone.
Now, as a road favorite of multiple scores, there are too many holes in this Tulsa team to trust the offense to keep putting up 7s and for the defense to stop anyone.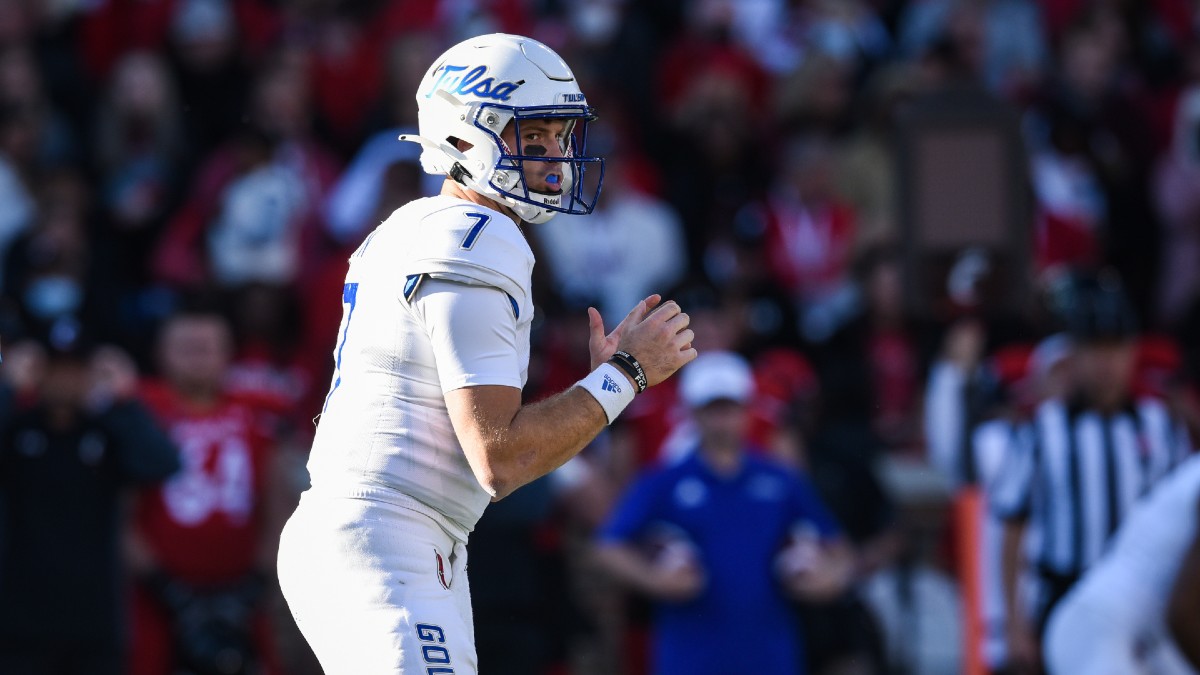 ---
Warner has been up-and-down in his first year as a starter. The Owls moved to him in the second game of the season after a 30-0 shutout loss to Duke in the season opener.
He really struggled against Memphis and UCF in the last two games, but he's held up well when not under pressure.
From clean pockets this season, Warner has a 65.1 PFF grade, has averaged 7.3 yards per attempt and has six big-time throws with three touchdowns and two interceptions. He won't win any awards with those numbers, but it's competent enough quarterback play.
Warner's PFF grade drops to 49.9 when pressured. He has a 7.8% turnover-worthy play rate and averages just 5.8 yards per attempt. In this matchup, though, Tulsa won't be able to put consistent pressure on him. The Golden Hurricane rank really poorly in Pressure and Sack Rates.
It's hard to say this after the Owls allowed 70 points to UCF last week, but the Temple defense grades out well in the secondary from a coverage and tackling perspective.
Tulsa is more of a pass-first offense, but the line has really struggled to keep quarterback Davis Brin upright. The Golden Hurricane rank 115th in pass blocking, while Temple's defense sits 22nd in Havoc created.
---
Tulsa vs. Temple Betting Pick
This is more of a bet against Tulsa's ability to get out to a big lead than anything else.
The Golden Hurricane have an extremely leaky defense and an offense that won't continue to score as much as it has in the red zone. Even though the Owls got absolutely torched on the road last week, you should expect a response from them in a Friday night game at home. 
Tulsa's run defense won't get particularly exposed in this matchup like it did against Navy, but you can poke way too many holes in the Golden Hurricane for them to be a 13-point road favorite in Philly.
The line is inflated because of how bad the Owls looked last week, but I like Temple at +13 or better at home.
---
---
UAB vs. Western Kentucky
Two teams desperate to stay in the hunt for a Conference USA Championship berth will meet under the Friday night lights in Week 8.
Western Kentucky and UAB have each suffered a loss in conference standings, trailing undefeated UTSA and North Texas, who are set to play this weekend.
The winner of this game remains in the thick of the race, while the loser will step back into the bottom half of a conference without divisions.
This is a vital two-game stretch for the Hilltoppers as they face North Texas — which remains undefeated in conference play — in Week 9. The Tops have cruised against lesser competition but suffered one-possession losses against Indiana, Troy and UTSA.
Donning the black uniforms and getting a boost from a Shaquille O'Neal concert, the Hilltoppers are motivated by a coaching staff with strong ties to a UAB program that's departing for the AAC.
The Blazers have two losses on the season, both coming on the road against Rice and Liberty. The real loss on the schedule can be contrived from penalties and mental errors, per interim head coach Bryant Vincent.
The Blazers end the season with back-to-back road games, but kicking November off against UTSA and North Texas will decide who plays in the conference championship.
---
In the wake of longtime head coach Bill Clark's retirement, Vincent is no stranger to UAB, serving as coordinator since 2018 with a previous stint in 2014.
Plenty of traits remain from Clark's regime, as the Blazers are heavy on the rush and have shown the ability in the explosive passing game with one of the slower tempos in FBS.
Running back DeWayne McBride has been one of the toughest running backs to tackle in all of college football.
McBride averages 4.3 yards after contact and has recorded 31 missed tackles this season. The junior has the third-best yards-after-contact mark in college football, just behind Auburn's Tank Bigsby and Minnesota's Mohamed Ibrahim.
Thanks to the work of the offense, UAB ranks eighth nationally in standard downs explosiveness. The offense has picked apart secondaries over the past two games, as quarterback Dylan Hopkins has increased his average depth of target from 9.7 yards to over 12.
Defense has always been a calling card for the Blazers under Clark, as coordinator David Reeves is in his sixth season at Birmingham.
UAB has been ultra stingy in defending opposing passing attacks, ranking second in coverage grading with a top-35 mark in Passing Downs Success Rate and explosiveness.
Mac McWilliams ranks sixth in forced incompletions among individual cornerbacks, taking away half of the field from opposing passers.
---
Just as UAB is undergoing a shift without a long-term head coach, Western Kentucky is moving along in the post-Bailey Zappe and Zach Kittley world.
The Hilltoppers remain a pass-first offense with a top-25 mark in Passing Success Rate. Much of that success can be attributed to transfer quarterback Austin Reed, who's already posting a 21:5 touchdown-to-interception ratio.
Reed has implemented the designed run into his game as well, as almost half of his 39 rushing attempts have come in the past two games against UTSA and Middle Tennessee.
The Western Kentucky defense continues to struggle compared to Tyson Helton's first few seasons as head coach at Bowling Green. The Hilltoppers don't generate Havoc or generate a pass rush ranking in the top half of FBS defenses.
Their Defensive Finishing Drives rank has fallen to 88th by allowing 4.3 points on 51 opponent scoring attempts. Helton knows possessions will be limited, and starting slow has been a consistent issue with the Hilltoppers.
---
UAB vs. Western Kentucky Betting Pick
Removing a blowout game against Florida International, the Hilltoppers own a scoring differential of -12 in the first quarter of every game this season. That number is in stark contrast to the Blazers, who support a +49 point differential in the first frame in 2022.
Each of these teams falls just outside of the top 100 in strength of schedule, but UAB has clearly taken the blowout route in advantageous spots.
Western Kentucky finds itself at a disadvantage against the UAB secondary. Not only is McWilliams one of the best cornerbacks in FBS, but Starling Thomas on the opposite side is also a top-70 individual defensive player in pass breakups.
Although Reed has a healthy touchdown-to-interception ratio, the quarterback has produced 14 big-time throws and 12 turnover-worthy plays this season.
In 52 dropbacks with pressure, Reed has yet to record a big-time throw. Reed has just a single big-time throw on underneath passes, with the 13 remaining coming on connections beyond 20 yards. However, UAB enters as a top-10 defense in defending passing plays beyond 20 yards.
Action Network projects this game at UAB -1.5, giving value to the Blazers in the current market.
Considering Western Kentucky has no presence in the run game and will be limited in downfield throwing, scoring opportunities may be limited for the Hilltoppers. UAB ranks top-10 in tackling and Defensive Finishing Drives, further complicating offensive goals for WKU.
The referee crew will play a part in this game, as each team ranks outside the top 110 in penalty yards per game.
With McBride leading the Blazers to a top-five mark in rush explosiveness and a Blazers defense that has locked down against the pass, look for UAB to overcome previous issues on the road in this Conference USA battle.
---
---
How would you rate this article?
This site contains commercial content. We may be compensated for the links provided on this page. The content on this page is for informational purposes only. Action Network makes no representation or warranty as to the accuracy of the information given or the outcome of any game or event.