College Football Odds, Predictions: Stuckey's Week 12 Bets for Maryland vs Michigan, Miami vs Louisville, More
Credit:
Getty Images. Design by Cyriel Klitsie/Action Network. Pictured (clockwise from top-left): Oregon State's Damien Martinez, Maryland's Taulia Tagovailoa, Army's Bryson Daily and Arizona's Jacob Cowing.
Week 12 of the college football season is here, which saddens me a bit because that means there are only two more full Saturday slates left in the season.
That said, we still have a lot of football left, including bowl season — the most wonderful time of the year.
Last week's spots finished up 5-4 with some easy wins and bad losses, so it felt like a fair result.
Regardless, as always, last week was last week, so there's no sense in dwelling. We're on to Week 12.
For reference, last year's spots finished a ridiculously unsustainable 45-20-1 (69.2%). I don't think I'll ever repeat that level of success in a season, but hopefully we can avoid the regression monster and have another profitable season.
Although, rough weeks in this gig are inevitable. I won't avoid a 2-6 stinker Saturday in perpetuity, so please wager responsibly. If you can't afford a horrible day of results, you're betting too much.
Plus, my primary goal is to simply share a few key angles, notable matchups, regression signals and injury situations for each particular game that hopefully help you make more informed wagers.
Looking ahead to this Saturday, I have highlighted my eight favorite Week 12 spots with a bit shorter accompanying write-ups due to a nasty flu bug I've been fighting all week. It was a struggle to get this together, so I appreciate everyone who takes the time to read each week. Let's close the season strong!
Keep in mind the actual spread value still reigns supreme. No matter how great a situational spot appears on paper, I still have to factor in how much value the number holds compared to my projections. A good or bad spot may sway me one way or the other on a bet I'm on the fence for, but it's certainly more art than science.
All lines referenced are current as of the time of writing, which I bet and logged on the Action App. For your convenience, I included what number I'd play each to in case the market has moved a bit or you read this later in the week.
2022: 45-20-1 +22.82 units (69.2%)
2023:

 46-39-0 +2.13 units (54.1%)

Overall: 91-59-1 +24.95 units (60.7%)
---
ESPN Bet is now live! Make sure you're ready for all the action with our exclusive ESPN Bet promo code TANBONUS.
---
I haven't been a fan of this Louisville team all season.
The Cardinals deserve credit for winning nine of their 10 games, but they've played only one top-30 team, per my numbers, which came at home against an exhausted Notre Dame team in one of the best situational spots of the season.
It also didn't hurt that Notre Dame, which had wide receiver injuries and made a bizarre decision to rotate offensive linemen, turned the ball over five times.
The rest of Louisville's resume leaves a lot to be desired even if you remove a horrid blowout loss at Pittsburgh.
The Cardinals have gone 4-0 in one-possession games that each easily could've gone either way against NC State, Virginia, Indiana and Georgia Tech — not exactly a murderer's row — and three of those four weren't even sporting a winning record at the time.
To make it even worse, three of those teams made coordinator or quarterback changes at some point in the season following their matchup against Louisville, which also benefited from facing a Duke team with a hampered Riley Leonard at quarterback.
It's possible Louisville experienced early struggles as it adjusted to new schemes on both sides of the ball under a brand-new staff.
However, after looking like that may be the case in a blowout win over Virginia Tech, the Cardinals followed that performance up with a stinker against Virginia in which it needed to mount a late comeback just to pull out that home win.
All of the pressure is on Louisville here, which could work in favor of a Miami team that can play much looser in a spoiler role. This game now becomes its Super Bowl, assuming the Canes didn't empty the tank last week against Florida State.
Speaking of pressure, expect quarterback Jack Plummer to feel the heat throughout against a very aggressive and underrated defense under coordinator Lance Guidry.
Based on his historical splits, that could lead to disaster for the immobile Plummer, who has struggled immensely when under pressure throughout his collegiate career.
After 11 interceptions over his past five games, all of the talk has been about Miami quarterback Tyler van Dyke's turnover woes, as he has failed to adjust to opposing defenses dropping eight against him.
However, every single one of his turnover-worthy throws has essentially ended in an interception. Plus, he was dealing with an injury that completely cratered his throwing motion for a few games and has faced a much tougher schedule with Miami splitting four games against top-30 teams.
Despite all of that, Van Dyke has only one more turnover-worthy play than Plummer with five more big-time throws. I expect Plummer to make a few key mistakes in this one.
I admittedly am a bit hesitant to back Van Dyke, who was presumably benched for production after recovering from his injury before regaining his job due to an injury to Emory Williams.
However, he should at least be healthier now, and he does have an outstanding group of wide receivers — and now a fully healthy running back room — to work with on the outside in addition to one of the most underrated offensive lines in the country.
I just hope his confidence isn't completely shaken. I also wouldn't be surprised to see a few series filled with predominately designed run packages for dual-threat Jacurri Brown, who gained starting experience last season but remains limited as a passer.
While Louisville has been fortunate in a number of games this season, the opposite is true for Miami.
Head coach Mario Cristobal basically lost two games on his own by not taking knees against Georgia Tech and then calling an inexplicable timeout on a fourth-and-short at the goal line in the fourth quarter against NC State in a game Miami dominated statisically.
Ultimately, I'm trusting Miami didn't leave it all out on the field last week and siding with the more talented Canes at home against a fraudulent Louisville squad that really should have a few more losses under its belt.
And Louisville's performances shouldn't give any Cardinals fans much confidence here, as Jeff Brohm's bunch has played only two true road games so far this season: a 38-21 loss at lowly Pittsburgh and a 13-10 victory at NC State in a game where the Wolfpack gave away a 10-0 halftime lead with three second-half turnovers.
Plus, the Cardinals aren't even fully healthy, as their top two skill-position players — wide receiver Jamari Thrash and running back Jawhar Jordan — are still dealing with nagging injuries. Top cornerback Jarvis Brownlee's status is also in doubt once again this week.
Lastly, Miami sports one of the best special teams units in the country, whereas Louisville rates around the national average in that department.
As a result, the Canes should have the edge in the third phase, which could certainly swing a game projected as a coin-flip in their favor.
Pick: Miami +1 (Play to -1)
---
---
---
At this number, I simply have to fade Michigan in a classic sandwich spot in College Park after taking care of business at Penn State with one of the biggest college football games of the season on deck.
I won't waste your time by attempting to wax poetic about the Terps, who got waxed two weeks ago at home by Penn State. That's certainly a bit concerning.
But I show too much value at this number to pass it up with the surrounding circumstances.
Behind an offensive line that excels in pass blocking, Maryland quarterback Taulia Tagovailoa and a group of talented pass-catchers will at least present the Michigan secondary with its toughest test of the season to date.
For what it's worth, Maryland lost, 34-27, last year in this matchup in Ann Arbor.
I'm confident the Maryland offense can score at least 17 points, which is likely all it would take against a Wolverines squad that I expect to go super conservative (which they already do to some extent) once they build a lead.
Not only could they potentially come out a bit flat for this noon kick, but I just can't envision the staff wanting to show anything more than they have to or risk any injuries before The Game next Saturday.
Style points are irrelevant since Michigan's entire season will come down to next week if it just gets out of dodge with a win.
Pick: Maryland +19 (Play to +18.5)
---
---
---
I'm not sure Coastal Carolina gets off the bus for this late-season nonconference matchup that really means absolutely nothing to the Chants, who already reached bowl eligibility with their biggest game of the season on deck next week against James Madison with a chance to clinch the division.
As a result, they could potentially come out a bit disinterested after likely spending a good part of the week preparing for the Dukes. And the last thing you ever want is an unfocused team the week before playing a triple-option, which requires maximum preparation, discipline and attention to detail.
Additionally, Coastal may sit out a few key players who have nagging injuries, including star quarterback Grayson McCall and his backup Jarrett Guest. Third-string signal-caller Ethan Vasko has fared pretty well in relief over the past two games, but he's a massive drop-off from McCall.
Plus, Army now has two games of film on the freshman, assuming he does indeed get another start here.
From a matchup standpoint, Coastal Carolina's run defense has struggled immensely all season.
Just take a look at some of these national rankings, which don't bode well on paper for the Chants against Army's triple-option attack, which should be able to sustain long drives and control the clock throughout.
98th in Line Yards
95th in Rush Play Success Rate
120th Power Success Rate
90th Yards Per Carry Allowed
The Black Knights aren't the biggest underdog here, but I much prefer to play service academies when catching points to laying them.
I also have no worries when it comes to Army's motivation. For one, service academies almost always show up — it's why they are 70% ATS historically in bowl games where motivation holds so much weight — but Army also needs this game for an outside shot at a bowl while exacting revenge for a 38-28 loss in Conway last season.
Pick: Army +4.5 (Play to +3.5)
---
---
---
Arizona finally didn't get to the window for us last week, primarily due to Colorado's dominance in the field position department.
However, that certainly won't scare me off from going back to the well with my beloved Wildcats.
Believe it or not, both teams head into the weekend still with a chance of making it to Las Vegas for the Pac-12 Championship.
However, Arizona has a much likelier path, needing to win out and needing an Oregon State victory over Oregon. Conversely, the Utes need extreme chaos to unfold over the final two weeks of the regular season, as they only get in with a five-way tie for second place.
That's not happening, so Utah has a much greater chance of coming into Tucson a bit deflated after a max effort at Washington that came up just short.
Not only do I believe the market still doesn't give Arizona enough respect, but I also think Utah remains overvalued.
Not only has Kyle Whittingham's bunch lost a number of key starters to season-ending injuries, but it's also benefited from an extremely favorable schedule of opposing quarterback situations, including:
Almost lost at Baylor with a backup quarterback making his first career start.
Freshman Dante Moore made his first career in a truly hostile environment in Salt Lake City.
Graham Mertz was making his first start at Florida in a brand-new offensive system.
Cal freshman Fernando Mendoza made his first career start in Rice-Eccles Stadium before leaving with an injury.
Atrocious Arizona State fourth-string quarterback Jacob Conover started behind a decimated offensive line.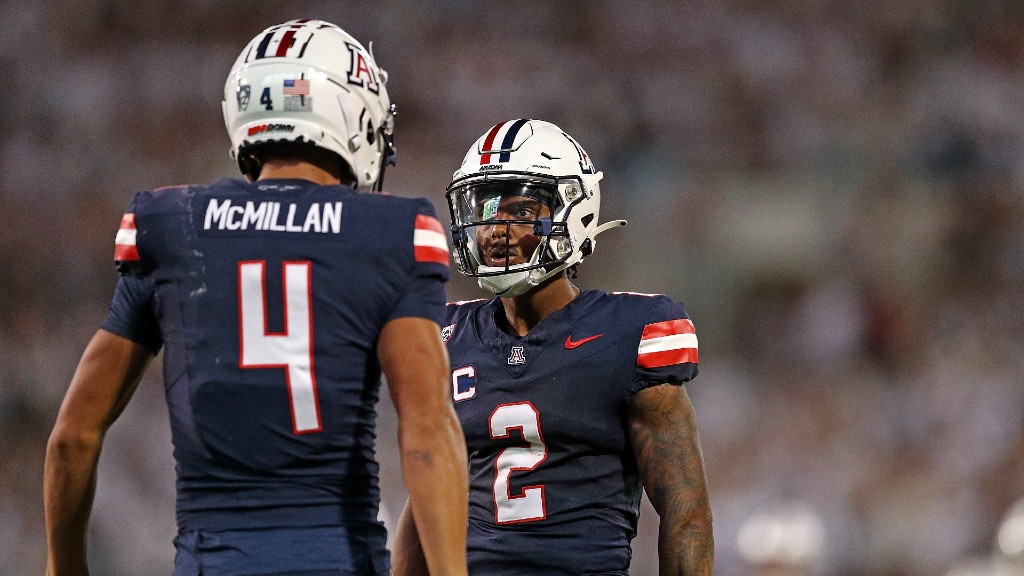 My conclusion is Utah's defensive numbers are a bit inflated. Meanwhile, on the other side of the ball, Bryson Barnes has not performed too well on the road this season with just two big-time throws compared to five turnover-worthy plays.
Overall, Barnes, who has been forced into action due to Cam Rising still being sidelined with an injury, has 10 touchdowns to seven interceptions in 2023 despite a 4:9 big-time throw to turnover-worthy play ratio.
Barnes certainly hasn't received any help from an offense that has lost important skill position pieces.
Consequently, it's been all about the ground game for the Utes, who received a boost from two-way freak Sione Vaki. However, Whittingham has cut back his workload of late, wanting him to take the majority of snaps at his natural safety position.
With less Vaki, the rushing attack isn't as explosive, which doesn't bode well for Saturday against an extremely formidable Arizona run defense that has allowed only 3.2 yards per carry on the season to rank 16th among all FBS teams.
I see this game playing out very similar to Arizona's home victory over UCLA a few weeks ago. The Utes won't be able to solely rely on the run and just don't have the personnel to take advantage of Arizona's coverage unit, specifically over the middle of the field.
Meanwhile, the Wildcats' elite pass-blocking offensive line can hold up against another dominant defensive line to give freshman phenom Noah Fifita enough time to exploit the Utah cornerbacks on the outside with Tetairoa McMillan and Jacob Cowing, who should be good to go after leaving last weeks' game.
The extremely balanced Wildcats also have a very respectable rushing attack that will keep the Utah defense honest.
Bear Down.
Pick: Arizona +1.5 (Play to -1)
---
---
---
It's always painful to back the Cougars because you never really know what you're going to get on a weekly basis with a Dana Holgersen team. Sometimes they show up, and other times they look like they've never played football before.
Fortunately, I've had a fairly good read overall on Houston this year — although my approach isn't really rocket science, as I just look to avoid the Coogs as favorites and pick my spots when they're catching points.
Well, I actually think this sets up as a decent opportunity to jump in on Houston, which needs to win out to reach bowl eligibility.
This will also almost serve as its Super Bowl on Senior Day with a chance to ruin Oklahoma State's Big 12 title hopes.
From a matchup perspective, the Houston defense is much stronger against the run, especially since defensive coordinator Doug Belk expanded the rotation of his defensive line. That's critical against explosive Oklahoma State running back Ollie Gordon II.
The Cougars also got healthier up front — although I'm a bit worried about the status of stud nose tackle Chidozie Nwankwo, who's such a key cog in the interior.
However, even if he can't go, Houston has enough bodies to hold up against Oklahoma State's ground game without having to worry too much about Alan Bowman and a very underwhelming group of wide receivers exploiting its major coverage issues on the back end.
Additionally, I have no problems fading the Pokes for a second straight week even after their blowout loss to UCF at the Bounce House last Saturday, as I still show value in this number.
Plus, keep in mind that they benefited from playing four games in Stillwater during their five-game winning streak while receiving extremely good fortune with opponents going 1-for-12 on fourth down with a -8 turnover margin that led to multiple non-offensive scores and short fields.
Oklahoma State's only road conference win came at West Virginia in a game that ended up pretty even statistically but turned late on several mistakes by the Mountaineers, who led heading into the final frame.
This defense remains vulnerable, and Houston quarterback Donovan Smith can take full advantage, assuming we get the good version.
To continue the regression theme, Oklahoma State's opponents have amazingly converted only 3-of-20 fourth-down attempts for an FBS-low 15% conversion rate.
Meanwhile, the Houston offense, which is a bit more aggressive than most, has one of the nation's lowest conversion rates, having only succeeded on 4-of-20 (20%).
Don't be surprised if Houston converts a number of key fourth downs on Saturday.
Pick: Houston +7 or Better
---
---
---
I've gone on record many times stating that this New Mexico State team is nothing more than a Ponzi scheme that the general betting public will soon realize.
I have to tip my cap to head coach Jerry Kill for getting this roster to the CUSA Championship. Even in one of the worst leagues we've ever seen from top to bottom, getting to eight wins is quite an accomplishment.
However, this is a massive step up in class for an Aggies squad that has played absolutely nobody all season.
If you go by Sagarin's strength of schedule rankings, which include FCS teams, New Mexico State sits at 150th in the country in schedule difficulty. For reference, Southern Utah has had a harder schedule, while Liberty has the next easiest among FBS teams at 133.
Meanwhile, Auburn has a top-30 schedule difficulty with three losses to teams ranked inside the top 30. In comparison, New Mexico State has losses to Hawaii, Liberty and a UMass team that lost by 45 earlier this season in Jordan-Hare Stadium.
Additionally, NMSU quarterback Diego Pavia, whose legs are so important to everything this offense does, is questionable with an injury.
It's hard to imagine Kill playing any of his even remotely injured players, especially his starting quarterback, against an SEC defense with a bowl bid and spot in the conference title game already locked up.
Although, if he does give it a go, Auburn head coach Hugh Freeze still has plenty of familiarity with Pavia and this offense from his time with Liberty last season. I also can't imagine Pavia plays too deep into the game once NMSU falls behind by a wide margin if he does suit up.
The talent mismatch in this game is massive, which should lead to a complete blowout, especially since Auburn's offense has finally made strides under Freeze as most expected to happen as the season progressed.
For what it's worth, Auburn does have the Iron Bowl on deck, but it has played a Group of Five or FCS team in this spot five times over the past seven years, winning each by at least 24 points each time with an average margin of victory of more than 42. That includes two contests against current CUSA schools.
Pick: Auburn -23 (Play to -24)
---
---
---
Washington remains undefeated on the season, but the Huskies have flirted with disaster a number of times.
After an extremely easy first four games of the season, they barely survived one-possession victories against Arizona, Oregon and Arizona State thanks in part to some good fortune with the Ducks unable to convert a fourth down and Arizona State not having a kicker. The latter ultimately led to a game-sealing pick-six on a fourth-down pass attempt.
Washington then found itself in more close battles against USC, Utah and even Stanford over the past few weeks, which led to three wins by 10 points or fewer.
Purple Reign is vulnerable, and Oregon State matches up well enough to finally finish the job.
You can expect the Beavers to rely heavily on their outstanding offensive line — especially since superb starting center Jake Levengood should return this week — to get Damien Martinez and the ground game rolling against a very poor UW rush defense that ranks in the bottom six nationally in Stuff Rate, Line Yards and Success Rate on rush plays.
Those numbers become even more ominous considering the Huskies are playing a Beavers team that ranks No. 2 in the country in Rushing Success Rate, trailing only LSU.
Ultimately, Oregon State should have no issues getting a consistent push at the line of scrimmage, which will enable it to stay ahead of the chains and set up play-action shots to Silas Bolden, Anthony Gould and company for an offense that surprisingly ranks 15th in FBS in Passing Downs Explosiveness.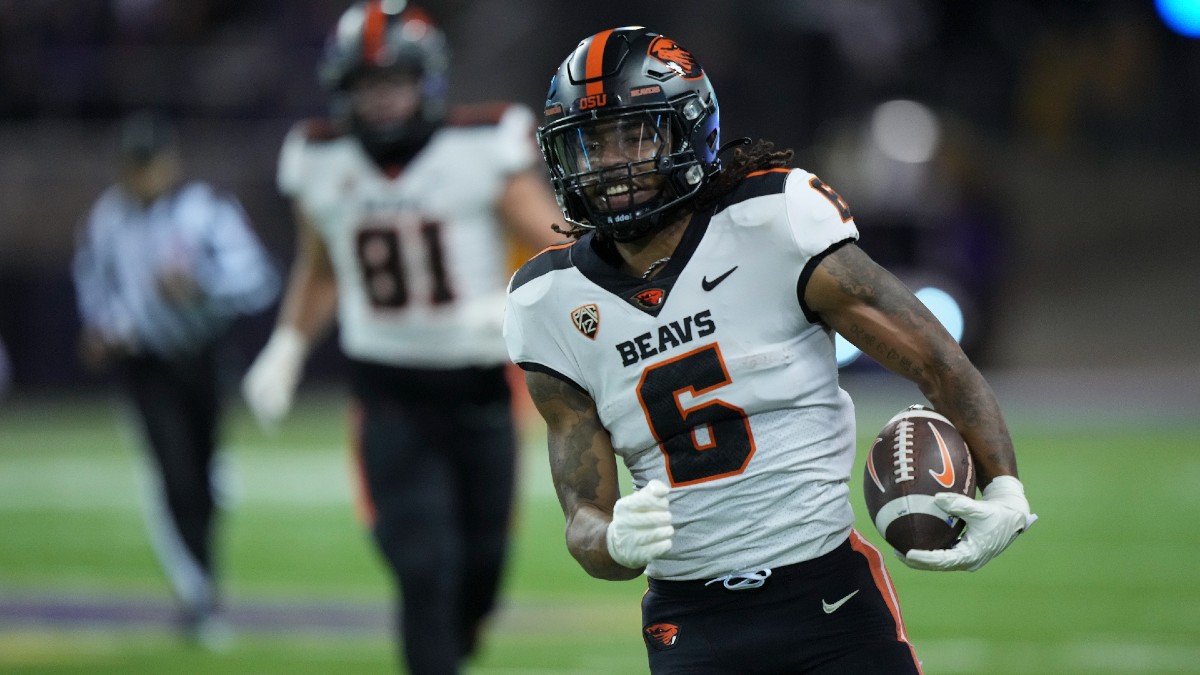 That should help it exploit a Washington secondary that consists of an underwhelming group of cover cornerbacks and a banged-up safety room.
On the other side of the ball, Washington features an elite offense, led by Heisman hopeful Michael Penix Jr. and arguably the nation's top wide receiver room.
The Huskies are extremely pass-heavy, although they have utilized running back Dillon Johnson more frequently over the past two weeks.
However, that's not their strength, which should be welcome news for an Oregon State defense that has struggled a bit more against the run this season.
Opponents can efficiently pass on the Beavers, who have just an OK group of cornerbacks — although the outstanding safety duo of Akili Arnold and Kitan Oladapo (who I love) excel at limiting explosive plays through the air, hence Oregon State's top-25 Pass EPA ranking.
The Huskies will certainly move the ball with relative ease at times. They do that against everybody. However, I believe the Oregon State defense will get a few more stops in the red zone to come out on top.
For reference, the Beavers rank sixth and 23rd in Points per Opportunity on offense and defense, respectively. In comparison, the Huskies rank 13th and 68th.
Pick: Oregon State -1 (Play to -2.5)
---
---
---
Last week, Missouri closed as a three-point underdog at home against Tennessee. Now, the Tigers are laying over two touchdowns more against Florida?
I get that Missouri demolished Tennessee, but last I checked, the Gators also did that to the Vols at home after closing as 4.5-point underdogs.
This also isn't the most ideal spot for Missouri, which could come out a bit flat after back-to-back emotional outputs against top-15 opponents.
Plus, star wide receiver Luther Burden III still might not be 100% healthy, while the Tigers also have key injuries at linebacker.
From a matchup perspective, teams aren't going to get much on the ground against Missouri's extremely disciplined one-gap scheme up front.
In order to move the ball against the Tigers, opponents must have an efficient short-passing attack to exploit some of the coverage holes at linebacker and safety while connecting on an occasional deep shot.
Graham Mertz, who ranks fifth in the country in completion percentage at 73.3%, is certainly capable of doing just that with the likes of Ricky Pearsall, Eugene Wilson and tight end Arlis Boardingham.
The Tigers have undoubtedly been super impressive, especially on offense since opening up the playbook under new offensive coordinator Kirby Moore in a victory over Kansas State.
However, I just can't get to this number in a potentially tricky spot for the home favorite in a battle of two teams that have similar overall talent.
Plus, I'm backing the underdog king in Billy Napier, who will try to score until the very end no matter what, which could lead to a back door if necessary.
Pick: Florida +11.5 (Play to +11)
---
How would you rate this article?
This site contains commercial content. We may be compensated for the links provided on this page. The content on this page is for informational purposes only. Action Network makes no representation or warranty as to the accuracy of the information given or the outcome of any game or event.