College Football Rankings for Week 7: Brett McMurphy's AP Top 25 Poll Ballot vs. Our Betting Power Ratings
Credit:
UK Athletics/Collegiate Images/Getty Images. Pictured: The Kentucky Wildcats.
No surprise: Georgia is the new No. 1 on my Associated Press Top 25 ballot, while Iowa comes in at No. 2.
I only dropped Alabama two spots down to No. 3. The Tide lost at Texas A&M, 41-38, but outgained the Aggies by 143 yards. I now have Cincinnati at No. 4, followed by No. 5 Oklahoma after the Sooners' thrilling come-from-behind victory over Texas. Penn State is at No. 6, followed by undefeated Michigan and Kentucky.
Six more ranked teams lost this weekend, increasing the number to 41 ranked teams that have lost in the season's first six weeks — nearly an average of seven per week.
Action Network senior writer Collin Wilson's updated college football betting power ratings agree with me that Georgia is the nation's No. 1 team. After that … well, read on to see our disagreements.
Here's my updated AP ballot compared with Wilson's current power ratings entering Week 7 of the college football season.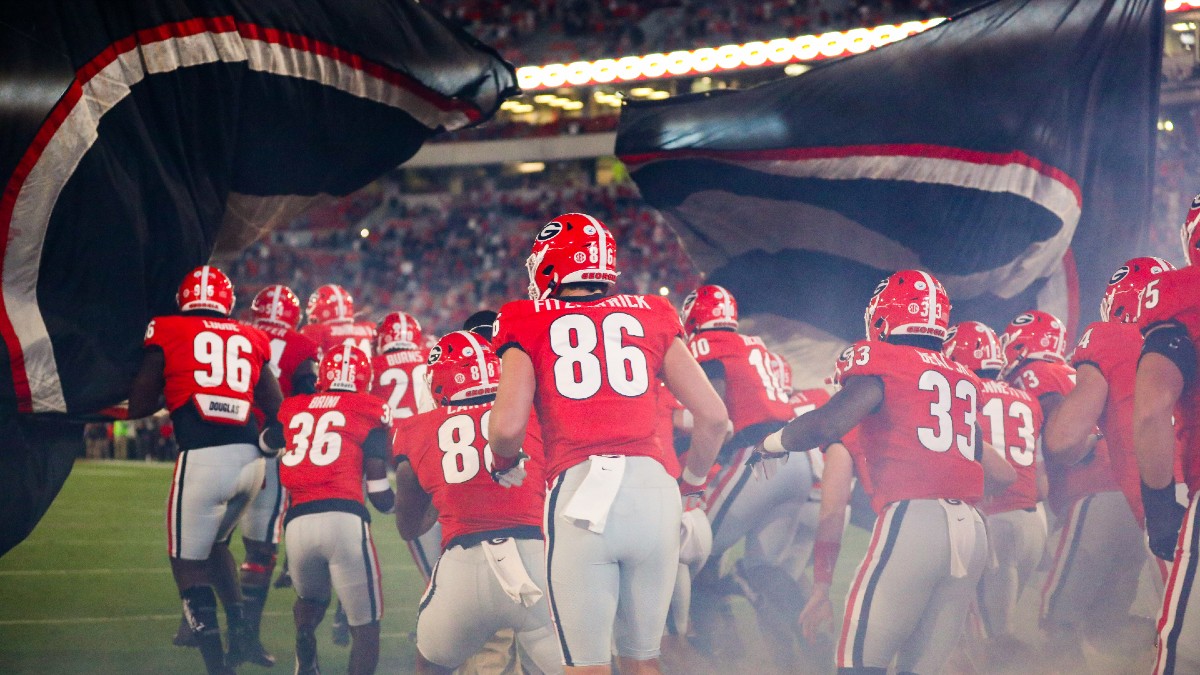 Updated 2021 College Football Betting Power Ratings
---
Brett McMurphy's AP Top 25 Ballot Entering Week 7
AP denotes Brett McMurphy's Associated Press Top 25 ballot.
PR denotes Collin Wilson's College Football Betting Power Ratings.
---

Georgia
---

Iowa
---
Alabama
---
Cincinnati
---
Oklahoma
---

Penn State
---

Michigan
---

Kentucky
---

Oregon
---

Ohio State
Eight of my top 10 teams are at least in the same neighborhood as Collin's power ratings.
The biggest exceptions are Kentucky and Oregon, which I rank No. 8 and No. 9, respectively, while Collin has the Wildcats and Ducks at Nos. 20 and 22 in his power ratings.
I continue to rank Oregon ahead of Ohio State because of the Ducks' head-to-head victory over OSU, but Collin rates the Buckeyes No. 3 behind only Georgia and Alabama.
---
Michigan State
---
Notre Dame
---
Oklahoma State
---
NC State
---
Ole Miss
Collin and I have major differences in the next five teams I ranked from Nos. 11-15.
I have unbeatens Michigan State at No. 11, Oklahoma State at No. 13 and one-loss NC State at No. 14, while Collin rates the Spartans, Cowboys and Wolfpack no higher than 33rd.
---

San Diego State
---
Coastal Carolina
---

SMU
---

Wake Forest
---

Arkansas
The biggest discrepancy between my AP ballot and Collin's power ratings is San Diego State.
I have the unbeaten Aztecs, who own Power Five wins over Utah and Arizona, ranked No. 16. Collin rates the Aztecs all the way down at No. 69.
SMU and Wake Forest — two more unbeatens I have in my top 20 — don't rate any higher than No. 40 in Collin's power ratings.
---

BYU
---
Arizona State
---
Texas A&M
---
Florida
---

Auburn
My final five teams — except for No. 21 BYU — are ranked much lower than Collin's power ratings.
Collin rates Arizona State No. 9, but has BYU — which beat ASU — down at No. 48. Collin also has two-loss Florida, Texas A&M and Auburn among his top-14 rated teams.
Finally, here are the ratings of the teams Collin ranked in his top 25 power ratings that didn't make my AP Top 25 ballot: No. 12 Texas, No. 15 Iowa State, No. 19 Utah, No. 21 North Carolina, No. 23 UCLA, No. 24 Appalachian State, and No. 25 Clemson, while Pitt, TCU, Wisconsin, and Tennessee sit with the same power rating as the Tigers.
---
How would you rate this article?
This site contains commercial content. We may be compensated for the links provided on this page. The content on this page is for informational purposes only. Action Network makes no representation or warranty as to the accuracy of the information given or the outcome of any game or event.