College Football Odds & Picks: Stuckey's 6 Situational Spots to Target in Week 12
Credit:
Peter Aiken/Getty Images. Pictured: Joe Ervin (20) and Keenan Garber (1).
Two Big Ten games, a Big 12 affair and Navy vs. East Carolina!
And don't forget about UAB vs. UTSA!
Stuckey provides six best bets for situational spots for Week 12.
It's late November, which means we are entering the peak of the college football season. Every weekend from here on out should be joyous. I hope you're excited as I am.
Here are my six favorite spots on Saturday's card for Week 12. Let's start things off with a Conference-USA showdown with a division title on the line.
---
3:30 p.m. ET on ESPN+
After a successful 2020 campaign, UTSA hasn't missed a beat. The Roadrunners have started out 10-0 and find themselves ranked 22nd in the latest College Football Playoff Rankings.
However, I'm ready to sell the Meep Meeps, as I like to call them. Who have they really beat?
Let's take a look at their schedule. OK, they won at Memphis. That's a solid win on the surface, but UTSA scored 17 unanswered points in the fourth quarter to win by three in large part due to a pair of costly Memphis lost fumbles and personal fouls. The Tigers outgained the Roadrunners and averaged almost three more yards per play.
UTSA also defeated Western Kentucky on the road. Another solid win, but WKU had 670 total yards of offense and didn't score the game-winning touchdown after having first-and-goal at the UTSA 5-yard-line after a personal foul and subsequent interception.
Okay, so two fortunate coin flips went its way, Who else has UTSA beat?
Illinois
Lamar
Middle Tennessee
UNLV
Rice
Louisiana Tech
UTEP
Southern Miss
Those eight teams have a combined record of 25-54 (31.6%), and only UTEP has a winning record. The schedule has certainly been extremely favorable.
Meanwhile, UAB has played Georgia, Liberty and just beat Marshall on the road last weekend.
My ultimate point is don't be fooled by the difference in records. I still have UAB power rated as the superior team, so I happily took the 4.5 points here.
Also, if you dig into some of the UTSA advanced metrics, there are worrying signs. The defense has thrived on late downs despite ranking outside the top-80 in Early Downs Expected Points Added (EPA). That's pretty unsustainable and could really come back to bite the Roadrunners against a very efficient UAB offense that ranks in the top 10 in EPA per rush.
Quarterback Dylan Hopkins also has the ability to exploit a UTSA pass defense that ranks outside the top 90 in Success Rate. That secondary is the weakest group in this matchup by far and what I think ultimately swings this result.
UAB has a top-25 defense nationally, while UTSA grades out right around average overall. I think the Blazers get more key stops and end the Roadrunners' perfect season.
Target price: UAB +4 or better
---
3:30 p.m. ET on CBSSN
This is probably my favorite spot on the board. There's a large chance ECU lays a complete egg here.
The Pirates come off of an overtime victory against Memphis to become bowl eligible for the first time since 2014. That resulted in quite a post-game celebration for head coach Mike Houston and his players.
ECU must now bounce back in its second straight road game in Annapolis against Navy just six days before hosting Cincinnati. Talk about a tough spot.
Despite a very successful season for the program, ECU has one single win over a bowl-eligible team. That victory came in miraculous fashion against Marshall. The Pirates trailed 38-21 midway through the fourth quarter before scoring three consecutive touchdowns with an onsides kick recovery mixed in. Marshall also helped out by missing a field goal and turning it over on downs on its final two drives that ended in the red zone.
Here are the other ECU wins:
Charleston Southern (by 3)
Tulane
USF
Memphis (by 1 in OT)
Temple
Not exactly a murderer's row of opponents.
Meanwhile, you can always count on Navy to show up each week. Plus, the Mids should be well-rested after enjoying a bye last week. They've also played much better football since a Week 3 bye, especially at home with a win over UCF and close losses against Cincinnati and SMU. They also won at Tulsa and stayed within one possession against Houston on the road.
You may notice Navy's opponents sound much tougher than ECU's. Well, you'd be correct. My numbers show Navy has a top-25 strength of schedule to date, while ECU sits outside the top-75.
From a matchup perspective, Navy's triple-option attack should present a plethora of problems for an ECU defense that has allowed 4.4 yards per rush (92nd). Navy should consistently move the ball on the ground and control the clock throughout.
I'd imagine the last thing a team wants to do in a bad situational spot is face a triple-option team. I think Navy continues its recent head-to-head dominance in this series and makes it six straight victories over ECU.
Target price: Navy +4 or better
---
3:30 p.m. ET on ABC
Wisconsin has been absolutely rolling teams of late, but I think it's finally time to sell its stock. The Badgers have won five straight in conference — each by at least 17 points. They've held those five opponents to an average of just six points per game.
The Badgers  undoubtedly boast one of the best defenses in the country, leading FBS in yards, yards per play and yards per carry.
While it is an elite defense that you simply can't run on, the schedule of opposing offenses hasn't been very scary in recent weeks.
On the other side of the ball, the offense has seen an uptick in production as the season has progressed. Even Graham Mertz has looked more competent throwing the ball, but again, that came against Rutgers and Northwestern. He's still Graham Mertz with very limited ability through the air.
The primary igniter has been the emergence of running back Braelon Allen, who's averaging over seven yards per carry. Even more impressive, over 65% of those yards have come after contact.
Unlike Wisconsin, its opponent Nebraska can't go to a bowl this year with a record of 3-7. Therefore, its final two games now become Super Bowls. The Huskers will look to play spoiler against Wisconsin and Iowa to close out the season.
You could argue Nebraska may be deflated after its recent close loss to Ohio State to end any bowl plans, but I think the bye last week helps in that department. Plus, why wouldn't the Huskers show up against a good team? We've seen them do it time and time again this season.
This might be one of the best 3-7 teams ever. Despite their record, I have the Cornhuskers ranked 22nd in my latest power ratings. All seven losses came by single digits, including four games (three on the road) against teams ranked inside the top-13 of the College Football Playoff.
Nebraska continues to shoot itself in the foot with mental mistakes, bad turnovers and poor special teams play. That makes it a bad favorite to back in general. However, as an underdog, it has bite as evidenced by a perfect 4-0 ATS record when catching points in 2021. It also had chances to win each of those four games outright against ranked opponents.
The Huskers have a few things working for them when on offense. First, Taylor Martinez's mobility. His ability to create with his legs has led to some success against Wisconsin in the past. It's one of the wild cards that can throw off the ultra-disciplined Wisconsin defense that has yet to see a mobile quarterback this year.
In two previous meetings against the Badgers, he amassed 441 and 309 total yards of offense.
Don't expect Nebraska to have much success with a traditional rushing attack against Wisconsin. Nobody really can. Teams simply can't sustain long drives against the Badgers. You need to hit explosive plays, which Nebraska certainly can do.
Plus, there's another factor that could work in Nebraska's favor. Head coach Scott Frost recently made wholesale changes on his offensive staff. We could see a few different looks after the bye that Wisconsin has no tape on.
Defensively, expect Nebraska to load the box and dare Graham Mertz to throw. The Huskers have a rock solid front 7 that has proven it can shut down elite running backs.
Kenneth Walker had 19 carries for 61 yards (3.2)
TreVeyon Henderson had 21 carries for 92 yards (4.4)
I don't expect Allen to have the same success after contact he has enjoyed so far this season.
Lastly, Nebraska will run into a Wisconsin team that has also had some problems on special teams and with turnovers when forced to throw. I'm sure Nebraska will find a way to mess this one up, but I think it can lose its eighth game of the season by one possession.
Target price: Nebraska +8.5 or better
---
3:30 p.m. ET on BTN
I almost vomited placing this bet after losing money on the Terps the past two weeks as double-digit underdogs. They should've covered both games, but just shot themselves in the foot at the end of the game.
Against Penn State, they had a net +15% success rate and couldn't cover +10.5 despite being tied in the fourth quarter. An 87-yard pick-six by the Nittany Lions with just over two minutes left served as the final nail in the coffin in a 17-point defeat.
Against Michigan State, the Terps finished with 447 yards to the Spartans' 481. However, they couldn't cover +13 after turning it over on downs in Spartan territory on each of their final three drives. They also threw a pick and missed a field goal on two other second half drives that ended in the red zone.
It hasn't been fun. Trust me, the last thing I want to do is back this team that has burned my money all season. However, I've learned over the years to have a short-term memory in this gig. Ultimately, I show value on the Terps at 14.5 or better in a great situational spot.
Maryland needs one more win to get to bowl eligibility. Motivation shouldn't be an issue for the Terps, especially at home against a top-10 team.
On the flip side, Michigan comes off a rare road win against a ranked team under Jim Harbaugh. Oh, and the Wolverines have their biggest game of the season next week at home against Ohio State for a potential shot to win the division and get into prime position for a place in the College Football Playoff. It wouldn't shock me to see Big Blue come out a little flat in a classic sandwich spot.
After a very physical victory over Penn State, I'm sure Michigan, which is dealing with a number of injuries across the board, ultimately just wants to get out of College Park with a victory and a clean bill of health if up by say two or three scores late.
If that's the case, maybe, just maybe, the Terps can sneak in the backdoor they've flirted so closely with in recent weeks.
The Terps do have an extremely dynamic passing attack that will test this very good Michigan secondary. While not efficient at all in part due to a complete lack of running game, Maryland is very explosive.
Ranks of 117th in turnover margin and 111th in red zone touchdown percentage have really killed the Terps all season. An extremely porous defense hasn't helped, but it will at least face an underwhelming Michigan passing attack and an offense that has had its own fair share of red zone woes (93rd).
And who knows? Maybe Maryland can enjoy some positive regression in finishing drives and/or the turnover department.
I show slight value in a great situational spot, so I have to reluctantly pull the trigger here. However, I would not take +14 or lower under any circumstance; I'm personally waiting to see if +17 pops before kick.
Target price: Wait for a potential +17 to pop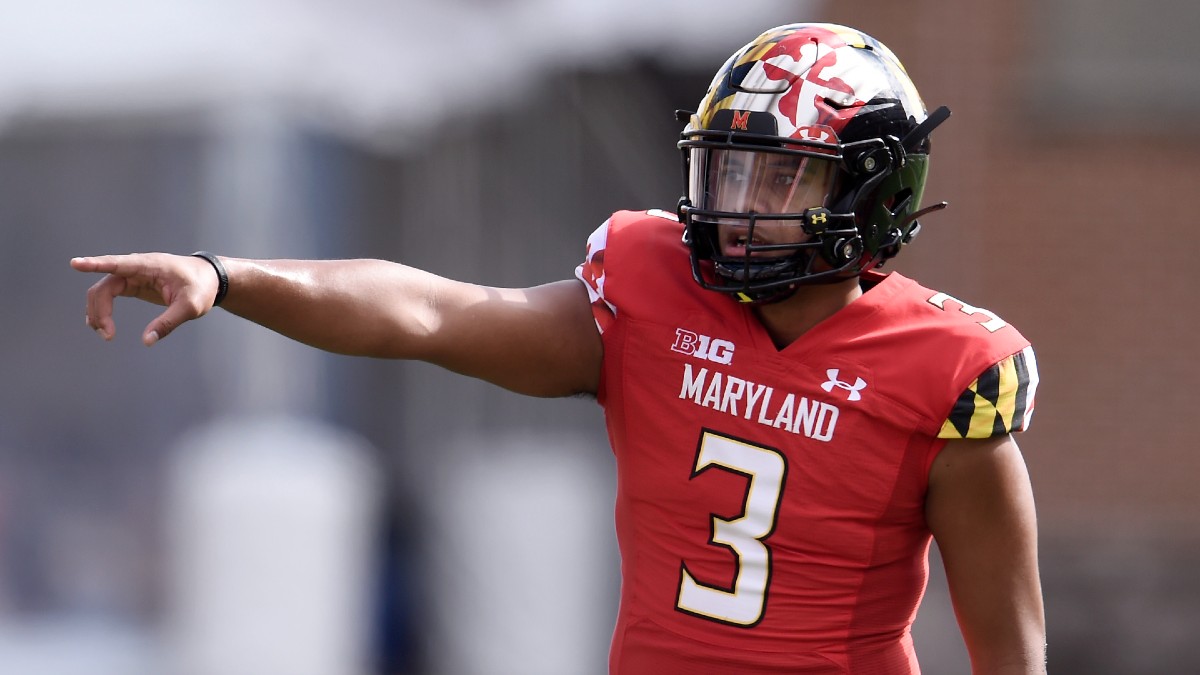 ---
8 p.m. ET on CBSSN
It's time to go back to the well with my new favorite team, Wyoming.
Last week, the Cowboys broke my heart before giving me one of the most electric (and luckiest) covers of my life.
Utah State is one of the best turnaround stories in all of college football.
After a 1-5 year filled with turmoil, new head coach Blake Anderson has the Aggies sitting at 8-2 all alone in first place in the Mountain division. If they just beat Wyoming and New Mexico, they will shockingly punch a ticket to the conference title game.
Easy, right? Not so fast, as I think it's time to sell.
The Aggies have a very inflated record thanks to a number of close wins against a schedule I have ranked in the bottom-10 nationally.
They've gone 4-0 in games decided by four points or less — two of which came against teams that will finish with a losing record.
Let's take a glance at their wins:
at Washington State (by 3)
vs. North Dakota (by 24)
at Air Force (by 4)
at UNLV (by 4)
vs. Colorado State (by 2)
vs. Hawaii (by 20)
at New Mexico State (by 22)
at San Jose State (by 31)
Context matters here as well.
Utah State faced a Washington State team in Week 1 that started quarterback Jarrett Guarantano, who has since been replaced. The Aggies also won on a touchdown in the final seconds after trailing 24-23 with five minutes left.
It pulled off a similar comeback against Air Force from 11 down in the fourth quarter. The Aggies then sealed it after the Falcons fumbled in Utah State territory.
It even took a touchdown in the final seconds to defeat lowly UNLV, who lost its starting quarterback in the fourth quarter.
Even at home against Colorado State, they were outgained by more than 100 yards and averaged 2.1 fewer yards per play. Utah State held on for a two-point victory after Colorado State missed a 42-yard field goal as time expired.
I think you get the point. This team has played one of the softest schedules in the country and has had every bounce go their way. As a result, I think they're extremely overvalued in the market.
Wyoming would love nothing more than to play spoiler here, while also getting to six wins for bowl eligibility. The extra day of preparation also helps after playing last Friday. Plus, the elevation won't bother the Pokes, who play home games at even higher elevation in Laramie.
From a matchup perspective, the Aggies can't run the ball. It's all about quarterback Logan Bonner airing it out to a talented group of receivers, led by Biletnikoff semifinalist Deven Thompkins.
Well, things shouldn't be as easy as they've been for this potent passing attack against an excellent Wyoming secondary. The Pokes rank in the top-20 nationally in Pass Efficiency Defense and fifth in coverage rate, per PFF.
I also think the Wyoming offense can have success on the ground against a Utah State run defense that has been gashed by the competent ground attacks it has faced this year.
Target price: Wyoming +4 or better
---
5:30 p.m. ET on FS1
Yes, I'm fading Baylor after its big win over Oklahoma.
For what it's worth, the Bears have laid an egg after their two other biggest wins of the season against Iowa State and Texas. And it's not like those wins were uber-impressive.
The Bears were outgained by more than 200 yards against Iowa State but pulled out a close win thanks to a kick return touchdown. And they needed to come back from a double-digit deficit in the second half against Texas.
They also thoroughly beat a BYU team that some of the staff had an extreme amount of familiarity with after coming over from Provo in the offseason. That was a very unique advantage, so I took that result with a grain of salt.
That leaves Baylor with wins over Texas State, Kansas, Texas Southern, West Virginia and Oklahoma. Yes, it deserves credit for that win over the Sooners last week, but I thought that was more of an indictment on Oklahoma more than anything else.
Plus, this is a Baylor team that has not done much of anything away from home. Its only two road wins this year include:
Yikes.
Bottom line, Baylor is a good football team but not as good as the market thinks, in my humble opinion.
Quarterback Gerry Bohanon is also regressing. After a hot start (11 TD, 0 INT) over subpar competition, he has five touchdowns and six interceptions over his last four games. That spells bad news against a Kansas State defense that teams have to attack through the air.
Ultimately, this is a great situational spot for Kansas State at home on Senior Day against a Baylor team coming off a huge upset win.
Additionally, I like the matchup on both sides of the ball. Kansas State can slow down Baylor's elite rushing attack, and I don't trust Bohanon to fully exploit Kansas State's weaknesses in the secondary.
Also, Thompson can find success against this Baylor secondary.
Keep in mind that Baylor's defense has struggled a bit on early downs but has played extraordinarily well on third and fourth downs. That's usually not a sustainable formula, so we could see some late-down regression coming its way.
I'm backing the underrated Wildcats, who continue to not get enough respect in the market. There's a reason this team has covered all but two games this year — one against Iowa State and another with their third-string quarterback against Oklahoma State.
Speaking of which, those quarterback injuries early in the season are deflating Kansas State's season-long offensive numbers a bit.
Target price: Kansas State -1 or better
How would you rate this article?
This site contains commercial content. We may be compensated for the links provided on this page. The content on this page is for informational purposes only. Action Network makes no representation or warranty as to the accuracy of the information given or the outcome of any game or event.