College Football Betting Odds, Predictions: Collin Wilson's Favorite Picks for Week 3 (Saturday, Sept. 18)
Credit:
Brett Carlsen/Getty Images. Pictured: Beaver Stadium in University Park, Pennsylvania, home of the Penn State Nittany Lions.
We've made it to Week 3 of the college football season, and Collin Wilson is ready to bet.
Wilson breaks down some of his top bets for the weekend, including Oklahoma vs. Nebraska, Florida vs. Alabama, and Penn State vs. Auburn.
Check out all three of his breakdowns, picks, and predictions below.
Week 3 of the college football season represents the point in the year when all of the data from previous weeks becomes more concrete.
Our initial thoughts about each team across the country either get confirmed or re-evaluated with the rest of the season in mind and conference play approaching.
That happens this week in three important games I'll be betting.
First, Nebraska will be forced to travel to Norman to face Oklahoma in a game it tried to get out of previously. Then, Florida and Alabama tangle in what will be the biggest game in Gainesville in years. Finally, Penn State hosts Auburn in a "White Out" edition of a Big Ten vs. SEC showdown.
All three games will yield useful answers in one way or another, and then we'll use that information to build for the rest of the 2021 college football season.
Check out all three games I'm betting below, and don't forget to follow me in the Action Network app ahead of game day.
---
My College Football Betting Card for Week 3
Here's a rundown of my favorite betting spots on Saturday's slate of games.
Click the team logos for one of the matchups below to navigate to a specific game on my Saturday Week 3 college football betting card.
| | | |
| --- | --- | --- |
| Game | Time (ET) | Pick |
| | Noon | Nebraska +23 · Over 61.5 |
| | 4:30 p.m. | Florida +14 · Over 59 |
| | 7 p.m. | Penn State -4 |
Specific bet recommendations come via the sportsbook offering preferred odds as of writing.
Always shop for the best price using our NCAAF Odds page, which automatically surfaces the best lines for every game.
Photos via Getty Images.
---
---
Nebraska vs. No. 3 Oklahoma

Nebraska

Oklahoma
The biggest Southwest Conference rivalry saw an upset with Arkansas defeating Texas in Week 2, but can the largest rivalry from the Big 8 days see another?
The Sooners and Huskers have not played since the 2010 Big 12 Championship game, and the last time Nebraska won in Norman, the Huskers had Scott Frost under center.
There is additional drama surrounding this game because of Nebraska's attempt to back out of the matchup.
These two teams are headed in separate directions, as Oklahoma survived Tulane and embarrassed Western Carolina to move to 2-0. Nebraska took an opening loss to Illinois but has rebounded in victorious covers against Buffalo and Fordham.
The heat on Frost has subsided for a couple of weeks, but a blowout by the Sooners will keep the head-coaching seat sizzling in Lincoln.
---
While pending NCAA violations loom over the program, Nebraska has quietly blown two non-Power Five teams away. This has given a much-needed boost to the statistics but also established an identity.
The Cornhuskers run the ball at a 64% clip, one of the highest marks in the nation. Nebraska has middling FBS numbers in Rushing Success Rate and Line Yards, but the defense is beginning to live up to preseason expectations.
One area that has not improved for Nebraska is special teams, as it owns an SP+ rank of 128th. While punt efficiency ranks 99th, the kickoff return unit has had just one efficient attempt all season. The Cornhuskers have the sixth-worst average starting field position after kickoff in all of FBS.
The special teams issues certainly compound the inability to sustain drives, a sticking point for the trip to Norman.
---
Cornhuskers Offense
The offense fielded by Frost was predictable in previous seasons in terms of rush formations in standard downs and passing attempts through the 11 formations on passing downs.
This season has seen 71% of plays in a one tight end and one running back set.
While Markese Stepp and Gabe Ervin Jr. receive the lion's share of attempts, neither can produce the explosive play like quarterback Adrian Martinez on the ground.
Stepp and Ervin average 2.2 yards after contact, well shy of Martinez at 6.4 yards after contact.
If college football were based on busted plays, Martinez would be one of the best in the nation with 247 scramble yards against just 49 in designed runs.
Fumble issues persist, with two against Illinois and another against Fordham after entering the season with 33 total. A clean game from a fumble perspective came against Buffalo, but the Bulls have not forced a fumble all season.
Martinez producing a clean box score is crucial for a cover, especially considering the Oklahoma defense leads the nation in forced fumbles.
---
Cornhuskers Defense
The preseason hype around the back seven on defense is a positive for the Huskers. Nebraska grades out 16th in coverage and seventh in tackling, per PFF.
The list of offenses includes Fordham, Buffalo and an Illinois team with a backup quarterback, but coordinator Erik Chinander has produced a top-30 rank in Defensive Finishing Drives.
To this point, Chinander has called a 2-5-4 defense on over 75% of plays with an enormous 35% blitz percentage.
A low rank in Havoc does not do the front seven justice, as Nebraska averages more than 6.5 tackles for loss per game.
The scheme can be boom-or-bust when pressure comes from four or five defenders, but to this point, the Nebraska defense is top-40 in defending big plays, defined as 12-plus yard runs and 15-plus yard passes.
Oklahoma will certainly test the high Nebraska marks in big play and tackling, but expect the blitz to come from Nebraska with the goal of generating turnovers from the Sooners offense.
---
The Sooners had a sweater of a Week 1 to kick off the 2021 season.
The game against Tulane was originally scheduled to take place in New Orleans before Hurricane Ida displaced the Green Wave roster. The opener was moved to Norman, as the Sooners did everything to make Tulane feel at home, from donating proceeds to painting the Angry Wave on the field.
Little did Oklahoma know that Tulane would attempt an onside kick at the end of the fourth quarter for a chance to win the game. The box score opened eyes as the Tulane offense produced as much as the Sooners, creating as many explosive drives and more two-plus first down possessions.
The Green Wave generated six tackles for loss and kept Oklahoma at 7.4 yards dor its average distance on third-down attempts.
The Western Carolina box score would shed little light after a 76-0 drumming, but both the offense and defense are on alert against Nebraska.
---
Sooners Offense
Year over year, the Sooners offense posts video-game type numbers, but there might be a few areas Oklahoma investors want to give attention.
Oklahoma ranks 94th in Offensive Line Yards, signifying the trench is not producing the yards needed with respect to down and distance. Tackle Tyrese Robinson has posted the lowest run-blocking grade through 115 snaps in two games.
The running back stable was light in experience with Kennedy Brooks returning and Tennessee transfer Eric Gray, but neither has produced at the level Oklahoma expected. Gray and Brooks have forced just 18 missed tackles in 38 rushing attempts, and neither averages more than 3.5 yards after contact.
The offense has been productive, ranking second in pass blocking and 18th in Finishing Drives. The poor mark in Havoc Allowed is drawn to 10 tackles for loss recorded against the offense this season.
Another area of concern early comes in the advanced numbers of Heisman hopeful Spencer Rattler, now up to six touchdowns against two interceptions this season.
Upon further inspection, Rattler has posted zero big-time throws and generated three turnover-worthy plays. Last season, the then-freshman had a three-to-one ratio in the statistic, but the three turnover-worthy plays all came against Tulane.
Only once did Rattler have that many turnover-worthy plays in one game — last season's loss to Kansas State.
The numbers could be a part of head coach Lincoln Riley's plan before conference play begins, as Rattler has attempted just four passes past 20 yards.
The quarterback is posting the same adjusted completion rates in pressured dropbacks in 2020, but play design is putting the work on the wide receivers.
Mario Williams and Jadon Haselwood have been targeted the most so far in the season, but neither has an average depth of target over 6.4 yards. Marvin Mims is the home-run hitter of the group but has recorded just six catches on nine targets.
Considering Nebraska's strength comes in coverage grading, Oklahoma dink-and-dunks to explosive plays will put a heavy emphasis on the Huskers tackling to prevent scores.
---
Sooners Defense
The third season of the Alex Grinch era has seen mixed results through two games.
Western Carolina didn't generate a single point or have a red-zone attempt, so the bulk of the sample comes from the Tulane opener.
The Green Wave averaged five points per trip past the 40-yard line, scoring five touchdowns in six trips to the red zone. With a new offensive coordinator in place, Tulane beat national averages in every situation from run or pass to standard and passing downs.
The Sooners are top-40 in Havoc, following a similar route of chaos versus previously coached Grinch units. The two areas that require attention are a rank of 78th in tackling and 112th in Finishing Drives. Technique and fundamentals against Tulane resulted in additional yards and scores.
Grinch has stressed playing all four quarters against Nebraska, as Martinez presents more of what Tulane can do from a perspective of ground explosiveness.
---
Nebraska vs. Oklahoma Betting Pick
Teams make the biggest jump with regards to improvement between their first and second game.
The Oklahoma defense continued to miss tackles through the Western Carolina game, specifically edge Reggie Grimes and linebacker DaShaun White. Although the Catamounts were held to 2.8 yards per play, the Oklahoma defense missed 10 total tackles.
Martinez will have no issues in the elusiveness department, but the Sooners are failing at the point of attack with arm tackles.
As for the Oklahoma offense, the playbook for Rattler is a point of discussion, considering Nebraska boasts one of the best grades in the country in tackling.
Chinander sends blitz at a higher rate than most Power Five defenses, putting pressure on Rattler to find the hot route. To this point, Oklahoma has not been able to control the trench in standard downs nor post breakaway runs.
The market is saturated with support for the Sooners, and that should continue up until kickoff. The Action Network projection has the game set at Oklahoma -16, a full touchdown from the market number.
As with every Cornhuskers game, turnovers are an impossible handicap when it comes to Martinez. Oklahoma does force fumbles at a higher rate than any other defense, but that doesn't negate a Martinez explosive play from any down and distance.
Until the Sooners firm up a defensive unit from missing tackles and Rattler throws downfield, Nebraska will keep this within the number under the assumption that there are no turnovers.
Our projection on the total sits at 59.5, a shade lower than the market offering. Nebraska has the 24th-fastest tempo in the nation but is primarily a ground-based attack.
Considering the arm tackling of Oklahoma, the explosiveness of Martinez, and the Sooners' desire to be in shootouts, a small play on the over is suggested.
Pick: Nebraska +23 or better • Over 61.5 or better
---
---
No. 1 Alabama vs. No. 11 Florida
Alabama
Florida
A rematch of the SEC Championship game could not look any different just three weeks into the season.
Both teams are undefeated, but the makeup of each program has changed dramatically. Alabama has cruised to start 2021 in blowouts of Miami and Mercer, as quarterback Bryce Young continues to gain confidence with seven passing touchdowns and no interceptions on the season.
As for Florida, the departure of Kyle Trask, Kyle Pitts and Kadarius Toney left the Gators with one of the lowest marks in returning production. The drop in experience has yet to show up in three-touchdown victories over Florida Atlantic and South Florida.
A pair of explosive dual-threat quarterbacks have generated excitement in Gainesville in hopes of defeating Alabama for the first time since 2008.
---
The Crimson Tide covered easily in the season opener, limiting the Hurricanes to just 4.39 yards per play and an overall Success Rate well below the national average. Alabama stuffed almost half of Miami's rushing attempts, a positive sign for a new defensive line.
Young completed plenty of low-risk passes in the backfield to new explosive targets in Jameson Williams and JoJo Earle.
Not all the news has been great for Saban to this point. From an injury perspective, the defense may be shorthanded as Will Anderson is day-to-day while Christopher Allen will miss the remainder of the season.
A non-cover against Mercer may be acceptable in a scheduling sandwich spot, but the Tide have now committed 17 penalties. Exasperated by activity after the whistle and helmet throwing, Saban said the flags are ridiculous from his undisciplined squad.
---
Crimson Tide Offense
The offense was expected to take a production dip after the loss of quarterback Mac Jones and Heisman Trophy winner DeVonta Smith to the NFL.
The most glaring issues have come from the offensive line, specifically center Darrian Dalcourt and right tackle Chris Owens. Alabama ranks 82nd in Havoc allowed with a Line Yards rank outside the top 50.
The pass blocking grade of 85th explains the plan of offensive coordinator Bill O'Brien to get the ball out quick to a number of explosive weapons.
Young has an impressive stat sheet from a touchdown-to-interception ratio perspective, but a deep dive suggests that trouble could be in store for the sophomore. Through two games, the quarterback has just three big-time throws and two turnover-worthy plays.
Brian Robinson Jr. and Jase McClellan have been electric out of the backfield from a yards after contact perspective, but that contact generally comes behind the line of scrimmage.
O'Brien has run primarily 12 formations on first down with a lean toward rushing the ball. One new element for Alabama is running 13, loading up with three tight ends for the sole purpose of running the ball.
Alabama has enough explosive playmakers to cover up the offensive line mistakes, but pressure from Florida is the biggest handicap in this game.
---
Crimson Tide Defense
The Crimson Tide defense continues to post outstanding ranks in defensive categories, but Success Rate is lagging compared to previous seasons. Mercer and Miami offenses have handed the Alabama defense ranks of 48th in Rushing Success Rate and 79th in Passing Success Rate.
The Bears may have laid the groundwork for the Florida template, failing in passing downs with a 14% Success Rate but racking up an above-national-average Success Rate in passes from standard downs.
Mercer averaged over six yards per play in standard downs and called four passes over 15 yards.
Outside of Success Rate, the Alabama numbers are excellent.
A top-25 rank in Line Yards and coverage grading come from both the front and back of the defense. The Crimson Tide are fifth in Defensive Havoc and grade out third in the nation from a tackling perspective, per PFF.
Much like the offense, there are plenty of playmakers on defense to generate plays behind the line of scrimmage after giving up a lengthy gain.
---
Home-field advantage was on head coach Dan Mullen's mind this week. The Gators lost to Texas A&M during the pandemic 2020 season as Kyle Field was estimated to have over 50,000 fans in attendance.
Mullen asked to "pack the Swamp" the following weekend but can now depend on a sell-out crowd for the biggest game in Gainesville in years.
There is plenty of hype around a team that was expected to rebuild after losing so many players to the NFL.
Mullen continues his legacy as a quarterback whisperer with two dual-threats following a long line of successful tenderfoots, including Tim Tebow, Dak Prescott and Alex Smith.
The Gators defense has shown improvement, as the bulk of Florida Atlantic and South Florida stats came from garbage time.
The defensive line has seven sacks and 13 tackles for loss — positive indicators against the Alabama offensive line.
---
Gators Offense
There are not many players whose numbers jump off the page and demand attention, but quarterback Anthony Richardson isn't an average player.
The backup quarterback has posted gaudy numbers on the ground, including 25 yards per rushing attempt. Although there have been nine designed runs against inferior defenses, Richardson averages 11.9 yards after initial contact and created 10 missed tackles this season.
Emory Jones is still the starting quarterback, but the numbers from a passing perspective are starting to bifurcate between the two players.
Jones has been careless through two games, generating three big-time throws to six turnover-worthy plays. In contrast, Richardson is showing shades of the Tebow playbook with three big-time throws and no turnover-worthy plays.
Florida is top-20 in Rushing Success Rate, big-play percentage and pass blocking. The biggest indicator that the Gators offensive line can control the trench is a rank of second in Line Yards.
The point spread continues to drop in Florida's favor throughout the week, but any negative news around Richardson's hamstring tightness would certainly send the Crimson Tide spread back to 17 or more.
---
Gators Defense
The Florida counting stats have garbage-time numbers factored in from the Florida Atlantic and South Florida wins, but this defensive front seven has continually played in opposing backfields.
Coordinator Todd Grantham is pleased with the rebound from a 2020 season that saw Success Rate fall out of the top 100. The Gators have returned to rank 34th in Line Yards and 16th in tackling.
Florida defense ranks seventh in the nation in pass rush, per PFF. The pressure is encouraging from the 3-3-5 defense that does not rely on the blitz, sending pressure with just four or five defenders on 19% of snaps.
The question is whether or not this is by design ahead of the Alabama game, with 29% of snaps from the 3-3-5 sending blitz in 2020.
The handicap depends on Florida's ability to blow up the offensive line and disrupt passing attempts in short-yardage attempts to the wideout and slot positions.
From the Crimson Tide's offensive line grading through two games, there are expectations that the Gators will be in the backfield most of the afternoon.
---
Alabama vs. Florida Betting Pick
There are an abundant number of reasons why the number continues to move in favor of Florida.
Richardson has flashed dual-threat skills that would create problems for elite college football defenses. A season-ending injury to Christopher Allen and a questionable status to Will Anderson suggests Florida will have success against the Crimson Tide front seven.
Also returning to Alabama practice from injury is corner Josh Jobe, a key piece to the secondary where Mullen may elect to attack in passing downs.
If there is success in owning the trench with dual-threat quarterbacks for Florida, the same may be said on the defensive side of the ball.
The Miami defensive line discarded plenty of Tide offensive linemen, recording sacks and tackles for loss.
The bigger question is if O'Brien has kept Young from throwing downfield. Through two games, Young has attempted 10 passes past 20 yards, completing just a single pass. Florida has a PFF coverage grade of 111th, indicating that Young may have more success throwing downfield than dumping off to targets in the flats.
Florida has an exciting offense in the wake of so much talent loss, but the emergence of Richardson gives Mullen one of the most electric offensive players in all FBS.
The Action Network projection makes Alabama -12.5, giving a betting recommendation down to 13 with the assumption of a healthy Richardson.
As for the total, the projection of 60 is near the current market number. The over must be in consideration, as Florida runs a tempo of 38th in plays per minute but fields a defense that is 63rd in Finishing Drives.
The Havoc and coverage grades suggest quick-strike explosive plays are in the forecast for Alabama against a defensive line that will generate pressure.
Pick: Florida +14 or better • Over 59 or better
---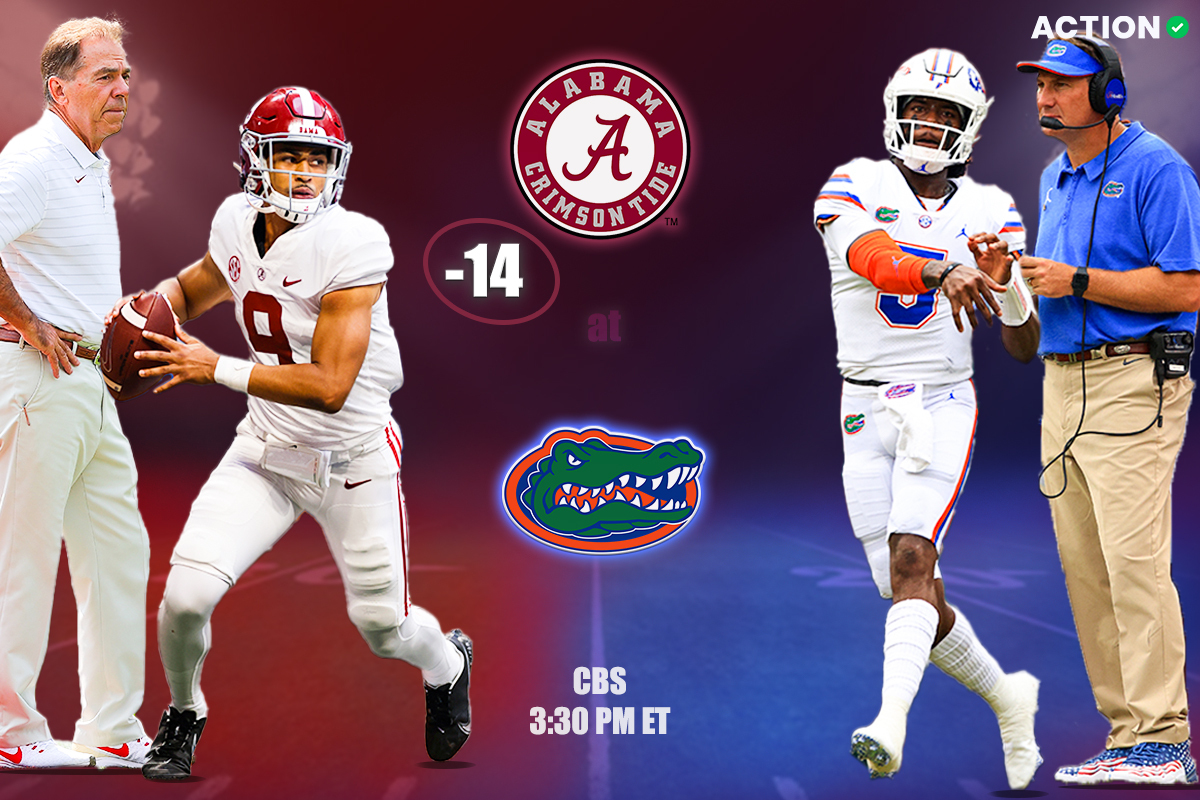 Our Staff's Picks for Alabama vs. Florida
---
---
No. 22 Auburn vs. No. 10 Penn State

Auburn

Penn State
Considered the best atmosphere in college football, Penn State will have a "White Out" game when Auburn travels north on Saturday.
The results of a yearly event like this have paid dividends in the win column; only Ohio State has won in Beaver Stadium during a "White Out" since the 2016 season.
The stakes could not be higher for Penn State on a national level after the Buckeyes took a loss to Oregon.
Auburn travels to University Park after hammering the box scores against Akron and Alabama State. The Tigers have prepared all summer for the opportunity to win on the road for the SEC against a premier program in the Big Ten.
As for the home team, James Franklin and USC have mutual interest in the wake of the Clay Helton firing.
The Trojans' open head coach job may not have an affect on this game, but the play of quarterbacks Bo Nix and Sean Clifford are the biggest handicap of the event.
---
The Tigers have kicked off the 2021 season against inferior competition with a combined score of 122-10. Stomping out inferior competition is a characteristic of offensive coordinator Mike Bobo but has also shown what concepts are being run with a new coaching regime in place.
Over 57% of snaps have come from 11 formations with a 55% rate of pass, while a two-tight end set is run on 37% of plays with a heavy tilt toward the rush.
Nix has had just four pressured dropbacks through two games.
The defense is led by coordinator Derek Mason, former head coach of Vanderbilt. The scheme has been multiple, rotating from a 2-4-5 to a 4-2-5.
No matter the scheme, Mason has kept blitzes off film with just a 16% rate thus far. That is a big drop from the Vanderbilt defenses of years past under Mason, which blitzed on 33% of defensive snaps last season.
---
Tigers Offense
The Tigers have put up video game-like numbers through their two cupcake scrimmages to start the season.
Nix has five touchdowns and no interceptions, fielding the highest adjusted completion percentage of all Power Five quarterbacks.
The Alabama State box score did show a couple of items to monitor for Penn State, as Nix posted two turnover-worthy plays. There were also four drops by four different receiving targets.
Shedrick Jackson leads the team with 10 targets on the season after taking 31 snaps at wideout and just two in the slot.
The added dimension of Tank Bigsby will be a key factor in the game. Auburn runs the ball at a 60% rate and averages the highest yards per carry in the country after facing a MAC and SWAC team.
As Bryan Harsin elects to go heavy run in the 12 formations, tight ends Luke Deal and John Samuel Shenker play a key role against the Penn State linebackers.
---
Tigers Defense
The goal of the Tigers defense is to shut down wide receiver Jahan Dotson, who has 18 targets on the season, six of them coming on third-down attempts.
Mason has coached against tempo offenses that run RPO in space since his days as Stanford's defensive coordinator.
The multiple front look has been installed for Auburn, with eight different schemes run in the first two games. Attacking Penn State is not simply a blitz in the pocket but stopping Clifford from running the RPO in space.
The numbers have been outstanding even with the pretense of the competition.
Mason has the No. 1 defense against the big play and top-10 ranks in Rushing Success, Havoc and coverage. With a top-25 tackling grade, the handicap on this side of the ball is limiting yards after contact against the Mike Yurcich run-pass option with tempo.
---
An elite defensive showing against Wisconsin in scoring situations led to a victory and a fan base wanting more than just a conference crown.
Penn State has won and covered against the Badgers and Ball State to begin the season, thanks in part to improved offensive efficiency and red-zone play from the defense. Clifford's decision-making has improved with new offensive coordinator Yurcich in place.
The defense lost its bite during the pandemic season of streaks for the Nittany Lions. While the overall Havoc numbers are not desirable for coordinator Brent Pry, there has been a tougher level of complexity to the schedule than that of a team like Auburn.
The ability to limit the explosive play has been a key factor in the early success of Penn State.
---
Nittany Lions Offense
Like Nix, there was plenty for Clifford to address in terms of improving efficiency at the quarterback position. The early returns are positive, as Clifford has four big-time throws and no turnover-worthy plays.
There has been a small uptick in average depth of target, but more importantly, there have not been mistakes in 25 dropbacks against opposing blitz.
Attacking the Auburn defense will require the same recipe used against Wisconsin and Ball State. Yurcich has called 39 play-action or screen attempts through two games. Clifford has an 87% adjusted completion percentage in those play calls, generating an NFL rating over 117.
All signs are pointing to improvement in Clifford's game, as the ability to handle pressure and multiple fronts is imperative against a Mason-coached defense.
---
Nittany Lions Defense
Pry will look to shut down Bigsby at the line of scrimmage — no easy task against a running back that averages over five yards after contact for his career.
The Nittany Lions have generated just 12 tackles for loss and a single forced fumble on the season. The best defensive group has been the back seven, grading out as the third-best coverage unit, per PFF.
The Nittany Lions rank 30th in Defensive Finishing Drives, assisted by numerous red-zone attempts with no points by Wisconsin.
The defense has one of the best marks in limiting the explosive play, allowing no passes over 30 yards and zero rushing gains over 20 yards.
Auburn will be able to move the ball in standard downs with advantages in Line Yards on the offensive line and Bigsby dragging defenders for first downs. Penn State will need another Herculean effort when Auburn moves into scoring opportunities.
---
Auburn vs. Penn State Betting Pick
Both Auburn and Penn State have been under new management on the offensive side of the ball. Both coordinators have earned their money, as Nix and Clifford continue to post quality box scores.
The difference between the two competitors is the strength of competition. The Wisconsin defense was the best in the nation in limiting the explosive play in 2020, but Clifford got behind the secondary on multiple attempts. The Yurcich game plan is well known: create RPO opportunities in tempo and look downfield.
Clifford has more pass attempts of 20-plus yards than attempts from the medium range of 10-to-19 yards. The Auburn secondary will see plenty of play-action passing, RPOs in space and shots downfield.
Nix must overcome previous performances on the road. The issue thus far against Akron and Alabama State has been the drops, as all five have been between the line of scrimmage or 19 yards down the field.
Nix can expect pressure, as Pry has blitzed on 45% of defensive downs, a large jump from 32% in 2020. Standard downs will consist of stopping Bigsby, while passing downs will be about pressuring Nix.
The Action Network power ratings rewarded Penn State through the first two games more than Auburn because of box score and strength of schedule. This is a number projected at Penn State -9, giving the Nittany Lions plenty of edge.
There are shops that have lowered this number as far as Penn State -4, signifying that this game would be closer to a pick at a neutral site.
Teams traveling on the road for the first time have not been winners at the window after a COVID-19 season that saw minimal home-crowd influence.
This has been deemed Penn State's biggest home game of the season, as a battle-tested defense will continue to excel in Finishing Drives and coverage.
Pick: Penn State -4 or better
---
How would you rate this article?
This site contains commercial content. We may be compensated for the links provided on this page. The content on this page is for informational purposes only. Action Network makes no representation or warranty as to the accuracy of the information given or the outcome of any game or event.