Wilson: Why I Bet Trevor Lawrence To Win Heisman at 300-1 and How I'm Hedging
Credit:
Joshua S. Kelly-USA TODAY Sports. Pictured: Trevor Lawrence
Collin Wilson bet longshot Trevor Lawrence to win the Heisman after the QB was announced as Clemson's new starter.
Any Heisman investment needs a Tua Tagovailoa hedge before Alabama's schedule softens.
The 2018 Heisman Trophy ceremony is less than three months away, and the odds market is starting to take shape.
I wrote about how to attack it from a betting angle in the preseason, because knowing where the votes come from and the history of the positions that win is paramount. There have been some great additional pieces from my colleagues, including Ken Barkley's preseason take (with a nifty voting map that I use) and Danny Donahue's latest piece on the current market.
All signs are pointing to Tua Tagovailoa winning in a landslide, but with the news of Clemson switching from Kelly Bryant to Trevor Lawrence at starting quarterback, I decided to go a different route.
---
>> All odds as of Monday. Download The Action Network App to get real-time college football odds and track your bets
---
Why I Bet Trevor Lawrence to Win the Heisman at 300-1
Most of the offshore sportsbooks wait until a Las Vegas outlet releases Heisman odds before posting. In this case, the Westgate in Las Vegas was first to post odds after Week 4.
As I scrolled through the list on Sunday night, I was not surprised to see Tagovailoa leading the charge at -150, considering a bettor put $5,000 toward the Alabama quarterback at +250.
This is Tua's race to lose, and to take any other player to win needs an exit strategy.
Scrolling a bit further, I found Lawrence at 300-1 odds. There are many things that need to happen for the true freshman to have a shot, and the first domino was being named the starter. Once news broke on Monday morning, I knew it was time to invest.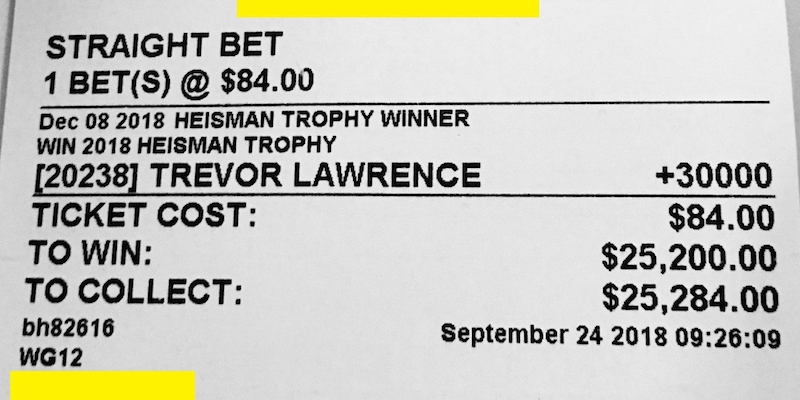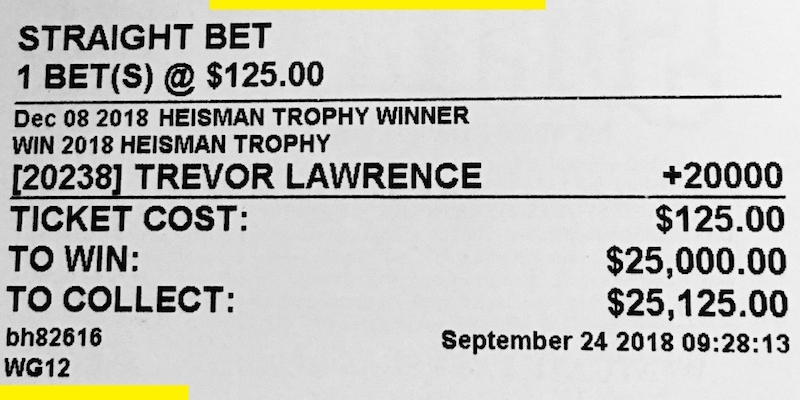 ---
How I'm Hedging That Bet
Understandably, the Westgate limited its exposure on Lawrence with 300-1 and a newly calculated line of 200-1. Once it moved to 100-1, I felt that other competing books could offer the same or better.
Now that the number is secured, it's time to come up with a way to protect the bet.
Tagovailoa is the obvious candidate to win, but he still has plenty of games left to beef up his numbers. The other top candidate is Ohio State's Dwayne Haskins, who was 30-1 most of the preseason before a fantastic start.
There are other contenders such as Will Grier, Trace McSorley and Kyler Murray. But for the purposes of this piece, we'll target the two leading candidates.

Using defensive pass efficiency ranks, we can see what kind of competition awaits Tagovailoa and Haskins.
From initial view, it looks like investment on Haskins at +500 can hold off –with three top-40 pass efficiency defenses on the schedule. The most opportune time to back Haskins is before Week 10. Ohio State faces Nebraska on Nov. 3 to kick off a lighter three-game stretch before hosting Michigan.
Tua could be a completely different story. Neither Lawrence nor Tagovailoa will play a top-50 defense until Week 10, when Alabama faces LSU and Mississippi State on back-to-back weekends.
Alabama's schedule over the next three weeks will continue to showcase Tagovailoa's incredible season, and his odds will only improve. Now is the best price you'll get him for the foreseeable future.
Tagovailoa will end his campaign against Georgia (fifth in yards per attempt allowed) and Auburn (52nd). Both teams were top 10 in that metric last year.
Clemson's toughest pass defense opponent from here on out — including the potential teams in the ACC Championship Game — is Duke on Nov. 17.
In summary, every penny I have invested in Lawrence, I am also buying Tagovailoa before kickoff against ULL this Saturday. By the time Alabama reaches its bye week, Tua's betting numbers could reach Lamar Jackson levels in 2016. For Lawrence to win, Tua will need to tumble in those final few weeks.
The best price available as of this writing is +150, so shop wisely. If there's a longshot dog you want to play in the Heisman race, this is the week to do it before Tua's odds take off.
We will roll the dice while passing on Haskins, Grier and McSorley and wait until Week 10 for another assessment.