Oregon vs. Utah Betting Odds, Picks & Prediction: Which Edges Do Ducks Have in Pac-12 Championship Game?
Credit:
Joe Camporeale, USA Today Sports. Pictured: Tyler Huntley
Utah vs. Oregon updated odds in the Pac-12 Championship Game have the Utes as a 6.5-point favorite, with the total at 45.5.
Utah likely would have been a small favorite in this game several weeks ago, but the Utes have rolled with eight-straight wins both straight-up and against the spread, while the Ducks have struggled in the last two weeks.
Our experts break down Oregon vs. Utah from every betting angle and give their picks.
Pac-12 Championship Odds: Oregon vs. Utah
Odds: Utah -6.5
Over/Under: 46
Time: Friday, 8 p.m. ET
TV: ABC
Location: Levi Stadium, Santa Clara, Calif.
A few weeks ago, Oregon vs. Utah felt like a Pac-12 Championship with something on the line for both teams. The Utes likely would have been a small favorite, less than a field goal, as both teams tried to keep their College Football Playoff hopes alive.
But the Ducks lost to Arizona State, struggled with Oregon State and have been a mess on offense for much of the last month.
So does anyone want to back Oregon now against a Utah team that's covered eight straight games? The Utes are the first team since 2005 to go 8-0 ATS entering a conference title game.
Let's break down the Pac-12 Championship and try to find some areas where both teams can excel.
---
Odds as of Thursday night and via PointsBet, where Action Network users can access an exclusive promotion to get a 200% deposit match (deposit $50, bet with $150). No strings attached. No rollover required.
---
Oregon vs. Utah Line Movement
While there's been movement on this spread throughout the week, it hasn't exactly been anything out of the ordinary, as Utah has gone from openers of -5/6 up to -6.5 behind 66% of bets and 65% of money. Of course, a move to the key number of -7 would say a lot more about the type of bets hitting the Utes.
The total, on the other hand, has seen some movement worth noting. While the movement has once again come in the direction of the popular side (60% of bets have hit the under), the line fall has been much more drastic, going from 51 to 45.5, as has the discrepancy between bets and money.
The 60% backing of the under has generated 80% of actual money, meaning bigger bettors are playing the under. — Danny Donahue
Collin Wilson: Defenses Should Dominate
While Oregon defensive coordinator Andy Avalos has to prep for a Utah offense that is top 15 in success rate and 18th in pass explosiveness, the Utes defense will prepare for an Oregon offense that's struggled lately.
Oregon scored three touchdowns against Oregon State in the Civil War — which is ugly enough to begin with against a bottom 100 defense — but a closer look at the box score shows how ineffective the Ducks were.
They scored those touchdowns on a kickoff return and two drives that started at the Oregon State 38- and 27-yard lines. Against Arizona State the week prior, they really didn't get going until garbage time.
Therefore, this game should be dominated by the defenses. Both teams rank top 6 in finishing drives on defense, top 5 against rush explosiveness and top 15 against pass explosiveness.
Utah is one of just four teams over the past 10 seasons to hold 11 opponents to 100 rushing yards or fewer. A sloppy track at Levi's Stadium is in the forecast, as we might get non-stop rain on Friday.
Expect the vise grip of the defenses to keep field position in check, while a wet turf will limit explosive plays.
Utah has outscored opponents 193-61 in the second half this season, an indication that it may take multiple drives for the Utes offense to get going.
Points will be at a premium, but expect Utah to do just enough to take home the Pac-12 Championship.
Collin's Pick: Oregon +6.5, 1st Half Under 21.5
Collin Wilson is 482-404-23 (54.4%) overall betting on college football. You can follow him in our free app.
Kyle Miller: Edges Everywhere for Utah
Both Oregon and Utah are clearly good football teams so this isn't your typical Pac-12 title game. Each of these teams rank in the top 10 of my power ratings so I'm really looking forward to it.
Despite the justifiable narrative that the Pac-12 will always blow it, Utah has so much going its way in this matchup.
The staple of Utah's offense is running the football with Zack Moss. He's one of the best backs in the nation and his injury was a big reason that Utah lost its lone game to USC. The weakest part of Oregon's strong defense is rushing success rate, where the Ducks rank 46th. That could mean trouble against the Utes and their run game that's 12th in rushing success rate.
While Oregon has a strong defense, Utah has an elite one. The Utes rank No. 4 in yards per play, No. 1 in defending explosiveness, and No. 9 in efficiency. They've got solid advantages over Oregon in each of those categories.
Neither offense is particularly explosive and both defenses defend it well so I'm expecting a very low scoring game. In addition, the weather and field conditions will likely be a factor with rain coming down all week in Santa Clara.
As for the side, I make this game Utah -5 so I jumped on a juiced -3 when openers came out. The line has since jumped up to a touchdown in some spots so I'm not looking to back the Utes at that number.
I'll stick with the under here and hope the field conditions and defenses play out as planned. — Kyle Miller
Kyle's Pick: Under 46
Kyle Miller is 231-198-12 (53.8%) overall betting on college football. You can follow him in our free app.
Market Too Down on Oregon?
I don't necessarily think Oregon is as bad as the market thinks right now after seeing the Ducks lose to Arizona State and then win in a lackluster performance against in-state rival Oregon State. Just a few weeks ago, this line probably would've been closer to Utah -3.
Yes, the Utes have looked dominant over the past three weeks, winning by an average margin of over 34 points per game in three straight covers. However, those three games were against Colorado, UCLA and Arizona. Don't forget that the Utes opened up November with a game in Seattle that Washington led late in the third quarter before a crippling pick-six by Jacob Eason.
In fairness, the Oregon offense has been somewhat of a mess of late, which is understandable after losing star tight end Jacob Breeland and wide receiver Mycah Pittman to injury. Herbert really misses Breeland in particular. — Stuckey
But Don't Expect Much from Ducks Offense
Unlike what we saw with USC earlier this season when it beat Utah, the Ducks simply don't have the same caliber of weapons to exploit a very solid Utes secondary that has future NFL talent.
Although, for what it's worth, Herbert did throw for 288 yards with 3 TD and 0 INTs in a 32-25 loss to Utah last year.
While the Oregon offensive line is one of the best in the country and can at least matchup with an outstanding Utah defensive line, don't expect the Oregon offense to go off here — even if Justin Herbert is more productive against man defense, which is what Utah will predominantly play. Utah has limited explosive plays as well as any defense in the nation this year.
On the other side of the ball, the Oregon defense isn't as good as it showed early this season but it's still a solid overall unit — and the best that Utah has faced all year. The Ducks also do an excellent job in regards to limiting explosive plays.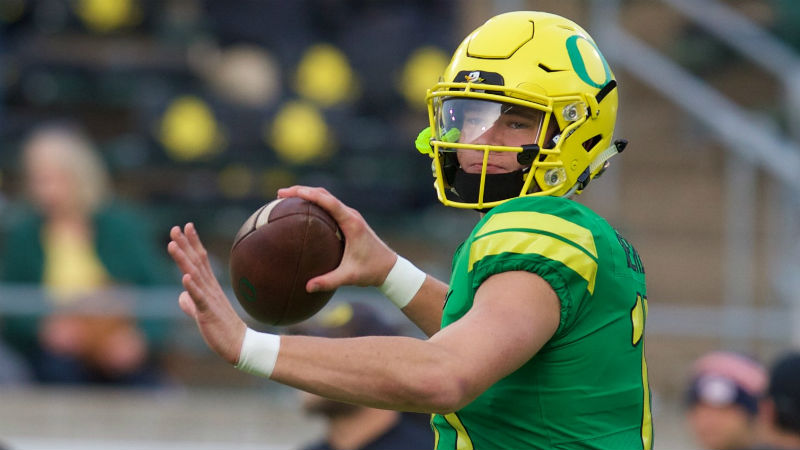 Tyler Huntley has come a long way from last season to develop into one of the most efficient passers in college football. He's now healthy, which means he's also a threat to run.
The look here is probably the under with two ball control offenses each facing a defense that excels at limiting explosive plays, especially when you factor in the weather. It's not a good field for footing, and the forecast is calling for rain and impactful winds. — Stuckey
Stuckey: Why I Like the First Half
I actually feel more comfortable with a first half under for a few reasons:
Utah has been a slow starter this year, averaging only 6.0 points per first quarter, which ranks 66th in the nation. (Oregon sits at 34th with 7.5)
Utah knows it needs style points for its best shot at the college football playoff, so I don't think there will be any let up with a lead in the second half.
From a side perspective, I think there is some value with the Ducks, especially if this gets to a flat 7 which I certainly will play. I personally make this game around Utah -4 but also prefer a first half play on Oregon +3.5 for a few other reasons:
— After starting slow, Utah tends to simply wear down its opponents as the game progresses. Look no further than its time of possession percentage in the second half as the Utes are only one of two teams in the country to have the ball for over 60% of minutes after the half.
— Halftime adjustments: I trust Kyle Whittingham to make much more effective adjustments at the half than Mario Cristobal.
— Utah may come out a little tight with so much on the line while Oregon should come out much looser with no shot at the playoff and expectations now relaxed. — Stuckey
Stuckey's Picks: Oregon 1H +3.5, Under 21.5 1H and look for an Oregon +7 to pop.
Stuckey is 519-478-29 (52.1%) overall betting on college football. You can follow him in our free app.
How would you rate this article?