Our Favorite Week 7 College Football Moneyline Underdogs: Mississippi State, UTSA Highlight Top Dogs (Saturday, Oct. 17)
Credit:
Daniel Dunn/Icon Sportswire via Getty Images. Pictured: UTSA quarterback Lowell Narcisse.
Stuckey and Collin Wilson are back at it again, delivering two ripe underdogs they think can pull off upset wins.
They settled on an SEC and C-USA team to get the job done as home dogs.
Check out why they think UTSA and Mississippi State provide the best opportunities to cash in at a solid price.
Each week on The Action Network Colleges Podcast, Collin Wilson and I pick our two favorite moneyline underdogs for each Saturday's college football slate.
I will no longer be commenting publicly on that Texas loss last week. I've already been traumatized enough, so let's move on to Week 7. As you can see from our combined record below over the past three seasons, we've turned a profit of close to 8 units despite hitting at a below 40% clip.
2018-19: 29-47 +4.00 units
2020: 4-6 +3.59 units
Let's get into our two Week 7 selections, with two afternoon home pups.  If you're feeling lucky, a moneyline parlay of both pays over 8-1.
---
>> Sign up for The Action Network's daily newsletter to get the smartest NCAAF conversation delivered into your inbox each morning.
---
Stuckey: UTSA +245
Spread: Army -7.5
Over/Under: 49.5
Date: Saturday, Oct. 17
Time: 1:30 p.m. ET
TV: CBSSN
Location: San Antonio, TX
Well, it came down to two choices for me this week with South Carolina and UTSA. I ended up choosing the latter. Go big or go home, right?
Having recent experience and/or extra time to prepare for Army's unique triple-option offense will always be a huge factor when facing Army (or any service academy for that matter). While UTSA doesn't have extra preparation time after playing last Saturday, it should benefit from facing Army last season. The Roadrunners lost by 18, but it was the first time in school history they faced a service academy. That game should give it more familiarity and pay dividends this weekend for a very experienced defense.
I think UTSA's defense can have more success than they did last year. Eight of the team's 10 top tacklers return for a unit that ranks in the Top 25 in Line Yards, Standard Down Line Yards and Stuff Rate. Those are three important advanced metrics to focus on when facing a triple-option offense.
---
Check out our free NCAAF odds page, which automatically surfaces the best line for every game.
---
The defensive line played really well against BYU, which is a promising sign for this matchup. UTSA should also get Jaylon Haynes back at nose tackle after sitting out last week with an injury. That's key against the fullback dive-heavy triple-option offense of Army. Haynes is the most experienced nose tackle on the roster by far and ranks in the Top 20 nationally in tackles for loss per game.
That said, I do have some other worries about the UTSA defense. Safety Rashad Wisdom will miss the first half due to a targeting call and the linebackers have shown some vulnerabilities when it comes to playing disciplined football, which is critical against the triple option.
This will also mark its third consecutive physical opponent after facing UAB and BYU. Maybe the Roadrunners are at risk of running out of gas against an Army team that usually dominates time of possession.
That said, I think their defensive line can make enough negative plays to put Army behind the sticks and keep this close.
On offense, UTSA has used four quarterbacks this season,, but Lowell Narcisse may have emerged as the guy last week. He shined in the second half against BYU, finishing 17-20 for 229 yards and two touchdowns. The former four-star recruit who started his career at LSU, has maybe figured it out. The talent is certainly there.
Whether its Narcisse (hopefully) or Frank Harris at quarterback, UTSA should have opportunities down the field to attack Army's secondary. Cincinnati quarterback Desmond Ridder had chances against Army, but simply missed open receivers. Plus, if either quarterback can connect with a talented receiver group on a few explosive passing plays, stud sophomore running back Sincere McCormick will have lanes to break a few big runs.
I personally think UTSA remains undervalued in the market. Through the first five weeks, it has covered by an average of more than eight points per game, losing by one possession as a  huge underdog in its past two games in road contests against quality opponents in BYU and UAB.
Meanwhile, I'm still not sold on Army on both sides of the ball after a cupcake schedule to start the year. Its four wins have come against teams with a combined 1-16 record. Those opponents include two FCS teams (Abilene Christian and Citadel) playing limited fall schedules, in addition to two of the worst FBS teams in the nation in Middle Tennessee and Louisiana-Monroe.
Also, for what it's worth, the three service academies (Army, Air Force and Navy) have combined to cover less than 45% of their games (69-85-2 ATS) when favored by greater than a touchdown over that span.
---
Check out our new CFB PRO Report, where we highlight factors that provide betting edges — like large wagers, historically profitable betting systems, model projections and expert picks — that when combined with sharp money can powerfully detail the smartest bets on a given slate.
---
Maybe Narcisse's performance was a fluke last week, but the Roadrunners have flashed enough explosiveness this year to give me faith they can hit enough big plays to have a chance here. And if the defensive line can continue playing at a high level, the Roadrunners, which now have familiarity with Army's scheme, should get some critical stops.
This could go very wrong if UTSA doesn't hit some explosive passing plays and the linebackers play undisciplined. However, I ultimately show value in the number and like the high-variance nature of this matchup, which I like when choosing an underdog moneyline.
Meep Meep.
[Bet UTSA now at PointsBet and get $250 FREE.]
Wilson: Mississippi State +175
Spread: Texas A&M -4.5
Over/Under: 54
Date: Saturday, Oct. 17
Time: 4 p.m. ET
TV: ESPN
Location: Starkville, MS
Texas A&M finished with a 70% postgame win expectancy after beating Florida in the final seconds after a Malik Davis fumble at midfield set up the game-winning field goal for the Aggies. While that was a big win for Jimbo Fisher, they still have major issues on defense.
The Gators had 10 receptions of 15 yards or more with a 60% success rate in passing plays. Texas A&M now ranks 73rd in Defensive Passing Success Rate, with only nine pass breakups through three games. Not good.
The offense has stayed consistent with Texas A&M teams of the past — high marks in Success Rate without explosiveness. A Top-10 ranking in Success Rate will get offenses off the field, but a rank of 64th in rush and 69th in pass explosiveness will hamper the Aggies in situations with a deficit on the board.
And now, they've lost another wide receiver to injury in Caleb Chapman, who had 150-plus yards and two touchdowns against the Gators.
---
Check out our free NCAAF odds page, which automatically surfaces the best line for every game.
---
The book is out in the SEC on how to defend Mike Leach's air raid offense. Both Kentucky and Arkansas have pressured KJ Costello from the edge position, while dropping eight defenders. The Stanford transfer had the worst day of his career against the Wildcats, racking up four interceptions.
The box score was not kind to the Bulldogs, who executed just one pass more than 15 yards in 72 attempts. There was self-inflicted damage on the Bulldogs' side, as five trips inside the Wildcats' 40-yard line resulted in zero points. On a positive note, the offensive line has done a great job in protection, ranking 18th in Sack Rate.
While the offense has received the press (both good and bad), the defense quietly kept Mississippi State in the games against Kentucky and Arkansas. The defensive line, which ranks sixth in Line Yards, has played particularly well. While controlling the line of scrimmage, the defense has also limited explosive passing and ranks Top 10 in defensive passing expected points.
Defensive coordinator Mike Elko will have to tweak the Texas A&M plan to match the scheme Arkansas and Kentucky employed against Mississippi State. The Aggies run exclusively in the 4-2-5, with different blitz principles than the 3-3-5 that has succeeded against Air Raid offenses. I'm not entirely sure if he'll change things up completely, which would work in Mississippi State's favor.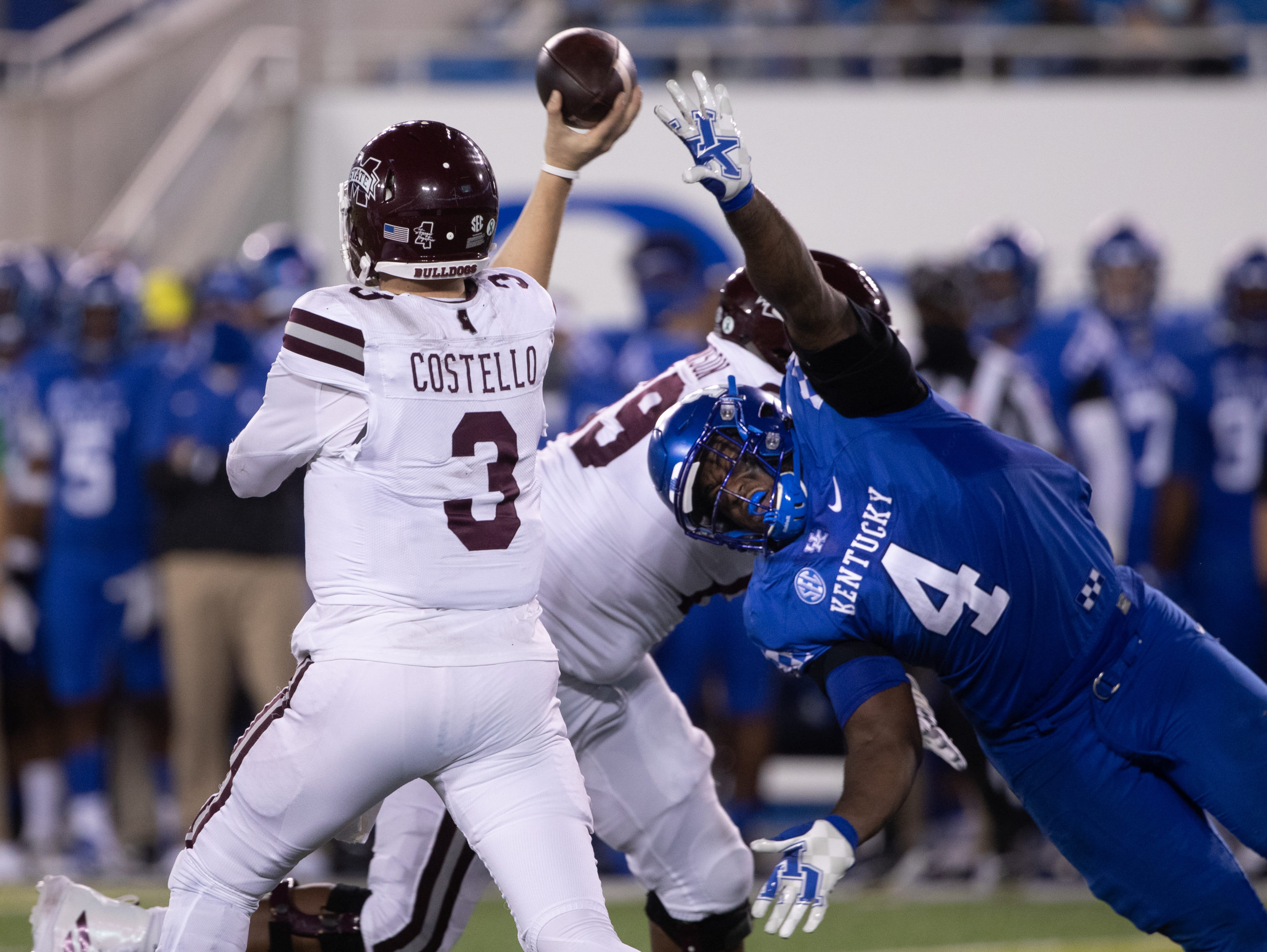 Three of the top four tacklers on the team are at the linebacker position in Buddy Johnson, Andre White Jr. and Aaron Hansford. Listed at more than 240 pounds, those backers are built more to stop the run than defend the pass. Opponents have the most success passing just over the line of scrimmage.
So, even if Elko does drop eight, Mississippi State can exploit the slower Texas A&M linebackers with crossing routes over the middle.
More YACs have been gained between the hashmarks within five yards than anywhere else against the Aggies. That doesn't bode well against Mike Leach passing attack that relies on the underneath route. Mississippi State has gone pass in 78% of 146 plays from 10 personnel, which will minimize the strength of the Aggies' rush defense.
I think Mississippi State will have success moving the ball against Texas A&M, whether it's Costello or freshman Will Rogers, who ran the Air Raid in high school and finally got to practice this week. The defense should also slow down Kellen Mond enough to give them a chance to pull out a home victory here.
Good buy low spot on Leach.
[Bet these games now at PointsBet and get $250 FREE.]
Link your PointsBet and Action accounts so your College Football bets automatically sync over to the app.
How would you rate this article?