College Football Bowl Game Odds, Picks, Predictions: How to Bet All 6 Saturday Bowls
Credit:
Jennifer Buchanon-USA TODAY Sports. Pictured: Dominique Hampton
College football bowl games continue on Saturday with six total contests.
We've got updated odds and our betting picks for all six below.
The New Orleans Bowl, Cure Bowl and Las Vegas Bowl are the games offering the most value.
College football's bowl season begins in earnest on Saturday with six games starting at 2 p.m. ET and ending after midnight.
Some of the nation's best Group of Five teams will be in action, including Boise State, SMU, Florida Atlantic and Appalachian State.
Saturday Bowl Game Odds & Picks
The six Saturday bowl games games are:
Let's break down each bowl game from a betting perspective.
---
Odds as of Saturday at 8 a.m. ET and via PointsBet, where Action Network users can access an exclusive promotion to get a 200% deposit match (deposit $50, bet with $150). No strings attached. No rollover required.
---
New Mexico Bowl Odds: Central Michigan vs. San Diego State
Spread: San Diego State -3.5
Over/Under: 40.5
Date: Saturday, Dec. 21
Time: 2 p.m. ET
TV: ESPN
Location: Albuquerque, N.M.
Looking for points? Well, you came to the wrong bowl game. Try the Boca Raton Bowl instead.
This game features the lowest total of any bowl thanks to two strong defenses. Not one of SDSU's four games in November eclipsed 30 total points and it didn't allow a single team to score more than 24 points this year.
Central Michigan had a resurgent season under first-year coach Jim McElwain, but fell to Miami Ohio in the MAC championship. The Chips have more balance than San Diego State, ranking 79th in offensive efficiency and 73rd on defense.
---
Odds via DraftKings, where Action Network users get a risk-free bet up to $500.
---
Central Michigan vs. San Diego State Line Movement
Laying a short spread with San Diego State has seemed like a fairly easy decision for most bettors. Sixty-eight percent, in fact, have taken the Aztecs against a MAC opponent, but the line movement hasn't reflected that.
After opening at -4.5, San Diego State has fallen to -3.5, which should serve as an indication of the type of bettor that's taking the points.
And despite an even higher majority backing of the under (72% of bets), the total has seen very little movement since opening, remaining right around the 40-41 range. — Danny Donahue
Two Fun Facts
Central Michigan is due for some good bad fumble luck after the Chips lost 15 of 23 total fumbles on the season.
San Diego State won three games this season in which it had a negative yards per play differential, tied for most in the country and a sign of some good fortune. — Steve Petrella
Who's Motivated?
From a motivational perspective, I think you have to give the edge to Central Michigan. The Chips won ONE game last season and shocked the midwest with a MAC title game appearance. You'd think these kids have to be excited to play in a bowl after having such low preseason expectations.
Meanwhile, I'm not sure how excited San Diego State will be to take on a MAC opponent, especially after such a disappointing end to the season. The Aztecs had dreams of making a Mountain West championship up until late November. — Stuckey
Collin Wilson: Defense Will Win Out Early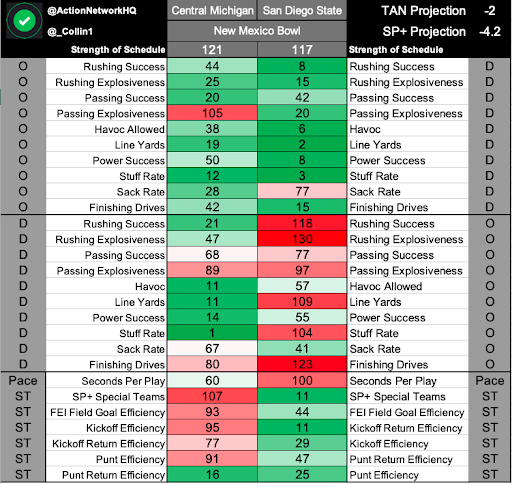 Our Action Network projection on this total is 50.5, but can SDSU actually get on the scoreboard? The Aztecs are 11-1 to the under on the season, as Rocky Long's switch to a spread attack while utilizing RPO action has not paid off.
Long and Jim McElwain know each other well, as the Central Michigan head coach was at Colorado State from 2012 to 2014. In their lone meeting in 2013, Long and the Aztecs covered the 23-point spread against the underdog Rams.
The Chippewas should have success on the defensive side of the ball. San Diego State is outside the top 100 in many offensive categories, while Central Michigan is top 20 in line yards, power success and stuff rate. Both teams rank 11th or higher in defensive havoc.
Considering how early the game falls in the bowl season, both coaches will not have enough preparation time due to the early signing deadline on Dec. 18.
Expect the Aztecs offense to struggle the entire game like it has all season, while CMU's Quinten Dormady will have trouble against SDSU's tricky 3-3-5 defense in the early going. — Collin Wilson
Pick: First Half Under 20.5
Stuckey: SDSU Offense…Gross
After missing the season finale, SDSU QB Ryan Agnew is expected back under center for SDSU. However, he leads an offense that can be described as anemic at best.
The Aztecs averaged only 4.6 yards per play on offense, which is the worst among all bowl teams and 123rd in the nation. They are also the only bowl team to not average at least 20 points per game; even UMass averaged more points during the regular season.
In complete contrast, the SDSU defense has been dominant all season and has only allowed 4.6 yards per play (the same amount the offense averages) which ranks top 10 nationally. The Aztecs also rank in the top 10 in yards per game and are one of only four teams that allowed fewer than 13 points per game along with Clemson, Ohio State and Georgia.
Rocky Long's unique 3-3-5 scheme was particularly strong against the run, allowing teams to only rush for 2.6 yards per carry — tied with Penn State for fewest in FBS.
CMU clearly has the superior offense in this matchup. Tennessee transfer Quinten Dormady took over at quarterback halfway through the year and has been productive. He not only has a pair of backs that should both surpass 1,000 yards after this game in Kobe Lewis and Jonathan Ward, but he also has two reliable receivers on the outside in Kalil Plimpton and JaCorey Sullivan.
I hate backing MAC teams in bowl games, but SDSU may lay an egg here against another MAC team (Ohio beat SDSU 27-0 last year).
Plus, CMU has a fine enough defense to shut down the anemic SDSU offense and an offense with enough talent in the backfield and on the outside to break through a few times against the stingy Aztec defense. — Stuckey
Miller: Not High on San Diego State
I've been much lower than the market on San Diego State all season and I've resisted my urge to follow convention wisdom and boost them in my power ratings week after week. That's led to me making this game Aztecs -2.5. The line movement since the open tells me that my line was closer than what odds makers originally put out, but you still have to cross a key number to get to the current spread.
There's only one unit in this game that can qualify as pathetic and that's the Aztecs' offense. Quarterback Ryan Agnew is set to suit up for this one but running back Juwan Washington is still questionable. That's a big concern for me as San Diego State runs the ball far more than they pass it. At the end of the day it likely doesn't matter; San Diego State hasn't moved the ball all year and I don't expect that to change against a solid Central Michigan defense.
The Aztecs do have the matchup advantage when Central Michigan has the ball, particularly in the category of explosive plays. Central has as very good offensive line but will face a nasty San Diego State unit that ranks in the top-two in power success rate, stuff rate, and line yards.
I have a full unit play on my original Central Michigan +7 Michigan, but if I were forced to pick the game at the current number, I'd still take Central Michigan and the points because I don't think San Diego State will score much at all. The total is a little bit too low for me to look at an under.
Pick: Central Michigan +3.5
Cure Bowl Odds: Liberty vs. Georgia Southern
Spread: Georgia Southern -4.5
Over/Under: 58.5
Date: Saturday, Dec. 21
Time: 2:30 p.m. ET
TV: CBS Sports Network
Location: Orlando, Fla.
Liberty is playing in its first bowl game ever on Saturday, and will get the honor of facing Georgie Southern's option offense in potentially poor weather conditions as a reward.
The Flames went 7-5 against the weakest schedule in the country, while Georgia Southern picked off Appalachian State but was fortunate in a handful of other games.
Who has the edge in the 2019 Cure Bowl? Let's break it down.
---
Odds via DraftKings, where Action Network users get a risk-free bet up to $500.
---
Liberty vs. Georgia Southern Line Movement
Early bowl bettors thought Liberty opened as too big an underdog. The Flames dropped from +8.5 to +6.5 almost immediately when bowls were announced, and the rest of the market opened at +6.
Still, that wasn't enough. Despite getting just 38% of bets, Liberty has drawn 50% of the money, pushing this line even further down to +4.
The total has risen steadily from 55.5 to 58.5. — Steve Petrella
Two Fun Facts
Georgia Southern had the best turnover luck of any team in the country at +11 (+5 in actual turnover margin, -6 in adjusted).
Liberty won five FBS games and two FCS games. The combined record of those FBS teams was 12-36, and that's if you only count New Mexico State once (yes, the Flames played and beat NMSU twice). — Steve Petrella
Latest News & Weather
Coach Hugh Freeze inked an extension to stay at Liberty.
The weather is looking a little suspect for Saturday, with 15 mph winds projected in the afternoon.
GSU benefited immensely from weather in wins over Appalachian State and Georgia State, since winds don't really hurt its triple option offense.
The Eagles secondary is exploitable in normal weather conditions, so be sure to check the latest forecasts before kickoff. If there is wind and rain, it favors Georgia Southern. — Steve Petrella
Who's Motivated?
I wouldn't think either team has a big leg up in motivation as these are two of the newer teams to the FBS scene. Georgia Southern has been around a little longer and does have prior bowl victories while Liberty will be seeking its first in its first bowl appearance.
This is an extremely important game for Liberty's program but I think I'd say the same for Georgia Southern. There might be a slight edge to Liberty in the motivational department, but nothing extreme. — Stuckey
Collin Wilson: Trust Liberty's Passing Attack
For all the reasons mentioned in my initial writeup of the Cure Bowl, Liberty players, coaches and administration will treat this game as their Super Bowl.
This game is fascinating because of what each team wants to do on offense, and those two game plans couldn't be more different.
Liberty had a pace of play in the top 35 and a passing game that ranked top 45 in both explosiveness and success rate.
Georgia Southern has been running the triple option since its FCS Championship days during the Reagan administration, and enters this game with the second-slowest pace in the nation.
Georgia Southern will look to grind clock and take advantage of the Liberty front seven on the ground.
GSU's option offense isn't as strong as in years past, but Liberty is 115th in defensive line yards. UL Lafayette rung up the Flames defense for 400 yards on the ground.
Liberty will have success getting the ball down the field in Stephen "Buckshot" Calvert's final game under head coach Hugh Freeze. The Eagles are outside the top 75 in defensive passing success rate and explosiveness, which should get the Flames in scoring territory.
Liberty not only has a top 25 rank in finishing drives, the measurement of points per attempt past the opponent 40, but Georgia Southern is 127th in opponent red zone scoring percentage.
The Action Network projections make the side Georgia Southern -3.5 and a total of 50.5. While the battle for pace will be key in this game, any Liberty side down to a field goal is suggested at the Cure Bowl. — Collin Wilson
Pick: Liberty +4
Stuckey: Beware of Weather
This is a true contrast in styles here in the Cure Bowl as we have Georgia Southern's triple-option snail offense taking on Liberty's up tempo aerial attack, led by QB Buckshot Calvert and WR Antonio Gandy-Golden.
The Liberty defensive front isn't great but the Georgia Southern offensive line has struggled throughout the season after having to deal with some key departures from last season's team. Liberty will have the benefit of extra prep time which always helps against an option team but I would imagine GSU can have some success on the ground with QB Shai Werts leading the show.
We have to mention Liberty's pathetic strength of schedule. Of their seven wins, the Flames only beat one bowl team (Buffalo). The other six came against Umass, New Mexico, two FCS teams and two wins over NMSU.
However, it's not like Georgia Southern dominated a tough schedule this season. GSU needed double OT to beat South Alabama, triple overtime to beat Coastal Carolina and only beat FCS Maine by one possession. The Eagles also have a win of their own over NMSU, and both quality wins (App State and Georgia State) came in bad weather.
Another factor to keep in mind is time of possession as Liberty plays extremely fast, which means the Flames defense could wear down in the second half against a ball-control Georgia Southern offense.
Field position could also play a role and I would give a slight edge to Georgia Southern, which has the better kicker and better punting game.
I have these teams rated pretty close to even and think the time off will benefit Liberty more preparing for a non-traditional offense. Georgia Southern also got extremely lucky throughout the season and could easily be sitting at home right now.
However, the one major red flag is the potential ugly weather conditions. If it doesn't look too treacherous, I'll play Liberty for the first half (remove that fatigue risk) and likely for the game at anything +3 or better.
Also, if the weather isn't great, this total is definitely too high if you assume the Liberty passing attack will be limited at all. Georgia Southern will eat clock when on offense. — Stuckey
Pick: Weather-dependent Liberty 1H +3, full game +3 or better
Miller: Can Eagles Break Big Running Plays?
Quarterback Shai Werts and his running ability led Georgia Southern's offense to a 7-5 season. Oklahoma State transfer running back J.D. King was the workhorse back but the Eagles have a stable of players with the ability to tote the rock. Wesley Kennedy III is the big play back and long rushing plays are the only statistic that the Georgia Southern offense ranks highly in.
They should be able to find plenty of long runs against the Liberty defense if the offensive line can give them enough room to get to the second level.
Liberty's offense looks to have a big advantage over Georgia Southern's defense in both passing success rate and passing explosiveness. In fact, the Flames will have significant advantages in quite a few categories when they have the football on Saturday. The weather may be a large factor in this game though and it will have a much bigger impact on Liberty than Georgia Southern.
Winds are projected to be around 15 miles per hour, which will impact Liberty's passing game. I originally took Liberty for a full unit at +8.5, but I'm now looking to play back on Georgia Southern at -4 or better. If I didn't have any action on this game yet, I would certainly be leaning towards Georgia Southern based on the weather and their ability to hit long rushing plays. — Kyle Miller
Pick: Georgia Southern -4
Boca Raton Bowl Odds: FAU vs. SMU
Spread: SMU -7.5
Over/Under: 64.5
Date: Saturday, Dec. 21
Time: 3:30 p.m. ET
TV: ABC
Location: FAU Stadium, Boca Raton, Fla.
UPDATE: FAU will be without its top two receivers and a starting linebacker, among several other players, in this game for academic reasons.
That's moved the line overnight Friday a full four points to SMU -7.5. The total has also dropped to 64.5, down a touchdown from a few days ago.
---
Odds via DraftKings, where Action Network users get a risk-free bet up to $500.
---
FAU vs. SMU Line Movement
The movement on this spread has been about as standard as it gets. After opening at the key number of -3, most books have moved SMU to a 3.5-point favorite behind an impressive 75% of both bets and money.
The total, on the other hand, has been a bit more interesting. Thanks (probably) to some windy weather in the forecast, the number has fallen out of the 70 club, dropping from an opener of 72 down to 68.5. Almost 60% of bets have landed on the under — Danny Donahue
Two Fun Facts
FAU ranks 41st in defensive SP+, its first finish inside the top 75 since 2013.
SMU was one of five teams to have at least nine games go over the total, and its +9.4 margin against totals was third highest nationally. But the Mustangs failed to hit the over in two of their last three games after their totals began to consistently creep into the high 60's and low 70's. — Steve Petrella
Latest News
Florida Atlantic has not named a new playcaller for this game with Lane Kiffin now at Ole Miss. Offensive coordinator Charlie Weis Jr. (the youngest OC in the country at 26) may also be on the move soon, but would be the most likely option for this game. — Collin Wilson
Who's Motivated?
Sonny Dykes exclamation on the Boca Raton Bowl media teleconference centered around Florida as the destination and his players having the chance to shine on ABC.
The Mustangs had their sights set on a warm weather destination for a bowl game, with Boca Raton toward the top of that list. The chance to compete against a conference champion was another appealing aspect for Dykes.
Florida Atlantic players have publicly endorsed defensive coordinator Glenn Spencer as the interim head coach, but he wasn't too excited about having to face SMU's high-powered offense.
"You're like fantastic, 'I'm the interim head coach, (I) get to go to a bowl game; (I) get to stay in town,'" Spencer told the Palm Beach Post. "And then you get a message that it's SMU and you're like, 'Oh no, that's not good.'" — Collin Wilson
Collin Wilson: Edges Everywhere for SMU Offense
As mentioned in my early bowl bets, there are advantages for SMU all over on offense. The Mustangs are top 20 in pass explosiveness which will take advantage of an FAU defensive rank of 58th.
This game should move at a lightning pace, as both teams rank top 15 in seconds per play. This game is also one of the biggest discrepancies in havoc, with SMU having a defensive rank of 18th against Florida Atlantic at 93rd in havoc allowed.
Our projections make this SMU -6 on a neutral field, so even with the Owls getting two points for home-field advantage, I'm happy to lay it. — Collin Wilson
Collin's Pick: SMU -3
Stuckey: A True Coin Flip
I'm going to disagree with Collin here. I personally make this game a true coin flip with FAU playing at home in Boca Raton.
From a matchup perspective, these two teams look pretty even statistically on both sides of the ball. However, if you dig into the advanced stats, SMU gives up a ton of explosive plays both on the ground and through the air, ranking outside the top 100 in each. That's not great against an explosive FAU offense that ranks in the top 25 nationally in both categories.
And on the other side of the ball, the Owls do give up a ton of big runs, but that's not really SMU's game. FAU can match up on the outside and its defensive line should win the battle in the trenches. — Stuckey
Red Zone Will Be the Difference
That said, SMU should pick up plenty of yardage between the 20s but could struggle in the red zone. SMU sits outside the top 100 in red zone offense and it's been an area of concern all season. That could spell trouble against an FAU defense that ranks in the top 20 in red zone scoring percentage and has only allowed 20 touchdowns in 36 opponent red zone trips.
Give me the home dog Owls, who have the explosive offense to exploit SMU, which is what doomed the Mustangs in their two losses in which they allowed over 1,000 total yards and 89 points.
Look for one of the country's best tight ends, Harrison Bryant, to have a monster game. And keep in mind that FAU has the better overall special teams units, especially if Reggie Roberson can't go for SMU, which not only hurts SMU at receiver but also in the return game.
In regards to the total, the number seems about right for two top 15 teams in terms of pace and two top 20 scoring offenses.
I wouldn't dare look to play an SMU under, especially in a bowl game. The Mustangs were over machines all season. — Stuckey
Stuckey's Pick: FAU +3
Miller: Whatever FAU Does, SMU Does it Better
Sonny Dykes engineered a breakthrough season for the Mustangs. His offense goes at warp speed and uses explosive plays to move the ball down the field. The Mustangs have been highly successful with this formula and I expect it to continue on Saturday against the Owls.
When FAU has the ball, it uses the exact same blueprint as SMU, the Owls just aren't as good at it. SMU's defense is nowhere near solid, but I think there will be a pretty big drop off for FAU's offense without Lane Kiffin.
SMU has the makings of a bowl team that is looking to build on its successes for 2020. Dykes, quarterback Shane Buechele, and star receiver Reggie Roberson (though unlikely for this game) will all be back next year and the program is trending upward. Despite FAU being the home team in this game, I expect SMU to win comfortably.
I make the Mustangs a 4-point favorite so I made a 2-unit investment on SMU at a pick when lines were released and if the line creeps over four, I'll be looking to take a bit off of my original position. At the current number, I still prefer SMU as I think Sonny Dykes has something special brewing in Dallas. — Kyle Miller
Pick: SMU -3.5 or better
Camellia Bowl Odds: FIU vs. Arkansas State
Spread: Arkansas State -2.5
Over/Under: 60.5
Date: Saturday, Dec. 21
Time: 5:30 p.m. ET
TV: ESPN
Location: Montgomery, Alabama
---
Check out DraftKings, where Action Network users get a risk-free bet up to $500.
---
Bowl games are all about matchups and this one should be a doozy.
Arkansas State features one of the nation's most explosive passing offenses while Florida International boasts one of the strongest secondaries in the Group of 5.
This strength-vs-strength tilt projects to be one of the tightest games of bowl season and features the shortest spread on Saturday's six-game slate.
FIU vs. Arkansas State Line Movement
A somewhat rare case in which the underdog is the more popular side of a bowl game, the Camellia Bowl has driven 61% of bettors (accounting for 64% of money) to Florida International. The Panthers opened as a field-goal dog, but have since dropped inside the key number to +2.5 thanks to their support in the market.
The movement on the total has been a bit more telling, as it's fallen from 63 to 60.5 despite a 66% majority on the over. That backing, however, has generated just 53% of actual money, meaning bigger bettors are almost certainly playing a role in the line fall. — Danny Donahue
Collin Wilson: Strength vs. Strength
This will be an intriguing matchup between Arkansas State's quick-strike offense and Florida International's strong pass defense.
The Red Wolves are led by freshman quarterback Layne Hatcher, who paced the Sun Belt in yards per completion and passing efficiency in 201, and his No. 1 receiver, Omar Bayless, who finished second in the country with 1,473 receiving yards on 84 receptions.
FIU will spend plenty of practice time preparing to shut down Hatcher and Bayless and the Panthers may have the secondary to do it. FIU's defense ranked 19th in defending passing explosiveness and 46th in passes defensed.
Arkansas State ranks ninth in standard downs explosiveness, which is a result of their propensity to pass on early downs. This is a tight one to call.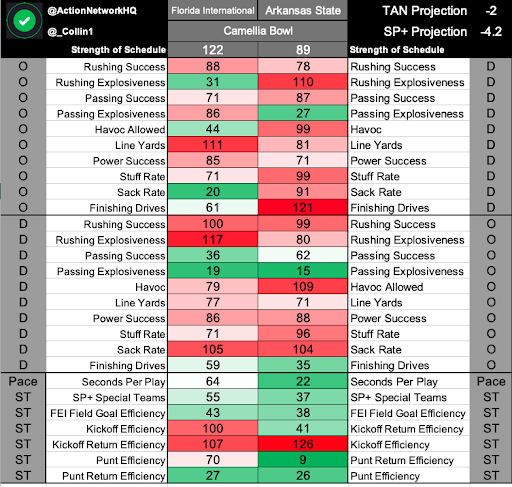 The Action Network Projections make this line Arkansas State -2, so there is some value on FIU at anything north of a field goal. Our projected total sits at 53 points and I think anything Under 63.5 is worth a play, as well.
Collin Wilson is 506-429-27 (54.1%) overall betting on college football as of Dec. 19. You can follow him in our free app.
---
Stuckey: FIU's Secondary Can Keep Up
This is FIU's third straight bowl appearance and Arkansas State is no stranger to the postseason, so I don't see any distinct motivational edge in the Camellia Bowl. This matchup will likely come down to the X's and O's.
Overall, it was a disappointing year for the Panthers, who were in jeopardy of missing a bowl before a massive upset against Miami. The offense underperformed expectations, but quarterback James Morgan injured his knee in Week 2 and that hampered his production. Morgan should now be as healthy as he's been all season and the fifth-year senior will certainly relish his first opportunity to play in a bowl game.
FIU's offensive line has started to gel as the season progressed and the Panthers have two explosive runningbacks that should hit explosive runs against the Red Wolves, who struggled to stop rushing explosiveness.
On the other side of the ball, I'm note sure FIU can contain Bayless, but as Collin noted the secondary is good enough to potentially slow him down. The Panthers have a potential NFL cornerback in Stanley Thomas-Oliver, who will be tasked with the job of shutting down Arkansas State's All-American wideout. FIU ranks in the top 25 in passing yards per attempt, completion percentage and passing explosiveness while ranking seventh in passing yards per game. This secondary is one of the best in the Group of 5. The Panthers have the personnel to match up with Arkansas State's aerial attack.
Give me FIU as a dog here, preferably at 3 or better.
Stuckey is 528-487-30 (52%) overall betting on college football as of Dec. 19. You can follow him in our free app.
Vegas Bowl Odds: Boise State vs. Washington
Spread: Washington -3.5
Over/Under: 48.5
Date: Saturday, Dec. 21
Time: 7:30 p.m. ET
TV: ABC
Location: Las Vegas
---
Check out DraftKings, where Action Network users get a risk-free bet up to $500.
---
The 2019 Vegas Bowl should be re-named the Chris Petersen Bowl.
Washington's head coach will step down after Saturday's game, which, in a wonderful bowl season twist, will come against his former team — Boise State.
Petersen turned Boise State into one of the most successful Group of 5 programs in the country, so emotions should be high on both sidelines and in the crowd.
Boise State vs. Washington Line Movement
Among the games in the first wave of college bowl season, this looks to be the one causing the most trouble for bettors.
Bets are split nearly down the middle, with Boise State clinging to a 51% edge, though the actual money has been far less even. Washington has collected 65% of the loot, and has seen the line inch its way, mostly just in the form of increased juice.
The bet-vs.-money discrepancy has been even more evident on the total, as the under is pulling in 89% of money on just 36% of bets as of Friday afternoon. The number has come down as a result, though not by too much: 50 to 48.5. — Danny Donahue
Collin Wilson: Boise State Can Spoil Petersen's Farewell
To the outside world, this game is a slam dunk of intrigue with Chris Petersen coaching his last game at Washington against his former team, Boise State, and former offensive coordinator, Bryan Harsin. Nine members of the Huskies' staff are former Boise State coaches, including incumbent head coach Jimmy Lake.
This is the fourth time these programs have played in the last 13 years, with the last meeting ending in a Boise State win over Petersen and the Huskies.
The Huskies have a couple of key players sitting out. Tight end Hunter Bryant and left tackle Trey Adams will sit out ahead of the NFL Draft. The good news for Washington bettors is that quarterback Jacob Eason will play, as he mulls over whether to declare or not.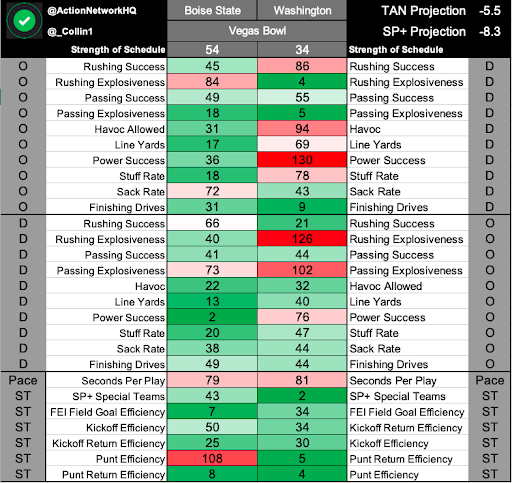 If you just look at the numbers, there's plenty to like about Boise State in this matchup. The Broncos have a terrific defensive line and create a ton of havoc, so they should have an edge in the trenches with Adams sitting out for the Huskies.
Washington also has a solid defense, but it has struggled to create havoc and stop the run. This is a close matchup, but I like Boise State to grind this out on the ground and keep it close. I'd play Boise at +3.5 or better.
Collin Wilson is 506-429-27 (54.1%) overall betting on college football. You can follow him in our free app.
Stuckey: Don't Let Washington's Record Fool You
Even without Adams and Bryant, I still make Washington a 5-point favorite and think the Huskies are better on both sides of the ball. Don't let the record mislead you — four of Washington's five losses came by six points or fewer.
From a motivational perspective, I think you have to give a slight edge to Washington. The Huskies should be fired up to send Petersen out on top, especially after three straight bowl losses. I expect a valiant effort from the Huskies from the jump.
Washington struggles getting stops on third down, but the Huskies don't give up big plays and I don't trust Boise State to move the ball down the field in a methodical manner.
Also, don't sleep on Washington's special teams.  Per S&P, the Huskies have the second-best special teams unit in the country. Boise State ranks 43.
And at the end of the day, the number is king and I have to play Washington here at -3 in a spot I like. I just think the Huskies are cheap after such a disappointing (and somewhat unlucky) season.
Stuckey is 528-487-30 (52%) overall betting on college football as of Dec. 19. You can follow him in our free app.
Kyle Miller: This Line Is Too Low
I made a play on Washington -3 when lines were released because I make the Huskies a 6.5-point favorite against Boise State. I expected the spread to drift towards my number but instead it's sat right around a field goal.
With Eason under center I think the Huskies have an advantage through the air. Boise State's defense is solid, but the Broncos are vulnerable to long passing plays. Eason should be able to hit enough of those to keep the Huskies ahead in this one.
Boise State is currently planning to play all three of their quarterbacks in this game and I'm not sure that's a strategy that's aimed at winning this particular football game. It sounds like Harsin is looking to get a head start on spring practice in 2020 by finding the quarterback that will lead his team next year.
Washington is clearly the more talented football team, and I believe that despite a disappointing season they will give a great effort for their coach in his last game. This game has a lot of outside factors that make bowl games hard to cap, but I'm willing to lay the field goal with Washington.
Kyle Miller is 237-209-12 (53.1%) overall betting on college football as of Dec. 19. You can follow him in our free app.
New Orleans Bowl Odds: UAB vs. Appalachian State
Spread: Appalachian State -16.5
Over/Under: 47.5
Date: Saturday, Dec. 21
Time: 9 p.m. ET
TV: ESPN
Location: New Orleans
---
Check out DraftKings, where Action Network users get a risk-free bet up to $500.
---
Saturday's six-game bowl slate concludes with UAB vs. Appalachian State.
The Mountaineers have been a terrific postseason team, winning the first two Sun Belt Conference Championship Games to go along with a 4-0 record in bowl games. Appalachian State will be coached by Shawn Clark, who takes over for the Missouri-bound Eli Drinkwitz.
Even with the coaching change, Appalachian State is the biggest favorite on Saturday's card. In fact, the Mountaineers are one of just four teams listed at -14 or longer this bowl season.
That may seem drastic given UAB's record, but the Blazers have run lucky this season and were a bit of a paper tiger in Conference USA this season.
Will UAB keep this one close? Our experts share their thoughts:
UAB vs. Appalachian State Line Movement
The final matchup on Saturday's bowl slate is also the one with the largest point spread (by far, I might add). Still, 74% of bettors have had no problem laying the points with App State, which opened as a 17.5-point favorite.
That number has come down through the somewhat key -17 as bigger bettors — evidenced by the evenly split money percentages — have taken a liking to UAB plus the points. The spread now sits at a consensus 16.5.
The total has also presented a clear opinion among bigger bettors, but hasn't seen quite as significant line movement. Eighty percent of money on just 46% of bets have hit the under, but the number has dropped only slightly from 48 to 47.5. — Danny Donahue
Collin Wilson: Will This Get Out of Hand?
For the second season in a row the Appalachian State Mountaineers will play in the New Orleans Bowl under a debutante head coach. After leading the Mountaineers to their fourth consecutive Sun Belt title, Eli Drinkwitz will depart for Missouri in the offseason, leaving Shawn Clark to man the sidelines for App State on Saturday.
While my personal love for UAB has no boundaries, the Blazers were a bit of a box score fraud in 2019. They remind me of the 2017 Akron Zips, who were exposed in the MAC Championship Game and then the Boca Raton Bowl a few weeks later.
The Blazers did make it to the Conference USA Championship Game, but they were boat-raced by Florida Atlantic. Now, they will look to hand Appalachian State its first-ever loss in an FBS bowl game.
As the spread suggests, that will be a monumental task for UAB. Not only did Appalachian State win the Sun Belt, but the Mountaineers also collected impressive wins over South Carolina and North Carolina in 2019. Meanwhile, the Blazers needed plenty of luck to get through the 127th-ranked strength of schedule in college football.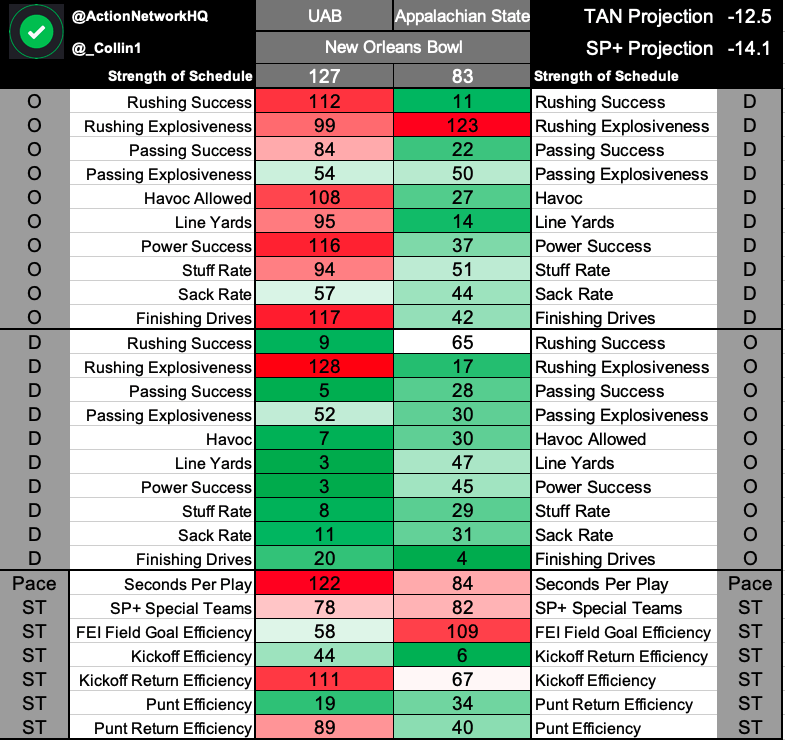 Appalachian State has a terrific statistical profile and its only weakness on defense is preventing big plays on the ground. The Mountaineers rank 123rd against rushing explosiveness this season. That shouldn't be a big deal in this matchup as UAB has one of the worst rushing attacks in the nation.
On the other side of ball, Appalachian State has the 17th-most explosive rushing attack in the country and should run all over the Blazers, who rank 128th in the same metric.
Our Action Network projections make this line Appalachian State -12.5, but there's a clear path to a cover for the Mountaineers here. Since bettors don't typically like backing interim coaches, I'm hoping the market continues to tick down before backing the Mountaineers.
Collin Wilson is 506-429-27 (54.1%) overall betting on college football as of Dec. 19. You can follow him in our free app.
Stuckey: Don't Expect a Shootout
This UAB offense is ugly no matter how you slice it.
Spencer Brown had a disappointing year at running back in large part due to an atrocious offensive line. The Blazers also lack playmakers on the outside and quarterback Tyler Johnston has dealt with injuries all season.
Despite one of the easiest schedules in the country, UAB only averaged 5.5 yards per play (88th in country) and scored fewer than 24 points per game (100th). When the Blazers actually can move the ball, they do it very slowly (122nd in seconds per play) and then struggle to finish off drives with touchdowns.
Even if Johnston is fully healthy and can go, don't expect this inefficient UAB offense to do much against a very solid Appalachian State defense that ranks in the top 25 in both passing and rushing success rate.
The Mountaineers are a little vulnerable in regards to giving up a few explosive plays but that is not the UAB offense at all. On the other side of the ball, the App State offense is a competent unit but it also doesn't work too fast. The Mountaineers will get theirs, but the UAB defense is strong and will make them earn it.
Bottom line, I don't see how UAB will move the ball on a consistent basis and how they will finish drives when they do. And the UAB defense can compete with App State;s offense to make sure this doesn't get too out of hand. This one sets up for an Under at 47.5.
Stuckey is 528-487-30 (52%) overall betting on college football. You can follow him in our free app.
How would you rate this article?