TCU vs. Georgia Player Props, Picks: 6 Bets for Max Duggan, Stetson Bennett, AD Mitchell, More
Credit:
Todd Kirkland/Getty Images. Pictured: Georgia wide receiver AD Mitchell.
Monday night's TCU vs. Georgia showdown marks the final game of the 2022-23 college football season.
Our staff is looking to go out on a high note with a number of player props, including picks for Max Duggan, Stetson Bennett, AD Mitchell, Quentin Johnston and more.
Check out all six of our top player prop bets for Monday's National Championship game below.
The CFP National Championship is always the biggest day of the season for college football player props, and this year is no exception.
Our staff rattled off six player props for TCU vs. Georgia, including picks for TCU quarterback Max Duggan, Georgia quarterback Stetson Bennett and Georgia wide receiver AD Mitchell.
Those picks are centered on a number of yardage categories for some of the game's biggest stars, plus an anytime touchdown pick for the Bulldogs' signal-caller.
Check out all six of our player props for Monday's national title game between TCU and Georgia below.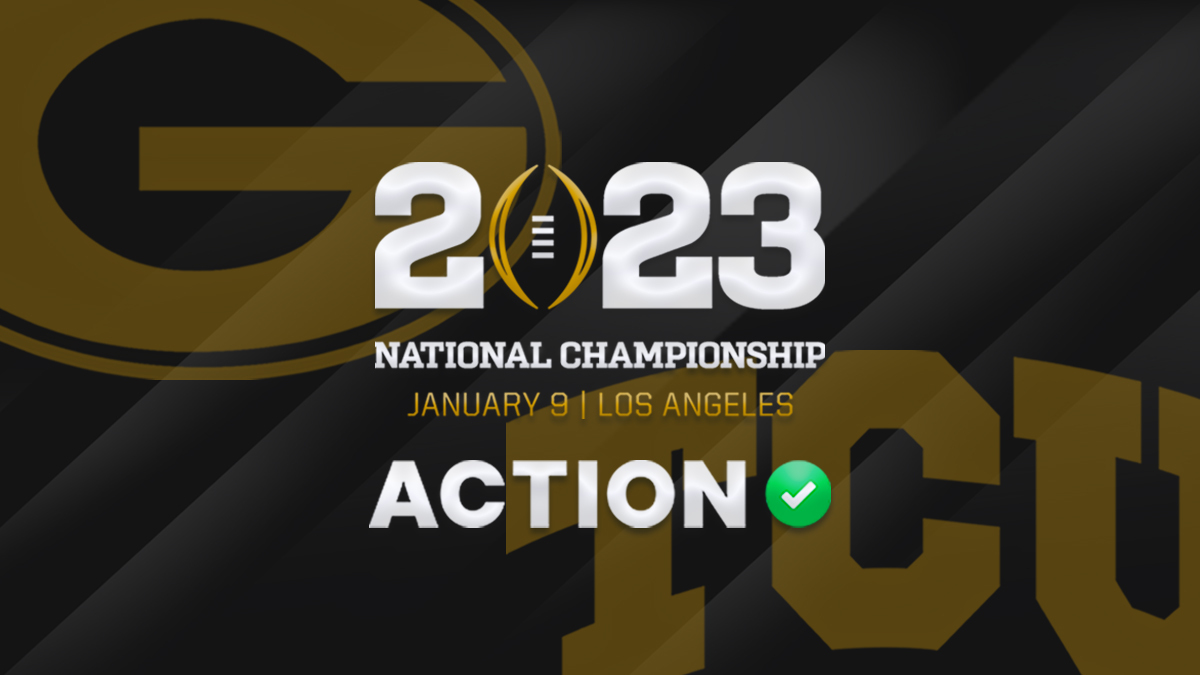 Our 7 Best Bets for TCU vs. Georgia
College Football National Championship Player Props
In the table below, you'll find each of our college football staff's top player prop picks for Monday's National Championship. Click on any pick or team logo to navigate to a specific bet discussed in this article.
Time (ET)

Player Prop

7:30 p.m. ET

7:30 p.m. ET

7:30 p.m. ET

7:30 p.m. ET

7:30 p.m. ET

7:30 p.m. ET

Specific bet recommendations come from the sportsbook offering preferred odds as of writing. Always shop for the best price using our NCAAF Odds page, which automatically surfaces the best lines for every game.
---
TCU vs. Georgia
Sack yardage does count for rushing props in college football, which is very crucial for this bet.
Duggan has been sacked just twice in his last four games, but Georgia is a completely different animal. It pressured Ohio State's CJ Stroud on 43.2% of his dropbacks and sacked him four times.
Stroud took off and ran the ball for a whopping 70 yards, but because of the four sacks — which added up to 36 lost yards — his final rushing total was only 34.
Duggan finds the most success running up the middle or off the right tackle, which plays right into Georgia's hands considering it has the potential No. 1 overall NFL Draft pick Jalen Carter and Nazir Stackhouse waiting for him. Both own a PFF run defense grade above 85.0.
When the Dawgs faced LSU's Jayden Daniels in the SEC Championship, they held him to -6 yards rushing. When they faced Tennessee's Hendon Hooker, they held him to just 17 yards on 18 carries.
So, I'd imagine Kirby Smart will devise a game plan to stop Duggan from beating them with his legs.
Pick: Max Duggan Under 31.5 Rushing Yards
---
TCU vs. Georgia
By Cody Goggin
The reason Quentin Johnston is considered a first-round prospect was on full display in the CFP semifinals. He racked up six catches for 163 yards and the touchdown that really sealed the deal for TCU.
In his two postseason games, Johnston has 300 yards receiving.
If there's any weak spot in the Georgia defense, it may be in its secondary. Georgia ranks 38th in PFF coverage grade this season. While it ranks eighth in Success Rate against the pass and fourth in Passing PPA Allowed, Georgia's one weakness is that it has allowed some long passing plays.
The Bulldogs rank 44th in FBS in passing explosiveness allowed. Johnston is a big-play receiver, as he has shown in the last couple of games. His 18.1 yards per catch ranks fourth in FBS among receivers with over 50 receptions this year.
Before he was injured in the third quarter, Marvin Harrison Jr. was having a field day against Kelee Ringo and this Georgia defense with five catches for 106 yards and two touchdowns. He was close to having a third before a hit to the head knocked him out for the rest of the game.
Now, I don't believe Johnston is on the level of Harrison, but it did show there's a path to production for talented wide receivers against this secondary.
The Bulldogs may not have a man who can contain Johnston. Now, that may not matter if the rest of the Georgia defense can get to Max Duggan, but I have a feeling that TCU is going to be playing from behind for much of this game and be forced to throw.
If the game goes this direction, Johnston will be force-fed plenty of targets, and it will only take a couple of big plays for him to hit this total.
Pick: Quentin Johnston Over 83.5 Receiving Yards ·
Play to 89.5
---
TCU vs. Georgia
Most eyes will be on the passing props surrounding Stetson Bennett, but his rushing prop shouldn't be overlooked against TCU's 3-3-5 defense. He's not Mr. Mobility, but this number is too low.
Last week against Michigan, JJ McCarthy — who is admittedly a more mobile quarterback than Bennett — ran for 52 yards on 10 carries.
While I don't expect the Georgia quarterback to outdo McCarthy, Bennett isn't exactly a statue either. Before the Ohio State game, he averaged 14.2 yards rushing per game, and cleared this 12.5 number in seven games this season.
One of TCU's hallmarks this season has been generating turnovers, including averaging more than one interception per game. The Horned Frogs had two pick-sixes against Michigan.
There will likely be a pretty clear directive from Kirby Smart to Bennett that when in doubt, just take what's available with your feet and don't throw any questionable passes. Mistakes by Bennett are the only way TCU stays in this game.
I liked this a lot more when it opened at 9.5, but I still think there's a bit of value. Bennett has been sacked just nine times this season, so this is only about three scrambles for positive yards.
He ran for over this number against a better Mississippi State defensive line, the only other 3-3-5 defense that Georgia faced this year. He'll do it again here.
Pick: Stetson Bennett Over 12.5 Rushing Yards ·
Play to 14.5
---
TCU vs. Georgia
By Doug Ziefel
The defending national champions are back and are now one step away from repeating. However, how they got here is different from last year.
Last season, the Bulldogs had a legendary defense, which gave their offense ample opportunity to put points on the board. However, this year, they're much more well-rounded because of the play of quarterback Stetson Bennett.
Bennett was a Heisman finalist after doing it all this year. He threw for nearly 4,000 yards and finished seventh in QBR, but his rushing was a significant factor in the offense's success.
He's become a weapon around the goal line, as his mobility has given Georgia another option when looking to punch it in for a touchdown. Bennett's rushed for seven touchdowns this season and found the end zone in the semifinal game against Ohio State.
The Bulldogs will have the edge in the trenches, so they may be more run-heavy in this matchup. Don't expect them to stray from that around the goal line, where the Horned Frogs must account for Bennett.
Given his usage and the scheme the Bulldogs will deploy, backing Bennett to find pay dirt is a tremendous value at plus-money.
Pick: Stetson Bennett Over 0.5 Touchdowns (+160) ·
Play to 120
---
TCU vs. Georgia
Georgia's passing attack's been criminally underrated all season, and it's a dream matchup against the TCU back seven.
Add in Darnell Washington's spotty status, and I think this opens up another opportunity for the 6-foot-4 Mitchell to impress down the field.
The prized wide receiver's only played in a handful of games this season but has made an impact when on the field. Mitchell has touchdowns in both games played against Power Five foes this year, including a score in the Peach Bowl against Ohio State.
Georgia did whatever it wanted against Ohio State's defense, and the Bulldogs are expected to flirt with 38 points by market expectations.
Against a TCU defense that ranks 96th in yards per completion allowed, Mitchell might get this in one play.
Pick: AD Mitchell Over 37.5 Receiving Yards ·
Play to 43.5
---
TCU vs. Georgia
By Dan Keegan
Running back Kenny McIntosh will be a big part of Georgia's passing game on Monday night, as he has been all year.
The senior ranks third on the team in both receptions (42) and receiving yards (505) on the season and will be utilized by coordinator Todd Monken to create mismatches against TCU's 3-3-5 defense.
TCU's odd front means it needs to commit second-level players to defend the run game; it slowed down Michigan's run game in the semifinal Fiesta Bowl, not with numbers or bulk in the box, but with unpredictable run fits and confusing post-snap reads.
Georgia will counter by using its backs and tight ends in the pass game, keeping TCU's linebackers and safeties in coverage and making them more predictable.
The Horned Frogs have excellent cornerbacks, which gives them the advantage over Georgia's inconsistent receiving corps. They can take Ladd McConkey, Kearis Jackson, etc. out of the game.
That means Monken will call designed looks for other players, and Stetson Bennett will need to get the ball to playmakers at other positions like McIntosh for support.
McIntosh is a stud as a receiving option. He has gone over this 20.5 mark six times this season — and two of the unders were 19 and 20 yards. He has averaged 12.0 yards per catch this year, so just two catches at his average get you to the window. He's had two catches in 10 out of 14 games this fall.
The Bulldogs have historically used McIntosh as a mismatch receiver in their postseason games. The veteran has played six postseason games when he was involved in the passing game (I'm not counting his freshman year in 2019 because he had only a few carries on the season and no catches). He has gone over 20.5 in four of those six games; he has totaled 22 catches for 28.5 yards per game in those six contests.
Georgia's usage and TCU's defense point to the Bulldogs looking to alternate weapons in the passing game and not their wide receivers.
McIntosh will be one of the key playmakers on the receiving end of Bennett's passes, and I look for him to clear the 20.5 receiving yards number.
Pick: Kenny McIntosh  Over 20.5 Receiving Yards ·
Play to 23.5
How would you rate this article?
This site contains commercial content. We may be compensated for the links provided on this page. The content on this page is for informational purposes only. Action Network makes no representation or warranty as to the accuracy of the information given or the outcome of any game or event.