Wilson: Two Teams That Benefit From a Shortened College Football Season
Credit:
Michael Shroyer/Getty Images. Pictured: Justin Fuente
The mercurial sports calendar has college football in its sites.
So it forces us to ask — what would a shortened college football season look like as COVID-19 continues to force cancelations of sporting events?
There have been unpopular ideas, like moving games to the summer, or just playing conference games.
Notre Dame head coach Brian Kelly believes July 1 is the mandatory date for season activities to begin, so it's not like we have five months. It's more like three.
The coronavirus now has the Kentucky Derby and French Open tentatively scheduled for fall weekends. Even The Masters could make a November appearance.
The possibility of a shortened or cancelled college football season grows with each passing day. But if the 2020 season is shortened, every effort will be made to retain conference games.
For the college football gambler, the prospect of non-conference games being cancelled will benefit a few teams in their quests to reach the College Football Playoff.
This article will look at the possibility of a shortened season, and where there may be betting value on the national championship.
Two variables to consider in this scenario are returning production and strength of schedule.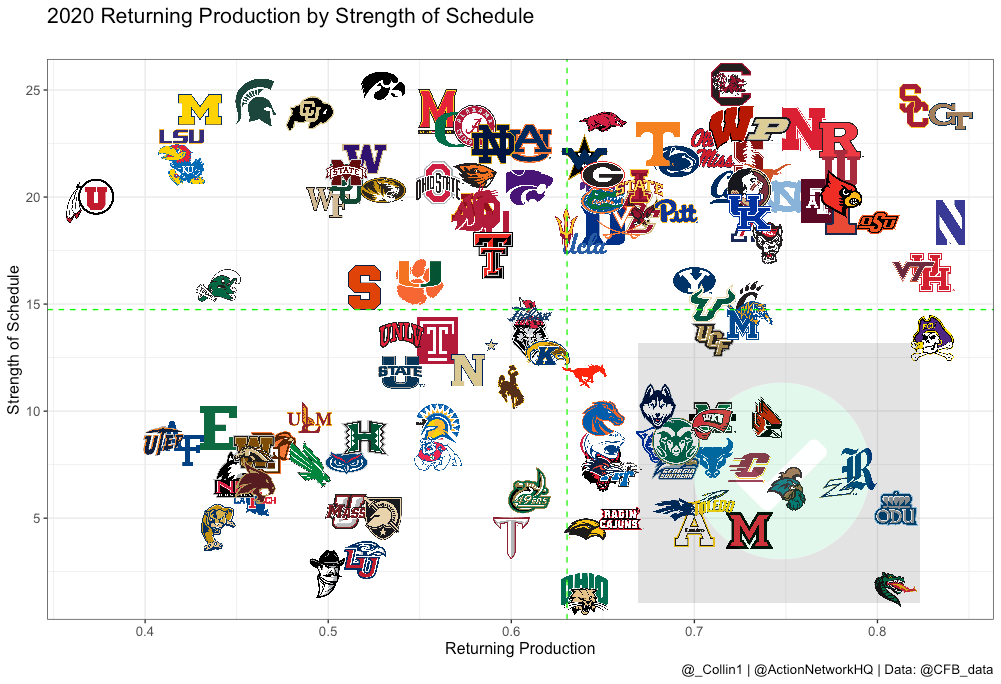 Strength of Schedule is based on the average power rating of your total schedule, while returning production is the percentage of statistical contributions your team returns (not just total starters).
The best place for a team to reside in the above graph is bottom right, displaying the highest percentage of returning production and the easiest schedule. UAB and Rice are two Group of Five teams that return the most statistics with a low strength of schedule while maintaining consistency in the coaching staff.
But which Power 5 teams would benefit the most from non-conference play getting cancelled?
Oregon Ducks
The Ducks have a difficult non-conference schedule and don't return much, including quarterback Justin Herbert. Specifically, Oregon returns just 34% of its offense to a new offensive coordinator in Joe Moorhead. He struggled in two years at Mississippi State, but revolutionized Penn State's offense en route to the 2016 Big Ten title.
Oregon's schedule would get much easier without non-conference play, though.
Oregon is scheduled to start the season with reigning FCS champion North Dakota State. The Bison may have holes to plug on the defensive line, but the offense retains a significant amount of returning production, including star quarterback Trey Lantz. They would have been a top-40 FBS team last season, according to the Sagarin Ratings.
Ohio State comes to Eugene the following week. The Buckeyes are projected as touchdown favorites in early Game of the Year numbers, and our power ratings make the line much larger.
If non-conference play was cancelled because of concerns around COVID-19, the Ducks would gain the most. They are scheduled to begin Pac-12 play at Colorado, and host arguably their four toughest opponents in Eugene — Washington, Stanford, Arizona State and USC.
Futures on the Ducks can be found at 60-1 at FanDuel, which deserves immediate attention if college football is limited to conference play.
Virginia Tech Hokies
Could the Hokies win the national championship? They're 300-1 at Westgate in Las Vegas.
That is a highly unlikely scenario considering Clemson's vice grip on the ACC, but there is a case for Virginia Tech to make some noise. The Hokies have ranked top five in ACC recruiting rankings from 2017 through 2019.
Justin Fuente's roster has one of the highest marks in returning production with a strength of schedule hanging around the FBS average.
Drop the Sept. 12 date with Penn State and this schedule becomes the the easiest in the entire Power 5.
Justin Hamilton takes the reins from Bud Foster as coordinator, but Virginia Tech will stay primarily a 4-2-5 base defense. Hamilton played and coached under Foster.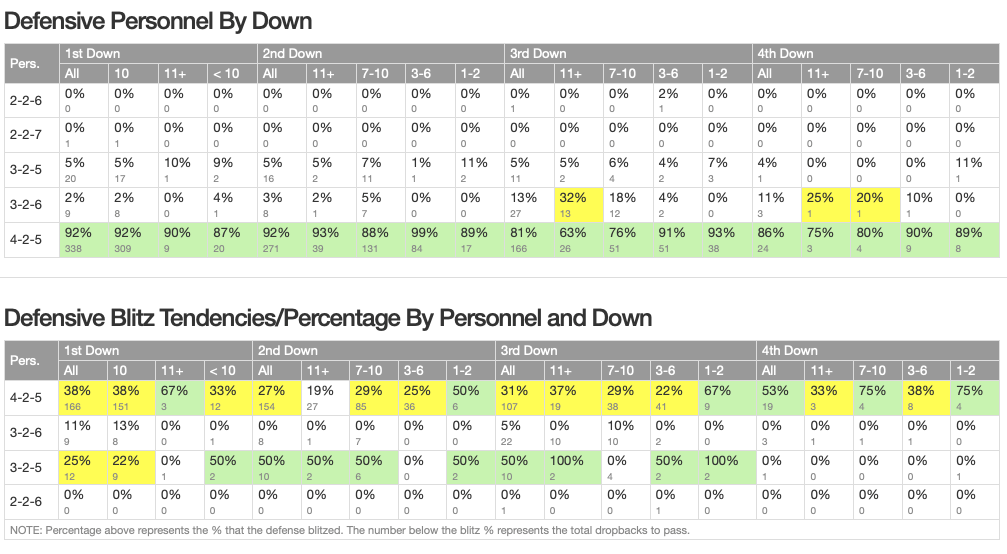 Virginia Tech dodges Clemson and Florida State in conference play while hosting division rival Miami. A trip to Chapel Hill on Oct. 10 could determine who faces Clemson in the ACC Championship Game.
If the 2020 schedule is truncated, the Hokies could go into the ACC title game unbeaten.
What About Notre Dame?
No one knows what an abbreviated schedule would truly look like, but the independents would be most affected. How would Power 5 conferences like the Pac-12 and Big 12 react by having nine scheduled conference games, unlike other Power 5 teams that have just eight?
Would Notre Dame still be apart of the equation for Power Five teams that have just eight conference games?
On the @notthefakeSVP show, Brian Kelly says college football needs to restart conditioning and training by July 1 to have the regular season begin on time. For Notre Dame, that's Aug. 29 in Dublin, Ireland.

— Pete Sampson (@PeteSampson_) March 26, 2020
USC, Wisconsin and Clemson all have scheduled games with the Irish, who have 30-1 odds at the Westgate to win the national title. If non-conference play doesn't happen, Notre Dame has no one to play.
ND could backfill games with Group of Five teams or the FCS, but how would the College Football Playoff committee deal with an undefeated Irish team that had Power Five teams drop off its the schedule?
Hopefully, with heavy social distancing, none of these questions will have to be answered.
How would you rate this article?