Saturday College Football Odds, Picks: 3 BJ Cunningham Bets, Including Penn State vs. Maryland, UCLA vs. Arizona
Credit:
Tom Hauck/Getty Images. Pictured: Jaylin Davies of the UCLA Bruins.
Week 11 of the college football slate may not have the seismic games that Week 10 did, but there are still some intriguing games.
BJ Cunningham is betting three of them throughout the day with a heavy focus on the Big Ten.
First, he's turning his attention to the Horseshoe in Columbus, where Ohio State will host Indiana in a high-powered East Division matchup. Just a few hours later, Maryland takes on Penn State in State College as a moderate underdog.
To wrap up the night, Cunningham is switching it up by taking a near three-touchdown favorite in a Pac-12 After Dark showdown between Arizona and UCLA.
Check out all three of Cunningham's picks for Saturday's Week 11 college football slate below, along with Collin Wilson's Saturday betting card and Stuckey's top 10 situational spots for this week.
---
BJ Cunningham's Week 11 College Football Best Bets
The team logos in the table below represent each of the matchups that BJ Cunningham is targeting from today's slate of games. Click the team logos for one of the matchups below to navigate to a specific bet discussed in this article.
Game

Time (ET)

Pick

12 p.m.

Over 58

3:30 p.m.

Penn State -10

10:30 p.m.

UCLA -19.5

Specific bet recommendations come from the sportsbook offering preferred odds as of writing. Always shop for the best price using our NCAAF Odds page, which automatically surfaces the best lines for every game.
---
Indiana vs. Ohio State
Ohio State looks to stay undefeated when it hosts Indiana at the Big House on Saturday.
After winning their first three games of the season, the Hoosiers now find themselves on a six-game losing streak with incredibly slim hope of making a bowl game.
However, they did cover as significant underdogs against Michigan and Maryland, so can Tom Allen's team cover this 40-point spread?
Ohio State is in cruise control right now, coming off a lackluster performance last weekend against Northwestern, beating the Wildcats by a score of 21-7 as 38-point favorites.
The Buckeyes no doubt have their eyes focused on the Michigan game two weeks from now, but they need to get past both Indiana and Maryland first.
---
Hoosiers Offense
The Indiana offense has been pretty bad this season, ranking 115th in Success Rate and 111th in EPA/Play.
Connor Bazelak missed last week's game against Penn State with a concussion but is expected to return against Ohio State this weekend.
However, he's having a pretty terrible season after transferring from Missouri. He's averaging just 5.5 yards per attempt and owns a 53.4 PFF passing grade with nine big-time throws and 14 turnover-worthy plays.
However, Bazelak hasn't had time to throw, and he's not a great quarterback when he's under pressure.
He's been under pressure on 33.4% of his dropbacks and has a 38.6 PFF passing grade with a crowded pocket. Ohio State has a top-five pass rushing grade in college football, per PFF., so it's going to be a long game for Bazelak.
If Indiana is going to have any hope of penetrating this Ohio State defense, it'll have to do it via explosive plays, which it's found a way to do in the run game.
Running back Shaun Shivers has been struggling to break off a lot of big plays. He has just 10 rushes over 10 yards, but Indiana ranks 52nd in explosive rushing. Ohio State's front seven, meanwhile, ranks 53rd in explosive rushing allowed.
Hoosiers Defense
Indiana's defense has been quite bad this season, allowing 5.3 yards per play and ranking 84th in Success Rate Allowed and 75th in Finishing Drives Allowed.
The front seven has actually been very good against the run, holding Penn State to just 3.7 yards per carry last weekend. It ranks 27th in Rushing Success Rate Allowed are 10th in EPA/Rush Allowed.
However, going up against Ohio State's rushing attack — which is one of the best in the country — is a different animal.
The problems with the Indiana defense have come in the secondary. The Hoosiers are allowing 7.6 yards per attempt (90th in FBS) while ranking 124th in Passing Success rate Allowed and 121st in coverage grade, so CJ Stroud should be able to throw all over this secondary.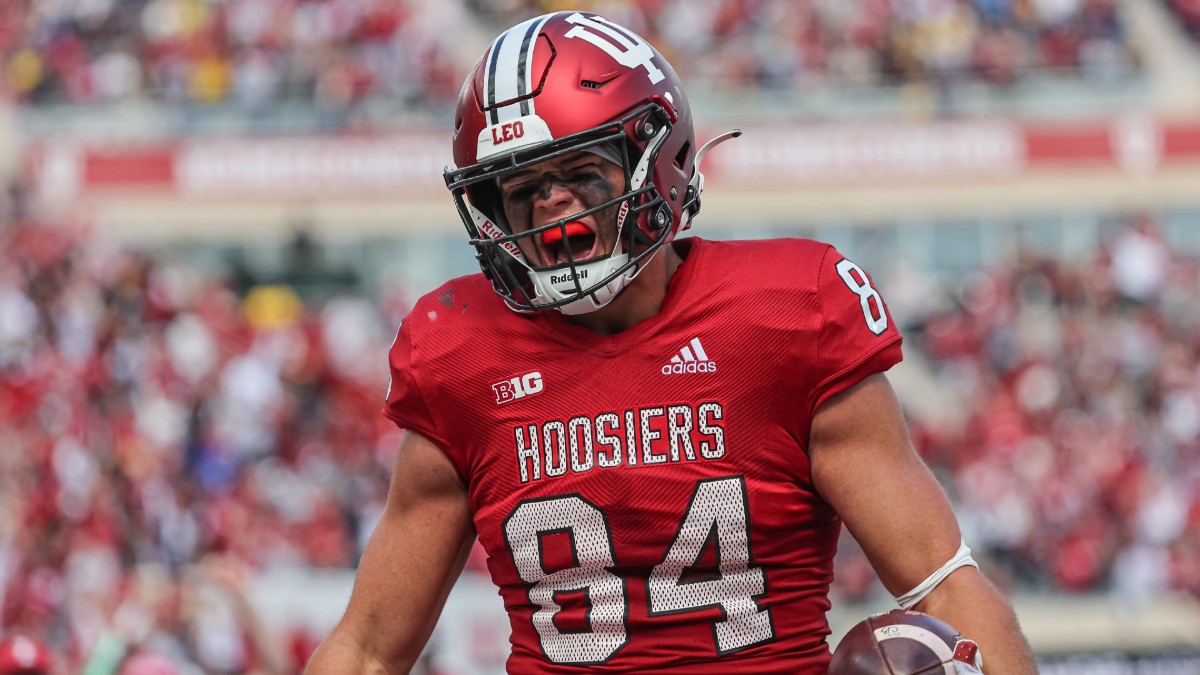 ---
Buckeyes Offense
Stroud may have had a bad game against Northwestern last week, but winds were also blowing at 30 MPH in Evanston. It'd be hard for any quarterback to find success in that type of weather.
Stroud is still the favorite to win the Heisman Trophy, and it's easy to see why. He owns an 83.5 PFF passing grade and has thrown for 29 touchdowns and four interceptions. He's also put up a whopping 9.9 yards per pass attempt.
While Stroud has all of the talent in the world, it also helps to have two of the best wide receivers in college football in Jaxon Smith-Njigba and Marvin Harrison Jr..
Ohio State's run game has been just as effective. The Buckeyes are averaging 5.5 yards per carry while ranking 11th in Rushing Success Rate and fifth in Offensive Line Yards.
The two-headed monster of Miyan Williams TreVeyon Henderson have combined for a whopping 35 rushes over 10 yards and have 18 touchdowns between them.
Buckeyes Defense
The Ohio State defense has been really good this season, allowing only 4.2 yards per play (5th in FBS) while ranking sixth in EPA/Play Allowed.
The biggest thing for Ohio State in this game is its ability to generate a pass rush. The Buckeyes already have 22 sacks on the season and the fifth-best pass-rushing grade, per PFF.
That's huge going up against an Indiana offensive line that ranks 120th in terms of a pass-blocking grade.
The Buckeyes' front seven has done an incredible job stopping the run, allowing only 3.0 yards per carry and ranking fourth in Rushing Success Rate Allowed and 14th in Defensive Line Yards. However, they have been prone to giving up explosive runs.
It doesn't get any easier throwing the ball either, as Ohio State sits sixth nationally in EPA/Pass Allowed and has the 14th-best coverage grade, per PFF.
However, if a team crosses the 40-yard line against the Buckeyes, it'll have a decent chance at putting the ball in the end zone, as Ohio State ranks 68th in Finishing Drives Allowed.
---
Indiana vs Ohio State Betting Pick
The Hoosiers are playing at an ultra-fast pace. Tom Allen's squad runs a play every 18.3 seconds, which is the fastest pace in the nation. So, they tend to go three-and-out in record time, giving the opposing offense ample opportunities to score on their lackluster defense.
Additionally, the defense gets worse as the game goes along because it's on the field so often.
Another huge advantage for the Buckeyes is that they're No. 1 in the country in Finishing Drives, while Indiana sits 75th defensively.
I love over 58 points, as I have 66.3 projected for this game.
---
---
Maryland vs. Penn State
Penn State looks to move to 8-2 on the season when it hosts Maryland in Happy Valley for a Saturday afternoon Big Ten East clash.
Maryland played a terrible game in awful weather in Madison last weekend, losing to Wisconsin by a score of 23-10. It was only the third loss on the season for Terrapins, who have already achieved bowl eligibility.
However, they need to get back on track this week with a home game against Ohio State on deck.
Penn State cruised past Indiana in Bloomington last weekend for its seventh win of the season. The Nittany Lions' only two losses on the season have come at the hands of Ohio State and Michigan, so they've been pretty good against lesser competition.
This is also another game they need to win if they want to secure a berth for a premier bowl game.
---
Terrapins Offense
Taulia Tagovailoa returned from injury against Wisconsin last weekend and had a terrible game in the pouring rain and high winds. He went just 10-of-23 for 77 yards, one touchdown and one interception.
However, you almost have to throw that game out the window given how bad the conditions were. He's been outstanding In every other game this season:
Image via PFF.
However, Penn State has an outstanding secondary, so the way Maryland is going to have to beat the Nittany Lions is on the ground. I'm not sure it can do that.
Maryland is averaging 4.7 yards per carry but ranks 79th in Rushing Success Rate and 64th in EPA/Rush. Its offensive line has been getting a decent push, ranking 22nd in Offensive Fine Yards and 55th in terms of a run-blocking grade, per PFF.
However, starting running back Roman Hemby has basically just been putting up big numbers against bad run defenses. In fact, he's averaged under 4.2 yards per carry against Michigan, Michigan State, Purdue and Wisconsin.
Terrapins Defense
Maryland has faced two solid ground attacks this season in Wisconsin and Michigan. In those two games, they've given up a combined 521 yards and 6.5 yards per carry.
Maryland also ranks 118th in Power Success Rate Allowed, 78th in Stuff Rate and 70th in Rushing Success Rate Allowed. So, good luck stopping star Penn State freshman Nick Singleton.
Maryland has also really struggled to generate a pass rush. It sits 121st in terms of a pass-rushing grade and ranks 95th in Havoc.
Sean Clifford has really only been effective when he has a clean pocket, so the secondary could be in for a long day if it can't get in Clifford's face.
The secondary hasn't really been that good anyways. The Terps rank 70th in Passing Success Rate Allowed and 52nd in coverage grade.
---
Nittany Lions Offense
Clifford has struggled this season, but he still owns a 73.8 PFF passing grade while averaging 8.0 yards per attempt. Both actually mark career-highs for him.
Even against Ohio State two weeks ago, he finished with a PFF passing grade of 82.9 and an adjusted completion percentage of 81.9% on 47 attempts. Plus, only one of his three interceptions was graded as a turnover-worthy play.
Clifford really needs time in the pocket to throw because he really struggles under pressure. He owns an 86.7 PFF passing grade with a 78.2% adjusted completion percentage with a clean pocket. When he's under pressure, though, his PFF passing grade drops to 45.8 and his adjusted completion percentage falls to 67.9%.
Luckily for the Nittany Lions, Maryland has one of the worst pass rushes in the country. Clifford should have plenty of time to throw in this game.
Penn State's rushing attack really hasn't been that great this year despite the emergence of Singleton, a five-star freshman.
The Nittany Lions rank 103rd in Rushing Success Rate and 73rd in EPA/Rush. However, Singleton has been known to break off a lot of big runs, as he's averaging 6.1 yards per carry and has 14 rushes of at least 10 yards.
Nittany Lions Defense
Penn State's defense has been the main reason why it's sitting at 7-2 on the season. The Nittany Lions are allowing only 5.0 yards per play while ranking fourth in Havoc and 29th in Finishing Drives Allowed.
The run defense has been above average, ranking 16th in Defensive Line Yards, fourth in Stuff Rate and 49th in Rushing Success Rate Allowed.
However, it sits 92nd in rushing explosiveness allowed, so it's prone to giving up big plays. Maryland essentially lives off of explosiveness in the run game.
The Penn State secondary has been one of the best in the country and will give Tagovailoa a lot of problems. The Nittany Lions rank top-40 in terms of Passing Success Rate Allowed, EPA/Pass Allowed and coverage grade.
They also held Tagovailoa to just 6.3 yards per attempt and forced three turnover-worthy plays against Maryland last season.
---
Maryland vs Penn State Betting Pick
Even though Clifford has been an average quarterback this season, Maryland's inability to generate a pass rush is going to have a drastic impact on this game given how good Clifford is with a clean pocket.
Additionally, Tagovailoa will be going up against an above-average secondary, and the game will be on his shoulders if Maryland struggles to run the ball — much like what happened against Wisconsin last weekend.
I have Penn State projected as a -13.2 favorite, so I like the value on the Nittany Lions at -10.
---
---
Arizona vs. UCLA
UCLA looks to stay alive in the College Football Playoff picture when it hosts Arizona at the Rose Bowl on Saturday night.
Arizona is in the middle of another poor season, currently sitting at 3-6 and on a four-game losing streak. It needs to win out to get to a bowl game, which seems bleak right now — but it's still possible.
UCLA is firmly in the CFP picture right now with a couple of huge games on deck. The Bruins have a massive game against USC on deck that will ultimately decide who goes to the Pac-12 Championship, but they have to get by Arizona first.
---
Wildcats Offense
I think the perfect word to describe Arizona quarterback Jayden de Laura would be "volatile." He's had some outstanding games, but boy, is he reckless with the ball in his hands.
He does have 20 big-time throws and 22 touchdown passes, but the fact that he has only eight interceptions is quite astonishing because he has 20 turnover-worthy plays this season, the second-most in college football.
Image via PFF.
While Arizona's passing game has been a bit suspect, it's actually been running the ball quite well. The Wildcats are averaging 4.7 yards per carry while ranking eighth in Rushing Success Rate and 14th in Offensive Line Yards.
The problem is they've fallen behind so often because of their defense that they're forced to throw the ball a ton, which is why they're running the ball on only 42.4% of snaps.
Wildcats Defense
Arizona's defense is an abomination to football. The Wildcats cannot stop anybody.
They just went to Salt Lake City and got their doors blown off by Utah, allowing 45 points and 5.7 yards per play — and that was a good game for them.
Arizona is allowing 6.8 yards per play while ranking dead last in Success Rate Allowed and EPA/Play Allowed.
Arizona is literally the worst run defense in the country. The Wildcats sit 130th in Defensive Line Yards, dead last in Rushing Success Rate Allowed and 130th in EPA/Rush allowed.
Their secondary is just as bad, as Arizona ranks 130th in Passing Success Rate Allowed and 123rd in EPA/Pass Allowed, so this UCLA offense should be able to move the ball at will.
---
Bruins Offense
Chip Kelly's offense ranks third in Success Rate and 10th in EPA/Play while averaging 7.2 yards per play.
Most of its success though has come on the ground with Zach Charbonnet, who has been one of the best running backs in the country this season. Charbonnet is averaging a whopping 7.6 yards per carry, 4.5 yards after contact per carry and owns a 91.6 PFF rushing grade.
It also helps that he's running behind one of the best offensive lines, as UCLA ranks first in Offensive Line Yards and fourth in run-blocking grade, per PFF.
UCLA quarterback Dorian Thompson-Robinson is very good in the short passing game but tends to struggle when he has to attack a secondary. He's averaging 8.4 yards per attempt, but his average depth of target is only 6.2 yards, which is why UCLA ranks 93rd in passing explosiveness.
However, he does have the Bruins at second in Passing Success Rate and 10th in EPA/Pass.
Bruins Defense
The UCLA defense has actually been quite bad overall. The Bruins are only allowing 5.1 yards per play, but they rank 100th in Success Rate Allowed and 76th in EPA/Play.
The main problems have come against the run, which is not good news against Arizona. UCLA ranks 106th in Rushing Success Rate Allowed, 122nd in Defensive Line Yards and 95th in EPA/Rush Allowed.
The Bruins are allowing only 3.8 yards per carry on the season because they don't give up a lot of big plays, ranking 20th in rushing explosiveness allowed. That might be their saving grace in this game.
The UCLA secondary has the 36th-best coverage grade in the country and ranks 10th in explosive passing allowed. So, if de Laura decides to chuck it up for grabs, he's way overdue for a multi-interception game.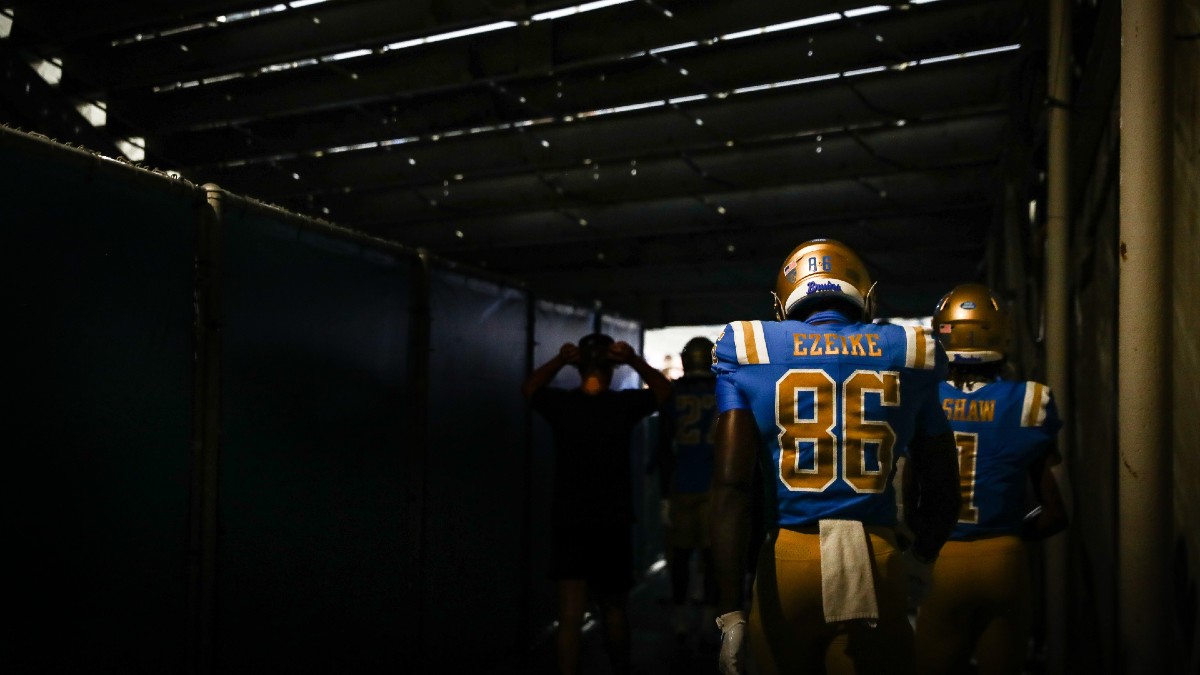 ---
Arizona vs UCLA Betting Pick
Arizona does have a solid advantage in the run game over UCLA. But the reality is if the Cats fall behind and get into a high-scoring affair with the Bruins, they're going to have to throw the ball more often, which likely leads to more mistakes from de Laura.
Plus, I have no idea how Arizona is going to prevent Kelly's team from putting 50 on the scoreboard with how bad its defense has been playing.
I have UCLA projected as a -23.4 favorite, so I like the value on the Bruins at -19.5.
How would you rate this article?
This site contains commercial content. We may be compensated for the links provided on this page. The content on this page is for informational purposes only. Action Network makes no representation or warranty as to the accuracy of the information given or the outcome of any game or event.