0-1 NFL Teams To Buy Low On: Colts, Vikings, Jaguars & More Week 2 Betting Picks
Credit:
Dylan Buell/Getty Images. Pictured: Vikings QB Kirk Cousins
Ahhh, yes, it's the most beautiful time of the year for NFL betting hot takes. There's nothing that warms my heart more than overreactions to Week 1.
Let's take last season as an example: Remember when the Colts lost to the Jaguars? Well, Indy went on to to make the playoffs while Jacksonville went 1-15. How about the Saints beating the Bucs? All Tampa Bay did was go onto win the Super Bowl while New Orleans lost by 10 as a 4-point favorite in Las Vegas the following week. And the Browns, who somehow only have one win in Week 1 since 1999, got absolutely smoked by the Ravens in Baltimore, 38-6. Cleveland ended up just fine with an 11-5 overall record.
So, after one week, do we now think the Texans won't stink up the joint? Or that Aaron Rodgers is now terrible? Of course not, but that didn't stop the betting market from over-adjusting when I compare current lines to my power ratings and lookahead lines (which aren't gospel but are a usable data point for market sentiment).
Admittedly, I do make my largest team adjustments early in the season, but we too often see too large of adjustments after Week 1.
As a result, my Week 2 card usually has a plethora of home dogs that lost in Week 1. For reference, home underdogs have gone 49-38-1 (56.3%) against the spread (ATS) in Week 2 since the 2003 season and 36-28 (56.25%) ATS following a loss. And all Week 2 underdogs of six or fewer points that are coming off a loss have gone 61-41-3 (59.8%) ATS.
Not too shabby against the closing number in a very efficient market.
Also since 2003, teams that cover by more than 27 points are 43.7% ATS in the regular season in the following week, including a 2-14-1 (12.5%) ATS mark in Week 2, failing to cover by more than a touchdown per game.
Three teams fit that mold this week:
Saints -3.5 at Panthers — off a 38-3 win over Green Bay
Cardinals -3.5 vs. Vikings — off a 38-13 win over Tennessee
Eagles +3 vs. 49ers — off a 32-6 win over Atlanta
On the flip side, teams with a previous-week ATS margin of -27 or worse own a 121-77-6 (61.1%) ATS record over that same span. Underdogs performed even better at 79-48-5 ATS (62.2%). Those teams have covered by an average margin of approximately two points, suggesting there's an over-adjustment in the market of a point or two.
The three opponents of the clubs I mentioned above obviously fit that criteria this week:
Packers -11.5 vs. Lions
Titans +6 at Seahawks
Falcons +12.5 at Bucs
For Week 2, I don't blindly play every home dog or team that got blown out. My bets ultimately come down to the value my projections show in addition to other factors such as matchups and situations.
Below you will find the trio of 0-1 pups taking on 1-0 teams that I did buy low on for Week 2. Warning: It's not pretty.
I'll also conclude with some quick hitting thoughts on seven other games on Sunday's slate.
---
Jaguars +6 vs. Broncos
Quarterbacks who have started in Week 1 after going first overall in that year's draft are 0-7-1 straight up and 1-7 ATS since 2003. How did they fare in Week 2?
Much better from an ATS perspective:
While they have managed to win only two of seven Week 2 games — remember, these are usually bad teams — they went 6-1 ATS and improved the average margin of defeat from 11.4 to 3.4 points. Only Matthew Stafford and the Lions lost by more than one possession in Week 2 of his rookie season.
In fairness, the sample size isn't significant, but the hypothesis makes sense in the context of Week 1 overreactions after poor performances by quarterbacks who had plenty of hype off the bat. It also makes sense that these QBs would settle down after getting one start under their belt.
Trevor Lawrence was undoubtedly awful last week, but he should look much more comfortable at home after making his first career start on the road.
Look, the Jaguars' roster has an abundance of holes, specifically at offensive tackle and cornerback. And going against a Vic Fangio loaded defense won't be a walk in the park for Lawrence. I'm also high overall on the Broncos, but they did benefit from a Giants team expected to start slow due to offensive injuries.
Unfortunately, this does require a road fade of Teddy Bridgewater, who has a remarkable 22-3 ATS record on the highway (although he's never been favored by more than a field goal). This is just one of those spots where I have to hold my nose and pull the trigger.
Humid Take: The unrelenting Jacksonville humidity could potentially give the Jags an edge. The Packers sure didn't seem to enjoy it last week. This is simply a clear overreaction to last week's results, creating value with the home underdog. I just can't pass up taking the six points one week after the lookahead line for this game sat under a field goal.
---
Vikings +4.5 at Cardinals
I loved the Cardinals on the road last week against the Titans, who came into that game with a still-suspect defense and an offense that dealt with an offseason full of change and major COVID issues.
Arizona certainly took advantage from the jump.
Everybody knew the Cardinals' offense had loads of talent, but the defense had some worrisome gaps coming into 2021. Cornerback remained a potential sore spot, but Robert Alford and Byron Murphy looked unbelievable in Week 1..
However, I'm not putting too much stock into that performance since I had tepid expectations for a Tennessee offense that lost its play-caller and had continuity concerns The secondary also benefited from the defensive front living in the backfield, led by Chandler Jones' five sacks. I just need to see more before I buy in.
I actually came away more impressed with the improvement against the run, which in large part can be attributed to the offseason additions of veteran J.J. Watt and rookie Zaven Collins.
Meanwhile, the Vikings dropped their opener in overtime as short favorites on the road in Cincinnati — despite a 351-yard passing performance from Kirk Cousins. The Vikings arguably should've won if not for a bogus fumble call that didn't get overturned. Regardless, it was a coin-flip game in which Minnesota's offensive line really struggled.
That remains a concern this week after the Bengals generated continuous pressure up the middle, resulting in constant collapsed pockets. Center Garrett Bradbury had a particularly rough day, as did backup tackle Rashod Hill with first-round draft pick Christian Darrisaw still sidelined.
Penalties also plagued Minny, which was penalized 12 times for a staggering 116 yards, including nine accepted penalties (of 13 total flags thrown) in the first half. The Bengals had only three penalties for 15 yards. I wouldn't read too much into that anomaly (outside of the offensive line penalties) for a usually-disciplined team under Mike Zimmer. Plus, Arizona is notorious for being one of the least-disciplined teams under Kliff Kingsbury.
The defense had a disappointing day overall, but it's an almost entirely brand new depth chart. The only Minnesota defenders to start in Week 1 who started last season were safety Anthony Harris and linebacker Eric Kendricks, who suffered a season-ending injury in November. With nine new starters on a fairly complex defense, stumbling against a dangerous offense on the road in Week 1 shouldn't cause mass panic.
If there's one thing you can trust in the NFL, it's a Mike Zimmer defense. He had a top-five unit for years until all of the injuries and opt-outs in 2020. This unit should continue to improve on a weekly basis. Plus, former Cardinal Patrick Peterson's familiarity with Arizona's offense could pay dividends.
Kliff Notes: I grabbed +4.5 since I make this slightly under a field goal. Last week's lookahead line had the Cardinals favored by 1.5 points. That has since risen a full field goal after Arizona's blowout win, which I thought was more of an indictment of Tennessee. And for the hundredth time, it's just one week! It's just a bonus we get to fade Kliff as a favorite and back Zimmer off a loss (30-15 ATS).
---
Colts +4 vs. Rams
Death, taxes and the Colts losing their season opener.
Last Sunday, Indy dropped its eight straight Week 1 game — the third-longest streak in NFL history. Three of those have come under head coach Frank Reich, who took over in 2018. However, optimistic Colts fans will remind you that Reich's teams have bounced back to claim a victory in Week 2 in each of the past three seasons.
While last week's result wasn't pretty, it certainly wasn't as ugly as the 2020 season-opening loss to the Jaguars, who have gone 0-16 since.
Carson Wentz actually looked decent under center in his first start in his new home, especially compared to last year. He finished 25-38 for 251 yards with a pair of touchdowns and no interceptions. And the Colts could've made that game much more competitive if they didn't go 0-3 on fourth down.
And Wentz looked fairly competent despite dealing with constant pressure. Overall, the Colts allowed three sacks and 10 QB hits, while rushing for only 3.8 yards per carry. Left tackle Julien Davenport — who allowed two drive-killing sacks — and fellow tackle Braden Smith ranked 68th and 69th in pass blocking out of 79 tackles last week, per PFF.
The pass defense also had some major lapses, but that's understandable against Russell Wilson and the weapons he has at his disposal. The Colts otherwise did at least seem to settle in as a unit in the second half.
Meanwhile, the Rams had no issues with the Bears on Sunday night as head coach Sean McVay improved to 5-0 in season openers. New quarterback Matthew Stafford also looked spectacular running his new offense, especially on plays that utilized McVay's trademark play-action.
However, I don't want to give too much credit for that lopsided victory against Andy Dalton and one of the worst offensive lines in the NFL. Dalton attempted only one (!) pass longer than 15 yards the entire game, which subsequently got picked off.
It won't be as easy of a task this week for a defense that lost some talent in the offseason. And unlike last week, having a lockdown corner like Jalen Ramsey isn't as impactful against a Colts team that doesn't rely on any one receiver.
Ultimately, this just comes down to buying the Colts low and selling the Rams high. I gladly scooped up +4 in a game that was Colts -1.5 in the preseason and +2.5 last week due to injury uncertainty surrounding Wentz and others. I personally make the Colts right around 2-point underdogs.
Indianapolis also has one of the strongest coaching staffs in the NFL. I'll trust that staff to make some adjustments this week to compensate for some of the deficiencies that showed up on last week's film.
I also believe we'll see major week-over-week improvements from teams that had to deal with COVID and injury interruptions during camp and preseason. The Colts certainly check that box.
They could also receive a boost if left tackle Eric Fisher can return this week. He has a chance to suit up and would serve as a major upgrade even at 80% over Davenport. And it wouldn't hurt if the Rams come out a little flat for this early non-conference kickoff with a showdown with the Super Bowl champs on deck.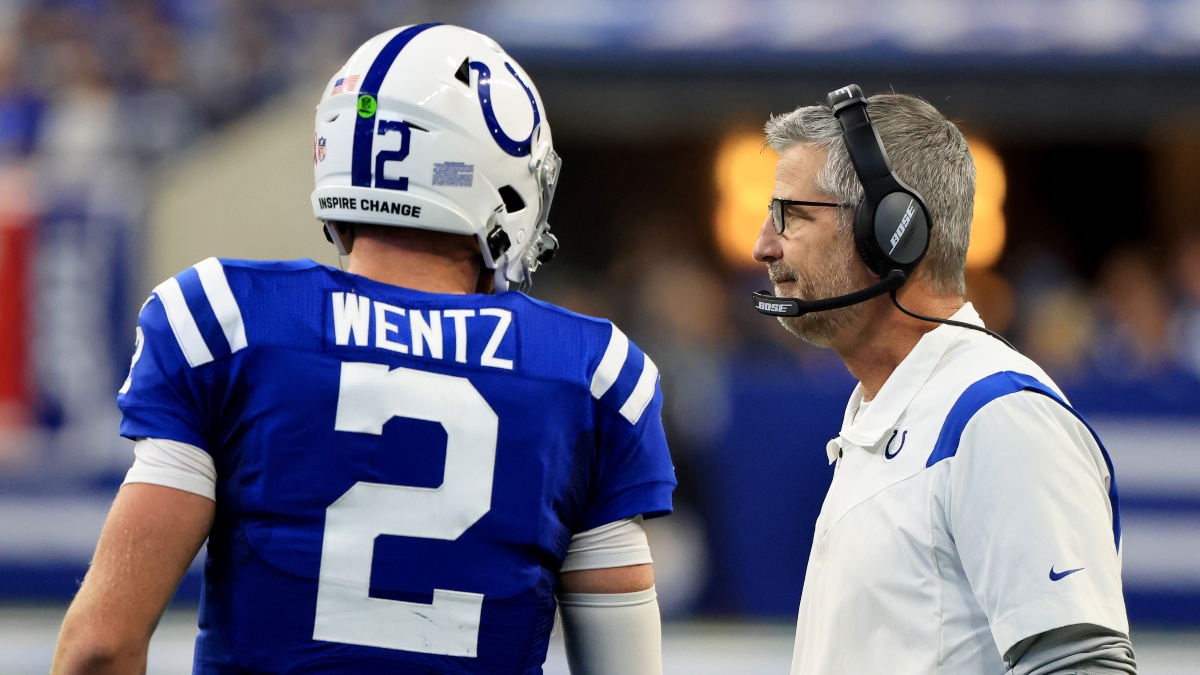 Horseshoes: It's not time to panic yet in Indianapolis. Reich also lost the opener in the three precious years to teams that finished with records of 1-15, 5-11 and 6-10 (combined 12-36) yet still turned it around in Week 2 with three victories for teams that all eventually made the postseason. I'm buying the bounce back and buying the Colts on the cheap.
For what it's worth, home dogs of six points or less in Week 2 off a loss have gone 33-21 ATS (61.1%) since 2003, per Action Labs.
---
More Week 2 NFL Picks
Panthers +4 vs. Saints
I jumped all over the Saints last week, but I'm selling that stock after last week's domination of Green Bay. Don't sleep on the impact of Marshon Lattimore's injury on what is now a brand new corner group.
Plus, if you're going to fade Jameis Winston, do it when he's a favorite. He's 18-10-1 ATS as an underdog of more than a field goal, but only 7-14-1 ATS as a favorite. I can see him making a few key mistakes against Carolina's zone looks.
Give me the Panthers +4 in a game I have closer to +2.
Eagles +3.5 vs. 49ers
I'm a Jonathan Gannon truther and think the new defensive coordinator in the city of Brotherly Love will do wonders schematically with that D — we already saw glimpses last week against Atlanta. And while the 49ers did look great before two late Detroit touchdowns, they didn't escape without some key injuries that could sting this week.
0-1 NFL Teams Not To Bet
Jets: The only 0-1 home dog I'm not playing is the Jets +6. The line is fair and I have no interest fading Bill Belichick off a loss nor backing a rookie quarterback in his second start against Belichick. From a statistical perspective, New England outplayed Miami last week but just had two of its eight drives end with fumbles (one of which wasn't) in a one-point loss. Meanwhile, the Jets suffered some key injuries that weakened an already lousy roster.
Titans: The Titans +5 technically fit a buy-low/sell-high spot, but I don't trust their defense and the offense still needs time to build continuity. Meanwhile, the Seahawks looked sharp offensively under the tutelage of new coordinator Shane Waldron.
Cowboys: The Cowboys +3 will benefit from a few extra days of rest and preparation before heading west to take on a Chargers team that opened the season on the East Coast. However, I project this line right around a field goal, so it's a clear pass. Dak Prescott did look fully healthy in a phenomenal performance against Tampa Bay, but the offense won't have two key pieces this week in wide receiver Michael Gallup and star right tackle La'el Collins.
Ravens: I may have to play the Ravens +4 based on line value alone, but the Chiefs present some very real matchup problems. And while Baltimore should come out in full desperation mode in front of a raucous home crowd on Sunday night, it will have to recover and prepare on a short week after playing on Monday night on the west coast. Make sure you check out my Sunday Night Football preview this weekend for a very in-depth preview.
---
Final Week 2 NFL Betting Thoughts
Raiders-Steelers Under
Mike Tomlin showed why he remains the road underdog king against the Bills. However, he now finds himself as the favorite — a spot he hasn't had as much success in historically. The Steelers offense still looked anemic and they benefited from a blocked punt touchdown, but the defensive front absolutely dominated the game despite only two called blitzes. They should have a similar impact this week against Derek Carr and the Raiders (+6), who find themselves having to travel across the country on a short week after an emotional overtime win. I prefer the under here, but only as a small play — I'm trying to cautiously approach totals until I gather data on home crowds, fourth-down tendencies and any penalties the NFL might stress this season.
How would you rate this article?
This site contains commercial content. We may be compensated for the links provided on this page. The content on this page is for informational purposes only. Action Network makes no representation or warranty as to the accuracy of the information given or the outcome of any game or event.