0-2 NFL Teams To Bet On: Colts & Jaguars Are Worth Holding Your Nose To Back In Week 3
Credit:
Michael Hickey/Getty Images. Pictured: Colts RB Nyheim Hines and WR Zach Pascal
Since 1980, only six of 188 NFL teams (or a little more than 3%) have made the playoffs after starting 0-3 with only the 2018 Houston Texans achieving that feat this century. In fairness, that percentage should rise over time with the newly expanded playoff field. However, teams that drop their first two games will still have an extremely arduous path to the postseason.
This season, seven teams are in danger of falling into that 0-3 hole:
So, how have 0-2 teams fared in the past? Fairly well — they're 82-69-4 (52.9%) against the spread (ATS) in their third game since 2003. And 0-2 teams that have also started out 0-2 ATS have gone 63-42-1 (59.4%) ATS since 2003, per our data at Action Labs.
Three teams fit that mold this week:
Week 3 road underdogs that have started 0-2 have gone 36-25-1 (58.1%) ATS since 2003.
Three teams fit that criteria this week:
If we include all teams — not just 0-2 squads — those that failed to cover each of their first two games have gone 87-68-1 (55.8%) ATS in their third game since 2003:
This week, five teams qualify:
Falcons
Jets
Jaguars
Chiefs
Football Team
There's obviously been some historic value buying low on teams that haven't been kind to bettors over the first two weeks. That doesn't mean I'm blindly backing every 0-2 team, but I did put money down on a pair this week.
Let's take a closer look at each. Get ready to hold your nose.
---
0-2 NFL Teams To Bet Week 3
Colts +5.5 at Titans
Yes, we might be backing quarterback Jacob Eason, who didn't look great in relief for an injured Carson Wentz last week — but you can't really blame Eason given the circumstances and his lack of experience. And while Wentz has looked much better than last season's disaster, he hasn't necessarily lit the world on fire.
Indianapolis' offense has had other issues, particularly along the offensive line, which has thrived in recent seasons. However, that could change this week against a very vulnerable Tennessee defense.
Last week, Eric Fisher returned at left tackle after missing the opener. And this week, Braden Smith could return at right tackle, which would put their offensive line at full strength for the first time this season. More importantly, it would mean no more Julie'n Davenport, who has allowed more pressures (13) than any other tackle this season and grades out as the fifth worst out of 74, per PFF.
Regardless of Smith's status or who lines up in center (we could even see Brett Hundley), Indy should find success on the ground in order to sustain drives against one of the worst defenses in the league.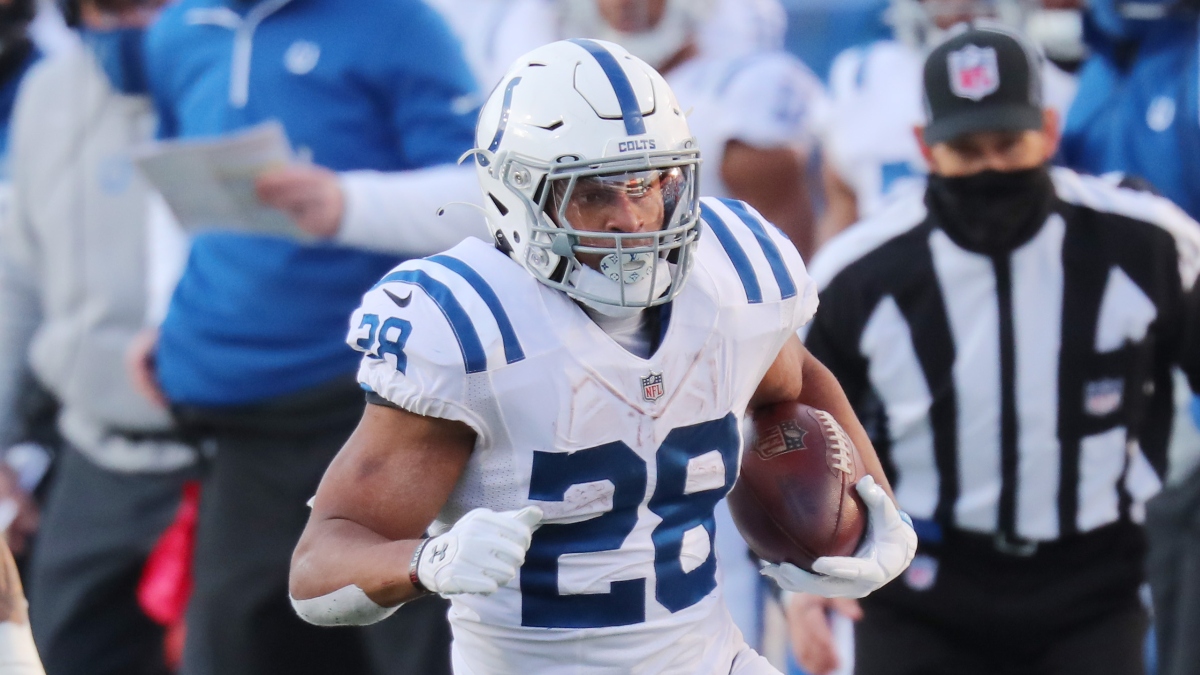 On the other side of the ball, the Colts defense could benefit from the potential return of top cornerback Xavier Rhodes, who has yet to see the field. And it's not like the Titans aren't dealing with injuries. They recently placed starting safety Amani Hooker on IR and had a number of key starters sit out of Wednesday's practice with injuries:
LG Rodger Saffold (shoulder)
C Ben Jones (knee)
TE Anthony Firkser (knee)
LB Bud Dupree (knee)
LB Jason Brown (knee)
CB Caleb Farley (shoulder)
Ultimately, I'm buying some cheap Colts stock after two losses against very formidable opponents after dealing with many interruptions (COVID, injuries) leading up to the season. Plus, the Titans — who I was low on coming into the season — haven't really impressed me to date. After getting blown out at home by Arizona, they made a ferocious comeback in Seattle after trailing by two touchdown in the fourth quarter.
I'll happily side with the desperate road divisional dog that has a few intangibles working in its favor with a superior coaching staff and special teams unit. Even with all of the quarterback uncertainty priced in, I can't get to a spread of over a field goal between two teams I power rate pretty evenly, especially when you consider home-field advantage continues to diminish.
However, since +5.5 is a fairly dead number, I'll wait to see if I can get +6 or better as the week progresses. In a game that could make or break the Colts' season, I wouldn't be shocked if Frank Reich won in Nashville for the fourth straight year against Mike Vrabel, who has burned bettors more often than not as a favorite (11-16-1 ATS).
Jaguars +7.5 vs. Cardinals
Yes, we are unfortunately going back to the well with the Jaguars.
Last Sunday, I said a quick prayer to the gambling Gods that this line would sit under a touchdown all week, which would keep me on the sidelines, but alas. At over a touchdown, I couldn't pass up the value I'm showing here.
If you need a little push, only five 0-2 teams have caught seven-plus points at home in Week 3 since 2003. All five covered:
Lions (+7) beat the Patriots 26-10 in 2018
Bears (+7) beat the Steelers 23-17 in 2017
Colts (+10.5) lost 23-20 to the Steelers in 2011
Browns (+7) lost 15-14 to the Ravens in 2006
Cardinals (+7) beat the Packers 2-3 in 2003
You got to back Matt Stafford in the pinnacle of Matt Patricia's head coaching tenure, but the four other quarterbacks included Charlie Frye, Jeff Blake, Mike Glennon and Kerry Collins on teams that went a combined 15-49.
The sample size is super small, but I'm just illustrating some past examples of very bad teams getting to the window in this spot if you don't believe in Trevor Lawrence and/or Urban Meyer. This is still an NFL home team catching more than a touchdown, which have covered at a profitable 54.5% clip since 2003.
I also don't mind selling this Cardinals stock right now. Yes, they dominated Tennessee in the opener, but I thought that spoke more to the state of the Titans. Last week, they should've lost at home to the Vikings if not for a missed chip shot field goal as time expired.
Trust me, I don't feel great about it, either, but I'm just trusting my power ratings. I'll likely be on an island for this one, which I generally don't mind when betting the NFL. Let's also hope that Lawrence settles in with two starts under his belt against a much less formidable defense than he saw last week.
Lastly, this sets up as a potential prime flat spot for Arizona. After jumping out to a 2-0 start, it flies east for a non-conference game against an inferior opponent prior to a pair of division showdowns against the Rams and 49ers. I wouldn't be shocked if the Cardinals played a little sloppy early on.
Oh, and I never mind getting a chance to fade Kliff Kingsbury, especially as a favorite (4-8 ATS).
---
The Other 0-2 NFL Teams
Let's take a quick glance at the five other 0-2 teams in action on Sunday.
Jets +10.5 at Broncos
It's been a rough start for the Jets and quarterback Zach Wilson, who will go from having to face Bill Belichick's defense to Vic Fangio's. That doesn't sound too fun for a rookie.
Meanwhile, after two straight road victories, the Broncos will return home to the altitude for their home opener. They also have Teddy Bridgewater under center and all he ever does is cover games. Bridgewater now boasts an absurd career record of 37-14 (72.5%) ATS — although he failed to cover the only other time he's ever been a favorite of over a touchdown (2018 vs. Panthers).
This line is inflated a bit, but I'm in no rush to back the Jets on the road with a rookie quarterback and an abundance of other roster issues.
Verdict: Pass
Lions +8 vs. Ravens
After finally beating their nemesis in an emotional primetime game, the Ravens have to avoid the letdown in Detroit against the 0-2 Lions.
Detroit has allowed 30-plus points in an NFL record eight consecutive games. Meanwhile, Baltimore just allowed 30-plus in back-to-back games for the first time in John Harbaugh's tenure — although one of those games came in overtime against the Raiders and the other against the Chiefs, who seemingly score 30+ points against every opponent.
I'd need 10 or more points to back the Lions here, which I doubt we ever see. At the current spread, the Ravens are an obvious teaser piece, though.
From a total perspective, I bet under 50 in this matchup of two very run-heavy teams that don't want to play fast in game-neutral situations. Even with some of the injuries in the secondary, Baltimore's defense should contain this Lions offense. And I've liked what I've seen so far scheme-wise from new Lions defensive coordinator Aaron Glenn, who I trust to come up with a game-plan to at least slow down the Ravens a bit.
I expect plenty of time-consuming drives here.
Verdict: Bet Under 50 | Find the best real-time line here
Falcons +3 at Giants
There's no buy-low opportunity here in a matchup of two winless teams when the Giants host the Falcons that could send the loser into a spiral.
The Giants come off a game they should've won last Thursday night in Washington, which will give them a preparation and rest edge. Meanwhile, the Falcons actually looked much better in head coach Arthur Smith's second game. Two Tampa pick-sixes in the fourth quarter made that score look misleading.
For what it's worth, Daniel Jones just had one of his best career games, which came on the road in the nation's capital. That shouldn't surprise bettors too much, as Jones is now 10-4 ATS on the road but just 4-10 ATS at home.
This line looks relatively fair, but I'd probably take the field goal if I had to bet it.
Verdict: Lean Falcons +3
---
Vikings +2 vs. Seahawks
The winless Vikings (who could easily be 2-0) will host the Seahawks in a game that features two coaches who have dominated ATS off a loss. Mike Zimmer is 29-13 (69%) ATS while Pete Carroll is 34-20-4 (63%).
I project this right around a coin flip, so there's not much for me to do here other than tease the Vikings up over a touchdown. It's hard to see either defense having much success in this matchup.
Verdict: Tease Vikings
---
More NFL Week 3 Betting Notes
Here's some quick betting-related nuggets on each of the other seven games on the Sunday afternoon slate. Also, make sure you check out my Monday Night Football writeup for Eagles-Cowboys later this weekend.
Dolphins +4 at Raiders
I played the Dolphins +4, primarily to sell the Raiders after back-to-back upset victories over the Ravens and Steelers.
When these two teams met last December in Las Vegas (without fans), Miami closed as a 2.5-point favorite. Now the Dolphins are +4? That's too much of a correction for this Raiders start, fans in the stands and the drop-off from Tua Tagovailoa to Jacoby Brissett, which I think is marginal.
In that December meeting, Ryan Fitzpatrick saved the day late (17-of-22 for 94 yards) in a one-point victory for Miami, but Tagovailoa didn't have much to work with at receiver with DeVante Parker out with an injury. The Dolphins not only have a healthy Parker now, but added first-round rookie Jaylen Waddle and acquired deep-threat Will Fuller, who will make his season debut Sunday.
Speaking to the buy-low nature of this play, teams that have failed to cover by four or more touchdowns in their previous game — like the Dolphins, who are coming off a 35-0 loss — have gone 115-71-6 (61.8%, 19.1% ROI) since 2003. Road teams have performed even better at 64-36-3 (64%) against the spread (ATS) over that same span.
I also fancy the under in what I see playing out as a lower-scoring game, which makes the four-point underdog even more appealing.
Pick: Dolphins +4 | Find the best real-time line here
Saints +3 at Patriots
Something has to give in a matchup of two of the most successful coaches when it comes to covering spreads.
Bill Belichick owns a silly 140-99-7 (58.6%) ATS record as a favorite, making him the most profitable favorite of 127 coaches in our Action Labs database. Meanwhile, Sean Payton is a gaudy 42-25-2 ATS (62.7%) ATS as an underdog  — and 43-25 ATS after a loss.
The Saints do have many more questions coming into this game as it pertains to injuries and a staff that didn't have eight assistants in Carolina due to COVID. This will also mark New Orleans' third consecutive game away from home after hosting the Packers in Jacksonville in Week 1 due to the impacts of Hurricane Ida.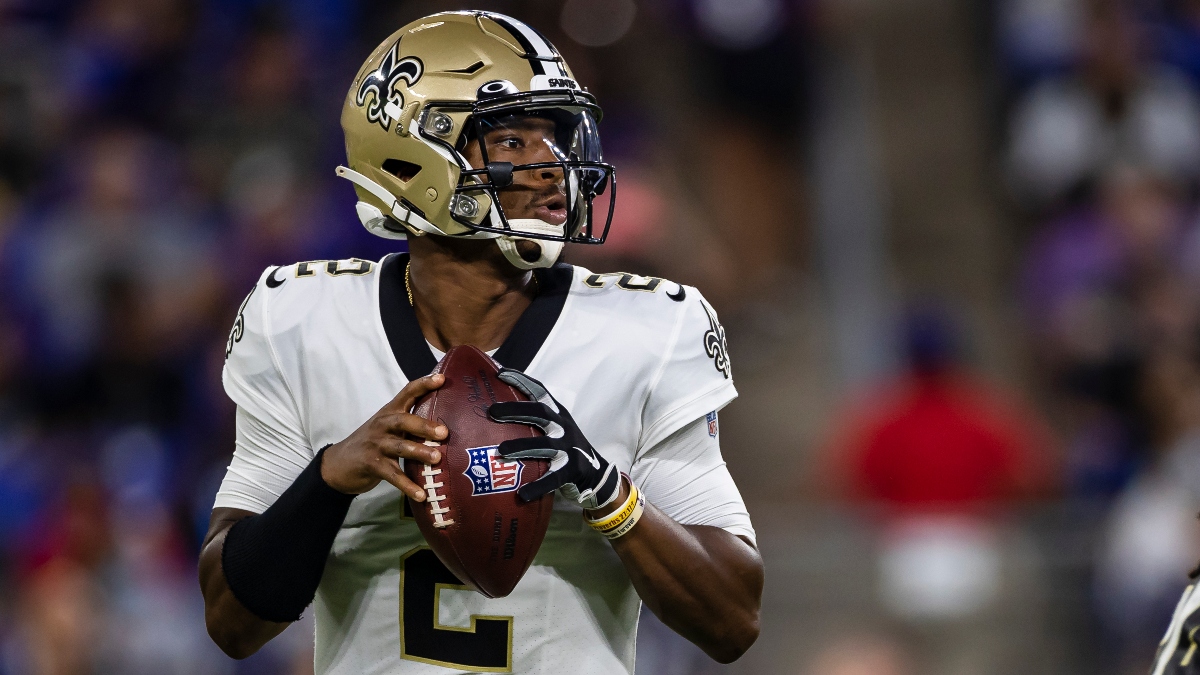 If you're curious, Jameis Winston has faced Belichick only one previous time: In 2017, when the Patriots (-3.5) won 19-14 in Tampa. Surprisingly, Winston threw for more than 300 yards without a single interception — although he wasn't a model of efficiency (26-46 passing).
Bengals +3 at Steelers
The only coach more profitable than Payton as an underdog is Mike Tomlin, but he finds himself as a small home favorite here due to a plethora of injury concerns for Pittsburgh on both sides of the ball.
Ben Roethlisberger has owned the Bengals throughout his career — 26-8 straight up and 23-10-1 ATS, including the postseason — but just isn't the same quarterback he once was. Per PFF, only rookies Zach Wilson and Trevor Lawrence have graded out as worse passers of the 30 QBs with at least 50 dropbacks in 2021. And Ben is now banged up to boot.
He'll also face a Cincy defense that has looked much improved to start the season. The Bengals are one of only five teams — along with the Bills, Panthers, Eagles and Broncos — allowing less than five yards per play.
Chargers +6.5 at Chiefs
The Chiefs finally lost a one-possession game after winning nine straight, including the postseason. Since defeating the Jets 35-9 in Week 8 last season, Kansas City is 0-9 ATS as a favorite of more than a field goal. Unless I can get the Chargers at +7, this is probably a pass.
Bears +7 at Browns
The Browns have some concerning injuries on offense to keep an eye on. However, I still expect them to prevail in the Factory of Sadness against a Bears bunch that notched their first win last week against the Bengals despite only amassing 206 total yards of offense at a paltry 3.4 yards per play. Chicago can thank four Cincinnati turnovers, including an NFL-record three in three straight pass attempts.
Rookie Justin Fields' first career start will come on the road, which isn't necessarily a recipe for success.
Football Team +8 at Bills
As I mentioned last week, teams that cover the spread by 28+ points have just a 43.9% cover rate (82-105-6) the following week. The Bills are the only team that fits that criteria in Week 3 after they demolished the Dolphins 35-0 last week. They host a Washington squad that will have a few extra days of preparation and rest after playing last Thursday.
As always with games in Orchard Park, keep an eye on the wind forecast as the week progresses.
Bucs -1.5 at Rams
Let's close with the game of the weekend between a pair of bona-fide contenders in a clash of undefeated teams when the Rams host the Bucs.
LA actually won in Tampa 27-24 as 4-point underdogs last November. In that game, Jared Goff absolutely shredded the Bucs with short passes (376 yards on 51 attempts), while the defense contained Tom Brady by getting pressure up the middle. That's the recipe on both sides of the ball against this Bucs team. The Tampa offense has turned into a different animal since then, but the Rams have also upgraded at quarterback.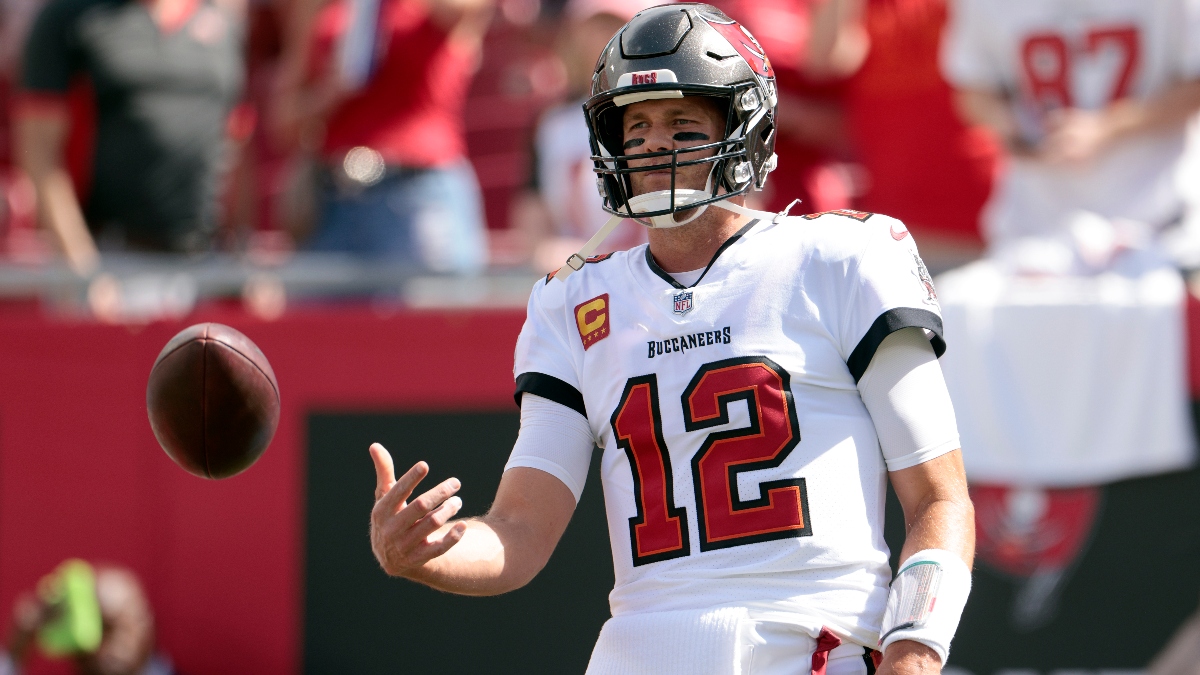 Believe it not, this will actually mark Brady's first ever start in the city of Los Angeles. Brady — who has now started more than 300 regular-season games — looks as good as ever during Tampa's 10-game winning streak (including the playoffs) in which the 44-year-old has thrown 31 touchdowns to just six interceptions.
Tom has also been a gold mine in this spread range historically. He's 34-14-2 ATS as an underdog or favorite of less than a field goal, covering by 6.5 points per game. That's a gaudy 70.8% cover rate and 36.1% ROI.
We should Sean McVay close as a rare home underdog, which has happened only three previous times. He's failed to cover in all three with the last two coming in blowout fashion against the 49ers and Ravens.
With that said, I made the game very close to a coin flip, which is where the line opened. After money came in on the Bucs as expected, I teased the Rams up to over a touchdown along with the Vikings.
How would you rate this article?
This site contains commercial content. We may be compensated for the links provided on this page. The content on this page is for informational purposes only. Action Network makes no representation or warranty as to the accuracy of the information given or the outcome of any game or event.