2021 NFL Division Futures Odds & Picks: Why Eagles & Jaguars Are Best Worst-To-First Bets
Credit:
Ronald Martinez/Getty Images. Pictured: Jalen Hurts
Believe it or not, since the 2002 division realignment, 24 NFL teams have gone from worst to first.
It has happened in 16 of the possible 18 seasons with multiple teams making the drastic turnaround in eight of those 18 years. Also, 17 of the 24 won five or fewer games in the previous season.
In 2017, we almost had a Super Bowl matchup of two teams that finished last in their division the year prior with the Philadelphia Eagles (who took home the Lombardi Trophy) and the Jacksonville Jaguars (who came up just short in the AFC Championship Game).
Will this trend continue in 2021? Let's take a closer look at each division to determine if there are any worst-to-first candidates worth betting. (Note that the last-place finisher in each division is bolded and italicized.)
All odds are as of Aug. 30 and via BetMGM.
---
NFC East Odds
Not only have we not seen a repeat winner in the NFC East since 2004, we have seen six teams go from worst to first in the past nine years.
The Cowboys clearly have the best team on paper (and from a power ratings perspective), but the defense has serious holes and Dak Prescott's health remains a mystery.
Washington has a strong defense and has added some intriguing pieces on offense, but do you really trust Ryan Fitzpatrick? The Giants have garnered some preseason love as a sleeper, but they may have the worst offensive line in the NFL.
Each of the other three teams in the division have serious question marks, which could open up a window for an Eagles team that has both a low floor and a high ceiling. That uncertainty makes the extreme bets (on either side) more enticing.
The Eagles finished with a 4-11-1 record in 2020. That led to a complete staff overhaul with first time head coach Nick Sirianni, who previously served as the Colts' offensive coordinator, taking over in the City of Brotherly Love.
We have seen nine first-time coaches win division titles with last place teams in the past 18 seasons (since division realignment):
Jim Mora (2004)
Lovie Smith (2005)
Sean Payton (2006)
Tony Sparano (2008)
John Fox (2011)
Chip Kelly (2013)
Doug Marrone (2017)
Matt Nagy (2018)
Ron Rivera (2020)
Sirianni has reasons for optimism on offense. First, the offensive line dealt with more injuries last season than any team in the league. That unit should be much more productive in 2021.
Philly also added another weapon for quarterback Jalen Hurts by taking wide receiver DeVonta Smith in the first round of the NFL Draft. If Hurts can progress as a passer and increase his accuracy, this offense has an abundance of potential.
On the other side of the ball, I love the hire of defensive coordinator Jonathan Gannon. I believe we could see a sizable efficiency bump on scheme alone — similar to what we saw Gannon's good friend Brandon Staley do with the Los Angeles Rams last year.
The ceiling isn't quite as high since the Eagles don't have Aaron Donald or Jalen Ramsey, but they possess a very strong defensive line and plenty of room for improvement on the back end.
Lastly, I like how the schedule plays out for this bet. As long as the Eagles don't completely fall on their face in the first half of the season and stay within striking distance of the division lead, they will have a chance to make up serious ground at the end of the year. After a Week 14 bye, they close the year with four straight division games — three of which come at home in Lincoln Financial Field.
And who knows, if Hurts doesn't show improvement, maybe the Eagles end up trading for a quarterback at some point?
Verdict: The Wild Wild East. Bet Eagles +500 at BetMGM
---
NFC South Odds
The Falcons won four games in 2020, but their underlying metrics (pythagorean wins, etc.) suggest they should've finished with closer to seven or eight victories. That's what happens when you blow five fourth quarter leads — a few in horrific fashion.
Those meltdowns were partially responsible for the coaching change as Arthur Smith takes over the reins. I think the former Tennessee offensive coordinator will positively impact this offense with more play-action, motion and better play-calling. Yes, Atlanta lost Julio Jones, but it also drafted Kyle Pitts, who profiles as a potential generational talent at tight end.
The offense will be fine. And if the coaching is more competent, the recent close losses may swing to close wins. That leaves the defense, which has struggled immensely in recent years. There are still major holes at cornerback and off the edge, but new defensive coordinator Dean Pees has previously demonstrated he can turn water into wine.
Similar to Philadelphia, the coaching changes could potentially have an undeniably positive impact for this upcoming season. The upside certainly exists, but there's one major issue…
Atlanta plays in the same division as the defending champs, who return every starter. And last I checked, Tampa's quarterback is still the ageless Tom Brady. He has won a ridiculous 18 division titles in 19 seasons as the primary starter, including a current streak of 12 straight.
I expect the Saints to take a step back after their offseason losses and I'm not buying the cheerful Carolina narrative that Sam Darnold just needed a change of scenery. Both situations could benefit Atlanta, but I'm just not betting against Brady.
If you buy into Atlanta's upside, betting on them to make the playoffs looks like a better route in a very top-heavy NFC where the wild card race looks extremely wide open. It's also worth mentioning that Atlanta only has seven home games, nine road games and a trip to London. As a result, it has the second highest net-travel this season — trailing only the 49ers.
Verdict: Death, Taxes and Brady Division Titles. Pass.
---
NFC North Odds
Let's start with the good news for Detroit. A new head coach is in town, which means Matt Patricia is no longer pacing the sidelines with a pencil in his ear. That could be most beneficial for the defense, which is now led by new DC Aaron Glenn.
Instead of just predictably sitting back in basic Cover 1 Man like Patricia did way too frequently, expect Glenn to be much more aggressive and use more zone looks on the back end. Detroit's defense has a lot of gaps, so a plus-scheme is paramount to compensate for some of the deficiencies, specifically at cornerback.
Now, for the bad news. There's a new quarterback in the Motor City, but it's a big downgrade as the Lions go from Matt Stafford to Jared Goff. While Goff will have the luxury of one of the best offensive lines in the NFL, he has one of the most underwhelming receiver groups in the league. Plus, Sean McVay is no longer around to hold his hand.
And the last I checked, Aaron Rodgers decided to come back for a Packers team that should win this division with ease. And while I'm very low on the Bears, the Vikings should rebound on defense after getting absolutely crushed by injuries and opt outs last season.
There aren't many things more reliable in the NFL than a Mike Zimmer defense. Last year was certainly the exception to the rule. Minnesota's D finished in the top-5 in three straight seasons prior to last.
I'm just not buying anything Dan Campbell is selling. Maybe he'll prove me wrong, but I can't fathom the Lions even coming close to their first NFC North title since division realignment. I don't care how many knee caps they bite.
Verdict: One Den. Zero Division Titles. Pass.
---
NFC West Odds
Well, despite finishing last in the ultra-competitive NFC West in 2020 with a record of 6-10, the 49ers actually sit as the preseason favorites to take home the division crown.
You can almost throw out last year's results due to the inordinate amount of injuries San Francisco dealt with on both sides of the ball. The defense in particular was decimated throughout the season. It's actually quite remarkable what the now-departed Robert Saleh did with a shell of a unit that still somehow finished sixth DVOA, per Football Outsiders.
One could argue we see a decline with Saleh now gone, especially when it comes to making adjustments. It's a fair point, but I don't expect new defensive coordinator DeMeco Ryans to change much. And just getting healthier will make this group much scarier with rich depth after last year.
On offense, the 49ers also had unfortunate injury luck across the board. With Jimmy G only starting six games, Nick Mullens and CJ Beathard combined for 10 starts. Not ideal. Now, Jimmy G is healthy and the 49ers drafted quarterback Trey Lance, who I think will take over the starting role under center at some point in 2021.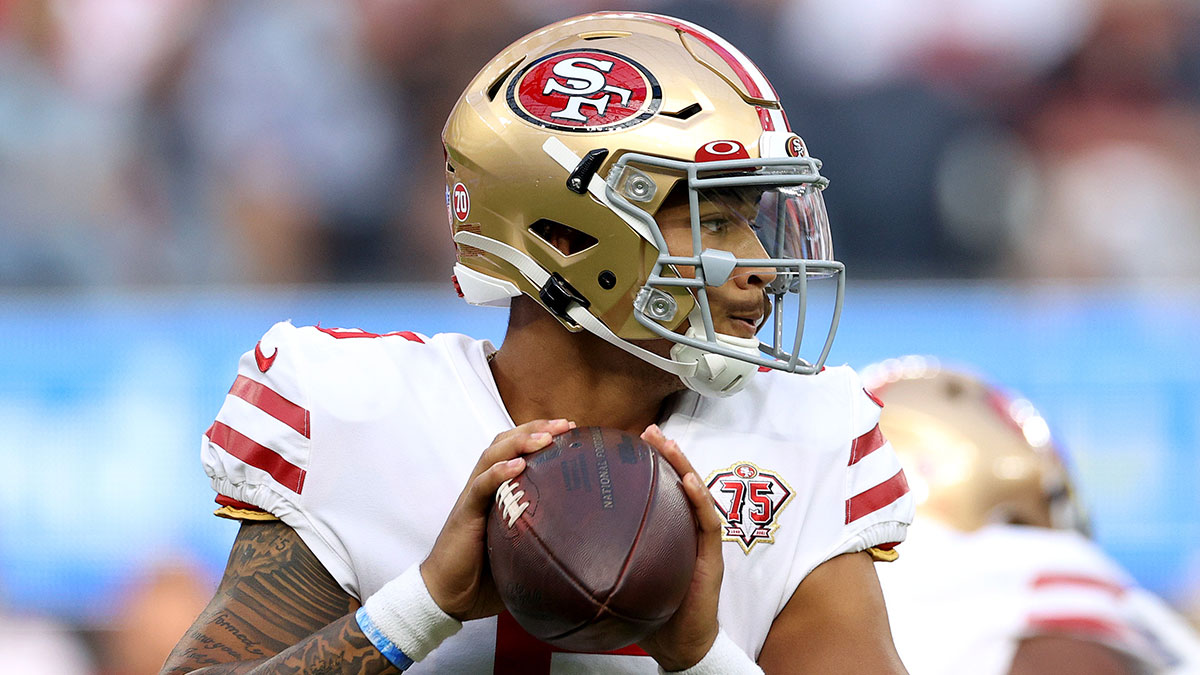 It's worth noting that we've already seen head coach Kyle Shanahan do wonders with a rookie quarterback as offensive coordinator in Washington back in 2012.
Not only did Washington win the NFC East, RG3 won Offensive Rookie of the Year. Lance has similar potential in this offense, which features four former first-rounders on the offensive line, two very talented receivers, one of the game's best tight ends and an absolutely loaded backfield.
Regardless of who gets the starting nod, the floor is very low for the 49ers with two viable options at quarterback. An injury to either one won't lead to imminent doom.
Also, per my power ratings, the 49ers have the easiest schedule in the league. I have them favored in all but two contests: road games against the Seahawks and Rams. And the latter could turn into a 49ers home game in the season finale. (For what it's worth, I have their game at Arizona close to a PK, but the 49ers slightly favored.)
If you couldn't tell, I love this team. However, it's a gauntlet of a division. The Rams' defense might regress a bit, but the offense now has much higher potential with Stafford under center. Los Angeles is a true Super Bowl contender.
Meanwhile, the Seahawks will always be a player with Russell Wilson at the helm. And if Pete Carroll allows new offensive coordinator Shane Waldron to open up the offense, Seattle can keep up with any team in the NFL — even with major pass rush and coverage concerns. There's also Arizona, which won't be an easy out, especially if Kyler Murray makes a year 3 leap.
Ultimately, I project the 49ers to finish with the most wins in the division, but that's partly due to schedule. My power ratings essentially have them and the Rams neck-and-neck with the Seahawks and Cardinals about 1.5 and 3.0 points behind, respectively.
Consequently, I don't really see a ton of value in the division odds, but I did place a wager on the 49ers to make the playoffs at -200 — a bet I love given their low floor, favorable schedule and modeled range of outcomes in a fairly weak NFC outside of this division with an expanded playoff field.
Verdict: More Than One Way To Crack An Egg. Pass.
---
AFC North Odds
I have no interest here. Cincinnati just has way too many holes on defense and along the offensive line. And this is not the division you want to play in with a suspect O line.
If Joe Burrow can stay healthy all season, the Bengals will have a very fun offense with a plethora of young weapons on the outside. However, the gap between them and the top two teams in the division (Ravens/Browns) is just too large.
Plus, while I 'm fairly low on the Steelers, they won't be an easy out with their stingy defense, especially if new offensive coordinator Matt Canada can find a way to ignite the offense.
Verdict: Who Dey? Not Me. Pass.
---
AFC West Odds
I'm very high on the Broncos. They should have one of the best defenses in the NFL with better injury luck in 2021. Plus, the depth they built  last year on that side of the ball will only help going forward.
If Drew Lock can take a big step forward in his progress, the ceiling becomes very high for this team with plenty of weapons on the outside and an improving offensive line. But if Lock doesn't improve significantly, the acquisition of Teddy Bridgewater raises the floor. Bridgewater can carry this team to plenty of victories by simply managing the game and letting the defense carry the load.
I think the Broncos have a chance to duplicate what we saw from the 2018 Bears. That Chicago team went from 5-11 in 2017 to division champs with a 12-4 record in 2018 with Mitch Trubisky under center. The defensive coordinator of that team? Vic Fangio, who now coaches the Broncos and even brought in his All-Pro corner Kyle Fuller from that season to Denver this past offseason. Denver has that same caliber of defense that could also take them from 5-11 to double-digit wins.
However, one major problem exists: they play in the same division as Patrick Mahomes and the Chiefs. Kansas City has won at least 10 games in six straight seasons and have never won fewer than 12 since Mahomes took over.
Until further notice, the Chiefs own this division. In fact, since 2015, they are an astounding 31-5 against AFC West opponents. That's the best six-year intra-division run since the merger in 1970. And two of those losses came by one point on the final play with another coming in Week 17 last season when the Chiefs rested their starters. Oh, and a fourth came against the Broncos in 2015 when Denver trailed by 7 with 30 seconds left.
I'd be remiss if I also didn't mention the Chargers. If Justin Herbert can simply duplicate what he did last year with a new coaching staff, LA will be very dangerous. And while I think the Raiders take a step back as a result of an offensive line downgrade, they will still field a very competitive team. This is not an easy division.
I'm much higher on Denver than the market, so do actually show some value on its division odds. But I have no interest in going against the Chiefs, who should win 12 games in their sleep barring a disastrous injury situation. Therefore, I chose to invest in the Broncos other ways such as their win total and to make the playoffs. I actually bet Over 7 wins back in May (download the Action App if you somehow haven't) and still show a tad bit of value on Over 8.5.
Verdict: It's Pat. Pass.
---
AFC South Odds
Am I crazy for actually considering a division bet on a team that won one game last year? Probably, but it has at least been done before. In 2008, also under a first-year head coach (Tony Sparano), the Dolphins won the AFC East with an 11-5 record after going 1-15 in 2007. Yes, that was the wildcat season!
Also, the Jaguars weren't as bad as their record indicated. Their expected win total was actually closer to 4.5. Still not great, but substantially higher than a single victory. They went just 1-6 in one-possession games with five losses by four points or fewer.
The Jaguars will most likely have a rough year, but I think they're at least worth a look to win the AFC South. They brought in a new head coach in Urban Meyer, who could provide a year one bump. Jacksonville also drafted future franchise quarterback Trevor Lawrence, who I'm very bullish on. For reference, we've previously seen a few rookie quarterbacks take a last place team to the top of the standings in their first year, including Kyle Orton, RG3 and Dak Prescott. Lawrence has that ability.
More importantly, it might not take a sensational season to win this division.
The Texans have the worst team in the NFL.
Who knows what the Colts will get from Carson Wentz.
The Titans better hope Derrick Henry can continue to carry the workload and Julio Jones stays healthy. Plus, they also have serious issues on defense.
There's a world where Jacksonville can steal this division with only eight or nine wins if Lawrence shines in his debut season and things go sideways for both Tennessee and Indianapolis. I think it's worth a shot at these odds.
Verdict: DUUUUVAL! Take a shot on the Jaguars +650 at BetMGM
---
AFC East Odds
New York does have a brand new coach and quarterback, which makes it a bit more intriguing than in recent years. However, like the Bengals, they have serious questions along the offensive line and on defense. Additionally, glaring weaknesses exist at both wide receiver and cornerback — two positions you really need in today's NFL.
I love the hire of Robert Saleh (bonus points for just getting rid of Adam Gase, too) but it will take some time to rebuild this franchise — assuming Zach Wilson works out at quarterback. I also have doubts about how this particular roster fits what Saleh wants to do schematically on defense. Carl Lawson's season-ending injury certainly doesn't help.
Oh, and did I mention New York plays in the same division as the Bills, Dolphins and Patriots — three potential playoff teams. I can't see them climbing over that trio even if everything breaks their way.
Verdict: H-E-L-L NO NO NO! Pass.
How would you rate this article?