2023 NFL Draft: What the Public Thinks About Top Prospects and Team Outlooks
Credit:
Getty Images. Pictured: C.J. Stroud (left) and Bryce Young.
There's no event in sports that epitomizes the "perception is reality" phrase quite like the NFL Draft.
A shared view or belief by fans and the media about a prospect's potential or reputation can spread like wildfire and vastly affect how a draft unfolds.
We've seen plenty of highly touted prospects make unexpected slides down the board and vice versa in past drafts. So what curveballs can we prepare for in the 2023 NFL Draft?
Of course we can't predict the future, but we can certainly break down the data. We scrubbed the Twitter-verse to uncover the public sentiment on both the top draft prospects and each team's outlook heading into the clock's first tick on Thursday. This feedback could include anything from performance-based commentary to personality traits and off-field issues.
Our sentiment analysis detected language in tweets that were focused on any given draft prospect or NFL team. We then categorized those comments into a positive, negative and neutral bin and looked at the percentages of each as they pertain to a player and team's draft perception.
Stroud and Anderson Jr. Prove Positive
Of the top 50 prospects we scrubbed, there were 11 players that had a higher positive sentiment percentage than both negative and neutral. Among those 11, there were only two of the five players with odds for the first overall selection: Ohio State quarterback CJ Stroud (+2500) and Alabama EDGE Will Anderson Jr. (+20000).
Stroud, who is projected to be the second overall by the Houston Texans, was No. 10 in positive sentiment percentage at 43.95%. The two-time Heisman Trophy finalist cemented his reputation by leading a juggernaut Buckeyes offense with pinpoint accuracy and deep ball strength. Stroud led college football with 177.66 passing efficiency and was second in pass touchdowns with 41. We pulled 21,348 total tweets on Stroud, which was the fourth most of this draft class. Stroud was the only skill position player in the top ten positive sentiment percentages of draft prospects.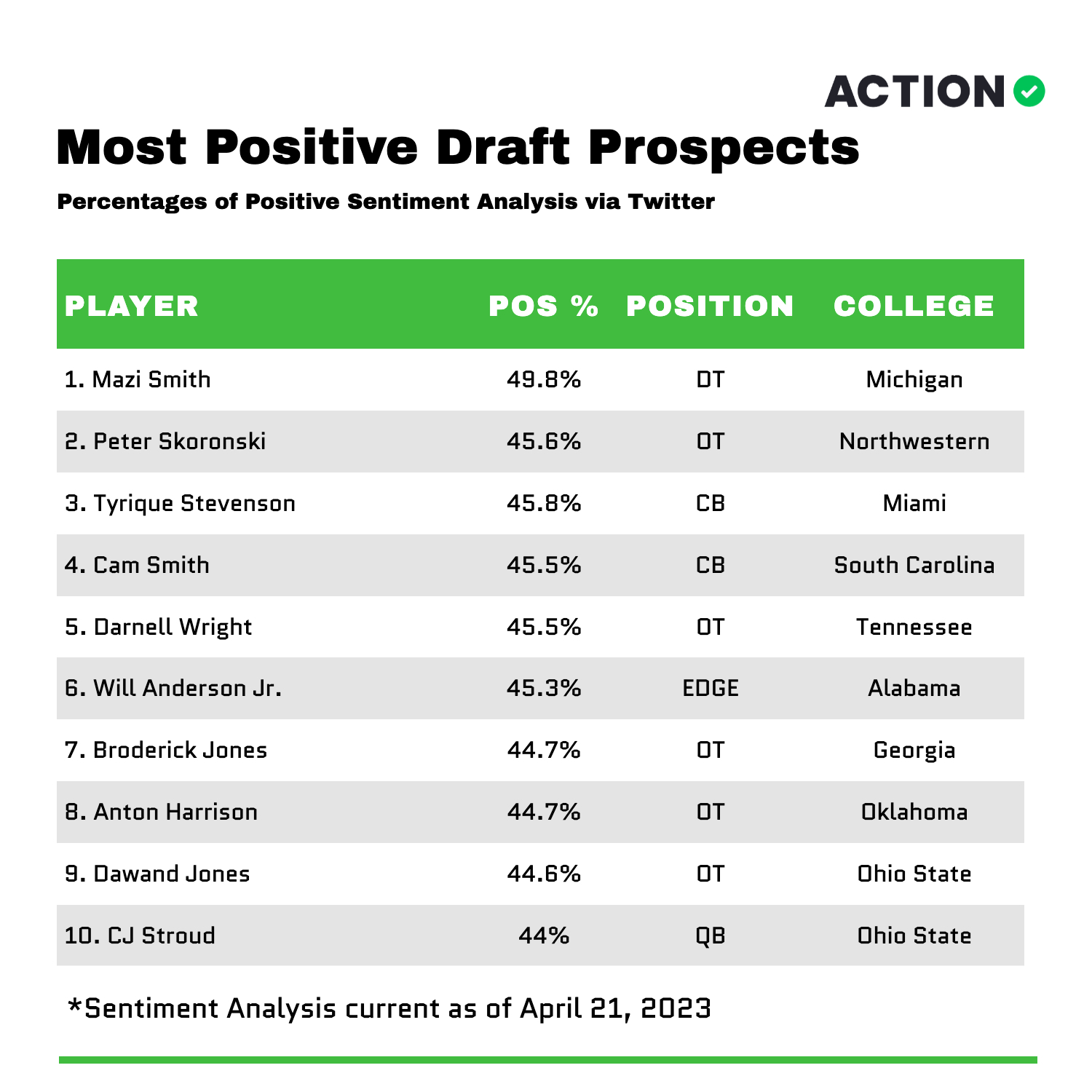 The draft's best defensive prospect, Anderson Jr., ranked at No. 7 with 45.33% positivity from the public. The two-time SEC Defensive Player of the Year has been an impact pass rusher in all three seasons for Alabama with 34.5 career sacks. He's praised for threatening edges with his long arm range, athleticism and power. Our mock draft by Sean Koerner has Anderson Jr. going at No. 3 overall to the Arizona Cardinals.
It's a smaller sample size, but Michigan defensive tackle Mazi Smith blew away the field with 49.81%. Smith is expected to go in the second round, but received plenty of approval across 3,318 tweets. The first team All-Big Ten pick had 48 tackles in 14 starts in 2022 and brings a coveted combination of size and quickness to the gridiron.
The quantity of feedback on Alabama quarterback Bryce Young seemed to offset his analysis. The expected No. 1 overall pick (-1400 odds) for the Carolina Panthers received the most positive and overall comments with 26,616 tweets, but also accrued the second-most in negative. That must come with the territory of hype.
Levis and Carter Get the Heat
Nathaniel "Tank" Dell got the brunt of criticism. The 5 feet 8 inches tall wide out from Houston had a 17.51% chunk of negative sentiment leading to the draft. Dell is expected to be selected in the second round, but there is question on how his slender frame will fair in pro ball.
Then we have the name of the week: Will Levis. The two-year Kentucky quarterback made headlines Tuesday when his odds slashed to +500 to be selected first overall due to a Reddit rumor. Levis amassed 5,232 yards and 43 scores in his two seasons with the Wildcats, but has been questioned for his rhythm as a passer and a considerable share of his passes being sent to behind the line of scrimmage. He raked in the seventh highest percentage of negative commentary and fourth most in negative tweets.
There's plenty of NFL potential in Georgia defensive tackle Jalen Carter, but he was the most negatively talked player with 3,538 sour tweets, which took up a 15.32% share of his overall commentary. Carter's explosiveness and lean muscle mass has him projected to go towards the latter of the top ten overall. However, he had off-field issues regarding an arrest last month for reckless driving.
While Dell is over 2% higher in negative sentiment percentage, the much bigger sample size of comments on Carter says he is perceived as the true most undesired player of his class.
Strong feelings surround South Carolina cornerback Cam Smith as he was the only player to crack the top ten in both positive and negative feedback percentages. The instinctive back reads the game well, but has received question on his speed and intensity. Smith is projected to go in the second or third round.
Both Teams Benefit From Blockbuster Swap
Fans and media love to use the NFL Draft as a window to reflect on the bright or bleak optics of all 32 times. We noticed that of the teams with a top ten pick, five of them were revealed in positive sentiment percentage: Carolina, Chicago, Detroit, Atlanta and Houston.
The Panthers jumped to the first overall pick when they swapped D.J. Moore, the No. 9 overall pick, No. 61 overall pick, a 2024 first round pick and a 2025 second round pick for it. Carolina mustered seven wins and finished in a bizarre three-way tie for last place in the NFC South to begin their rebuild. With a slew of quarterback issues last year, they traded up to get their franchise cornerstone. The Panthers are the only team to have more positive than negative and neutral feedback with 43.75%.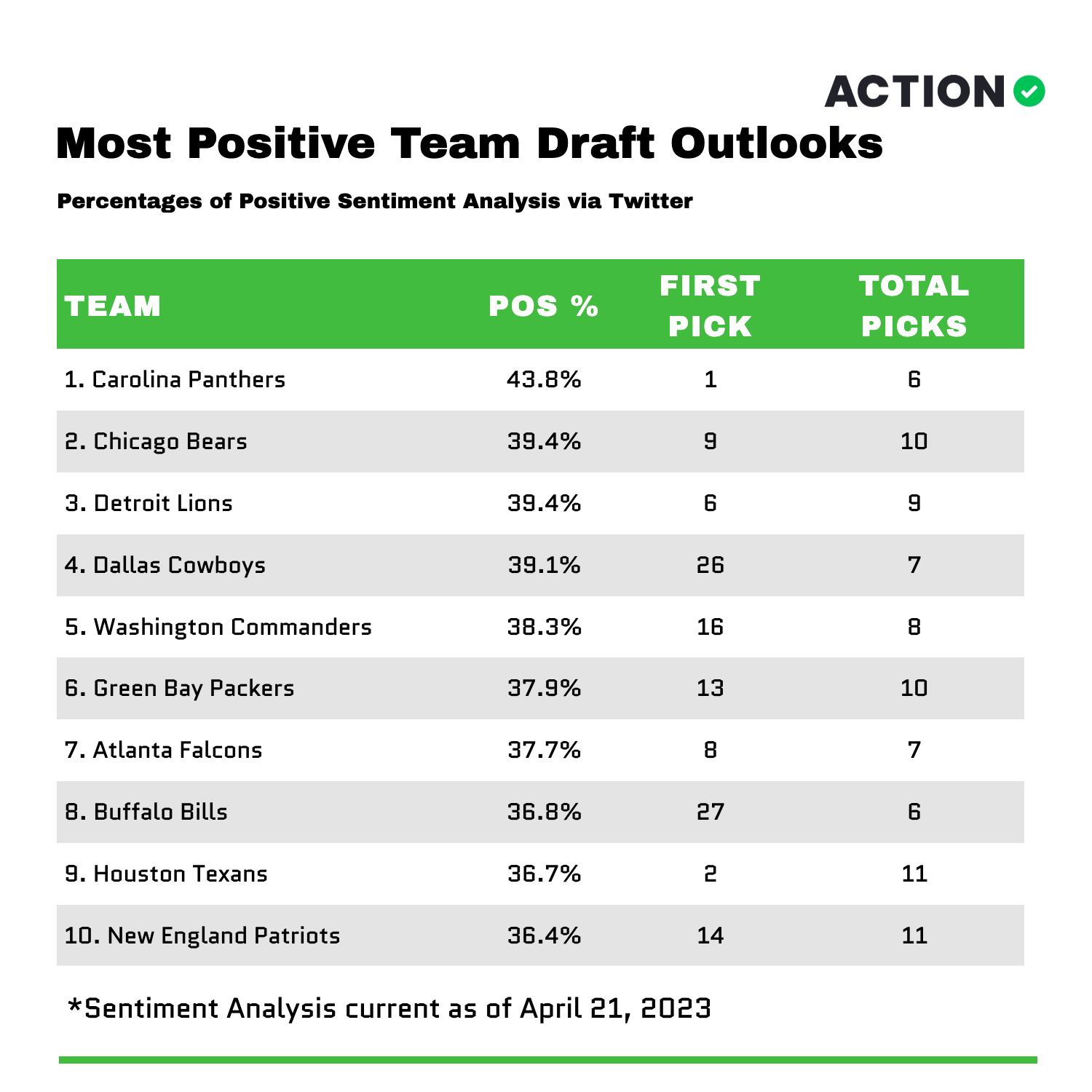 As the recipient of the massive package exchanged for No. 1, Chicago checks in at No. 2 with 39.39% positivity. With the breakout of Justin Fields in 2022, the Bears could take the downgrade to ninth overall to add future draft stock and give Fields a new No. 1 target in Moore. The five-year veteran has recorded 5,201 career receiving yards, which would make him the all-time Bears leader. The Bears also own the first picks of the third, fourth, fifth and seventh rounds and are in the market for an edge rusher or defensive tackle. Perhaps Carter?
Detroit is still reaping the benefits of shipping out Matt Stafford a couple of years ago. It will pick sixth overall in what would have been the Rams' selection and gained 39.37% encouragement. The Lions missed the playoffs last season by a hair with a stunning 9-8 record. They're looking for some upgrades at defensive tackle and cornerback, which Koerner projected Devon Witherspoon to fill. Detroit has nine picks, including the 18th overall and two second rounders.
Los Angeles: The City of Panic
And what better way to measure the internet's feelings than the throes and jeers of Twitter?
At the top of the seemingly Mount Hopeless, it's the Rams: the team that mortgaged their future for a Super Bowl and rightfully so. The 2022 Los Angeles Rams were the worst defending Super Bowl champions in history at 5-12. They won't make their first selection until No. 36 overall. After trading Jalen Ramsey and losing Bobby Wagner, Leonard Floyd and Greg Gaines, the Rams defense has some gaping holes.
But the Rams aren't the only team getting ragged in Los Angeles. The Chargers had 19% negative buzz as their first selection won't come until No. 21 overall and they have an even seven total picks. After missing the playoffs for three years, the Chargers made the Wild Card game only to be edged in a stunning come-from-behind loss to Jacksonville. Making the next step would start with providing Justin Herbert with a healthy and reliable receiving corps.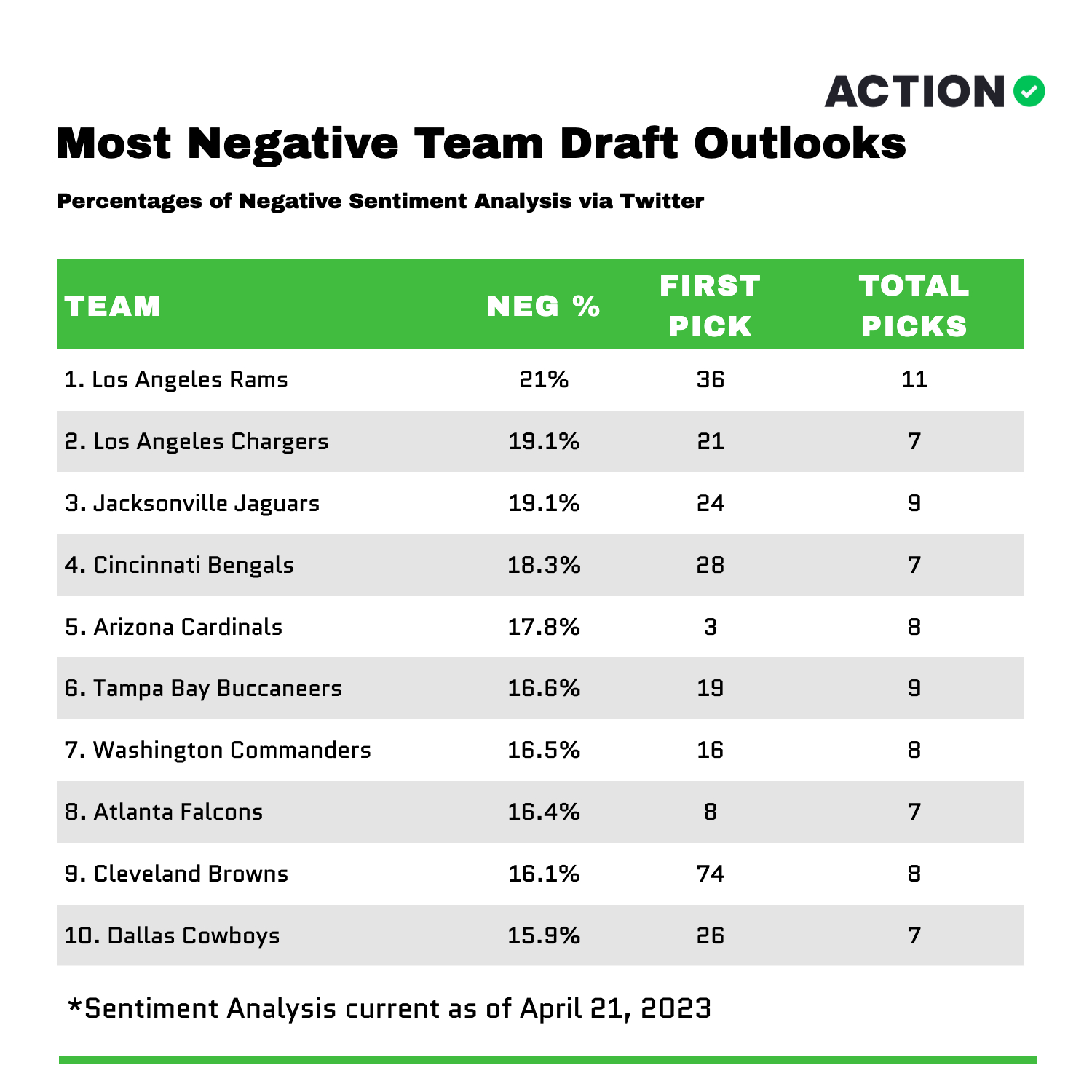 Ironically it's Jacksonville that rounds out the top three after marching to the AFC divisional round following four years of no playoffs. The Jaguars will select first at No. 24 overall and own nine total picks. There's a handful of needs in North Florida including a pass rusher, cornerback and some help on the offensive line.
Dallas, Washington and Atlanta were the only teams to appear on both top ten lists for positive and negative sentiment percentages. "America's team" was the most overall tweeted franchise in our data scrub with 19,969 followed by Buffalo (19,539) and Miami (15,754).
Bet the 2023 NFL Draft
If you're looking for more NFL Draft coverage, you can browse Koerner's first round mock draft or keep tabs on top pick and position odds. Otherwise, give the Action NFL hub page a glance for all comprehensive draft analysis.
Our sportsbook reviews can lend insight into which books offer the best markets and pricing for betting the draft along with new-user bonuses to take advantage of.
How would you rate this article?
This site contains commercial content. We may be compensated for the links provided on this page. The content on this page is for informational purposes only. Action Network makes no representation or warranty as to the accuracy of the information given or the outcome of any game or event.