49ers Fantasy Rankings, Projections, Analysis for Every Player
Credit:
Kelley L Cox-USA TODAY Sports. Pictured: George Kittle, Jimmy Garoppolo
See our experts' fantasy rankings, projections and analysis for every relevant San Francisco 49ers player.
Jimmy Garoppolo is back. The backfield is crowded. The receiving corps is young. And then there's George Kittle.
What should we expect from this offense in 2019?
Our analysts rank all their key players by scoring format, project their season-long stat lines and analyze their overall outlooks heading into the season.
49ers Fantasy Rankings, Projections
Jimmy Garoppolo, QB
Pass: 346 comp | 543 att | 0.637 comp% | 4289 yds | 25.4 TDs | 13 INTs
Rush: 38 car | 75 yds | 1.2 TDs
Tevin Coleman, RB
Rush: 155 car | 678 yds | 5.6 TDs
Rec: 29 catches | 288 yds | 2.3 TDs
Matt Breida, RB
Rush: 121 car | 565 yds | 3.2 TDs
Rec: 26 catches | 225 yds | 1.2 TDs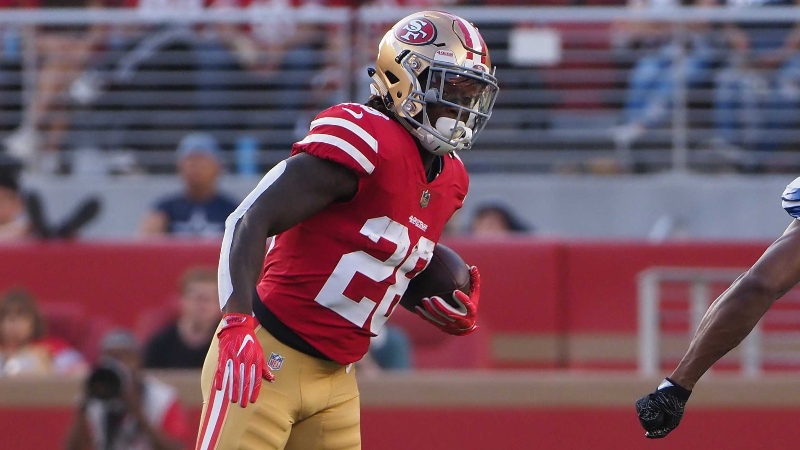 Jerick McKinnon, RB
Rush: 63 car | 252 yds | 1.3 TDs
Rec: 20 catches | 144 yds | 0.7 TDs
Dante Pettis, WR
Rec: 51.7 catches | 786 yds | 5.2 TDs
Deebo Samuel, WR
Rec: 40.6 catches | 566 yds | 3.4 TDs
Marquise Goodwin, WR
Rec: 28.7 catches | 465 yds | 2.3 TDs
George Kittle, TE
Rec: 80 catches | 1092 yds | 5.4 TDs
Note: Projections as of August 22.
---
>> Get our experts' latest fantasy rankings and projections in our Draft Kit.
---
49ers Fantasy Outlooks
Chris Raybon breaks down Kyle Shanahan's playcalling tendencies to forecast who will benefit most.
Shanahan's starting tailbacks averaged 12.9 touches per game last season, which is a marked departure from the 18.7 touches per game he fed Carlos Hyde in 2017 and the 20.3 he gave Devonta Freeman as in lead back in Atlanta in 2015-16. Nevertheless, it serves as a solid benchmark for Tevin Coleman, who also averaged 12.9 touches per start with the Falcons last season. Shanahan's outside zone scheme has featured 59% of its runs from under center, where Coleman has ripped off 4.7 yards per carry on 442 career handoffs compared to 2.9 from the shotgun. At 210 pounds to Matt Breida's 190, Coleman is the better short-yardage bet (Shanahan hinted as much in an interview with The Athletic back in March).
Dating back to Breida's rookie year in 2017, Shanahan has given him 12-13 touches in five of the last six games where he wasn't the No. 1 back.
Shanahan is known for feeding his X receiver, but the truth is he feeds his best receiver(s). This season has the makings of a fantasy headache, with up to five players being part of a rotation for an offense that passed with fewer than three wide receivers on the field a league-high 44% of the time last season, as Shanahan prefers to use versatile chess pieces in heavy personnel (read: the NFL's highest-paid fullback, Kyle Juszczyk) to create play-action opportunities. Pettis is the starting X, but his job isn't safe. Shanahan plans to "lighten [Marquise] Goodwin's load this season in an effort to squeeze more quality snaps out of him," according to Mark Barrows of The Athletic. Second-rounder Deebo Samuel and Jalen Hurd looked like the team's best receivers in preseason. What figures to be a four-man rotation may expand to five when Trent Taylor returns from a foot injury. No San Francisco wideout averaged more than 5.8 targets per game, but four averaged between 2.9 and 4.1. A return to the 66.1 play, 37.4-pass attempt per game pace they employed in 2017 from last year's 62.7 plays and 33. pass attempts could alleviate the issue to some degree, but 49ers pass catchers not named George Kittle figure to be tough to predict in 2019.
How would you rate this article?