Is Aaron Jones Being Undervalued In Fantasy Football Drafts?
Credit:
Credit: Jeff Hanisch-USA TODAY Sports. Pictured: Green Bay Packers running back Aaron Jones (33).
Will Aaron Jones finally receive a featured role in the Green Bay Packers' offense?
Ian Hartitz analyzes Jones' fantasy football outlook for 2019 and whether he's being properly valued.
We're in the thick of the NFL offseason and it's officially time to start fantasy football prep. I'll be answering the biggest questions heading into the 2019 season; this is part of that series.
---
The Green Bay Packers' front office officially hit the panic button in 2018, firing long-time head coach Mike McCarthy amid their 6-9-1 campaign.
The good news for a potential offensive resurgence in Green Bay is the presence of new head coach Matt LaFleur as well as the continued development and potential of an enhanced workload for stud running back Aaron Jones.
What follows is a breakdown on Jones' ability to function as an elite three-down back along with an analysis on what his fantasy football value looks like entering 2019.
Aaron Jones Is Incredibly Difficult to Tackle
The Packers selected Jones in the fifth round of the 2017 draft. He demonstrated plenty of talent at the University of Texas El-Paso, racking up 4,760 total yards and 40 touchdowns in 35 games from 2013 to 2017. The only red flags were his lack of experience against elite competition as well as an injury history that included a broken rib and torn ligaments in his left ankle.
The latter issue hasn't gone away over the past two seasons: Jones has missed eight combined games since 2017 due to various knee injuries along with a two-game suspension for violating the league's substance abuse policy.
The former issue was clearly unfounded: Jones has proven to be one of the league's marquee backs with the ball in his hands, regularly making ankles break before inevitably falling forward for extra yardage.
Jones has averaged a league-high 5.5 yards per carry since entering the league in 2017 (minimum 100 rush attempts). He's managed to produce this efficiency with consistent gains for positive yardage, as his 55.6% rushing success rate trails only Todd Gurley (55.7%) and Alvin Kamara (58%) over the past two seasons (per NFL.com's Graham Barfield).
Jones caught 71 passes for 646 yards and seven scores at UTEP and has continued to function as an above-average receiver in Green Bay. No, Jones' career 35-228-1 receiving line with the Packers isn't particularly impressive, but he's proven versatile in his ability to both slice through defenses on screens as well as function as a legit downfield threat.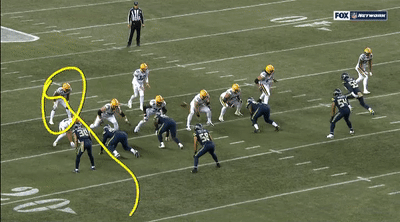 Reading the offseason tea leaves is always a dangerous endeavor, but things appear to be trending positively in Jones' direction.
The Packers Might (Finally) Free Jones
There have been more than a few signs that the Packers plan to make Jones their undisputed lead back.
Jones cut candy from his diet, dropping his body fat down from roughly 11% last season to 5.3% during the Packers' offseason program.
LaFleur said after he was hired that he intended to "marry the run with the pass." Green Bay ranked 32nd, 27th and 29th in total rush attempts over the past three seasons.
Early returns from the team's outside-zone heavy rushing scheme indicate Jones is a better fit than teammate Jamaal Williams. Offensive coordinator Nathaniel Hackett said Jones is a "great slasher" and thinks "this is going to be a good system for him."
The one cause for concern is LaFleur's history of utilizing committee backfields. He said that Jones and Williams would each be involved in the offense back in February:
We just asked Matt LaFleur if he sees a future committee of Jamaal Williams and Aaron Jones in the cards for #Packers and he says just like in ATL with Freeman and Coleman, like in TEN w/ Lewis and Henry, you want to use multiple backs.

— RosterWatch (@RosterWatch) February 27, 2019
It remains to be seen how much the Packers will split up work. Jones and Williams could work in a "committee," but Jones could still be among the league's most-fed backs with an average snap rate around 70%.
The days of a single running back receiving 300-plus touches are pretty much over.
RBs with 300+ touches by season:

2000: 19
2001: 13
2002: 16
2003: 15
2004: 12
2005: 14
2006: 14
2007: 11
…
2008: 9
2009: 9
2010: 11
2011: 8
2012: 10
2013: 9
…
2014: 5
2015: 4
2016: 7
2017: 6
2018: 5 (Zeke, Saquon, CMC, Gurley, DJ)

— Ian Hartitz (@Ihartitz) May 1, 2019
Overall, only Christian McCaffrey (91% snap rate), Ezekiel Elliott (83%), Saquon Barkley (83%) and David Johnson (80%) played at least 80% of their offense's snaps last season.
Helping Jones' 2019 outlook is the potential for the Packers to foster a more fantasy-friendly environment for their entire offense.
The Packers Offense Should Be Better in 2019
The Packers' somewhat messy divorce with McCarthy resulted in former Rams and Titans offensive coordinator Matt LaFleur becoming the franchise's new head coach. LaFleur also spent time with Kyle Shanahan and the Falcons from 2015 to 2016 as Matt Ryan's quarterbacks coach.
LaFleur has only called plays for the 2018 Titans, as Sean McVay handled that duty when they were both on the Rams in 2017.
The Titans certainly didn't benefit from Marcus Mariota's persistent nerve injury last season that impacted his ability to throw the ball with appropriate velocity. Still, the unit was pretty much worse in every available offensive metric compared to the Packers in 2018.
Titans points per game in 2018: 19.4 (27th)
Yards per play: 5.3 (26th)
Overall offensive DVOA ranking (Football Outsiders): 22nd
Pass DVOA ranking: 25th
Rush DVOA ranking: 11th
LaFleur will be joined by former Bills and Jaguars offensive coordinator Nathaniel Hackett. They'll be tasked with making sure Aaron Rodgers' "down" year in 2018 was nothing more than a blimp on the radar. Of course, it's tough to complain too much about a guy who just threw 25 touchdowns and only two interceptions while ranking as one of only eight quarterbacks with at least 8.0 adjusted yards per pass attempt.
A big change we could see in the Packers offense is a trend toward more play-action passes. Overall, LaFleur's offenses ranked fifth and third in play-action rate over the past two seasons, while Rodgers hasn't ranked inside of the top-30 quarterbacks in percentage of play-action passes since 2014.
You would think LaFleur would decide to lean on Rodgers more than Mariota, but it's worth mentioning the Packers finished first in 2018 in pass-play rate (67.5%) while the Titans finished 31st (51.5%).
The Packers' best case scenario is an invigorated rushing attack led by Jones that takes enough pressure off Rodgers for him to resume his status as one of the league's most efficient signal callers. The worst case scenario is probably a general reluctance from Rodgers to embrace more play-action and running plays, ultimately leading to another middling offensive effort.
Jones is currently the PPR RB14 in average draft position. He's certainly capable of blasting this mark with a featured workload over the course of an entire season, and his floor doesn't seem to be all that much lower considering he was the PPR RB15 in Weeks 3-15 last season despite largely sharing the backfield with Williams.
How would you rate this article?