Action Network's Free Props Contest Picks for the NFL Conference Championship Cash Prize
Credit:
Credit: Jay Biggerstaff-USA TODAY Sports. Pictured: Patrick Mahomes
We're giving away up to $3,000 cash to the winner of our NFL Conference Championship prop contest.
All of our different analysts and personalities came up with the questions on the prop sheet and they run through each of their picks here.
At The Action Network, we are giving away up to $3,000 for the NFL Conference Championship games. For free. All you have to do is complete our gauntlet of prop bets below and beat the field.
Each of our analysts and personalities created their own specific question surrounding the two title games for our props contest this weekend…can you answer the most questions right to win the cash prize?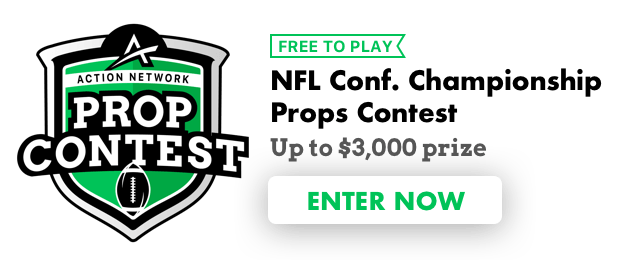 1. Geoff Schwartz: How many penalties will the New England Patriots offensive line have vs. Chiefs?
Schwartz' pick (2): Arrowhead Stadium is the loudest stadium on the planet and the Chiefs are hosting their first ever AFC championship game in this building. I except the crowd, and the best pass rush left in the playoffs, to bring it Sunday night. It will be tough for the Patriots OL.
2. Blackjack Fletcher: Will Jim Nantz or Tony Romo refer to Tom Brady as "The GOAT" during the broadcast?
Blackjack's pick (Yes): We all know Romo is prone to hyperbole at times and can get excited, it'll be fun to see if he refers to Brady by his most common nickname…I think they'll say the "The Goat."
3. Chad Millman: Will the temperature at kickoff (according to Action Network) of the Patriots-Chiefs game be higher than all four starting QB's total rushing yards in the Conference Championship Round?
Millman's pick (Yes): I've done more research on this than I should. But the forecast now predicts a temperature around 20 degrees in KC on Sunday.
So Im going with, yes and the over on temperature. Brees and Brady may finish with negative yards and Mahomes is only averaging 3.5 rushing yards per game in his last 5 games.
4. Peter Jennings: How long will TyFREAK Hill's longest TD be vs. Patriots?
No TD
1-15 yds
16-29 yds
30-49 yds
50 yds or more
Jennings' pick (50 yds or more): My answer is clearly 50 yards or more. I love TyFREAK and think he goes nuts in this game against the Patriots.
5. Jason Sobel: Will Drew Brees have more passing yards vs. Rams than the final-round driving distance average for the PGA Tour's Desert Classic Champion?
Sobel's pick (No): Brees should light up the Rams' secondary for 300+ in his home dome, but the ball can fly in that Palm Springs desert air, so I'll give the advantage to Sunday's winning golfer.
6. Wob: Will Tom Brady have a higher passer rating vs. Chiefs than Spurs total points scored vs. Clippers?
Wob's pick (No): With the Spurs having to run a track meet with the fast-paced Clippers, you can expect them to score at least 100 points. That is a guarantee.
Brady has been nothing but a guarantee his entire career, but he has yet to see the confines of Arrowhead Stadium in January and he'll need a near perfect performance to even be in the neighborhood of a triple-digit QBR. Go Spurs Go.
7. Matt Moore: Will the Pacers have more 3-pt FG made in 4th quarter vs Hornets than Andy Reid timeouts used in the final two minutes of 4th quarter vs. Patriots?
Moore's pick (No): Andy Reid's trouble with the space-time continuum is well documented to the point it's a parody of itself. With this game only a 3-point differential, in cold weather, will he have two timeouts left inside two minutes?
Will he have to use them, or will Kansas City be trying to burn clock instead? Indiana has one of the most 3-point resistant offenses in the league, and they rank make the 4th fewest 4th-quarter 3's in the league. At only 2.3 made per 4th quarter, and 14 4th quarters with 1 or no 3-pointers made, this one could be tight.
8. Darren Rovell: Which QB will throw the most touchdowns in the Conference Championship Round?
Tom Brady
Patrick Mahomes
Jared Goff
Drew Brees
2+ tie
Rovell's pick (Brees): I'm taking Brees. And I'm taking a TD from my boy Austin Carr. Book it.
9. Chris Raybon: Which running back will have the most touches in the Conference Championship Round?
Todd Gurley (LAR)
Alvin Kamara (NO)
Sony Michel (NE)
Damien Williams (KC)
Other/2+ tie
Raybon's pick (Kamara): I expect the most popular answer to be either Gurley, who leads the group with 22.2 touches per game on the season, or Williams, who led them with 30 touches last week — it just depends how concerned people are about C.J. Anderson, who out-touched Gurley 23-18 last Saturday against Dallas.
If last week's snap rates hold (Williams 75%, Kamara 69%, Gurley 57%, Michel 43%), it would open the door for Kamara to hit at potentially the lowest ownership of the four.
10. Matthew Freedman: Which RB duo will have the most scrimmage yards in the Conference Championship Round?

Todd Gurley and C.J. Anderson (LAR)
Alvin Kamara and Mark Ingram (NO)
Sony Michel and James White (NE)
Damien Williams and Darrel Williams (KC)
2+ tie
Freedman's pick (Michel and White): Although the quarterbacks get the headlines, all four teams rely on their backfields to produce on the ground and through the air. When it comes to the player props for these backs, I imagine I'll be betting lots of overs this weekend. I think Sony Michel and James White get the job done.
11. Stuckey: Which WR will have the most receiving yards in the Conference Championship Round?
Brandin Cooks (LAR)
Tyreek Hill (KC)
Michael Thomas (NO)
Julian Edelman (NE)
Other/2+ tie
Stuckey's pick (Cooks): I'm going with the upset here and Cooks, who I think will have a huge Sunday (hello, props). While he might be listed with the fewest receiving yards in posted props of the four, New Orleans ranks dead last in the NFL defending the deep ball and 31st and against No. 1 receivers.
12. Sean Koerner: How many different players will complete a pass attempt in the Conference Championship Round: Over/under 4.5
Koerner's pick (Under): This is a fun prop I came up with for this week's Fantasy Flex pod, that I originally made 4.5 players to make a pass attempt. I think the 'over' would be likely for that but making it completions, but I lean on the 'under' hitting here.
What we need to worry about the most is a Taysom Hill pass attempt. Last week he threw a deep TD pass that was called back by penalty but the Saints will use every trick up their sleeve this week against the Rams. We also need to worry about a WR such as Julian Edelman who has 4 pass attempts in his career, not to mention a fake punt/kick pass attempt.
The other route to the 'over' would be any QB having to leave the game for any amount of time or even a blowout that allows a team to put in their backup to preserve their starter for the Super Bowl. I'm banking on none of the above scenarios to happen and we see all 4 stud QBs account for all completions this weekend.
13. Paul Lo Duca: Will Jared Goff and Patrick Mahomes throw for more combined passing yards in the Conference Championship than Drew Brees and Tom Brady?
Lo Duca's pick (Yes): Go with the young guns…Bill Belichick and Sean Payton will run the ball. Sean McVay and Andy Reid can't help themselves but throw it. Take Jared Goff and Patrick Mahomes.