Can Antonio Brown Overcome the Presence of Derek Carr and Remain a Fantasy Stud?
Credit:
Photo credit: Mark J. Rebilas-USA TODAY Sports. Pictured: Antonio Brown and Derek Carr
Antonio Brown has been the NFL's best wide receiver for the better part of the last half decade. What should we expect from him with the Raiders?
It's officially time to start fantasy football prep. I'll be answering the biggest questions heading into the 2019 season; this is part of that series.
---
Antonio Brown provided the world with just about the biggest heel turn since Hulk Hogan joined NWO back in the day. Essentially, AB chewed out just about everyone in the Steelers organization over the past eight months, ultimately getting his wish to be traded. He's now a member of the Oakland Raiders.
What follows is a breakdown on just how talented AB is at this stage of his career, as well as an analysis on his fantasy football value entering 2019.
AB might still be the best wide receiver in the league
There are a number of stats that indicate Brown is this generation's version of Jerry Rice.
Only four players have scored 40-plus receiving touchdowns since 2014, and 

AB

 (0.78 scores per game) has topped each of Odell Beckham Jr. (0.75), DeAndre Hopkins (0.57) and Mike Evans (0.52) when it comes to per-game consistency.

Big plays have also been a habit for Brown over the years, as only A.J. Green (41 catches of 40-plus yards), Mike Wallace (43) and DeSean Jackson (61) have more receptions of 40-plus yards than Brown (39) over the past decade.
Only Julio Jones (21 games with 100-plus yards) has passed the century mark in receiving yards more often than Brown (17) since 2016.
Only Jones (96.7 yards per game) and OBJ (92.8) have averaged more receiving yards per game than AB (86.2) in the history of the league.
2018 was hardly a letdown season for AB; he became just the seventh player to catch at least 15 touchdowns in a season since 2010.
Brown also led the league in interceptions (11) thrown his way last season. Not all of these picks should be blamed on AB, but there's support behind the idea that the league's longtime No. 1 quarterback-receiver connection was on the decline prior to the front office shipping Brown off to the Raiders.
The artist known as "Mr. Big Chest" still flashed tantalizing ability to consistently defeat even the league's best cornerbacks in man coverage.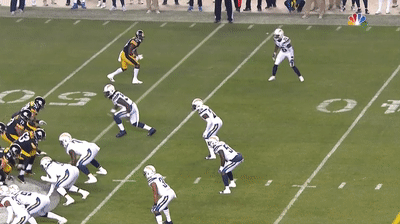 Still, there were some signs that AB might not be quite the same beast these days.
Antonio Brown's yards per route run by year (Pro Football Focus):
2018: 1.94 (No. 23 among all wide receivers with at least 50 targets)
2017: 2.87 (No. 2)
2016: 2.26 (No. 7)
2015: 2.9 (Tied for No. 2)
2014: 2.67 (No. 6)
2013: 2.48 (No. 5)
2012: 1.8 (No. 33)
2011: 2.61 (No. 3)
Not helping Brown's case for a bit of a bounceback season in the efficiency department is the reality of life with Derek Carr under center.
AB has a Carr problem
I've seen my fair share of bad interceptions over the years, but nobody has demonstrated the ability to lackadaisically toss a ball into tight coverage at the slightest sign of pressure quite like Carr.
There simply hasn't been much of any indication that Carr has what it takes to consistently function as one of the league's better quarterbacks.
Completion rate: 62.8% (No. 28 among 43 quarterbacks with at least 16 starts since 2014)
Touchdown rate: 4.4% (No. 26)
Quarterback rating: 88.8 (No. 26)
Yards per attempt: 6.7 (No. 38)
Adjusted yards per attempt: 6.7 (No. 32)
Pass yards per game: 240 (No. 20)
Fantasy points per game: 14.8 (No. 31)
Carr isn't the worst signal-caller to ever throw a football, but he has a strong case as the worst player among everyone who's currently being paid as a franchise quarterback.
20 QBs make $15M+ per year

Career Y/A:
Jimmy G (8.2)
Russ (7.9)
Ben (7.8)
Rodgers (7.8)
Rivers (7.8)
Brees (7.6)
Cousins (7.6)
Ryan (7.5)
Brady (7.5)
Cam (7.3)
Luck (7.2)
Dalton (7.2)
Stafford (7.1)
Eli (7)
Tannehill (7)
Smith (6.9)
Keenum (6.9)
Elite (6.7)
BOAT (6.7)
Carr (6.7)

— Ian Hartitz (@Ihartitz) February 24, 2019
Reminder: Carr couldn't enable Amari Cooper for the better part of the past four seasons, and he's never made a habit of feeding any of his wide receivers. Michael Crabtree and Cooper saw a combined average of 138.3 targets per season from 2015 to 2016.
AB hasn't had fewer than 150 targets since 2012.
There's also a bit of evidence of Brown struggling in six career games without Big Ben under center…
7 receptions-106 yards-0 touchdowns (11 targets)
5-42-0 (9)
3-45-0 (6)
3-24-0 (8)
6-124-0 (8)
5-58-0 (10)
…but it's tough to take too much away from this small Landry Jones-induced sample size.
It wouldn't be a surprise if the offense force-fed as many targets as possible to its new star receiver, but the drop-off in both quarterback play and surrounding talent can't be overstated.
Carr has more-or-less been Eli Manning over the past five years.
Add it all together and…
It's pretty easy to conclude AB's best years are behind him
Brown will enter 2019 as an undersized 31-year-old receiver with anyone's idea of a downgrade under center. It's not exactly going out on a limb to think that he won't manage to repeat his production from 2013-2018 when he worked as football's clear-cut No. 1 receiver.
AB is still one of the league's more dangerous receivers with the ball in his hands…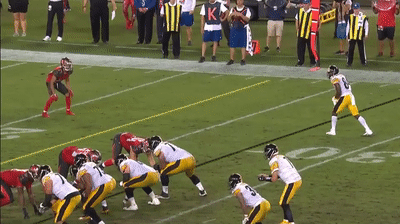 …but Father Time remains undefeated.
The potential for a resurgence will need to accordingly come from enhanced target share. The only problem with this is the fact that Brown's average of 11.2 targets last season was the second-highest mark in the league, and Carr has never fed a single receiver an average of double-digit targets per game since joining the Raiders in 2014.
Head coach Jon Gruden also doesn't have a history of force-feeding a single receiver. Overall, Gruden's No. 1 receiver has averaged 'just' 133.8 targets per season during his career as a head coach, and no single receiver has had more than 153 targets in a season.
AB hasn't finished with fewer than 154 targets in a season since 2012.
Gruden clearly respects AB's ability both on and off the field…
"(AB) is the hardest working man I think in football, hardest working player I've ever seen, practice … I've seen Jerry Rice, I've seen a lot of good ones, but I put Antonio Brown at the top."

— Jon Gruden on Antonio Brown back in December pic.twitter.com/GORtSaU8Hd

— Ian Hartitz (@Ihartitz) March 10, 2019
…but Oakland is hardly a fantasy-friendly situation for Brown to be entering.
I don't blame anyone for being annoyed with Brown's constant bickering at his teammates, or his blonde mustache, but the former sixth-round pick's work ethic should never be questioned.
The bigger issue is his quarterback and potential for lack of volume.
For these reasons I'm mostly #out on Brown at his current average draft position as the PPR WR7. There are a number of receivers going lower, such as Amari Cooper, Mike Evans and T.Y. Hilton, who are also clear-cut No. 1 options, and they boast more guaranteed target share in better overall offenses.
How would you rate this article?