Raybon: Why Aqib Talib Will Swing Your Super Bowl 53 Bets
Credit:
Mark J. Rebilas-USA TODAY Sports. Pictured: Los Angeles Rams cornerback Aqib Talib (21).
The Rams defense has been far better with Aqib Talib on the field and their splits with/without Talib can provide a betting edge.
Chris Raybon examines what makes Talib so good, how he could impact Super Bowl 53, and what it means for side, total, and prop bets.
If Aqib Talib and Wade Phillips continue their postseason trend, the overwhelming majority of Super Bowl 53 spread and moneyline bettors will not be pleased.
After having won Super Bowl 50 with the 2015 Broncos (aka the washed-Peyton Manning edition), Phillips and Talib will enter Super Bowl 53 with an all-time postseason record of 5-0 (or 4-1*, depending on how you're scoring at home).
What Makes Him So Good?
#DefensiveCoordinatorWins and #CornerbackWins aside, it's easy to see why Phillips and Talib work well together. Phillips relies on a 2-gap, 3-4 scheme that has proven effective time and time again — his defenses have jumped at least 10 spots in points allowed in Year 1 of each of his past seven stints as defensive coordinator — but it relies on strong execution to function optimally.
Execution is where Talib excels; this is not a guy who messes up often. This season, for instance, he played 500 snaps and has yet to miss a tackle, according to Pro Football Focus. He's missed just one over his past 1,253 snaps dating back to the start of the 2017 season.
Talib has allowed a completion of more than 14 yards in only two of his 10 games played this season. In three seasons with Phillips (2015, 2016, 2018), he has allowed just four touchdowns on 209 targets, or one every 400 coverage snaps, per PFF.
That's not to say Talib isn't also capable of splash plays. Since he entered the league, one of every 9.1 interceptions has been returned for touchdowns, but he has taken 10 of his 35 career picks to the house, or one of every 3.5. The two times he's gotten his hands on the ball this season have resulted in 47- and 30-yard gains.
The Talib Effect
It's not a stretch to say Phillips' pass defense has been a disaster this season when Talib is not on the field.
Using this season's pass defense numbers, the difference between allowing 6.5 and 8.5 yards per attempt would be the same as dropping from fourth to dead last.
In fact, it's wouldn't be an exaggeration to say betting on the Rams with and without Talib has been like betting on two entirely different teams.
Against the spread: 8-2 with Talib | 2-5-1 without Talib
Over/under: 6-3-1 under with Talib| 5-3 over without Talib
Opponent implied total: 4-6 with Talib | 6-2 without Talib
Talib doesn't shadow, but Marcus Peters did in Weeks 8-9 in his absence and got torched by Davante Adams (4-113) and Michael Thomas (7-146-1).
With Talib on the field at left corner, it allows the Rams to effectively take away a side of the field; they ranked second in Football Outsiders' DVOA at defending passes to the offensive right during the regular season despite Talib missing eight games. Talib's presence means less ground to cover for Peters and slot corner Nickell Robey-Coleman, and it shows up in their splits:
Peters: 75.7 passer rating, 1/2 TD/INT with Talib | 141.4 passer rating, 5/1 TD without Talib (via PFF)
Robey-Coleman: 68.3 passer rating, 1/1 TD/INT with Talib | 112.0 passer rating, 3/0 TD/INT without Talib (via PFF)
Particularly with this team, Talib's value over replacement is massive — because his backups are about as replaceable as they come: According to PFF, Sam Shields has allowed a 142.8 passer rating and six touchdowns on 34 targets, while Troy Hill has given up a 118.3 passer rating and five touchdowns on 43 targets.
On average, NFL offenses target wide receivers 59% of the time and average 8.1 yards per attempt when doing so. In games which Talib has been active, though, Rams opponents have targeted their wideouts at a rate that would be third-lowest in the league, and with efficiency that would tie for league-worst:
Opponent WR target rate: 53% with Talib | 57% without Talib
Opponent WR yards per target: 6.9 with Talib | 10.8 without Talib
Situational football will be key against a Patriots offense that has piled up 10 touchdowns and kicked only three field goals in the postseason, converting on a ridiculous 63.6% of their third-down passes along the way. This is another area where Talib has a major impact.
Opponent passing third-down conversions: 32.3% with Talib | 38.9% without Talib
Opponent red-zone pass success rate: 25% with Talib | 46% without Talib
With Talib and the non-awful version of Peters manning the outside, Phillips has more freedom to play single-high and dedicate more resources to stopping the run, rushing the passer, or covering underneath.
The former is why I'm buying the Rams' improved run defense in the postseason (22-50-2 vs. Dallas, 21-48 vs. New Orleans). According to sharpfootballstats.com, the Rams' defensive rushing success rate balloons from 44% to 52% in games Talib has missed.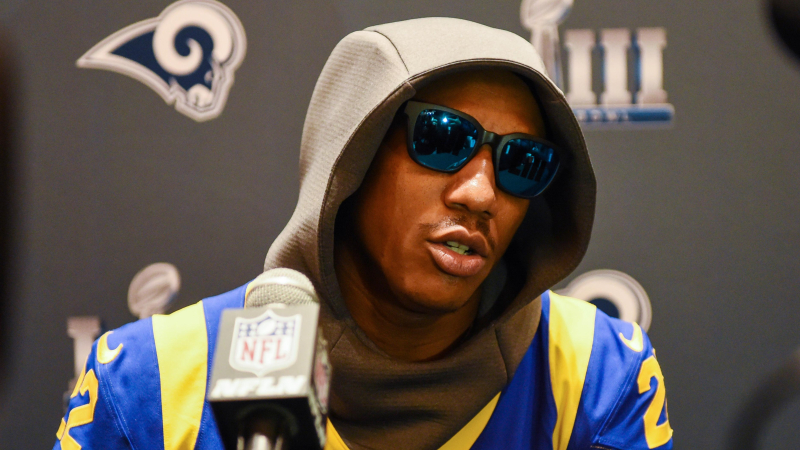 Betting Implications
Combining what we know about Talib's impact with other Action Network tools and data suggest value on quite a few bets:
Odds as of 4 p.m. ET on Friday, Feb. 1. View live odds here.
Rams spread (+2.5): Our Power Ratings give a slight edge to the Rams, and most sportsbooks' opening numbers did the same. I would hold out to get this at +3, though, because roughly 15% of all NFL games are decided by 3 points while only a fourth as many are decided by 2 points.
Rams moneyline (+120): If I couldn't get Rams +3, I would strongly consider the moneyline instead. Odds of +120 imply only a 45.5% chance of winning for the Rams in a game that's essentially a 50/50 toss-up.
Game total under (56): It seems like some sharp action is hitting the under, which has pulled in 58% of dollars wagered despite the over receiving the majority of bets (53%). Unders hit 60% and pushed 10% of the time in games with Talib, but given their relatively small average cover margin (1.4), I'd wait until closer to kickoff before making this bet in hopes that recreational betters stay true to their tendency of favoring overs, which could cause this line to tick back upward.
Patriots team total under (29.5): The Rams' third-down and red-zone success, their opponents' -2.4 cover margin relative to their implied total in games which Talib is active, and New England's failure to score more than 29.5 in six of its nine games outside of Foxboro this season all give value to this bet.
There are prop betting implications as well (by the way, player props are now in the Action App!). We know that Talib's presence funnels action away from wide receivers (particularly on the offensive right) and toward backs and tight ends, and it also could result in more red zone field goal attempts.
We can leverage this information by betting the over on receiving props for Patriots running backs and tight ends, as well as on field goal props for Stephen Gostkowski, and the under on receiving props for their wide receivers.
Unfortunately, many of the Patriots' receiving props are already so inflated that the over still wouldn't provide value.
However, there are two unders in the FantasyLabs NFL Player Props tool with a Bet Quality Rating of 8, which has produced a 502-357-18 record since Week 1, good for a win rate of 57.2%.
Phillip Dorsett under 29.5 receiving yards (-115)
Phillip Dorsett under 2.5 receptions (-140)
Forty-six percent of Dorsett's targets have been to the right, so we could see another game like the AFC Championship where Dorsett produced only one catch on three targets despite Brady attempting 46 passes.
Chris Raybon is a Senior Editor at the Action Network and a co-host of "I'll Take That Bet" on ESPN+. He has watched every snap of every NFL game since 2010 — even the kneel downs. Follow him on Twitter @ChrisRaybon and read about how he quit his accounting job and got paid to watch sports.