NFL Week 8 Buy Low Sell High Spots: Nor'easter on the horizon
Those of you who have followed me for a long time should be familiar with my weekly NFL "BLSH" (Buy Low Sell High) plays. It's a rather elementary approach to profiting from the extreme week-to-week market perception swings in a league filled with parity. The extreme popularity and magnified coverage provide a few opportunities each week in the NFL to bet on the consensus overreactions influencing the market. Remember that nobody is as good or as bad as they look each Sunday, unless you are the Browns.
BLSH Criterion
A potential BLSH spot occurs when a team who lost outright (and did not cover) the previous week plays a team that won outright (and covered) the previous week.
---
The above minimum requirement simply provides the potential BLSH plays for that week, but it is certainly not a science as I won't play every spot. There are exceptions based on matchup intricacies, situational advantages and a number of other potential variables.
I was not surprised to see that there are only two potential BLSH spots in Week 8, one of the lightest NFL cards of the entire season. We will only get two late games on Sunday afternoon, as six teams have byes this week (Cardinals, Packers, Jaguars, Giants, Rams and Titans).
I am staying away from the Redskins (+1.5), one of the buy low/sell high spots this week, due to major injury and weather concerns. Washington will try to rebound from a road loss in Philadelphia against their rival Cowboys at FedEx Field on Sunday afternoon. It's a good opportunity to sell the Cowboys traveling across the country after a 30-point blowout win in San Francisco. However, the Redskins simply have too many significant injuries along their offensive line for me to get involved right now.
Four of the five starting offensive linemen (Brandon Scherff, Trent Williams, Spencer Long, Morgan Moses) for the Redskins did not practice on Thursday. Additionally, two of their primary offensive line backups, Ty Nsekhe and Tyler Catalina, are also dealing with injuries. Sloppy weather conditions in the DC area on Sunday could make it very difficult to throw the ball, which would benefit the strong rushing attack of the Cowboys behind their dominant offensive line.
It is worth noting that the Cowboys will not have Dan Bailey available this weekend, which could be a factor if points are hard to come by in the Nor'easter. The situational spot is there, but I will need to re-evaluate once I get clarification on the statuses of the aforementioned Redskins offensive linemen, especially Scherff and Williams.
I avoided the Skins for now, but I did wager on the other BLSH spot…
---
49ers +13
Your favorite dream at night might consist of sitting on a sunny beach on a tropical island with a beer, which I totally get. However, my favorite dream involves sitting on a couch betting on an 0-7 NFL double digit underdog (after a 30-point home loss) against an overvalued 6-1 team on a short week in bad weather. With a beer, of course.
Well, dreams do come true. After a home win over the Redskins, everybody decided to crown the Eagles as Super Bowl champions and award Carson Wentz the MVP — despite the fact that Philadelphia has only defeated one team with a winning record (Panthers). Those same people also already forgot that the 49ers, prior to last week, lost five consecutive games by three points or less. The Westgate lookahead line for this game was +10.5 last week, but now the widespread overreaction from last Sunday gives us 2.5 points of additional of value.
Here are some other reasons why I fancy the 49ers:
Motivational Gap
I am fairly confident that the 0-7 49ers will come out focused and hungry for their first win after an embarrassing home loss last week. Conversely, the Eagles could get caught overlooking a winless team, especially after hearing all of the local and national praise this week.
Critical Injuries
The Eagles lost Jason Peters and Jordan Hicks for the year. It won't be easy to adjust to life without Wentz's future Hall of Fame blindside protector and the defensive signal caller, especially on a short week. I expect a breakout game from defensive end Solomon Thomas against Halapoulivaati Vaitai, who will be making his first career start at left tackle. Hicks not only called the plays on defense, but he was excellent in pass coverage. I expect the 49ers to take advantage with one of their few offensive strengths – short passes to their backs out of the backfield and tight ends over the middle.
Road Results
The 49ers have already demonstrated they can compete on the road. They lost four road games this year by a combined 11 points, including a two-point loss on a previous East Coast trip against the Redskins and a three-point loss at Seattle.
Supporting Trends
Since 2003, winless NFL teams getting 10 or more points are 51-36 (58.6%) ATS, and double-digit dogs after a double-digit loss are 47-18-1 (72.3%) ATS. If you are into these types of trends, make sure you check out betlabs.
Expected Weather
A Nor'easter is expected to pound the East Coast on Sunday, the fifth anniversary of Hurricane Sandy. Philadelphia could see up to three inches of rain and gusty winds, which could hinder the Eagles' passing offense against a weak 49ers secondary. Catching 13 points looks substantially more appealing in this matchup with miserable playing conditions.
Matchup Advantages
If you analyze the advanced statistics (adjusted sack rate, stuff rate, etc.) in the trenches, these teams are actually very similar up front on both sides of the ball. With the current weather forecast, one would anticipate a high volume of rushing attempts on Sunday. From a yards per play perspective, the rush defense and rush offense for the Eagles and 49ers are nearly identical. Prior to the Ezekiel Elliott explosion last week, the 49ers actually ranked in the top five in yards per rush. You will hear some say the Eagles possess the No. 1 rush defense, but that statement doesn't hold much merit. The Eagles are ranked No. 1 in total rush yards allowed per game, but nobody has really run it against them this season. The Panthers, whose rush offense has looked anemic, are the only team with more than 19 rush attempts against the Eagles in 2017.
Jason Witten made a ridiculous one-handed touchdown grab last week to become the first tight end to score a touchdown against the 49ers this season. I think San Francisco can contain Wentz's favorite target, Zach Ertz, who leads all NFL tight ends in receptions, yards and touchdowns.
Last Call
For those of you still hesitant to trust the 49ers in this spot, I will leave you with one final little nugget to illustrate the unpredictability of the NFL…
The Eagles, who are 0-5 ATS in their last five homes games as a favorite against teams with a losing record, have lost four of the last six games in which they were favored by 10-plus points. The four quarterbacks they lost to in those games were Joe Webb, Jamarcus Russell, Stephen McGee and John Skelton.
C.J. Beathard, who should be more comfortable in his second career start, might just join the list on Sunday.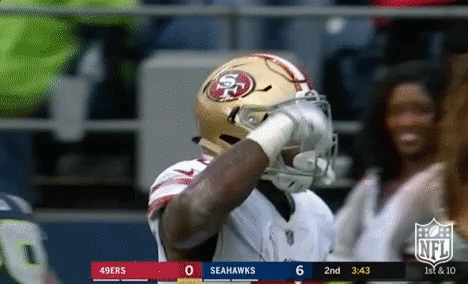 ---
Week 8 NFL Recap
Buy Low/Sell High Plays:
BLSH YTD: 10-7 (58.8%) +2.44 units
Other Pending NFL Plays:
Total YTD: 32-25 (56.1%) +5.07 units
Closely Monitoring:
Redskins OL injuries for a blsh play on the Skins
Bills secondary injuries for a play on the Raiders
Panthers OL injuries for a play on the Bucs
---
You can be a part of our growing community and also follow all of my plays for free by simply downloading the SportsAction App through the App Store or Google Play.