How the Brandin Cooks Trade Impacts His Fantasy Football Value, Deshaun Watson & More
Credit:
Lachlan Cunningham/Getty Images. Pictured: Brandin Cooks
The Texans made yet another move on Thursday, dealing their 2020 second-round draft pick to the Rams in exchange for Brandin Cooks (and a 2022 fourth-round pick).
The move has implications for the fantasy football values of various players. Our experts Chris Raybon and Sean Koerner detail how exactly it impacts their rankings and projections for the key Texans and Rams players involved.
---
Raybon
The Brandin Cooks who averaged 4.3 receptions for 69.3 yards and 0.43 touchdowns over his first five professional seasons suddenly went missing in 2019, replaced by an imposter who posted a 3.0/41.3/0.14 across 14 games.
While concussions were partly to blame, the main factor behind Cooks' disappearance was the disappearance of the Rams' deep passing game. Jared Goff struggled to get the ball downfield amid a deteriorating offensive line, finishing with the third-lowest deep passer rating among 36 qualifiers, according to Pro Football Focus. It rendered Cooks' deep-ball production relatively nonexistent compared to the rest of his career — including his rookie year when he played only 10 games:
2019: 4/130/0 on 17 targets (6 catchable)
2018: 11/370/2 on 24 targets (11 catchable)
2017: 16/608/3 on 36 targets (16 catchable)
2016: 11/544/4 on 24 targets (11 catchable)
2015: 13/489/6 on 32 targets (13 catchable)
2014: 4/153/2 on 6 targets (5 catchable)
Cooks is heading to his fourth team, which is almost unheard of for a productive former first-rounder entering his age-27 season, but the move comes with the benefit of perhaps the best deep-passing quarterback he's ever had in Deshaun Watson.
To say there was a stark contrast between the deep passing of Watson and Goff would be an understatement:
Watson: 33-of-74, 1,111 yards, 11 TD, 5 INT, 102.6 rating
Goff: 17-of-56, 544 yards, 1 TD, 4 INT, 44.0 rating
Watson threw deep on 14.9% of dropbacks, fifth-most of 36 qualifiers, while Goff's 8.9% rate was third-lowest, according to PFF.
Watson's proficiency on deep throws should help Cooks regain his prior form, but the former Ram could be ticketed for a much larger role. We don't necessarily think of Cooks as a true No. 1 receiver stylistically, but he's going to a team that just got fleeced for DeAndre Hopkins, and from a usage perspective, it's not like Cooks can't play that role: He's averaged at least 5.0 receptions per game in three different seasons.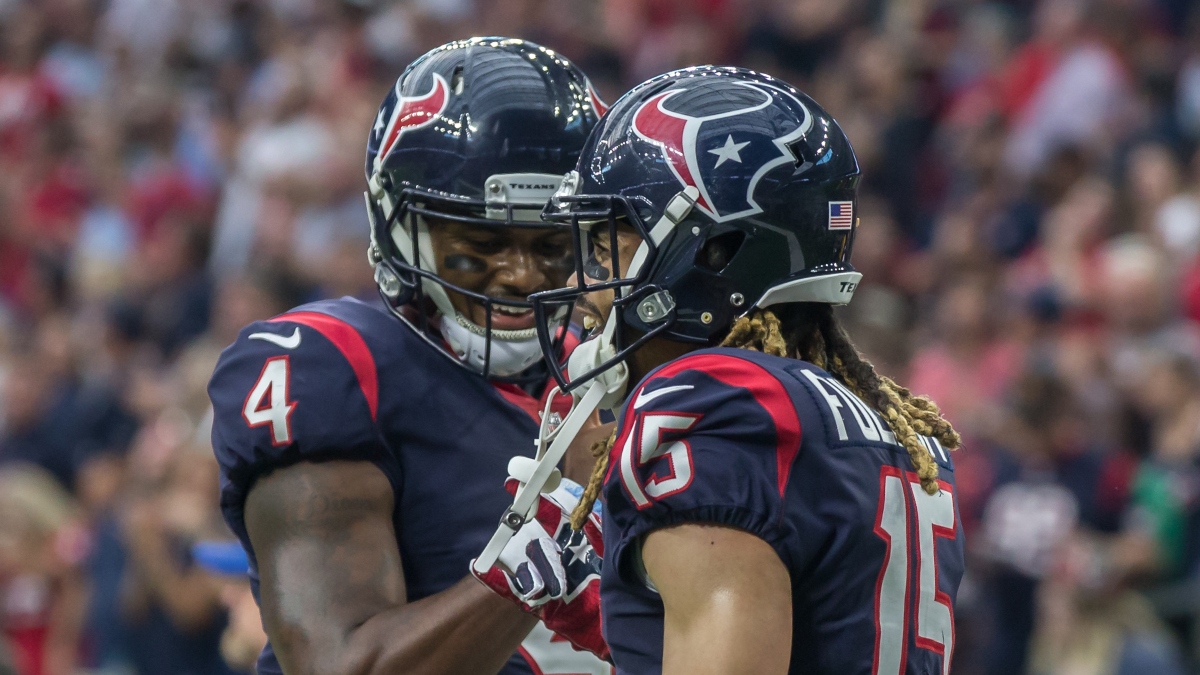 Cooks' presumptive challenger for that role, Will Fuller, has topped out at 4.6 and averages 3.7 for his career. That's not a knock on Fuller, just a point of context to put Cooks' ceiling in perspective and combat potential recency bias from his down 2019 campaign.
This move obviously dings Fuller, who is now less likely to see true No. 1 receiver usage. It also takes Kenny Stills and Randall Cobb out of fantasy starter conversation, and particularly puts a damper on Stills, who could end up stuck in the No. 4 receiver role if Cobb is used as the full-time slot receiver (Houston utilized all of its starting receivers in the slot last season).
I'd rate both Cooks and Fuller as high-end fantasy WR3s with WR1 upside.
Fuller's durability concerns are well documented, and Cooks remains a concussion risk, with any potential uptick in usage also coming with an increase of that risk. Stills and Cobb are WR4s who could cannibalize each other's production. Given the fragile durability of Fuller and Cooks, Stills does carry high upside as a bench stash.
This move also re-solidifies Watson as QB3 overall. Kyler Murray's Year 2 upside with Hopkins on board is enticing, but it's still only a projection until he goes out and does it. Watson has put up elite fantasy numbers every step of the way, and the addition of Cooks gives Watson a deep enough stable of weapons to continue producing at or near his career norms despite losing Hopkins.
In LA, this raises the floors of Cooper Kupp and Robert Woods even more — not that they were ever low — but ultimately could benefit Tyler Higbee the most. With a 43/522/2 rampage over the final five weeks of 2019, Higbee showed he could be a high-volume, top-three option for the Rams.
Barring a major addition at pass-catcher, it looks like head coach Sean McVay will give Higbee the opportunity to continue in that role. I think you can make the case that Higbee should be drafted as a top-five TE. At the time of the move, his average draft position at MyFantasyLeague.com as the TE12 is grand-theft larceny.
Koerner
Most of the fantasy fallout fallout from this trade affects other Texans and Rams players, but let's run through everyone it impacts, starting with Cooks.
Cooks
He had a rough 2019 season that was derailed by a 25-day span in which he suffered two concussions. It forced him to miss Weeks 8-11, but even after he returned, he was essentially the Ram's fourth option in the passing game.
Higbee had stepped up in a huge way and was often used as the Rams' main passing target. Therefore it was unlikely Cooks was going to offer much value in 2020, so his move to Houston is actually a significant boost to his value.
The Texans obviously have a gaping hole with Hopkins off to Arizona, but they have four WRs who are all going to command targets. Cooks should be a good fit with Watson, who is not shy about throwing it deep (ranked seventh in pass attempts of 20 or more yards last season). I have Cooks being a volatile WR3/4 entering the season.
Will Fuller, Kenny Stills & Randall Cobb
Despite losing Hopkins, the Texans are fairly deep at WR and there's a chance they also end up drafting another in a couple weeks.
Fuller gets a bit of a hit with Cooks' arrival considering they'll have to share those aforementioned deep targets from Watson this year. Fuller's fantasy value is typically attached to his ability to stay healthy, so he remains a high-risk, high-reward WR3.
Stills and Cobb likely moved down everyone's draft board, but I think they have some draft-and-stash value in the later rounds. Fuller battles injuries virtually every season and seems like a long shot to play all 16 games. And Cooks, as I mentioned earlier, has battled concussions his entire career and had to shoot down questions of his possible retirement from them. You would have to think that Cooks is in danger of missing multiple games if he were to suffer another concussion.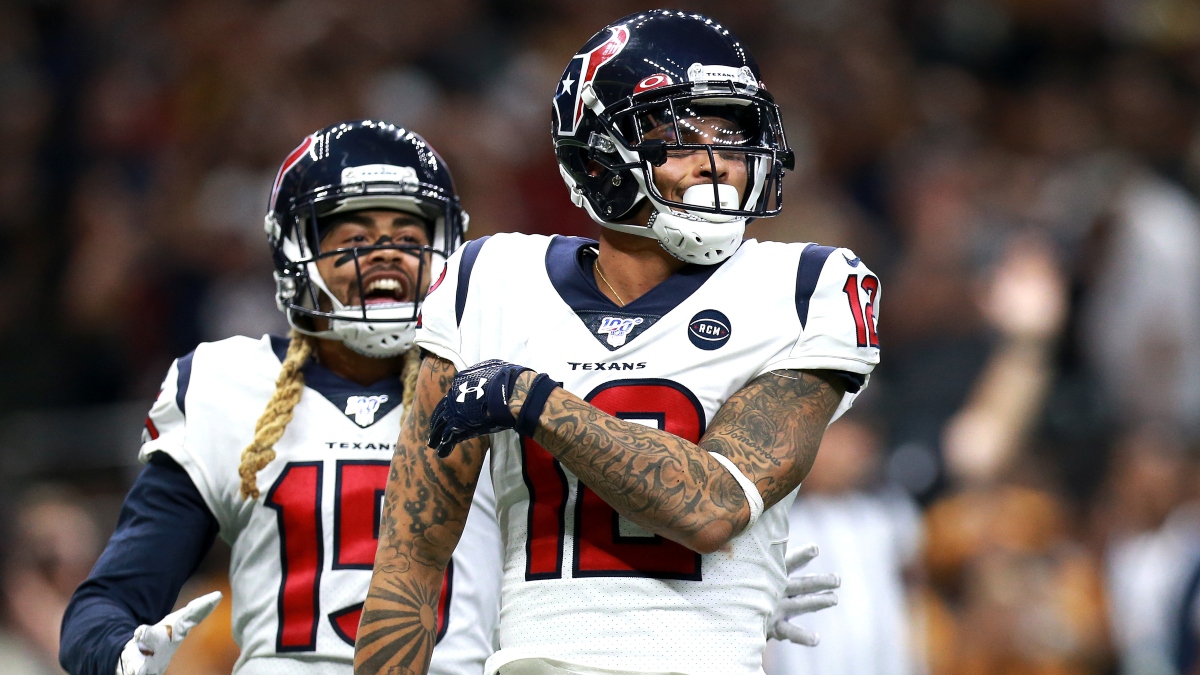 Stills and/or Cobb would likely step up in the event either Fuller and/or Cooks miss time in 2020.
Deshaun Watson
I downgraded Watson quite a bit as a result of the Hopkins trade. Since then, the Texans have done a fairly good job at filling out their WR depth chart by bringing in veterans like Cobb and now Cooks.
Watson will have enough weapons to work with to warrant a top-five ranking at QB. I currently have him as my QB5.
Jared Goff
Goff's value is relatively unchanged by this move. The Rams were using Cooks as the fourth receiving option in the second half of last season and limiting Goff's pass attempts down the field. I still view him as a mid-range QB2.
Cooper Kupp & Robert Woods
We should see more of the same from these two in 2020. Both are high-end WR2 options who will provide even higher weekly floors with Cooks out of the picture.
Woods was white-hot at the end of 2019 and has WR1 upside if he's able to maintain that level of play this season.
Josh Reynolds
Usually, I give Reynolds a massive upgrade anytime he's expected to fill-in for any of the three starting WRs. With Cooks out of the picture for good, however, I think we could see the Rams make an effort to run fewer 3-wide sets and feature more 2-TE sets. Reynolds will be the odd-man-out in that scenario.
He's nothing more than a late-round WR5/6 stash in deeper leagues.
Tyler Higbee & Gerald Everett
TE will be a position to monitor heading into 2020 for the Rams. Higbee was able to capitalize when Everett went down with an injury in Week 12. From Weeks 13-17, Higbee was the No. 1 TE in fantasy. Cooks' departure will only increase the chances we will see the Rams use Higbee heavily in the passing game.
We will need to monitor what the Rams intend to do with Everett. McVay has said he needs to "do a better job of utilizing Gerald Everett's skillset." I'm guessing this could mean we'll see more 2-TE sets from the Rams. If that is the case, we can draft Higbee as a mid-range TE1.
How would you rate this article?