2020 NFL Player Props: The 10 Most Valuable Picks to Make Right Now
Credit:
Wesley Hitt/Getty Images. Pictured: Mike Evans
The 2020 NFL season is months away, but season-long player prop markets are already offering value.
Let's run through 10 of my early picks below, complete with my projections for each player featured.
---
Odds as of April 3 and via PointsBet. Get up to $25 FREE and $250 in free bets at PointsBet today or see more offers and reviews for the best online sportsbooks.
---
RUNNING BACKS
David Johnson Under 1,259.5 Total Scrimmage Yards
David Johnson was likely to be Kenyan Drake's backup heading into 2020, so the trade from Arizona to Houston will likely give DJ a chance to be a workhorse back again.
Still, it's unclear how big of a role he'll have with Duke Johnson also capable of handling a sizable role. My guess is that David Johnson inherits a lot of the Carlos Hyde role and sees 12 to 17 carries a game.
David Johnson is a much more talented pass-catching back than Hyde, so I expect DJ to get his fair share of passing down work, too. However, Duke Johnson is very likely going to see most of his work in the passing game.
Any significant decrease to DJ's pass-catching role will lead to the under here. I'm projecting him to rush 210 times at a rate of 3.90 yards per rush, and for 42 receptions at 8.0 yards per catch. That comes out to 1,156 total scrimmage yards.
[Bet now at PointsBet. NJ and IN only.]
Le'Veon Bell Under Total 8.5 TDs
I'm having a bit of déjà vu with this prop.
Heading into 2019, one of my favorite season-long props was Le'Veon Bell under 8.5 rushing touchdowns — I felt that his move from the Steelers to the Jets was a significant downgrade in terms of scoring potential. That turned out to be the case as he managed to score only three rushing touchdowns despite playing in 15 games.
This 2020 prop, however, is the combination of rushing and receiving TDs. And while I have Bell projected for 7.5 total touchdowns this season — only one short of this line — there are plenty of hidden factors that favor this under.
For starters, Bell has racked up five seasons of 300-plus touches and will be turning 28 this season. It's fair to assume his body will likely start to break down and be on the decline in terms of his career trajectory. He was very durable last year and missed only one game (due to illness), but in three of his six seasons, Bell has missed three or more games due to various injuries and suspensions.
Any player who misses two or more games is likely going to see their season-long props go under, and Bell has a history of missing games that can't be ignored in this market.
Lastly, at this point in his career, his explosiveness is not what it once was. His four total touchdowns last year were the following yardages: 9, 2, 1 and 1. That tells me Bell relies on his offense to get into goal-line situations often to increase his TD odds. The Jets were the second-lowest scoring team last season, averaging just 17.3 points. They're unlikely to improve much this season, so Bell is likely to face similar struggles in terms of scoring opportunities.
[Bet now at PointsBet. NJ and IN only.]
Todd Gurley Under 1,050.5 Rushing Yards
Todd Gurley's arthritic knee was a significant question mark heading into 2019. I had him projected for 206 rush attempts, 920 yards and 10.1 rushing touchdowns, and he ended up with a 223/857/12 line.
While he beat out my projections in terms of volume, his efficiency was considerably down. Now it's safe to assume that, at 26 years of age, Gurley will continue to decline. He's also going from the 26th-ranked team in run blocking (per Pro Football Focus) to the 11th. This could help his 3.84 yards per rush from a year ago regress closer to his 4.3 career average.
I'm projecting Gurley to average 4.20 yards per rush in Atlanta, but this prop will ultimately come down to volume. I have him projected for 14.5 rush attempts per game to go along with 14.5 games played, so that's:
210 projected rush attempts * 4.20 yards per rush * 14.5 games played = 883 total rushing yards
A quick note about games played: The top 50 running backs in rush attempts per game last season finished with a median of 14.5 games played, which validates my long-time process of projecting RBs to miss 1.5 games (assuming there aren't other reasons to believe a RB will be more durable or fragile).
There are many reasons to favor the under when it comes to season-long props thanks to the various "outs" they offer.
Among those outs are any games a player misses due to injury or suspension as every game missed makes the under much more likely to hit. The markets tend to underestimate that factor.
Another out is a player not seeing the volume we expect them to because their teammates step into more prominent roles and eat into their overall volume.
The latter example could favor Gurley's under as we could see the Falcons use their backup RBs much more than we saw the Rams do last season.
We have to remember that Malcolm Brown suffered an ankle injury in Week 2 that eventually led him to miss three games and continue to nag him all year. Darrell Henderson, meanwhile, was not ready to handle many touches his rookie season. His poor vision and inability to pick up on the Rams' blocking scheme to find running lanes led to the coaching staff's lack of confidence in giving him an increase in snaps in an effort to keep Gurley fresh. Henderson's slow development forced the Rams to use Gurley much more than they would have liked.
The Falcons, meanwhile, run the ball considerably less than the Rams and have two backups — Ito Smith and Brian Hill — who already know how to run in this offense.
Atlanta will likely be able to have Hill spell Gurley on running plays, and spell Gurley on passing downs with Smith, which could allow the Falcons to keep keep Gurley fresh by keeping his rush attempts relatively low — one of the many reasons under 1,050.5 rushing yards hits about 70% of the time in my projections.
[Bet now at PointsBet. NJ and IN only.]
WIDE RECEIVERS
Mike Evans Under 9.5 Receiving TDs
I could see Mike Evans taking a step back with Tom Brady replacing Jameis Winston under center.
Winston led the NFL in pass attempts of 20 or more yards with 99 last season — Evans accounted for 25 as one of the league's premier deep threats. I think Brady would be the first person to admit his deep ball isn't what it once was, which means this new QB/WR combo will need to work on building their chemistry.
We'll have to see how this offseason takes shape as the COVID-19 pandemic continues to unfold across the country. If OTAs and/or training camps are scrapped, the Brady-to-Evans connection would be a work in progress in-season.
I say all this with the 9.5 TDs prop in mind — it's a pretty lofty number considering only two wide receivers surpassed it last season: Kenny Golladay (11) and Cooper Kupp (10). You could certainly argue that Evans has 10-plus TD upside with Brady under center, but I'm projecting Evans closer to eight.
The value play here is to take the under. However, if you'd rather bet on Evans' upside, it would be wise to wait for the most TD reception markets to open, for which I would expect Evans' price to be in the 6-1 to 15-1 range. Betting the over on 9.5 rec TDs is not much different than betting on Evans to lead the league in rec TDs, so you might as well invest in Evans' ceiling and get a much bigger payout!
[Bet now at PointsBet. NJ and IN only.]
D.J. Moore Under 90.5 Receptions
D.J. Moore is one of the best up-and-coming wide receivers in the game. Last season, he finished ninth in receptions among WRs, and that was despite missing nearly two full games due to injury.
Moore will enter Year 3 at just 23 years of age, and we can assume he hasn't hit his peak yet. However, a few key additions to the Panthers offense may prevent him from seeing the number of targets needed to snag 91-plus receptions.
Teddy Bridgewater will be the Panthers' Week 1 starter, which should bring the offense more stability after having to turn to Kyle Allen for most of 2019. Their defense lost a handful of key players this offseason — including Luke Kuechly to retirement — which should force the offense to stay uptempo and throw more.
As of now, I'm projecting Bridgewater to throw for 263.5 yards per game and the Panthers for a total of 4,200 yards through the air this year. So how many of those will go to Moore?
Let's start with the running backs.
Christian McCaffrey is in a tier of his own when it comes to target share — we can expect CMC to finish with somewhere between 100 and 115 receptions. It's also worth noting that Bridgewater was a checkdown machine to his RBs in his six starts for the Saints last season.
The WR corps, meanwhile, will look a bit different.
The Panthers have lost Jarius Wright and Chris Hogan, but added Robby Anderson, Seth Roberts and Pharoh Cooper. Anderson will command a more significant target share than we saw from the Panthers WR2-3 slot last year as opposing defenses will need to worry about CMC around the line of scrimmage, and Anderson will be a deep threat who keeps the defense honest. This should open up things for Moore, who operates in the more intermediate part of the field. But that should help his receiving yardage, not his receptions.
The TE group will be without Greg Olsen, who signed with the Seahawks, which means Ian Thomas should step into Olsen's role. But Thomas, Chris Manhertz and Seth DeValve will command fewer targets as a group than we would typically project for the Panthers.
After factoring everything in, I ended up with 80 projected receptions for 1,050 receiving yards and and 5.6 touchdowns for Moore.
[Bet now at PointsBet. NJ and IN only.]
Allen Robinson Under 92.5 Receptions + Under 1,180.5 Receiving Yards
It's critical that we don't view season-long player props through a fantasy football lens.
Allen Robinson is the perfect example of why.
Do I think he has a ton of potential for the 2020 season? Absolutely: He's the WR10 in my initial fantasy projections. However, I have him projected for 80 receptions and 1,010 receiving yards, so there's quite a bit of value on the unders of his season-long reception and receiving yard props.
In addition to the discrepancies between my raw projections and these two lines, let's run through a few key reasons that support taking the under on Robinson's receiving props.
Played In All 16 games In 2019
Season-long props come down to games played, and the lines often assume a player will play the entire season. But when it comes to wide receivers of Robinson's caliber, we should assume they'll miss 1.0 game per season. That shouldn't be a blanket assumption for all WRs, but it is a reasonable baseline for how many games we can expect starting WRs to play: The median games played for the top 100 WRs in targets last season was 15.
Playing all 16 games in 2019 played a large part in Robinson's final tally of 98 receptions and 1,147 receiving yards.
The Bears Became Very Thin at WR/TE In-Season
Robinson's target share climbed in-season due to the multitude of injuries to Chicago pass-catchers.
Taylor Gabriel, Javon Wims, Trey Burton and Adam Shaheen all missed significant time throughout the 2019 season. It forced players like Cordarrelle Patterson, Riley Ridley and Jesper Horsted to have significant roles down the stretch. And all this led to Robinson seeing a higher target share than we likely would have seen if the Bears had more average injury luck at these positions.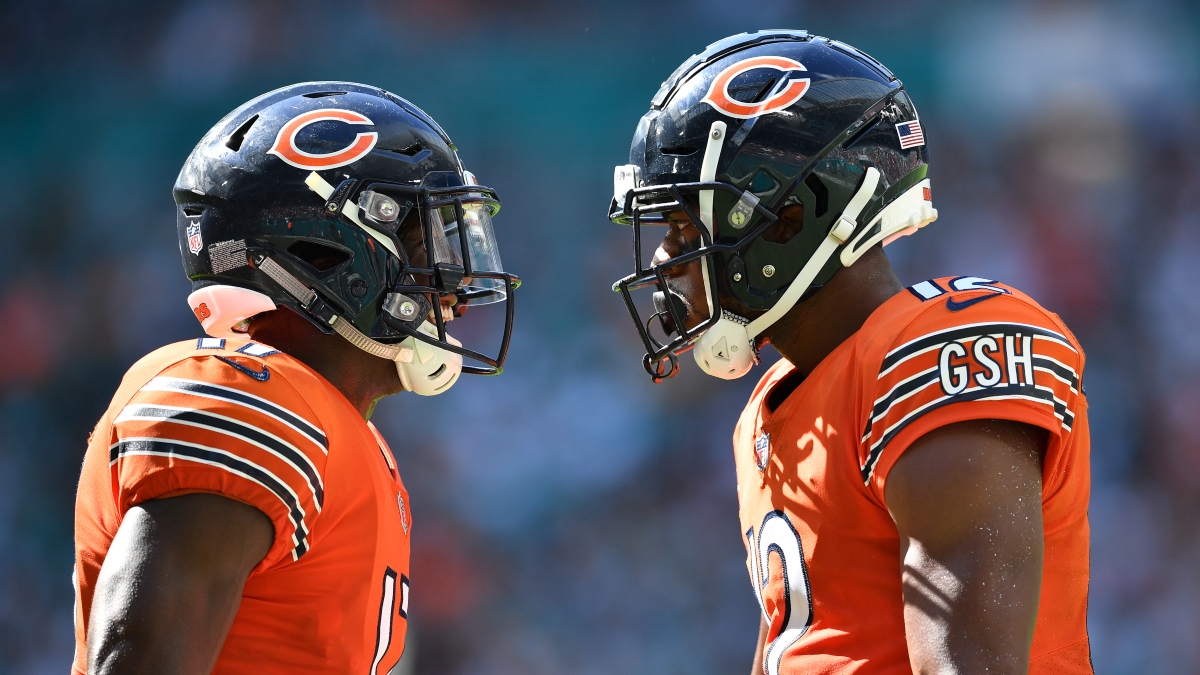 Anthony Miller ended up benefiting from these injuries toward the end of the year, too, but he began the season hobbled by an ankle injury that was also a factor in his slow start.
With Miller healthy heading into 2020 and the addition of Jimmy Graham at TE, the Bears should be able to spread the ball around more, lowering Robinson's expected target share.
Nick Foles at QB
This is not meant to be an additional reason why I like the unders on these two receiving props, but is worth addressing.
Foles potentially replacing Mitch Trubisky as the starting quarterback would give this offense more consistency, but that isn't saying much: Foles has been very inconsistent throughout his career. His highs include a 27-to-2 touchdown-to-interception ratio in 2013  and a Super Bowl MVP performance for the Eagles, but his lows include the 2015 season with the Rams and losing his job outright to Gardner Minshew in Jacksonville last season.
It's difficult to project which Foles we will see this season, but it's the built-in uncertainty that makes me hesitant to project Robinson to outpace last year's numbers.
I like the idea of doubling down on the under 92.5 receptions and under 1,180.5 receiving yards for Robinson. We're likely to go either 0-2 or 2-0 — my money is on the latter.
[Bet now at PointsBet. NJ and IN only.]
TIGHT ENDS
Zach Ertz Under 7.5 Receiving TDs
Zach Ertz has established himself as one of the NFL's premier pass-catching tight ends, but his production has primarily come via volume rather than touchdowns.
The league average TD rate (TD per reception) for tight ends is roughly 8.2%, but Ertz's career TD rate is 6.7%. That said, I'm projecting him to regress toward the league average with a 7.5% rate this season due to his expected decrease in overall volume.
Ertz has averaged 6.03 receptions per game over the past four seasons, but this season I'm expecting him to average closer to 5.2 per game. So at 15.0 projected games played with 5.2 receptions per game, 10.5 yards per catch and a 7.5% TD rate, I arrive at the following season-long projections for Ertz: 78 receptions, 820 receiving yards and 5.9 receiving TDs.
We have to keep in mind just how decimated the Eagles' wide receiver depth chart was for most of the 2019 season, which forced Carson Wentz to target Ertz even more last season. Here were the number of games missed by their top-three WRs:
Alshon Jeffery: 7
DeSean Jackson: 14
Nelson Agholor: 5
We should see Ertz's target share drop a bit with all of the Eagles' weapons back in 2020.
Another major factor that could cause his target share to decline is Dallas Goedert entering the prime of his career. Goedert is heading into Year 3 at just 25 years of age while Ertz will turn 30 during the season. In the next one to two seasons, we could see a change in the guard with Goedert eventually overtaking Ertz as being the team's top TE.
The expected downward trend for Ertz is another reason why I like the under on 7.5 receiving TDs.
[Bet now at PointsBet. NJ and IN only.]
Mark Andrews Under 10.5 Receiving TDs
Mark Andrews is a fascinating player to project for 2020.
The Ravens tight end is coming off a breakout season in which he caught 64 receptions for 852 yards and 10 touchdowns. And while there's reason to believe he'll improve on his receptions and yards this season, his scoring production could regress. I'm projecting him for 72 receptions, 886 yards and eight TDs as a result.
Let's break down how I arrived at those numbers, starting with his 2019 season.
He played in 15 games and sat out Week 17 in what was a meaningless game for Baltimore. But he battled shoulder, ankle and knee injuries throughout the season and was rarely playing at full strength. Still, I think the most significant factor that held him back was the three-way TE committee featuring him, Nick Boyle and Hayden Hurst. With Hurst now on the Falcons, it could open up Andrews for even more playing time — I'm expecting his rate of routes run per dropback to shoot up into the 70-75% range as a result.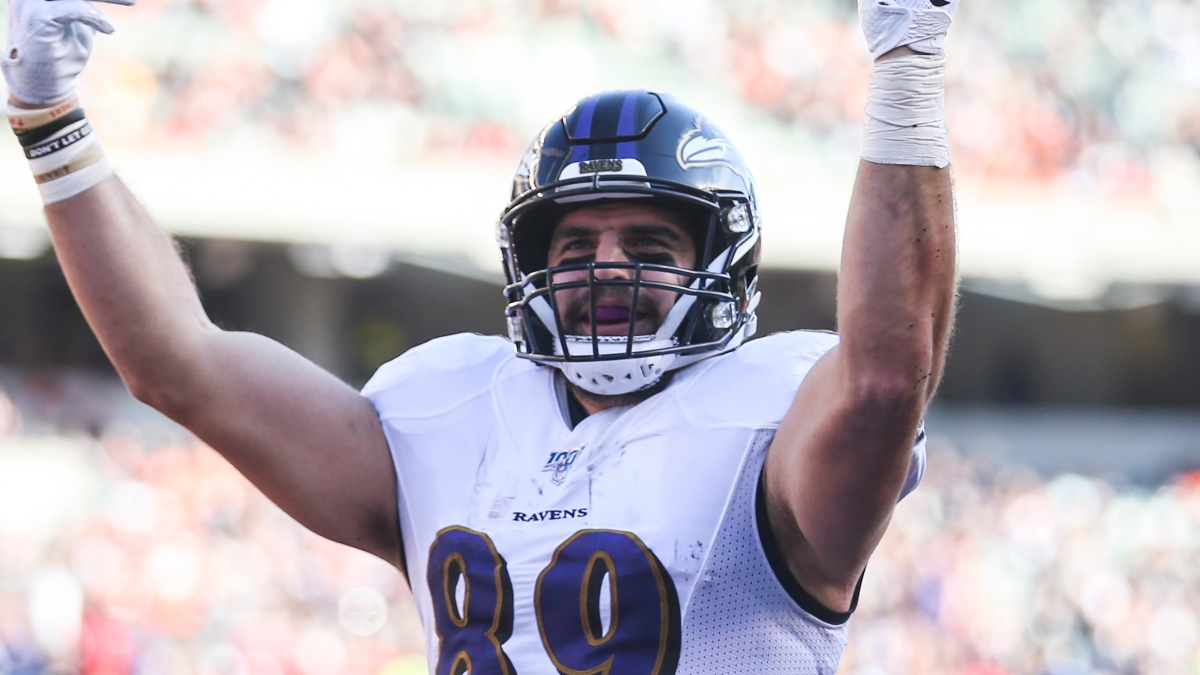 Looking at the Ravens' passing attack, Lamar Jackson managed to throw for 36 touchdowns despite throwing for only 3,127 yards. I don't think there's any reason to believe Jackson or this Ravens offense will slow down much, but some regression in TD production through the air is very likely. You could argue this will result in more passing yards to go around as a whole.
The Ravens ended up going 14-2 and were involved in four blowouts that allowed them to pull their starters for much of those fourth quarters. Even if they regress to a 12-4 or an 11-5 team this year, it should result in much more competitive games in which they need to keep their foot on the gas for much longer, meaning more snaps, targets and yards for Andrews overall.
But I fear Andrews' TD production is due for some regression.
He finished with a 15.6% TD rate (TDs/reception) last season — much higher than the league-average rate for TEs, which is around 8.3%. I would not assume that Andrews is an "average" TE or that the Ravens offense should be bound by such assumptions. However, we do have to scale back the TD rate expectations for both Jackson and Andrews this season.
I'm projecting Andrews for an 11.2% TD rate this year, and if we apply this to my rate stats for him I get 4.8 receptions per game and 12.3 yards per reception over 15.0 games played.
[Bet now at PointsBet. NJ and IN only.]
Darren Waller Over 4.5 Receiving TDs
Raiders tight end Darren Waller broke out in a huge way in 2019 with 90 receptions for 1,146 yards and three touchdowns.
Any fantasy football manager who picked him up in-season was rewarded with the No. 2-scoring TE. His massive yardage totals fueled that production, but his lack of touchdowns was a weakness. Heading into 2020, though, we should expect his yardage totals to regress significantly downward and his TD production to regress upward.
Before I dive into the math behind his touchdown projection, let's take a look at how the Raiders roster is currently set up: They brought in Nelson Agholor to complete their wide receiver depth chart, which features Tyrell Williams, Hunter Renfrow and Zay Jones. They also brought in Jason Witten to provide depth at TE. All of these players are capable of stealing targets from Waller between the 20s and will impact what is likely be a dip in targets, receptions and yards for Waller. As of now, I'm projecting him for 77 receptions and 872 receiving yards.
However, I'm projecting his TD production to shoot up from 3 to 5.5.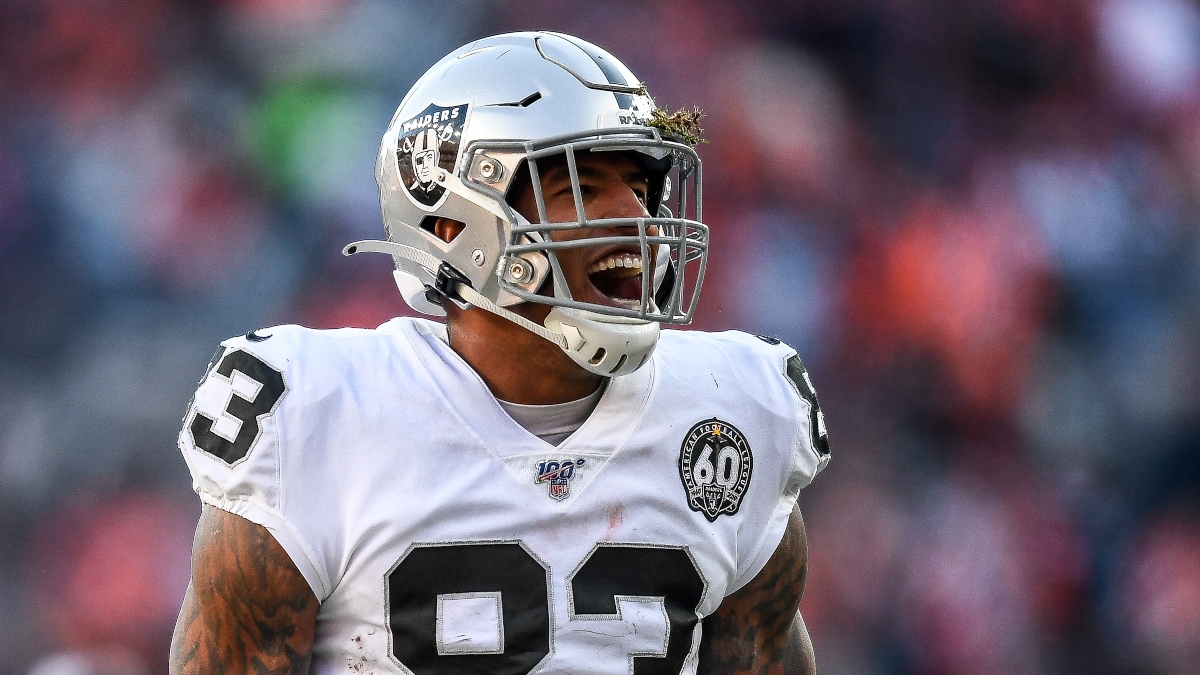 Of the pass-catchers highlighted above, the only one I consider a consistent red-zone threat is Williams. Still, there is no reason to think that Waller and his 6-foot-6, 255-pound frame won't be an asset in the red zone for the 2020 Raiders — his 3.3% TD rate (TD/reception) last season should be considered the result of bad luck rather than a reflection of Waller.
The TD rate for all TEs last season was 8.2%. If we were to apply that league-average rate to Waller last season, he would have averaged 7.4 TDs, therefore we can conclude he finished about 4.4 TDs below expectation.
Now I'm not saying we should project all TEs to have an 8.2% TD rate — many other factors influence a metric like that, such as the way a player is used in the red zone, the scoring capability of a given offense (especially in the passing game), etc. But I have factored all of that into Waller's projection for 2020, resulting in a 7.2% rate that would give him 5.5 touchdowns.
Take advantage of the expected positive regression from Waller in this metric.
How would you rate this article?