Chiefs vs. Browns Odds & Playoff Picks: KC Can Snap Its Losing ATS Streak With Sunday Cover
Credit:
Frank Jansky/Icon Sportswire via Getty Images. Pictured: Myles Garrett, Patrick Mahomes
The Browns are the biggest underdog left in the playoffs, but the Chiefs are better in every phase of the game.
Does Cleveland even have a chance against Kansas City? Our NFL analyst Brandon Anderson doesn't think so.
He makes the case for the Chiefs snapping their losing streak against the spread to cover on Sunday.
Chiefs vs. Browns Odds
Chiefs Odds

-9.5

Browns Odds

+9.5

Over/Under

56.5

Time

3:05 p.m. ET

Day

Sunday

Odds as of Sunday afternoon and via PointsBet, where you can bet $20 on this spread to win $125 Patrick Mahomes completes a pass.
The Cleveland Browns won an NFL playoff game.
The last time that sentence was true was New Year's Day of 1995. Michael Jordan was still retired the first time, O.J. Simpson was still on trial and eBay and DVDs had not yet been invented.
That's how long Cleveland waited for that miracle first quarter against the Pittsburgh Steelers that started with a fumble recovery touchdown on the game's first snap and ended up 28-0. The Browns went on to win, 48-37, and now they head to the Divisional Round to face the AFC's top-seeded Kansas City Chiefs.
The Chiefs were off last week and sat all their key players in a Week 17 loss. Before that, Kansas City had won 23 of its last 24 games, including last year's Super Bowl, of course. Andy Reid is practically invincible with a week to prepare at 23-5 lifetime, including 5-2 in the playoffs, and Patrick Mahomes is the reigning Super Bowl MVP and a perfect 4-0 against the spread in the playoffs.
The Chiefs are at home and geared up for another deep playoff run. Can the underdog Browns give them a run for their money?
Cleveland Browns
There's really no way around it: the Cleveland Browns are the worst team left in the playoff field. It's not Cleveland's fault. The rest of the field is loaded, and the only other team with a real argument is the Los Angeles Rams, and only because so many key Rams are hurt.
The Browns weren't even supposed to make it this far. The team has been ravaged by COVID over the past month with repeated positive tests and exposures sidelining both players and coaches. Head coach Kevin Stefanski missed his playoff debut last week and had to watch from his basement at home, and the Browns have been shorthanded at wide receiver and cornerback for weeks.
It finally looks like the team is healthy and moving forward. Cleveland will be very excited to welcome back Denzel Ward and his compatriots at corner against Mahomes. The only real Browns name in question is right tackle Jack Conklin, a mean run blocker.
Even after a dream game against the Steelers last week in which Cleveland caught a couple decades of luck all in one night, the Browns still rank only 12th in Football Outsiders' weighted DVOA — which measures overall performance with an emphasis on recent results — and puts Cleveland solidly last of all remaining teams.
The Browns have a nice, balanced offense, ranking in the top 10 in both passing and rushing DVOA, but the defense has been poor and unreliable all season. Cleveland's defense ranks in the bottom quarter of the league overall and is especially porous against the pass, and that's even with multiple games this season with offenses utterly wrecked by weather.
Even in a dream playoff game, the Browns gave up over 500 yards and four touchdowns to Ben Roethlisberger last week, and the defense looked like it might give the game away on more than one occasion. Even with a 28-0 first quarter lead, and even with Cleveland winning the turnover battle 5-0, the game remained competitive until the final minutes.
The Browns got a big step forward from Baker Mayfield over the second half of the season. He blossomed under Stefanski even with Odell Beckham Jr. out. Jarvis Landry had a big game last week, but Cleveland is at its best when the offensive line is dominating and Nick Chubb and Kareem Hunt are wearing down the defense. That keeps Cleveland's bad defense off the field and opens up the play-action pass downfield.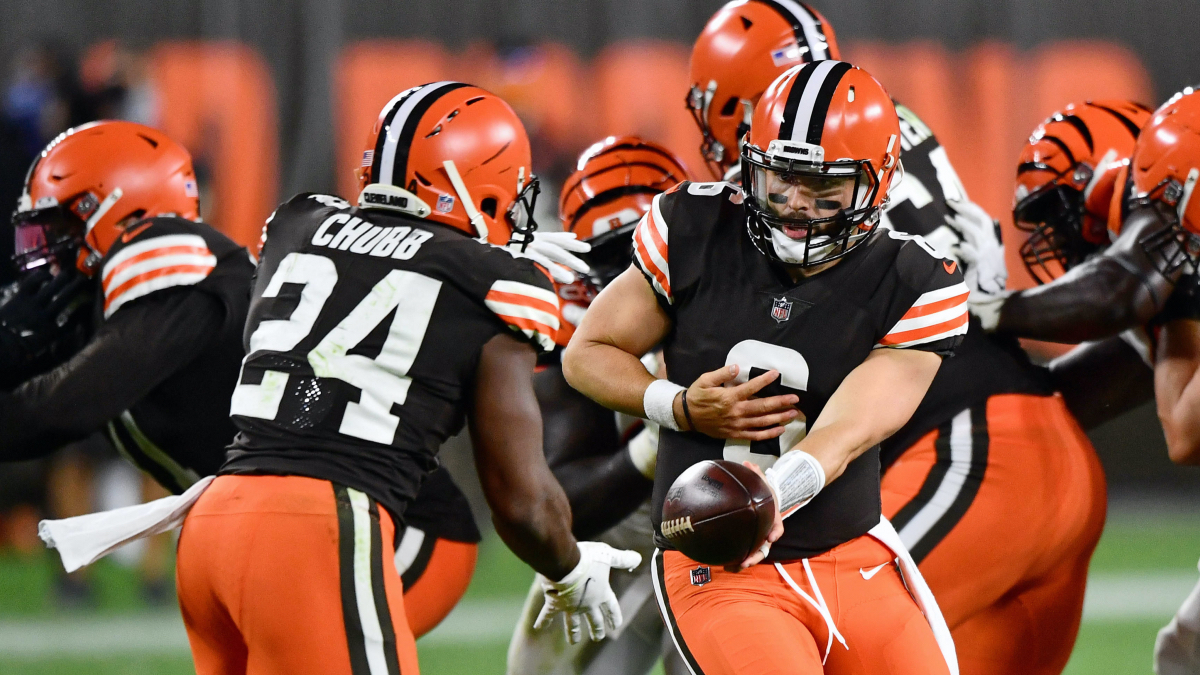 If the Browns can dominate the trenches and control the clock with the run game, they can keep Mahomes on the sidelines and give themselves a shot.
When the game script has been in Cleveland's favor this season, they have looked extremely good at times. But things have also turned in a hurry because of the defense.
---
Kansas City Chiefs
The good news for the Browns is that this game feature's the two worst defenses left in the playoffs, and Kansas City's hasn't been a whole lot better than Cleveland's for much of the year.
Last year's Super Bowl-winning defense wasn't exactly renowned but was at least average for much of the season and stepped up for a big playoff run. Kansas City will hope this year's defense can do the same.
The Chiefs' defense ranks only 22nd in DVOA, not far ahead of Cleveland at 25. Kansas City fares much better defending the pass. The Chiefs are great against wide receivers and can drum up a solid pass rush at times. But the Chiefs are quite terrible against the run.
Their defensive rushing DVOA ranks second to last, and teams have run the ball purposefully on this team all year, ripping off chunk plays and keeping Mahomes on the sidelines.
When Mahomes isn't on the sidelines, he's still the single best player in football. The Chiefs' offense was even better this year than it was a year ago, ranking right near the top of the league in passing and overall offense.
Tyreek Hill remains the most dangerous deep weapon in football, able to take the top off of the defense at any moment. Travis Kelce was the best tight end in football again this year. Sammy Watkins adds another weapon at receiver, though he looks questionable heading into this one. Rookie running back Clyde Edwards-Helaire is also a question mark but is expected to go, and the Chiefs have Le'Veon Bell back there, too.
And then behind it all is the maestro Andy Reid dialing up calls and the magician Patrick Mahomes making it all happen. Truly, it felt like the Chiefs were just screwing around for half the season, drawing up plays in the dirt and trying things out just because they could. The Chiefs' offense feels absolutely inevitable at times. No Browns lead would feel safe in this game.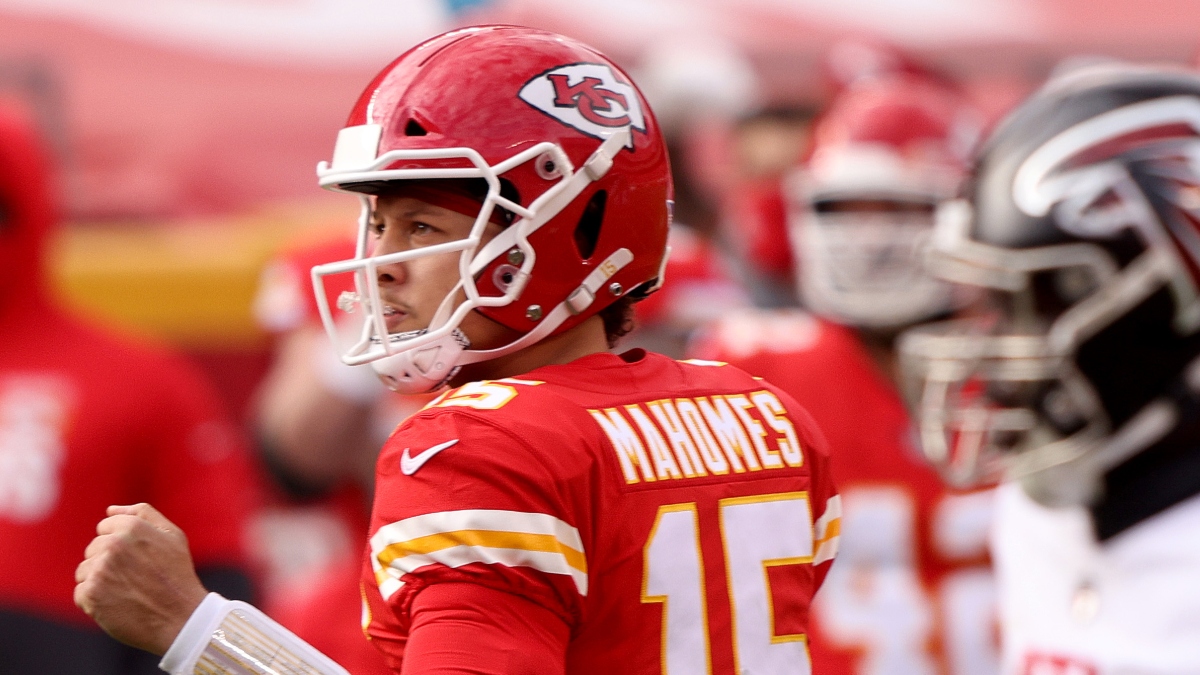 The Chiefs have won 10 straight games and are 8-0 in one-score games this season. Their last seven wins have come by less than a touchdown, though, and Kansas City continues to leave things up to Mahomes late far too often. It only takes one miss to end a playoff run, after all.
Still, the only real Chiefs loss all season came after almost 500 yards allowed to the Raiders along with a bevy of trick plays, and the Chiefs still darn near won that one.
This team is simply really hard to beat.
---
Browns-Chiefs Pick
It's been a dream season for the Browns, but it'll take something special to pull off the upset here. The Chiefs are better on offense, defense and special teams. They have a coaching advantage, home-field advantage and experience.
This is a massive mismatch.
And it gets worse.
Cleveland is one of the worst teams in the league against tight ends. The Browns are bottom five in Football Outsiders' DVOA on passes to tight ends as well as on third down and deep passes. You watch football, right? You've seen Travis Kelce and Tyreek Hill play? Those seem like bad weaknesses to have against the Chiefs.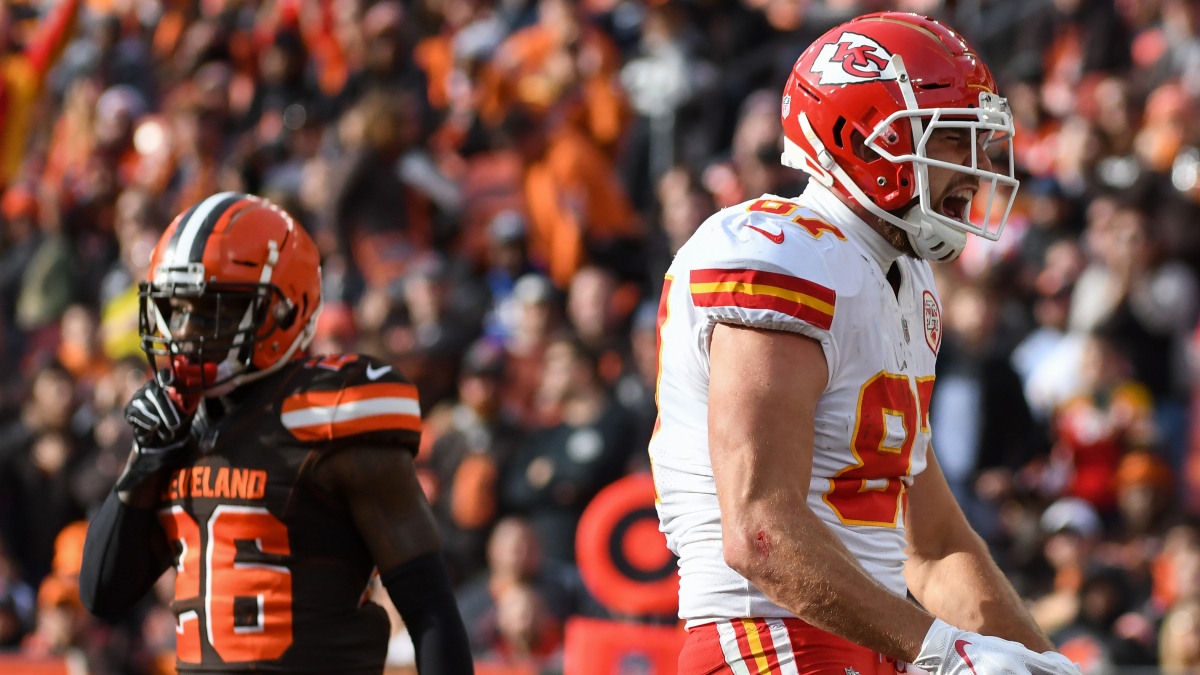 Remember how the Browns were up 28-0 after the first quarter a week ago? If that somehow happened here, I would run to bet on a Chiefs comeback. Look how close a bad Steelers offense got to pulling off an incredible comeback against these Browns, even with that horrid start and five turnovers.
The Chiefs will always have a shot in this one. Always.
If the Browns win, it would be because of their run game on both sides. It would mean their offensive line was the best unit on the field, that Kareem Hunt has a revenge game, and that he and Nick Chubb keep their offense on the field for 40-of-60 minutes. And it would mean a coaching failure on the other end, that the Chiefs over-committed to the run with a banged-up line against a defense that's at least decent against the run.
If all of that happens, Cleveland has a chance.
I can't get there.
The Chiefs should be able to name their final score in this game. Barring another sequence of Browns miracles or a Mahomes injury, the Chiefs should move the ball and score with ease. Nine times this season they scored 32 or more points, averaging nearly that number until taking their foot off the gas over the final two weeks.
The Browns have given up 34 or more points seven times this season, including five of seven games against teams above .500 — that also includes three of their last six games, and all three times they faced an offense that finished top 10 in DVOA.
In the end, I'm just trusting the team that's better at all facets of the game, better at coaching, healthier, faster, more creative, and nearly unbeatable with the best player in the game.
You might also fear a backdoor cover considering their last seven wins have come by less than a touchdown. If you are worried, you can bet on them to win by 1-5 points at +360 at PointsBet, or you can tease them down.
But in the end, I'm trusting the team that's better at all facets of the game, better at coaching, healthier, faster, more creative, and nearly unbeatable with the best player in the game.
Pick: Chiefs -9.5
How would you rate this article?