Buccaneers vs. Packers Odds & Picks: Bet Green Bay To Cover This NFC Championship Spread
Credit:
Getty Images. Pictured: Aaron Rodgers
Buccaneers vs. Packers Odds
Buccaneers Odds

+3

Packers Odds

-3

Over/Under

53

Time

3:05 p.m. ET

TV

FOX

Odds as of noon ET on Sunday and via PointsBet, where you can bet $20 to win $125 if Tom Brady throws for 43+ yards.
Tom Brady and Aaron Rodgers will go head-to-head for the second time this season and only the fourth time in their careers — Brady has won the last two meetings, but Sunday's matchup will have plenty on the line with the winner representing the NFC in Super Bowl 55.
In Week 6, the Buccaneers used a 28-point outburst in the second quarter to defeat the Packers 38-10 in what turned out to be Rodgers' worst statistical game of the season. To label this rematch as a revenge game for Rodgers would be selling him short. Rather, this NFC Championship could be the penultimate chapter in what's been an MVP-caliber season.
The narrative coming into this game will be that Rodgers has struggled in past NFC Championships, with only one win in four attempts. However, the key omission there is that all four of those games took place on the road.
This time around, Green Bay has the home-field advantage, and that could be the missing piece that vaults the Packers back to their second Super Bowl in exactly a decade.
Tampa Bay Buccaneers
The Buccaneers got a lot of things right when they beat the Packers earlier this season, holding Rodgers to just 160 passing yards and limiting their rushing attack to 94 yards.
Green Bay actually jumped out to a 10-0 lead in the first quarter, but the game turned on its head after Rodgers threw a pick-six from his own 22-yard line to Tampa Bay cornerback Jamel Dean. Rodgers then threw another interception on the Packers' next drive, which was returned to their 2-yard line to set up a short touchdown run by Ronald Jones.
Tampa Bay ended up blitzing Rodgers 18 times, pressuring him on 29.3% of his dropbacks and sacking him four times in the game.
After that impressive defensive performance, one would think other teams would look to follow the blueprint on how to beat Rodgers, but that hasn't been the case. And since there was no mass-adoption of this strategy across the league, my guess is that Rodgers' lackluster showing was more of an anomaly than anything.
The Panthers were the only Packers opponent to come close to the Buccaneers' pressure rate as they went after Rodgers on 27% of his dropbacks. The Packers ended up winning that game, 24-16, but don't let the scoreline mislead you because it was never that close: Green Bay never trailed and led 21-3 in the third quarter.
Tampa Bay's best defense will be its offense this time around. By that, I mean the Buccaneers need to control the ball and win the time-of-possession battle. They ranked 21st during the regular season with an average of about 29 minutes per game, but much of that had to do with their lack of commitment to running the ball — they ranked 28th with just 24 rushing attempts per game despite being in the top 10 of Football Outsiders' rush DVOA.
However, it seems like the Buccaneers are finally getting the message: They've averaged 32 rushing attempts in both of their playoff games.
The Bucs have yet to lose a game this season when they've run the ball 27 or more times. They'll need to keep that same approach if they're to have any chance at controlling the game against a Packers team that led the league with almost 33 minutes of possession per game.
While turnovers played a big role in Tampa Bay's win over Green Bay in Week 6, they're hard to quantify in a handicap because of the luck factor attributed to them. Rodgers threw two interceptions in that game — 40% of the interceptions he's thrown all season. Just in case you're a bit fuzzy on the math, it means he's thrown just five interceptions this season, so the chances of him having a repeat performance would be small.
As for injuries, Antonio Brown (knee) has already been ruled out while safety Antoine Whitfield (ankle) is listed as questionable after not practicing on Friday. Jason Pierre-Paul also did not practice, but that shouldn't be a surprise as he's been kept out of practice at many points this season, whether for rest or to avoid injury to his barking knee.
Tampa Bay does get a boost with the return of defensive lineman Vita Vea, who has been out since he suffered a fractured ankle in Week 5. He'll be added to their gameday roster.
Green Bay Packers
Having already lost to Tampa Bay earlier this season, you can be certain that Green Bay will watch plenty of film and make the necessary adjustments.
USA Today's Tom Silverstein detailed a good breakdown on some things that went wrong for the Packers — from the running game to poor decisions by Rodgers in addition to some key personnel not available for the game. And there are already examples that things could be being different this time.
For one, the Packers ran the ball only 21 times in that game, but they've averaged 28.25 rushing attempts since that Week 6 loss. Second, Rodgers threw two interceptions, but he's thrown only three in 12 games since and with each occurring in a different game.
Lastly, Rodgers has all his weapons available as receiver Allen Lazard is back with the team after spending six weeks on injured reserve.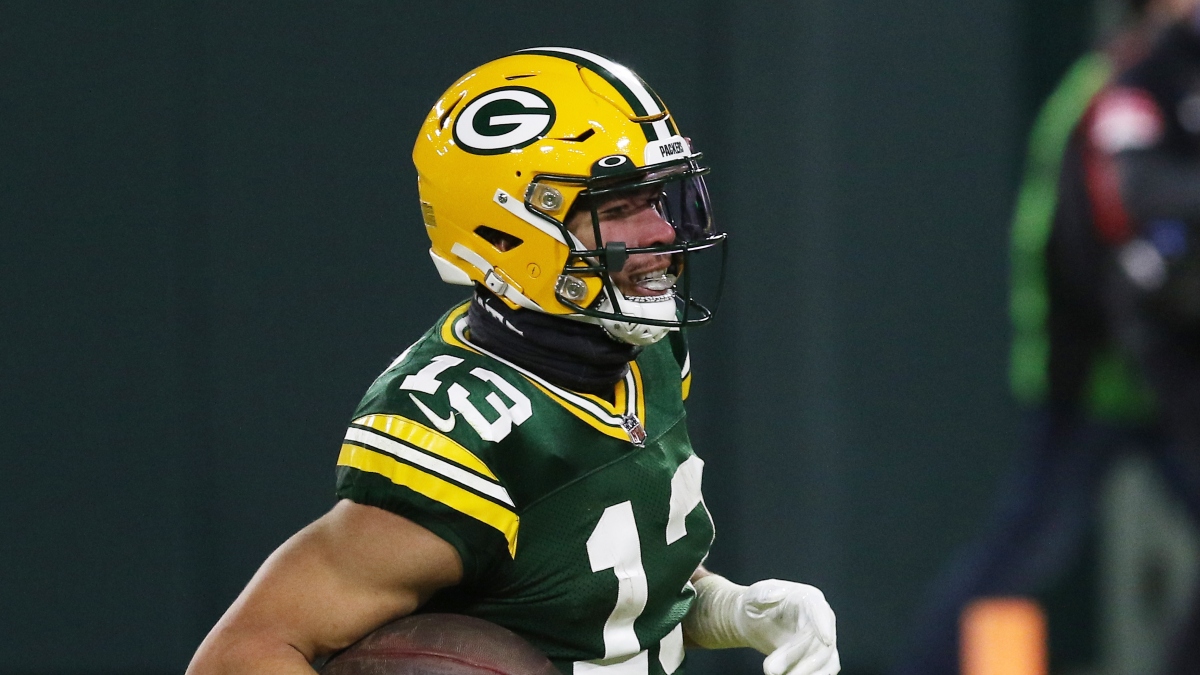 Lazard played a key role in the Packers' Divisional Round win over the Rams. The Iowa State product was a deep ball threat and was targeted eight times, finishing with four catches for 96 yards and a touchdown. I would expect him to be a big part of the game plan as the Bucs defense won't be able to sell out on the run or blitz as much as they did last time due to Lazard's ability to get behind them.
A big part of this game will come down to which team can maintain its commitment to running the ball to set up the play-action pass. The Packers showed a willingness to do this last week against the Rams, who finished third in rush DVOA — not only did the Packers run the ball 36 times, but they also finished with 188 yards on the ground.
Tampa Bay has the No. 1 defense in the league, but that shouldn't dissuade a Green Bay team ranked sixth with 4.8 yards per rush. The Buccaneers, meanwhile, are 24th with an average of 4.1 yards per carry.
Packers defensive lineman Kingsley Keke (concussion) has already been ruled out while cornerback Kevin King (back) is listed as questionable. To provide some depth, the Packers signed veteran cornerback Tramon Williams following his release by the Ravens after their Divisional Round loss to the Bills. Williams is familiar with Green Bay's defensive schemes as he's already had two stints with the Packers and was a key player during their 2010 Super Bowl run.
Buccaneers-Packers Pick
It was important to assess both teams head-to-head coming into this matchup before addressing why the home-field advantage could tip the scale in Green Bay's favor.
You'll hear a lot about how Brady is the GOAT of cold-weather games, but what does that have to do with the Bucs as an overall team?
🏈 Road trip to Green Bay. No palm trees. Cold, snow, wind. Cold weather advantage to the home team? Maybe. Did you know that @TomBrady has been called by some as the "best cold weather quarterback of all-time" with his 13-2 record in cold weather playoff games.#GoBucs #LetsGo pic.twitter.com/WXiiJRPkky

— Ric Kearbey WTSP (@RicKearbeyWTSP) January 18, 2021
According to our Action Labs database, the Bucs are 26-48-2 (-23.3 units) against the spread (ATS) in games for which the temperature is below 65 degrees. And in games for which the temperature is below 40 degrees, they're 1-4 ATS.
I'm not sure if there's a team in the NFL that has a bigger home-field edge than the Packers — especially if we're talking about football played during colder months. In Week 16, we saw the Titans look almost helpless at Lambeau Field, with some players even lacking the right footwear to get a firm footing on the surface.
Can we really trust this Tampa team to be in command of even the subtlest of nuances for this game?
Sunday's temperature could be as low as 26 degrees, with winds up to nine miles per hour. The wind speed could be strong enough that it's a factor, and I'm not sure if Brady still has the arm strength to handle those conditions.
Green Bay backers would be happy to know that Rodgers has a +44.4% Return On Investment in games for which the temperature is 32 degrees or colder, and he's 8-1 ATS in his last nine games in this spot.
Here are two more things to keep in mind: The home team has won and covered the spread in all three matchups involving Rodgers and Brady. And home teams in conference championships are 10-4 ATS (+5.31 units) dating back to the 2013 season.
All things seem to point to Green Bay. The Packers were 3-point favorites for much of the week (check real-time odds here) before the consensus number ticked up to -3.5, but now it's back down to -3 at multiple books, including PointsBet. If you don't have access to -3, though, it would cost only an additional 15 cents to buy it at a book like BetMGM.
PICK: Packers -3
How would you rate this article?