Ranking the 4 Teams That Would Benefit Most From Signing Cam Newton or Jameis Winston
Credit:
Getty Images. Pictured: Cam Newton, Jameis Winston
While the NFL offseason has already brought a bevy of NFL QB changes, there are still a couple of fish yet to find water: Cam Newton and Jameis Winston.
Below, I've ranked four of their potential landing spots by which franchises they would provide the biggest upgrade to relative to game spreads.
Interceptions notwithstanding, Winston has put up gaudier numbers than Newton of late, but Winston also had the benefit of a lot more firepower at receiver via the likes of Mike Evans, Chris Godwin and DeSean Jackson, among others. After accounting for that, I have Winston and Newton rated roughly the same in terms of impact to the spread.
In a vacuum, I project each to be worth 1 to 1.5 points below that of a league-average quarterback, with Winston carrying a wider range of outcomes (i.e. a higher ceiling if he could find a way to cease being an interception machine).
1. Washington Redskins: +2.5
As I discussed in my piece on whether Patrick Mahomes truly benefitted from redshirting his rookie year: Most quarterbacks that go on to have successful NFL careers these days are good right away. Calling Jared Goff "good" may be a stretch at this point, but his Year 2 leap involved going from Jeff Fisher to Sean McVay. Dwayne Haskins going from Jay Gruden/Bill Callahan/Kevin O'Connell to Ron Rivera/Scott Turner doesn't exactly inspire the same amount of confidence. Neither does going from Ron Rivera/Scott Turner to … Ron Rivera/Scott Turner, as the is the case for Kyle Allen.
Two bad starters does not equal one good starter, and Haskins and Allen weren't just bad last year — they were the worst. Literally: Of 33 quarterbacks with at least 200 pass attempts last season, Haskins' 4.25 adjusted net yards per attempt ranked dead last, one spot below the newly-acquired Allen's 4.75 mark. (Rivera has seemingly wasted no time in continuing Washington's tradition of stockpiling players who will not help the team win.)
If you've seen the 2019 Best Picture winner Parasite, Washington's quarterback room is akin to the lowest-class, basement-dwelling family — and then down a couple more rungs. I would stop short of writing off Haskins just yet, but statistically speaking, he's fighting an uphill battle just to make the leap to being a merely average NFL signal caller.
Until Haskins (or Allen) provides evidence to the contrary, I'm viewing the Newton/Winston purgatory as clearly superior to the Haskins/Allen hell. I hope I'm wrong — if not for the sake of the long-suffering D.C. fanbase, then for the sake of the giant Haskins head collecting dust in Lee Corso's garage, but this is an @OldTakesExposed risk I'm willing to live with.
DraftKings Sportsbook currently lists Newton as +800 and Winston as +2000 to go to Washington.
2. New England Patriots: +2.5
Newton to the Pats would be fun. But it probably won't happen: DraftKings lists New England at +800 to land Newton (and +1200 to land Winston).
Jarrett Stidham — a 2019 fourth-round pick from Auburn who flashed last preseason — is reportedly in the driver's seat for the F-You Tom Brady starting role, while the veteran in the room is no longer Brady, but a comparatively young 39-year-old Brian Hoyer.
That Stidham isn't ready for the starting role based on his disastrous relief appearance for Brady in which he threw a pick-six and took a sack in four dropbacks is small-sample nonsense, but there are plenty of other logical reasons to doubt an unproven Day 3 pick who regressed during his final season at Auburn amid a shaky supporting cast.
3. New York Jets: +1.5
The Jets finished 6-2 last season, which obscured the fact that Sam Darnold was not very good — he ranked just 25th in adjusted net yards per attempt (5.50).
Quarterbacks who end up having successful careers in the NFL tend to be good right away. Darnold is still young — he'll be 23 when the season kicks off — so he deserves one more season to turn things around. But from a predictive standpoint, his growing sample of subpar quarterback play is growing extremely worrisome.
Since Darnold entered the league in 2018, 20 quarterbacks have attempted 800 or more passes, and Darnold ranks dead-last among them in adjusted yards per attempt (5.50). In pure net yards per attempt, he actually regressed by 0.06 yards from his rookie season. He also ranks last among those quarterbacks in completion percentage, third-worst in interception rate (3.27%), fourth-worst in TD rate (4.2%), and fifth-worst in sack rate (8.9%).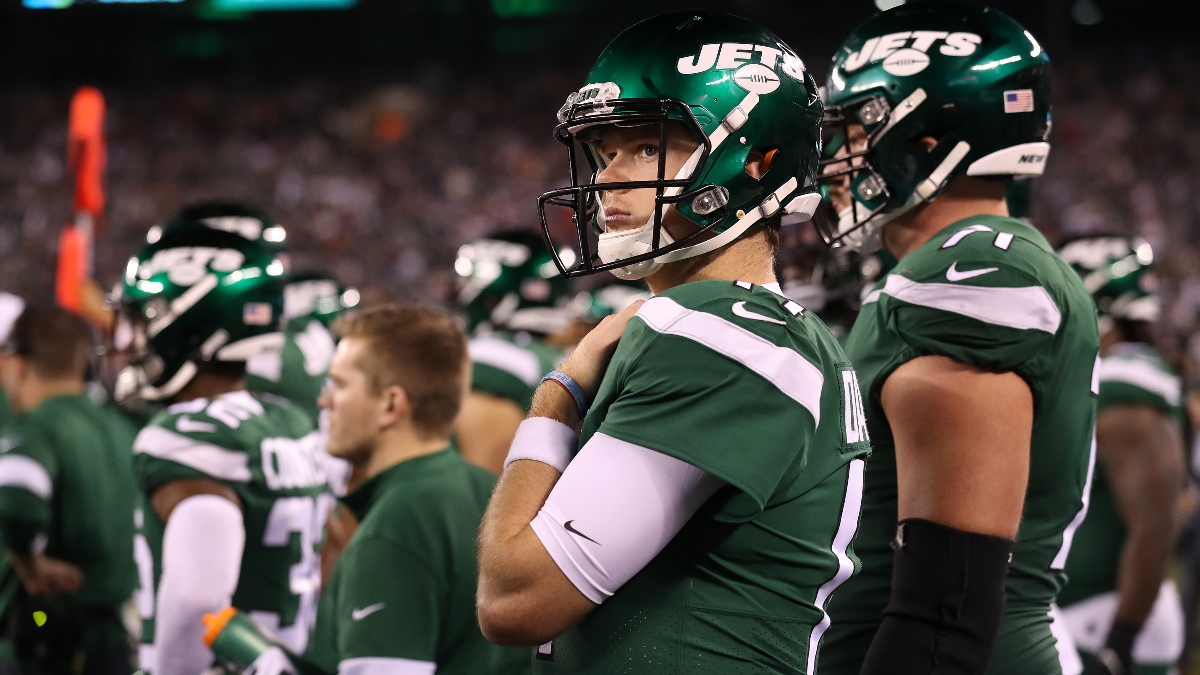 Passing metrics tend to stabilize (exceed the 50% threshold in terms of skill vs. luck) after one- to two-seasons worth of dropbacks, so Darnold needs to take a major step forward to alter his career trajectory — and to become worth more to the spread than known quantities like Newton and Winston.
4. Los Angeles Chargers: +1
Tyrod Taylor is the quintessential game manager, aka fanbase expectation manager aka bridge quarterback.
It's hard to remember a time when Taylor has colossally screwed up. The most famous screw-up he's been involved with was not even one of his own doing, but of Sean McDermott — his head coach in Buffalo at the time — who benched Taylor for Nathan Peterman, who proceeded to throw five picks in a half of football.
Taylor is a low-volume passer whose mistakes tend to be made subtly, in the form of missed opportunities to hit open receivers that happen offscreen and require All-22 footage to expose. But ultimately, Taylor is a clear downgrade from Philip Rivers, and his upside is not quite on par with Newton or Winston.
The Chargers play at one of the slowest paces in the league and should field a strong defense, so they are well-positioned to get by with Taylor for the time being if needed.
How would you rate this article?