Who Is Orlando Apollos WR Charles Johnson?
Credit:
Soobum Im-USA TODAY Sports. Pictured: Charles Johnson
Orlando Apollos wide receiver Charles Johnson leads the Alliance of American Football in receiving through two games.
Is Johnson, who was drafted by the Packers and bounced around the NFL, on the verge of revitalizing his once-promising career?
Entering Week 3 of the Alliance of American Football, one wide receiver has emerged as a potential star: Charles Johnson.
He leads the league with 11 receptions and 252 yards receiving. Of any player with more than just three catches, he has an Alliance-high 22.9 yards per reception.
Johnson is the primary playmaker on a high-flying Steve Spurrier-coached Orlando Apollos team that has led the league in scoring each of the past two weeks with 40 and 37 points. And Johnson led the Apollos in Weeks 1-2 with five and 10 targets.
Johnson looks like daily fantasy money.
Really, he looks like someone who could (maybe should) be playing in the NFL.
All of which raises the question: Who is Charles Johnson?
Charles Johnson: 2013 Packers Draft Pick
Former Packers general manager Ted Thompson has a true eye for skill-position talent, so much so that I once referred to him as Football Sex Personified.
His very first draft pick was quarterback Aaron Rodgers, selected at No. 24 in the 2005 draft. That's pretty good.
Over the next few years, Thompson got Rodgers the receivers with whom he'd win a Super Bowl in 2010.
2006: Wide receiver Greg Jennings (Round 2)
2007: Wide receiver James Jones (Round 3)
2008: Wide receiver Jordy Nelson (Round 2), tight end Jermichael Finley (Round 3)
And after winning a championship, Thompson continued to add talent.
2011: Wide receiver Randall Cobb (Round 2)
2013: Running back Eddie Lacy (Round 2)
Say what you want about any of these players, but all of them had multiple seasons of significant fantasy relevance.
Thompson knows talent when he sees it — and he saw talent in Johnson, even though he played only Division II football at Grand Valley State.
Thompson drafted him in 2013 with pick No. 216.
Charles Johnson: The Original Jeff Janis
A Packers seventh-round receiver selected as a developmental prospect out of the Great Lakes Intercollegiate Athletic Conference …
Sure, that description fits folk hero, 2014 draft pick and 2015 playoff hero Jeff Janis — but it also fits Johnson.
Johnson is the original Janis. People forget about him, but he was first.
Everyone knows about Janis: Amazingly productive in college and impressively athletic at the combine.
But compared to Janis, Johnson held his own as a prospect.
His early college years were admittedly not great. Johnson caught just a few passes as an 18-year-old true freshman at Eastern Kentucky, and then he was suspended from the team as an unwitting accomplice to an on-campus theft committed by his roommate.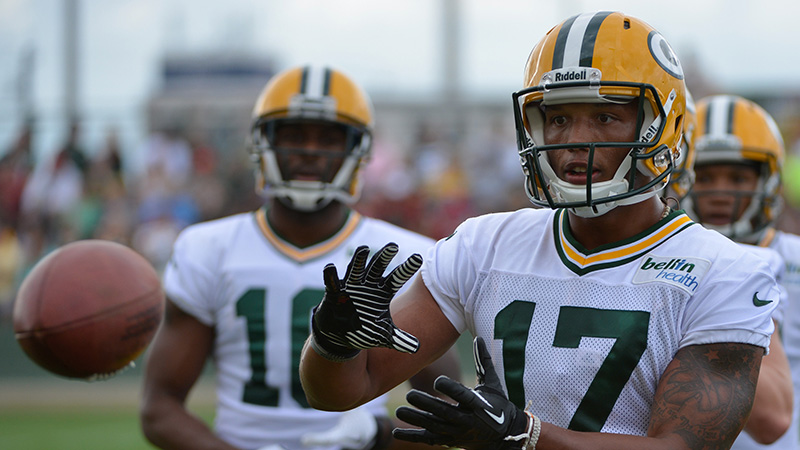 As a sophomore he transferred to Antelope Valley Community College, where he played as the No. 1 receiver. But in a run-heavy offense, he managed just 24 receptions, 231 yards receiving and three touchdowns in 10 games.
And then he took a year off from college because his father had a life-threatening illness.
Promising his dad that he would eventually play in the NFL and get drafted, Johnson enrolled at Grand Valley State, where he had to redshirt his first year on campus.
Finally, as a double-redshirt junior, Johnson broke out in 2011 with a 56-1,030-15 campaign in 11 games. And then in 2012, Johnson did even more for his final season, putting up a 72-1,199-16 receiving stat line in 11 games.
His market share of 42.5% of the team's receiving yards and 57.1% of the receiving touchdowns was utterly elite.
And then at his pro day, he blew scouts away. At 6-foot-2 and 215 pounds, Johnson displayed world-class explosiveness.
40-yard dash: 4.39 seconds
Vertical jump: 39.5 inches
Broad jump: 133 inches
As a prospect, Johnson was comparable to other small-school receivers who had found NFL success: Vincent Jackson, Miles Austin and Marques Colston.
He was even comparable to Donald Driver, the longtime Packers No. 1 receiver whom the team drafted out of Alcorn State in the seventh round in 1999.
Driver retired after the 2012 season, and then a few months later the Packers drafted Johnson to take his roster spot.
Johnson was supposed to be the next great small-school Packers receiver to catch passes from a Hall-of-Fame quarterback.
What happened?
Charles Johnson Tore His ACL Without Knowing It
On the second day of training camp, Johnson tore his ACL. That's a season-ending injury … except the team didn't diagnose him with a torn ACL. Rather, the team doctors reportedly said that he had a sprained MCL.
Instead of being placed on the injured reserve, he continued to practice.
Naturally, his injury slowed him down, and he failed to impress. He was among the team's final preseason cuts, but the Packers did sign him to the practice squad, hoping to stash him there throughout the year.
But in October, the Browns found themselves needing more wide receivers, and general manager Mike Lombardi (like Thompson, a keen evaluator of talent) signed Johnson off the Packers practice squad.
And then the Browns tested Johnson and found his torn ACL. He had surgery and was shut down for the rest of the year.
If the Packers had discovered Johnson's 2013 preseason ACL injury when he suffered it and placed him on IR, he might have been a planned part of their future. Maybe they wouldn't have drafted Janis in 2014 or second-rounder Davante Adams. And maybe they wouldn't have drafted third-rounder Ty Montgomery in 2015.
Maybe Johnson would be a top-five receiver in the NFL today.
Charles Johnson Was a Silent Star in 2014
After just one year as general manager, Lombardi was fired, and the Browns hired the uninspiring Ray Farmer to replace him.
Although Johnson rehabbed amazingly quickly, he was still not at 100% capability entering the 2014 season, but rather than carry him on the roster as offensive coordinator Kyle Shanahan wanted, the Browns put Johnson on their practice squad.
In Week 3, the Vikings signed Johnson away from the Browns and eased him into offensive coordinator Norv Turner's offense. In Week 11, just a little over a year removed from his knee surgery, Johnson emerged as the No. 1 receiver for rookie quarterback Teddy Bridgewater.
Over the final seven weeks of the season, Johnson captured 25.97% of the team's receiving yards and 18.18% of the receiving touchdowns. Those numbers might not seem special, but let's put them in context.
In 2018, wide receiver Robert Woods easily had the best campaign of his career. He led the Rams in targets, receptions, yards receiving and touchdowns receiving. The Rams had one of the league's best offenses and made the Super Bowl.
Woods accounted for 25.77% of the team's receiving yards and 18.75% of the receiving touchdowns.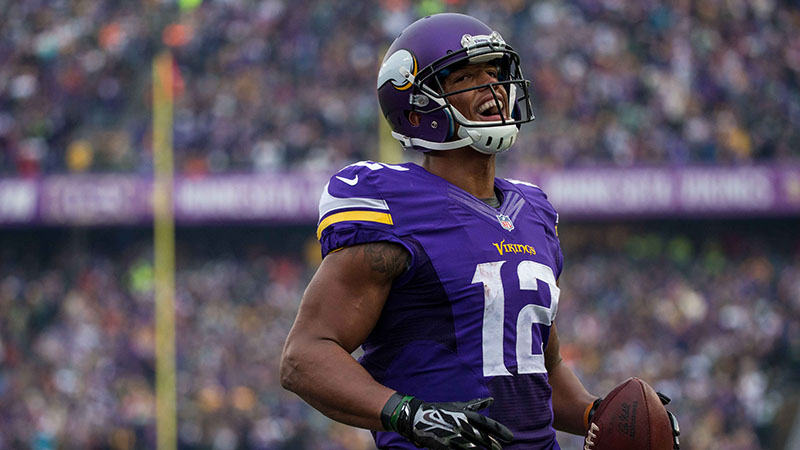 When healthy and active, Johnson in 2014 gave the Vikings a scheme-adjusted production equivalent of what Woods gave the Rams last year.
That's a pretty good.
With Johnson as a dominant contributor, the team saw marked improvement in the offense, especially the passing game (per the RotoViz Team Splits App).
Points per game: Weeks 1-10 – 18.7, Weeks 11-17 – 22.4
Points per drive: Weeks 1-10 – 1.5, Weeks 11-17 – 1.9
Pass attempts: Weeks 1-10 – 34.7, Weeks 11-17 – 29.3
Completions: Weeks 1-10 – 20.2, Weeks 11-17 – 20.0
Interceptions: Weeks 1-10 – 1.2, Weeks 11-17 – 1.0
Passing touchdowns: Weeks 1-10 – 1.7, Weeks 11-17 – 0.7
Passing yards: Weeks 1-10 – 218.7, Weeks 11-17 – 228.3
With fewer attempts, the Vikings completed the same number of passes for more yards and touchdowns and fewer interceptions and scored more points once Johnson was the team's primary X receiver.
Stefon Diggs Made Charles Johnson Irrelevant in 2015
After the 2014 season, Johnson was invited to Florida to train with wide receiver Brandon Marshall.
Turner credited Johnson for the team's second-half improvement, calling him "far and away our best receiver."
Johnson bulked up to 225 pounds so he could better handle the grind of a 16-game season, and Turner praised his work in the offseason. Over the summer he studied with route-running guru Rischad Whitfield, who helped Antonio Brown and DeAndre Hopkins find their All-Pro forms.
Beat reporters were convinced that Johnson would be a force, and during the preseason Johnson was Bridgewater's top target, despite the offseason addition of veteran wide receiver and speedster Mike Wallace.
But then Johnson got off to a slow start in 2015. He caught every target but one in Weeks 1-2, but he was targeted just six times as the team limited Bridgewater to 50 attempts, and then Johnson was forced from his Week 3 game with a broken rib.
With Johnson sidelined in Weeks 4-6, the Vikings turned to high-upside fifth-rounder Stefon Diggs, who seized Johnson's job as the X receiver with his strong production.
Playing for an unimaginative coordinator unwilling to demote the aged Wallace or slot-bound Jarius Wright, the rib-hindered Johnson was pushed into the No. 4 role upon his return.
Adam Thielen Made Charles Johnson More Irrelevant in 2016
In the 2016 offseason, Johnson performed well and opened training camp as a starter. With his preseason play, he was able to hold off wide receiver Laquon Treadwell, whom the Vikings wanted to give playing time on account of the No. 23 pick they had used to acquire him in the draft.
But Johnson suffered a quad injury in a Week 1 practice and was questionable heading into the season opener. In the game, Johnson ceded some playing time to fourth-year wide receiver and route-running technician Adam Thielen.
And Thielen did what he does.
By Week 4, Johnson was once again out of a starting job.
In Week 15, when Thielen exited the game with a neck injury and concussion, Johnson stepped up, turning his five targets into five receptions for 50 yards and four first downs and playing over 50% of the snaps for the first time since Week 3.
But Thielen's return in Week 16 pushed Johnson back to the bench.
After the season, the Vikings opted not to tender Johnson, making him a free agent.
Another Knee Injury Ruined 2017 for Charles Johnson
The Panthers, in dire need of an explosive receiver behind Kelvin Benjamin, signed Johnson to a one-year "prove it" contract worth $2.2 million.
That's not a lot of money, but that's actually more than they were paying any other wide receiver, including K-Benjy.
Signed near the beginning of free agency, Johnson was probably more than just a dart-throw afterthought. The Panthers almost certainly wanted Johnson to be a starter.
But in the summer he had a season-ending surgery on his right knee — the same one in which he had suffered a torn ACL — and the Panthers waived him.
The Jets Cut Charles Johnson in 2018
Johnson signed with the Jets in 2018 after rehabbing the previous season. In Week 1 of the preseason, he actually looked decent, catching three of his five targets for 45 yards and snagging a touchdown pass from first-round rookie Sam Darnold.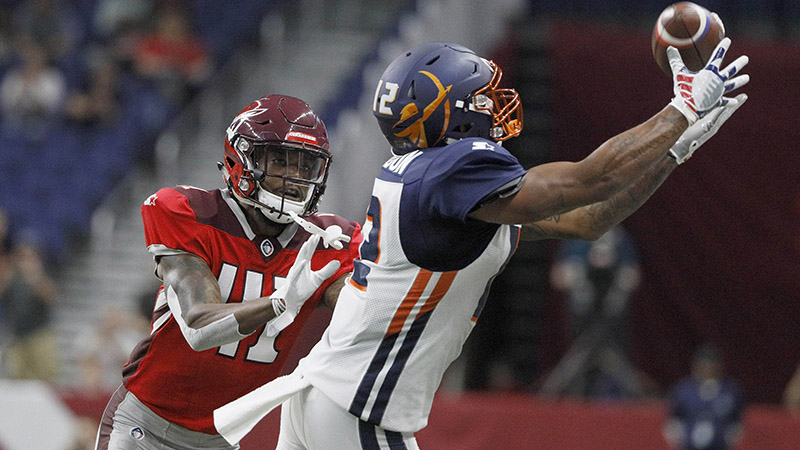 In practices, he reportedly revived his connection with Bridgewater. But after they traded Bridgewater to the Saints, the Jets apparently had limited use for Johnson. After all, their quota of aging, lottery-ticket receivers was entirely filled by Terrelle Pryor.
Wanting to give their young receivers more opportunities, the Jets cut Johnson two days after they trading Bridgewater.
Who Is Charles Johnson?
Who exactly is Johnson?
Is he the prospect a wide receiver savant in Thompson scouted and drafted?
The diamond in the rough a top talent evaluator in Lombardi mined from the practice squad?
The side/speed project an offensive guru in Shanahan wanted to partner with Josh Gordon?
The cheap asset an antiquated play caller in Turner didn't know how to value?
The unfortunate workman whose injury-induced absences allowed younger (and undeniably talented) players to take his job?
The journeyman who just might find his way back into the NFL???
Or is he simply a guy who couldn't cut it? An injury-prone washout with two season-ending surgeries on the same knee? A has-been earning one final paycheck in a league that might not even be around next year?
I can't answer those questions.
When it comes to Johnson, I have no objectivity. I rostered him in dynasty leagues way longer than I should have.
I've been trying to answer many of these questions for years.
But here's what I know.
Right now, Johnson is the No. 1 receiver in the only league playing games this week, and as always I'll be rooting for him as long as he's on the field.
Thanks the football gawds for the Alliance.
---
Matthew Freedman is the Editor-in-Chief of FantasyLabs. He has a dog and sometimes a British accent. In Cedar Rapids, Iowa, he's known only as The Labyrinthian.