Is Christian Kirk the Cardinals WR to Buy in Fantasy Football?
Credit:
Mark J. Rebilas-USA TODAY Sports. Pictured: Christian Kirk
Christian Kirk flashed solid fantasy football upside in a terrible offense in Arizona last season.
What should we expect from him in Year 2? Ian Hartitz assesses whether Kirk is the Cardinals wide receiver to invest in.
We're in the thick of the NFL offseason and it's officially time to start fantasy football prep. I'll be answering the biggest questions heading into the 2019 season; this is part of that series.
---
The Cardinals have more hype entering 2019 than just about any NFL team in recent memory with an over/under win total of just five.
This optimism is largely coming from two sources: New head coach Kliff Kingsbury as well as No. 1 overall pick Kyler Murray. Together, they're expected to bring creativity and explosiveness to a Cardinals offense that averaged a league-low 14.1 points per game last season.
There will obviously be several productive skill position players in this offense if Kingsbury and Murray are able to achieve some success in their first season together. Stud running back David Johnson is an obvious candidate to progress in a modern Air Raid scheme:
But things are a bit of a mystery behind DJ.
What follows is an analysis of the upside of the Cardinals' passing game as well as which receivers offer fantasy football value.
---
Get Ready for Plenty of Passing in Arizona
Kingsbury will attempt to install the NFL's first fully-functioning Air Raid offense. His system was incredibly productive at Texas Tech, especially in 2015 and 2016 with Patrick Mahomes leading the way.
Texas Tech's Points Per Game with Kliff Kingsbury
2018: 37.3 (16th)
2017: 34.3 (23rd)
2016: 43.7 (fifth)
2015: 45.1 (second)
2014: 30.5 (54th)
2013: 35.8 (24th)
It remains to be seen if Kingsbury will be able to make a successful NFL transition, but the parallels between the 2019 Cardinals and 2017 Rams — Sean McVay's first season in Los Angeles — are tough to ignore.
Texas Tech led the FBS in snaps per game during Kingsbury's six years as head coach (per Evan Silva), which should help the chances of the team's still-growing offensive line to slow down opposing pass rushes.
Unsurprisingly, Kingsbury accomplished most of this by way of passing.
Texas Tech's Pass Attempts Per Game with Kliff Kingsbury
2018: 44.6 pass attempts per game (fourth)
2017: 41.6 (eighth)
2016: 54.4 (first)
2015: 47.7 (second)
2014: 46.6 (third)
2013: 54.9 (second)
Continued emphasis on throwing the ball as much as possible should only mean good things for the Cardinals' suddenly-deep crop of pass catchers.
Kingsbury Has Plenty of Offensive Talent at His Disposal
The Cardinals didn't waste any time giving Murray and Kingsbury a copious amount of options inside of an offense that figures to frequently utilize 4-WR sets.
The 35-year-old Larry Fitzgerald will try to fend off Father Time for another year. Last season's 69-734-6 line was hardly ideal, but Fitz did manage to average 108 receptions per season from 2015 to 2017. He continues to be the opposite of a sexy fantasy football selection, although it's tough to imagine him not providing some value inside of this system if he again plays 93% of the offense's snaps. Fitz's pedestrian campaign last season in an impossible situation was still good enough to work as the PPR WR25, and he's currently being drafted as the PPR WR37.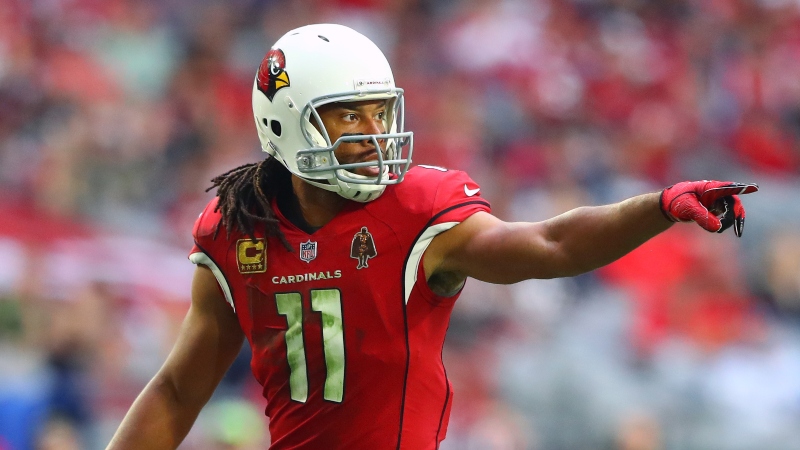 The Cardinals used their second-round pick from the Rosen trade on small-school speedster Andy Isabella. FantasyLabs' Editor-in-Chief Matthew Freedman spoke highly about Isabella in his rookie dynasty rankings:
"And with a coach as innovative as Kingsbury, Isabella could be a truly dynamic offensive weapon right away. He could take carries on end-arounds or out of the backfield. He could line up out wide or in the slot. He could operate in the middle of the field or stretch defenses deep. He could be a league-winning fantasy receiver as a rookie."
The rest of the wide receiver depth chart features an oft-injured 2015 seventh overall pick Kevin White, 2019 fourth-round pick Hakeem Butler, 2019 sixth-round pick KeeSean Johnson and third-year receiver Chad Williams. None are expected to compete for the team lead in targets, but a strong training camp could potentially earn each a complementary role in what figures to be one of the league's most pass-happy offenses.
It's unlikely that a single Cardinals tight end emerges as a consistent fantasy football value in 2019. Still, there's plenty of talent in the group with Ricky Seals-Jones, Charles Clay and Maxx Williams each serving as fairly productive starters at various points throughout their respective careers.
Of course, there's one more receiver who has earned a bit of hype this offseason.
Christian Kirk Was the Cardinals' Best WR in 2018
Last season's Cardinals team didn't have much of a chance for success in its ancient scheme with Sam Bradford and Josh Rosen under center. Arizona's injury-riddled offensive line didn't help matters, and the offense ultimately scored 10 or fewer points in six games — tied for the third-lowest mark among any offense over the past five seasons.
Just about the only truly positive development from last season's offense was Kirk, who the Cardinals selected with the 47th overall pick of the 2018 draft.
The rookie was initially met with hesitation inside of most fantasy football circles due to questions surrounding his ability to work as an outside receiver with Fitzgerald continuing to soak up most of the offense's snaps from the slot.
Those questions were quickly put to rest as Kirk routinely provided both pristine route-running as well as explosive ability after the catch regardless of where he lined up in the formation.
Kirk spent 29% snaps in the slot compared to 69% (nice) out wide in 2018. He (1.9 yards per route run from the slot) was more efficient than Fitzgerald (1.36) on a per-snap basis from the inside and averaged a team-high 1.72 yards per route run overall.
Kirk's season-long total of 43 receptions for 590 yards and three touchdowns was far from incredible, but he showed signs of being able to contribute elsewhere as both a rusher (three carries for 35 yards) and returner.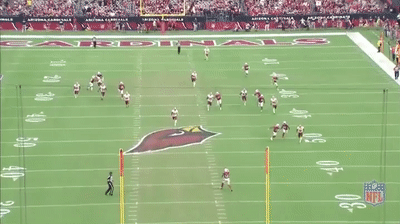 There's plenty of familiarity between Kirk and his new pals: Murray threw his first touchdown pass to Kirk back at Texas A&M, while Kingsbury has noted that Kirk has picked up the Air Raid offense quickly.
Reports have indicated that Kirk has been "the best receiver on the roster this spring." His current average draft position as the PPR WR32 doesn't properly reflect his upside. I'm more than happy to take my chances on Kirk ahead of receivers like Robby Anderson and Dante Pettis, who are currently being drafted sooner and also are apart of depth charts with some target share uncertainty.
How would you rate this article?