Koerner's Week 11 Fantasy Football Tiers: Rankings for QB, RB, WR, TE, More
Credit:
USA TODAY Sports. Pictured: Saints WR Michael Thomas (left), Deshaun Watson (middle), Mike Evans (right).
Need help making start vs. sit decisions? Sean Koerner separates his Week 11 fantasy football rankings into tiers.
Below you'll find his comprehensive strategy for every position -- QBs, RBs, WRs, TEs, kickers and defenses.
Deshaun Watson vs. Lamar Jackson. The Saints vs. Buccaneers. An AFC West showdown at high elevation.
There are a number of shootouts brewing for Week 11, so it's no surprise that key players will be atop my rankings. But what's the best strategy at each position?
Consider these tiers a visualization of my early-week rankings. There will be a ton of volatility in how I adjust my rankings up until kickoff, so as always, be sure to check my updated rankings before making final sit/start decisions.
And if you're looking for streaming advice, you can find my favorite streamers here.
---
Go To: QB | RB | WR | TE | K | DEF
---
Week 11 Fantasy Football Tiers
Quarterbacks
Tier 1
Lamar Jackson (vs. HOU)
Jackson is unstoppable right now.
His rushing ability gets all the attention, and rightfully so, but he's still underrated as a passer. Defenses might be able to game plan and shut down one of those facets, but not both — it's what gives him an incredibly high floor, and when both click, his ceiling is massive.
We saw a ceiling game from him Week 10, and he didn't even play the fourth quarter due to the blowout.
Tier 2
Deshaun Watson (@ BAL)
Patrick Mahomes (@ LAC)
Watson and Mahomes look like mere mortals compared to Jackson right now.
Mahomes had a bit of rust in his return from a knee injury that cost him two and a half games, but still managed to drop a 446-yard, three-touchdown performance against the Titans. This week he faces the Chargers in Mexico City, which is 7,200 feet above sea level. He'll likely be able to throw the ball a bit farther at that altitude; I'm hoping there's at least one play to to Tyreek Hill dialed up with that in mind.
Tier 3
Dak Prescott (@ DET)
Drew Brees (@ TB)
Brees was sacked a career-high six times in the Saints' stunning loss to the Falcons. While his struggles on the road and outdoors are well documented, I think we can expect him to bounce back big against a Buccaneers defense that's allowed an average of 3.4 passing touchdowns over their past five games.
Tier 4
Josh Allen (@ MIA)
Jameis Winston (vs. NO)
Derek Carr (vs. CIN)
Jimmy Garoppolo (vs. ARI)
Kyle Allen (vs. ATL)
Matt Ryan (@ CAR)
Tom Brady (@ PHI)
Carr, Garoppolo and Kyle Allen make for great streaming options this week. They should all take advantage of great matchups in which their passing touchdown odds are elevated as the Raiders, Panthers and 49ers have three of the highest team totals this week.
We haven't seen many ceiling games from Josh Allen this season, but if there were a week we would expect one, it would be against the Dolphins.
Winston continues to be the type of QB for which fantasy and real-life value need to be thought of separately. His turnovers are less devastating in fantasy — especially in leagues that only penalize interceptions -1 or 0 — therefore he's able to overcome the turnovers with his massive yardage totals. The Saints could be without Marshon Lattimore (hamstring), which would give Winston, Mike Evans and Chris Godwin all a boost.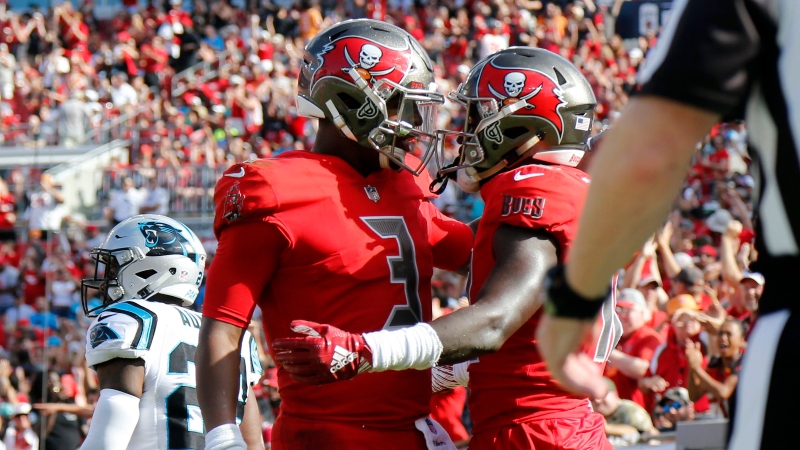 Tier 5
Kyler Murray (@ SF)
Jeff Driskel (vs. DAL)
Jared Goff (vs. CHI)
Philip Rivers (vs. KC)
Kirk Cousins (vs. DEN)
Jacoby Brissett (vs. JAX)
Murray has a brutal matchup against the 49ers. Luckily his skill set and the system he plays in makes him borderline matchup-proof, so if have no choice but to roll with him, you should be fine — he was able to put up solid numbers against the Niners just two weeks ago.
Driskel would be an interesting QB flier if Matthew Stafford ends up missing his second straight game. Couple Driskel's rushing upside with being able to throw to the weapons the Lions have in the passing game, and he has a chance to put up QB1 numbers again.
Tier 6
Baker Mayfield (vs. PIT)
Carson Wentz (vs. NE)
Nick Foles (@ IND)
All three of these QBs are sits due to their difficult matchups.
Unlike Gardner Minshew, Foles doesn't have any rushing upside to overcome the tough matchup at Indy. The Colts have held the past five QBs they've faced to finish below expectations.
Foles is also going to have some rust in his return. It's important to remember that he has yet to play a full game for the Jaguars, and we need to be patient with QBs on new teams until they have a few games under their belt. His return could shake up the values of Jaguars WRs, which we'll discuss below.
Tier 7
Mason Rudolph (@ CLE)
Ryan Fitzpatrick (vs. BUF)
Sam Darnold (@ WAS)
Ryan Finley (@ OAK)
Mitchell Trubisky (@ LAR)
It's likely that one or two of these QBs will manage to put up QB1 numbers this week, but their floors are way too low to trust more than any QB above.
Finley flopped in his debut. I'm expecting him to have a better showing against the Raiders, but that isn't saying much — he's nothing more than a desperation 2QB league play this week.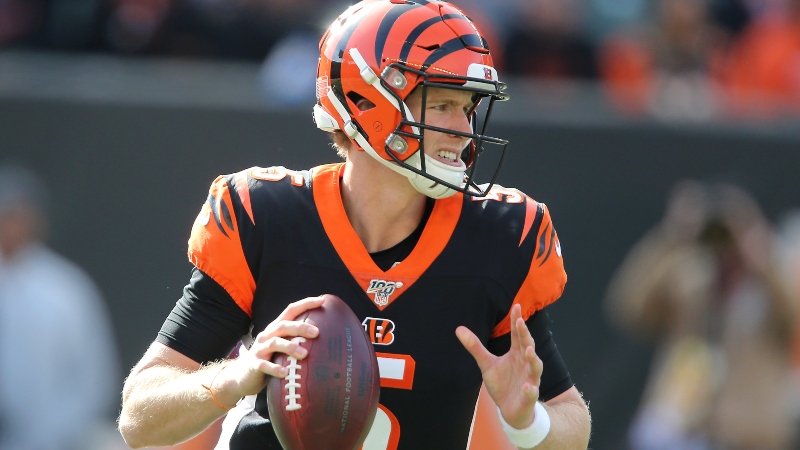 Tier 8
Dwayne Haskins (vs. NYJ)
Brandon Allen (@ MIN)
These are worst-case scenario plays only for Week 11.
---
Running Backs
Tier 1
Christian McCaffrey (vs. ATL)
Dalvin Cook (vs. DEN)
Cook joins CMC in the top tier for Week 11.
I don't think it's a coincidence he's averaged 5.3 receptions per game over the past three weeks with Adam Thielen on the shelf — they're running the entire offense through him and will continue to do so as 10.5-point favorites against the Broncos.
Tier 2
Ezekiel Elliott (@ DET)
Leonard Fournette (@ IND)
I've dubbed Fournette as "Ezekiel Elliot minus the TDs," so it's fitting they get to share Tier 2 this week.
The lack of TDs have prevented Fournette from being a true league winner so far, but I'm betting on positive regression over the final stretch of games. The return of Foles could help as Minshew's aggressive play allowed him to account for 13 of the 14 offensive TDs scored since taking over for Foles.
Tier 3
Josh Jacobs (vs. CIN)
Alvin Kamara (@ TB)
This is an eruption spot for Jacobs. As double-digit home favorites, the Raiders should be able to lean on Jacobs. His TD odds are also elevated.
Tier 4
Nick Chubb (vs. PIT)
Le'Veon Bell (@ WAS)
James Conner (@ CLE)
Chubb was unaffected by Kareem Hunt's debut as Hunt managed to rack up 116 yards on 20 carries. Hunt excelled in the passing game as he put up a 7/44/0 line receiving and chipped in 4/30/0 on the ground. Hunt might cap Chubb's upside a bit, but he's still very much the heart of the Browns offense and will continue to see 20 to 25 touches per game.
Tier 5
Melvin Gordon (vs. KC)
Damien Williams (@ LAC)
Marlon Mack (vs. JAX)
LeSean McCoy was a surprise scratch this past Sunday morning, which caused Damien Williams to shoot up my RB rankings after inactives came out. (This is a good time to remind you to check my updated rankings before making final sit/start decisions.) Williams capitalized with a 19/77/0 line on the ground and 5/32/0 receiving. He very well could be the lead back for KC, which would make him a high-end RB2.
One concern is his costly fumble that the Titans returned for a TD. Considering McCoy was likely benched for fumbles, Williams having a costly fumble could force the Chiefs to go back to a committee approach. I'll monitor the situation closely this week and going forward. It would be much easier to just ignore the KC backfield, but if any back emerges as the lead heading into the fantasy playoffs, it could decide fantasy championships.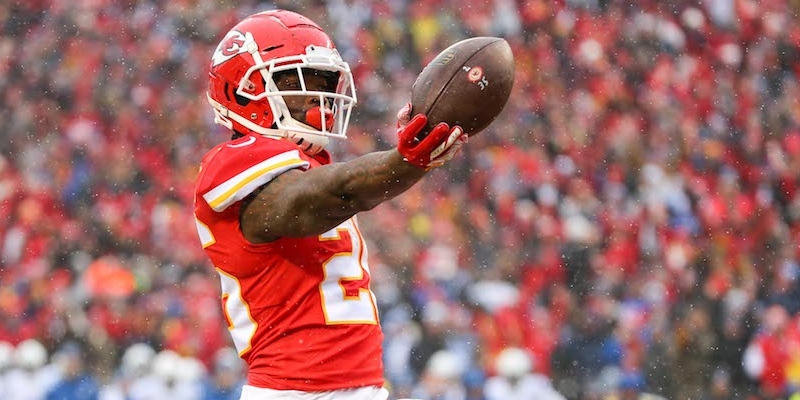 Williams is the only start-able Chiefs back this week, but all their backups should be stashed on benches right now.
Tier 6
Devin Singletary (@ MIA)
Tevin Coleman (vs. ARI)
Todd Gurley (vs. CHI)
Joe Mixon (@ OAK)
Singletary saw 67% of the snaps for the third consecutive game as the true lead back for the Bills. Due to the negative game script, it resulted in only 11 touches, but I think this week's matchup against the Dolphins will warrant a 15-20 touch game for Singletary.
Frank Gore was stuffed again on the goal-line last week (and he was stuffed three straight times in Week 9), so I'm still speculating Singletary will warrant goal-line touches going forward as well. (At least any that Allen doesn't take himself.)
Mixon randomly had a 30-carry game in what was a 49-13 blowout loss. If there were ever a time to sell high on him, it would be now.
Tier 7
Sony Michel (@ PHI)
David Montgomery (@ LAR)
Mark Ingram (vs. HOU)
Ronald Jones (vs. NO)
Brian Hill (@ CAR)
Phillip Lindsay (@ MIN)
Kalen Ballage (vs. BUF)
Jordan Howard (vs. NE)
Austin Ekeler (vs. KC)
Carlos Hyde (@ BAL)
Hill is the top pick-up for Week 11 and beyond. With Devonta Freeman facing a multi-week injury and Ito Smith on IR, Hill is set to be the workhorse back in Atlanta. (I'm expecting Qadree Ollison (short yardage) and Kenjon Barner (passing downs) to only be change-of-pace backs.)
It's now or never to use a No. 1 waiver or FAAB bid, and Hill warrants it if you're fighting for a playoff spot. But if you're set to go to the playoffs, it may be worth trying to get Freeman for pennies. He may be back in time for the fantasy playoffs as an every-week RB2/Flex.
Jones ended up splitting 22 carries with Peyton Barber evenly (11 each), but Jones managed to make his presence felt in the passing game with eight catches for 77 yards.
Tier 8
James White (@ PHI)
Adrian Peterson (vs. NYJ)
J.D. McKissic (vs. DAL)
David Johnson (@ SF)
Royce Freeman (@ MIN)
Kareem Hunt (vs. PIT)
Latavius Murray (@ TB)
Kenyan Drake (@ SF)
AP's stock is going to take a hit with Derrius Guice set to return. Given the fact that the Redskins are slight favorites this week, we can't completely ignore either RB. AP and Guice are both potential flex plays, but I'll look to avoid this situation from Week 12 on.
Johnson had a miserable game and clearly isn't near 100%, with Drake taking over as the lead back late in last week's game. If Chase Edmunds is able to return, this will be a backfield to ignore in a brutal matchup against the 49ers. That could allow us to better project how this backfield sorts out after they come out of their Week 12 bye.
Freeman was one of my favorite RB2/flex backs given he was putting up solid numbers in a near even timeshare with Lindsay and would become a potential low-end RB1 if Lindsay were to ever miss time. But in Brandon Allen's first start, Lindsay and Freeman saw only one total target. Allen was much more willing to pull the ball down and run instead of dumping it off to his RBs. Considering Freeman relied on his receiving totals for production, this is a huge red flag that's forcing me to sit him this week.
To make matters worse, Devontae Booker appeared in Week 9 with a catch out of the backfield. The last thing Freeman needs is another pass-catching back to split snaps with.
Tier 9
Miles Sanders (vs. NE)
Ty Johnson (vs. DAL)
Duke Johnson Jr. (@ BAL)
Tarik Cohen (@ LAR)
Derrius Guice (vs. NYJ)
Jaylen Samuels (@ CLE)
Peyton Barber (vs. NO)

While most of these RBs are on the backend of a RBBC, they can be decent bye week fill-ins for your flex spot if you're in a pinch.
Johnson is in the concussion protocol, so if he's not cleared, it would give J.D. McKissic a boost and would send Paul Perkins up to Tier 10-11 range.
---
Wide Receivers
Tier 1
Michael Thomas (@ TB)
Thomas is having a monster season.
He now has at least eight receptions or a touchdown in every game, which has made him the ultimate high-floor, high-ceiling WR. Given how inconsistent the top tier of WRs have been this season, it's made him that much more valuable.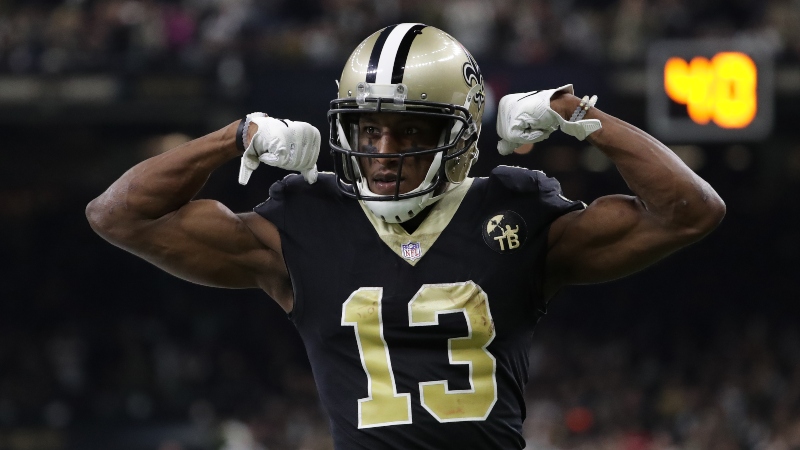 Tier 2
Tyreek Hill (@ LAC)
DeAndre Hopkins (@ BAL)
Julio Jones (@ CAR)
Mike Evans (vs. NO)
I want to see at least one play on which the Chiefs take advantage of Hill's speed, Mahomes' arm and the extreme altitude in Mexico City by attempting a 60-plus yard pass that only Hill can catch up to.
And as I mentioned earlier, Lattimore is week-to-week, which is a huge boost for Evans and Godwin.
Tier 3
Cooper Kupp (vs. CHI)
Amari Cooper (@ DET)
Chris Godwin (vs. NO)
Julian Edelman (@ PHI)
Keenan Allen (vs. KC)
Kupp had one of the most surprising duds of last week (and maybe of the season) by going catch-less against the Steelers. Look for him to bounce back against the Bears, whose weakness is against the slot, where the burnable Buster Skrine should be matched up with Kupp.
Tier 4
Odell Beckham (vs. PIT)
D.J. Moore (vs. ATL)
Moore is not getting as much buzz as he should. A lot of that is due to the fact that he hasn't scored a touchdown since Week 3, but he's been clicking with Allen for 7/101/0 and 9/120/0 lines over the past two games. With the Panthers' team total around 28, touchdowns odds for all their players are elevated, so hopefully this is the week Moore is able to add a TD to his box score.
Tier 5
Kenny Golladay (vs. DAL)
Allen Robinson (@ LAR)
John Brown (@ MIA)
Stefon Diggs (vs. DEN)
D.J. Chark (@ IND)
When Stafford was ruled out for Week 10, I initially lowered Golladay to around WR30 — Jeff Driskel is that much of a drop-off from Matthew Stafford. However, once I had a few minutes to really fine tune the Lions' passing game, I ended up raising Driskel's rate stats given the talent the Lions have in the passing game — especially in Golladay.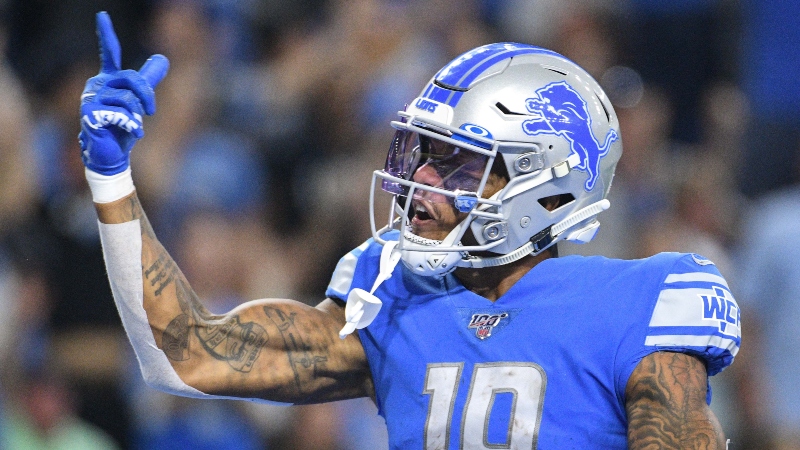 I was high on Golladay entering the season and view him as being a complete alpha-type WR, so I ended up settling Golladay in the WR18 range, which is right about where he finished the week. He's talented enough to continue to rank as a WR2 even if Stafford ends up missing his second straight game.
We have to wonder if Chark's value will take a hit with Foles back under center. Chark seemed to be Minshew's go-to target, and while I Chark to also be Foles' No. 1 target, I also expect the target share to be spread out more. Foles has chemistry with Chris Conley dating back to their Chiefs days and seemed to have the most chemistry with Dede Westbrook (who is now 100%) in the preseason, so this might result in Chark losing 1-2 targets a game as a result.
Tier 6
Curtis Samuel (vs. ATL)
Michael Gallup (@ DET)
Emmanuel Sanders (vs. ARI)
Christian Kirk (@ SF)
Robert Woods (vs. CHI)
Calvin Ridley (@ CAR)
Sammy Watkins (@ LAC)
Jarvis Landry (vs. PIT)
Marvin Jones (vs. DAL)
Marquise Brown (vs. HOU)
JuJu Smith-Schuster (@ CLE)
Tyrell Williams (vs. CIN)
Kirk erupted for a 6/138/3 game against the Buccaneers. He needs to be treated as a rock-solid WR2 going forward. However, if you're fighting for a playoff spot, it might make sense to sell high on him. He has a brutal matchup at San Francisco followed by a Week 12 bye, which dings his value enough over the next two weeks that it's at least worth considering.
The narrative that slot receivers get a huge boost against the Steelers should end. They haven't faced many above-average slot receivers this season and just shut down Kupp. Only one WR has posted more than 80 yards against them over the past eight games.
Landry is also on fire right now and can't be benched. Defenses are forced to focus on stopping Chubb and Beckham, which has allowed Landry to thrive. He should be treated as a high-end WR3.
Tier 7
DeVante Parker (vs. BUF)
Mohamed Sanu (@ PHI)
Courtland Sutton (@ MIN)
Tyler Boyd (@ OAK)
Mike Williams (vs. KC)
Terry McLaurin (vs. NYJ)
Jamison Crowder (@ WAS)
One trend I've noticed over the past couple seasons is just how fast WRs have been able to adapt to in-season trades.
I was a bit cautious with Cooper in his first couple games with the Cowboys last season. I was a bit cautious with Sanders in his first couple games with the 49ers. But Sanu continued their trend of making an immediate impact for new teams, playing 100% of the snaps in Week 9, putting up a massive 10/81/1 line.
Having had the bye week to learn more of the playbook and build chemistry with Tom Brady, we can project Sanu to have a much higher ceiling than he had while on the Falcons.
Tier 8
Larry Fitzgerald (@ SF)
Kenny Stills (@ BAL)
Alshon Jeffery (vs. NE)
Deebo Samuel (vs. ARI)
Zach Pascal (vs. JAX)
Hunter Renfrow (vs. CIN)
Dede Westbrook (@ IND)
Westbrook needs to be back on radars. He should be close to 100% after the bye, and the return of Foles can only help the receiver's fantasy stock. And this week's matchup against the Colts is perfect for Westbook as they tend to allow short and intermediate targets in their soft zone defense.
Samuel broke out in Week 10 with a 8/112/0 line. And if Sanders and George Kittle end up missing Week 11, Samuel will likely be the 49ers' top target again. Factor in the cupcake matchup against the Cardinals and we could see him shoot up to Tier 6 if both Sanders and Kittle are out.
Tier 9
Auden Tate (@ OAK)
Diontae Johnson (@ CLE)
Randall Cobb (@ DET)
Russell Gage (@ CAR)
Robby Anderson (@ WAS)
Danny Amendola (vs. DAL)
Josh Reynolds (vs. CHI)

Gage has replaced Sanu in the Falcons offense. With Austin Hooper and Freeman both out, we could see Gage get a few more targets this week as he'll likely be Matt Ryan's main safety valve. Gage is a sneaky PPR play for people who need a spot start this week.
Anderson busted again in a prime spot against the Giants. It doesn't look like it's going to happen for Robby this season. He needs to be on everyone's bench this week, and if you need to make room for anyone, he can be cut.
---
Tight Ends
Tier 1
Travis Kelce (@ LAC)
This is a brutal week at tight end.
Austin Hooper is out, George Kittle is a game-time decision and Evan Engram is on bye. Due to the position scarcity these week, Kelce's value is sky high for Week 11.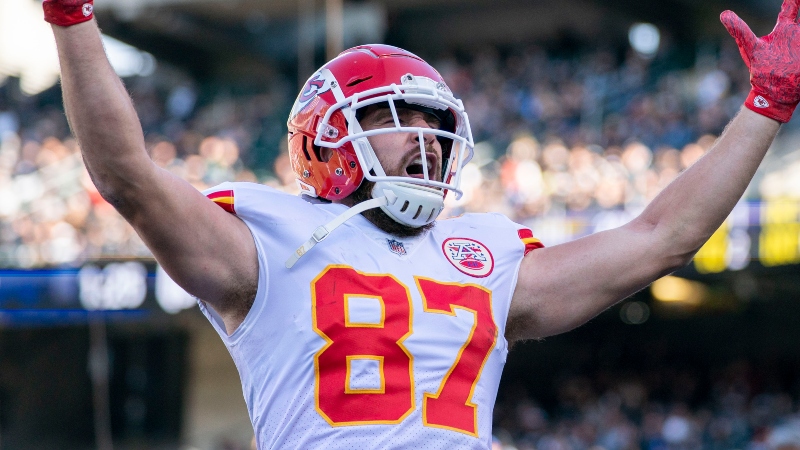 Tier 2
Hunter Henry (vs. KC)
Mark Andrews (vs. HOU)
George Kittle (vs. ARI)
Darren Waller (vs. CIN)
Zach Ertz (vs. NE)
Kittle has the optimal matchup for TEs against the Cardinals. He's shaping up to be a game-time decision and does not play until the late afternoon games, so if you own him, your backup plan should be to have Ross Dwelley available to plug-in in case Kittle can't go.
Tier 3
Greg Olsen (vs. ATL)
Gerald Everett (vs. CHI)
With Brandin Cooks out last week, it was Robert Woods and Gerald Everett who saw the biggest spike in usage with Everett seeing a season-high 12 targets and putting up a 8/68/0 line.
Cooks is set to miss again this week, so I'm projecting Everett to see an extra one to two targets.
Tier 4
Jared Cook (@ TB)
Eric Ebron (vs. JAX)
Ebron met with head coach Frank Reich last week to discuss expanding his role in the offense, and sure enough, he saw squeaky wheel treatment with 12 targets in Week 10. It resulted in only a 5/56/0 game, but he nearly had a TD early in the game, but it rolled off of him as he fell to the ground and right to the Dolphins for a fluky interception.
With the Colts hurting at WR, I expect Ebron and Jack Doyle to have big roles until Indy is able to get guys healthy again.
Tier 5
Michael Gesicki (vs. BUF)
Jack Doyle (vs. JAX)
O.J. Howard (vs. NO)
Jason Witten (@ DET)
Dallas Goedert (vs. NE)
Noah Fant (@ MIN)
Vance McDonald (@ CLE)
Kyle Rudolph (vs. DEN)
Howard came out of hiding last week for a 4/47/1 line and is worth taking a flier on if you happen to own Hooper. Other TE fliers that Hooper owners might want to consider are Fant, McDonald and Rudolph.
It's important to not panic if you own Hooper and trade away an asset like David Montgomery to lock up a TE like Jared Cook as a two-week rental. It sucks to lose Hooper for a few games, but streaming TE for two to three games is not the end of the world.
Hopefully if you own Hooper you're 8-2 and jockeying only for playoff position right now. Cross our fingers that he returns for the fantasy playoffs.
Tier 6
T.J. Hockenson (vs. DAL)
Darren Fells (@ BAL)
Dawson Knox (@ MIA)
Irv Smith (vs. DEN)
Tyler Higbee (vs. CHI)
Tyler Eifert (@ OAK)
Ryan Griffin (@ WAS)
Jordan Akins (@ BAL)

Chris Herndon's season mercifully came to an end as he was placed on season-ending IR. Luckily, I wasn't hanging onto him all this time (nor did I recommend that), but if that happened to be you, it's probably a relief to move on.
As a result, Griffin is no longer just a short-term flier and can be targeted in deeper leagues if you're looking for a long-term TE2.
---
Kicker
Tier 1
Wil Lutz (@ TB)
Justin Tucker (vs. HOU)
Harrison Butker (@ LAC)
Robbie Gould (vs. ARI)
Daniel Carlson (vs. CIN)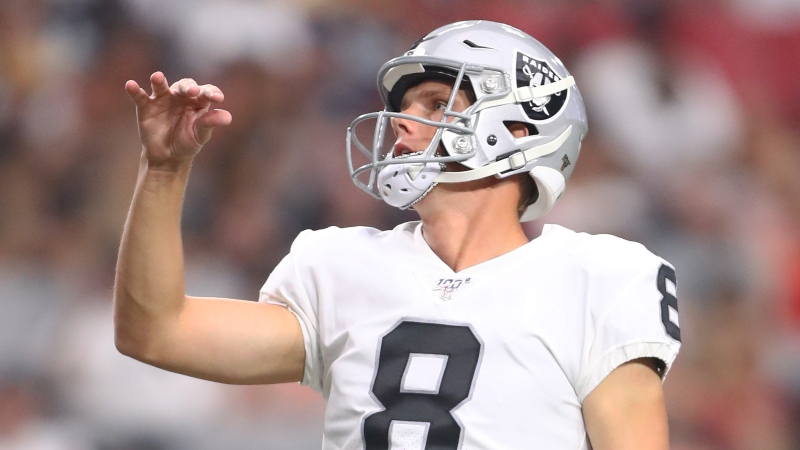 Tier 2
Brett Maher (@ DET)
Adam Vinatieri (vs. JAX)
Matt Gay (vs. NO)
Greg Zuerlein (vs. CHI)
Dan Bailey (vs. DEN)
Matt Prater (vs. DAL)
Michael Badgley (vs. KC)
Joey Slye (vs. ATL)
Steven Hauschka (@ MIA)
Zane Gonzalez (@ SF)
Tier 3
Austin Seibert (vs. PIT)
Younghoe Koo (@ CAR)
Eddy Pineiro (@ LAR)
Chris Boswell (@ CLE)
Randy Bullock (@ OAK)
Sam Ficken (@ WAS)
Jason Sanders (vs. BUF)
Nick Folk (@ PHI)
Ka'imi Fairbairn (@ BAL)
Tier 4

Josh Lambo (@ IND)
Jake Elliott (vs. NE)
Dustin Hopkins (vs. NYJ)
Brandon McManus (@ MIN)
---
Defenses
Tier 1
Minnesota Vikings (vs. DEN)
Buffalo Bills (@ MIA)
San Francisco 49ers (vs. ARI)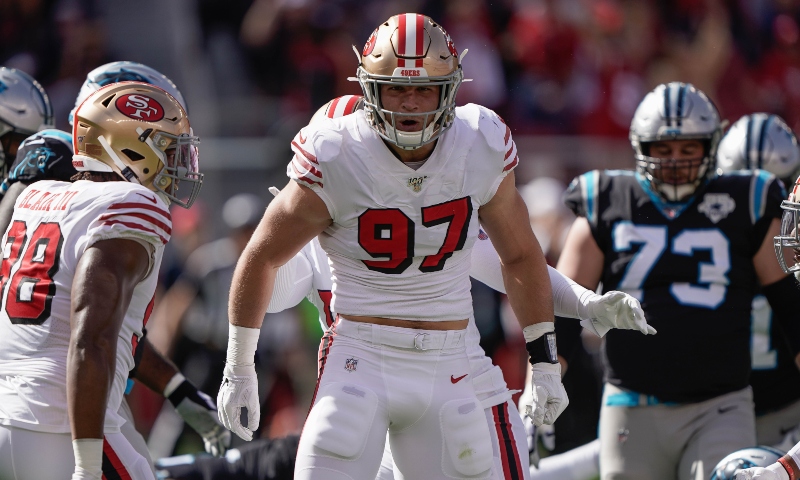 Tier 2
Washington Redskins (vs. NYJ)
Los Angeles Rams (vs. CHI)
New Orleans Saints (@ TB)
Oakland Raiders (vs. CIN)
New York Jets (@ WAS)
New England Patriots (@ PHI)
Tier 3
Pittsburgh Steelers (@ CLE)
Cleveland Browns (vs. PIT)
Carolina Panthers (vs. ATL)
Indianapolis Colts (vs. JAX)
Dallas Cowboys (@ DET)
Baltimore Ravens (vs. HOU)
Tier 4
Chicago Bears (@ LAR)
Kansas City Chiefs (@ LAC)
Miami Dolphins (vs. BUF)
Jacksonville Jaguars (@ IND)
Denver Broncos (@ MIN)
Atlanta Falcons (@ CAR)
Arizona Cardinals (@ SF)
Philadelphia Eagles (vs. NE)
Detroit Lions (vs. DAL)
Tier 5
Houston Texans (@ BAL)
Los Angeles Chargers (vs. KC)
Tampa Bay Buccaneers (vs. NO)
Cincinnati Bengals (@ OAK)
How would you rate this article?