Grading Week 11 NFL WR/CB Matchups: Allen Robinson vs. Jalen Ramsey
Credit:
USA Today Sports. Pictured: Allen Robinson, Jalen Ramsey
Chicago Bears WR Allen Robinson is likely to draw shadow coverage from Los Angeles Rams CB Jalen Ramsey.
Matthew Freedman breaks down that matchup and grades every wide receiver/cornerback matchup for Week 11.
Wide receiver-cornerback showdowns might be the most important individual matchups in football.
In this piece, I leverage snap data from Pro Football Focus to project NFL Week 11 WR/CB matchups.
For more, see the FantasyLabs Matchups page, where we provide basic and advanced data — including fantasy and red-zone performance — for each offensive skill-position player based on his matchup.
Also consult our Week 11 injury report for status updates on receivers and corners. I will update this piece over the weekend.
Let's start with this week's featured matchup and then run through all the wide receiver situations and sort through my matrix featuring every matchup.
---
For Week 11 odds, check out PointsBet, where Action Network users can access an exclusive promotion to get a 200% deposit match (deposit $50, bet with $150).
---
WR/CB Matchup of the Week
Bears WR Allen Robinson vs. Rams CB Jalen Ramsey
A-Rob vs. Ramsey: If all had gone according to plan, the only time NFL fans ever would've seen this matchup would be if they were watching a Jaguars practice.
When the Jags drafted Ramsey No. 5 overall in 2016, Robinson was coming off a triumphant 1,400-yard, 14-touchdown second season, and Ramsey had screaming All-Pro potential even as a prospect. The Jags hoped those two players would anchor their receiving and corner units for years.
And now Robinson and Ramsey are set to face off for the first time in their careers as members of the Bears and Rams.
That's what happens whenever the Jags make plans and have hope.
Even though quarterback Mitchell Trubisky has regressed significantly in his third NFL season, Robinson is pacing for his first 1,000-yard season since 2015.
And since being traded to the Rams four weeks ago, Ramsey has helped to stabilize the Rams cornerback unit by shadowing No. 1 receivers. In Week 10, he even shadowed JuJu Smith-Schuster into the slot, where Ramsey has rarely played in the past.
Plus, there's this…
I just realized that Jalen Ramsey has the name of the team he now plays for in his last name: Rams.

1. I'm slow.
2. This is a great sign, no?

— Matthew Freedman (@MattFtheOracle) November 11, 2019
In three games with his new team, Ramsey has allowed an 82.4% catch rate and 202 yards on 17 targets. That's not great, but he's yet to allow a touchdown, and he's yielded that production while facing Julio Jones, Tyler Boyd and JuJu.
For his career, Ramsey has held opposing receivers to a 55.8% catch rate, and with his physicality, he matches up will with A-Rob.
For a matchup that was never meant to happen, this one should be pretty good.
NFL Week 11 WR/CB Matchups
Steelers at Browns: Thursday Night Football
Steelers WRs: No. 1 cornerback Denzel Ward has shadowed only once this year and plays almost exclusively on the perimeter, so Smith-Schuster will likely avoid him for a majority of his routes. Slot corner Eric Murray (knee) missed Weeks 9-10 and is uncertain for Week 11. If Murray is out, JuJu will have an advantageous matchup against backup corner T.J. Carrie.
Browns WRs: Antonio Callaway was a healthy scratch last week as Rashard Higgins reclaimed his role as the No. 3 receiver. Playing mostly in the slot, Higgins pushed Jarvis Landry to the perimeter, where he saw the majority of his snaps for the first time this year.  The Steelers are top 10 against the pass in Football Outsiders' DVOA metric.
Cowboys at Lions: 1 p.m. ET on Sunday
Cowboys WRs: Against a good Vikings defense last week, Amari Cooper, Michael Gallup and Randall Cobb combined for 329 yards and three touchdowns receiving. Although the Lions corners played sides last week, Darius Slay has frequently tailed No. 1 receivers this year, and he's allowed a catch rate of just 57.1%. Shadow matchup: Cooper vs. Slay
Lions WRs: The entire offense suffered in Week 10 without quarterback Matthew Stafford, but Kenny Golladay still managed to find the end zone, and he has an NFL-high eight touchdowns receiving. Since returning from his hamstring injury, slot corner Anthony Brown has played behind Jourdan Lewis.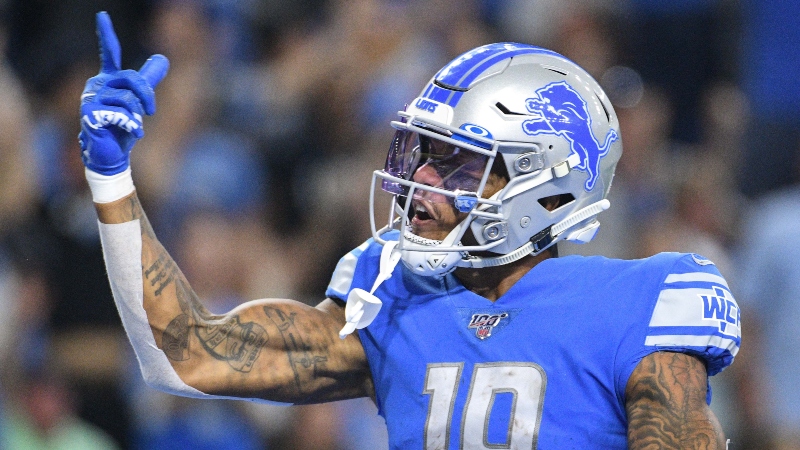 Jaguars at Colts: 1 p.m. ET on Sunday
Jaguars WRs: Dede Westbrook (neck, shoulder) missed Week 9 but traveled to London with the team, which suggests he could be healthy enough to play this week coming out of the bye. Corner Pierre Desir (hamstring) missed Weeks 8-10 and is uncertain for Week 11. Fifth-round rookie backup and Star Wars character Marvell Tell III will gift a large upgrade to Chris Conley if Desir is out. UPDATE (Nov. 16): Westbrook is in. Desir is doubtful.
Colts WRs: Starters T.Y. Hilton (calf) and Parris Campbell (hand) missed Week 10 and are doubtful for Week 11. Last week, the Colts also cut receiver Deon Cain, so the team rolled with the undrafted trio of Zach Pascal, Chester Rogers and Marcus Johnson in three-wide sets. In the post-Jalen Ramsey era, the Jags have used cornerback A.J. Bouye to tail No. 1 receivers. Slot corner D.J. Hayden (neck, shoulder) missed Week 9 and is uncertain to play. Backup Breon Borders is exploitable. Shadow matchup: Pascal vs. Bouye. UPDATE (Nov. 16): Hilton and Campbell are out. Hayden is in.
Bills at Dolphins: 1 p.m. ET on Sunday
Bills WRs: Isaiah McKenzie has firmly replaced Duke Williams, who was once again a healthy scratch last week. The Dolphins are without perimeter corners Xavien Howard (knee, IR) and Ken Webster (ankle), and they have moved Jomal Wiltz from the slot to safety, so for the past two weeks they have hilariously deployed undrafted backups Nik Needham, Ryan Lewis and Chris Lammons in Patriots-style shadow coverage. They've won both games, so who am I to argue? Shadow matchups: John Brown vs. Needham, McKenzie vs. Lewis and Cole Beasley vs. Lammons. UPDATE (Nov. 16): S Reshad Jones (chest) is expected to return, so the Dolphins I expect will shift Wiltz back to the slot.
Dolphins WRs: Allen Hurns has shifted to the perimeter with Preston Williams (knee, IR) out, and Albert Wilson is playing as the No. 3 receiver in the slot. For the past two weeks, Tre'Davious White has tailed the opposing No. 1 receiver, and that's what DeVante Parker is with 8.5 targets per game over the past month. Shadow matchup: Parker vs. White
Broncos at Vikings: 1 p.m. ET on Sunday
Broncos WRs: Coming out of the bye, Diontae Spencer seems to have replaced Fred Brown as the No. 3 receiver on the post-Emmanuel Sanders depth chart. Left cornerback Trae Waynes (ankle) missed Week 10 and is uncertain for Week 11. In his absence, Mike Hughes shifted to the perimeter and Mackensie Alexander played in the slot. No. 1 corner Xavier Rhodes hasn't been used in shadow coverage since Week 2. UPDATE (Nov. 16): Waynes is in.
Vikings WRs: Adam Thielen (hamstring) missed Week 10 and has played just 16 total snaps since Week 7. He is uncertain for Week 11. In his absence, the Vikings have relied heavily on "12 personnel." Last week, tight ends Kyle Rudolph and Irv Smith Jr. played 107 offensive snaps while Nos. 2-3 receivers Olabisi Johnson and Laquon Treadwell played 64. The Broncos have played backup corner Duke Dawson Jr. in the slot intermittently since Week 4, but is safety Will Parks (hand) returns to action off the bye, he might reclaim that role. Shadow matchup: Stefon Diggs vs. Chris Harris Jr. UPDATE (Nov. 16): Thielen is out.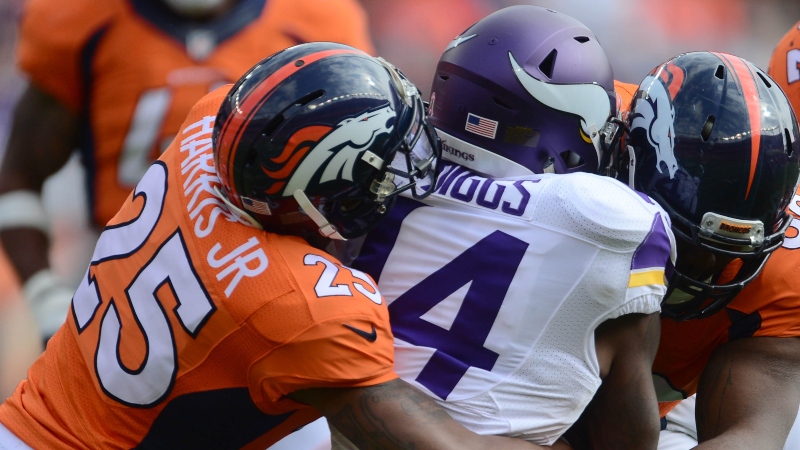 Saints at Buccaneers: 1 p.m. ET on Sunday
Saints WRs: Tre'Quan Smith returned to action last week, replacing Austin Carr in the slot. In Week 10, the Bucs moved Vernon Hargreaves III back to the perimeter and returned the benched M.J. Stewart to the slot. Perimeter corner Carlton Davis (hip) missed Weeks 9-10 and is uncertain for Week 11. The Bucs are in "nothing is working, let's try anything" mode. No team has allowed more fantasy points to wide receivers than the Bucs have. UPDATE (Nov. 16): Hargreaves has been released. Davis is in. CB M.J. Stewart (knee) is out.
Buccaneers WRs: Mike Evans leads the league with 1,553 air yards and yards after the catch combined, but in Week 5, the Saints held him to zero receptions on three targets. But No. 1 corner Marshon Lattimore (thigh) exited Week 10 with an injury and is uncertain for Week 11. In his absence, slot corner P.J. Williams moved to the perimeter and third-string rookie safety Chauncey Gardner-Johnson resumed his Weeks 7-8 role as a slot fill-in. If Lattimore plays, he will likely shadow Evans, but I'm skeptical he will suit up.Shadow matchup: Evans vs. Eli Apple. UPDATE (Nov. 16): Lattimore is out.
Jets at Redskins: 1 p.m. ET on Sunday
Jets WRs: For most of his routes, Robby Anderson is likely to avoid No. 1 cornerback Josh Norman, who last shadowed in Week 2. Coming out of the bye, the much-beleaguered corner cohort for the Redskins should be healthy. Jamison Crowder — quarterback Sam Darnold's top target — has a strong matchup in the slot against Fabian Moreau, who has allowed an 88% catch rate this year.
Redskins WRs: Rookie quarterback Dwayne Haskins will start the rest of the season, so expectations should be lowered for his receivers. But at least they have a good matchup. Left corner Trumaine Johnson (ankle, IR) is out for the year. Right corner Darryl Roberts (calf) missed Week 10 and seems doubtful. Backup corner Nate Hairston was benched last week for poor play. So the Jets are apparently rolling with untested third-stringers Arthur Maulet and Blessuan Austin on the perimeter. UPDATE (Nov. 16): WR Paul Richardson (hamstring) is out. Roberts is doubtful.
Falcons at Panthers: 1 p.m. ET on Sunday
Falcons WRs: Russell Gage has cemented his role as the slot receiver in the post-Mohamed Sanu era. In the past, Julio Jones has been shadowed by No. 1 cornerback James Bradberry (groin), but he missed Week 10 and is uncertain for this week. If Bradberry is out, I expect that the Panthers will play sides rather than shadow Julio with No. 2 corner Donte Jackson. UPDATE (Nov. 16): Bradberry (groin) is in, and I expect he will shadow Jones. Jackson (hip) is questionable. CB Ross Cockrell (quad) is out.
Panthers WRs: D.J. Moore has back-to-back 100-yard games and is starting to come on as the No. 1 receiver. Cornerback Desmond Trufant (toe) has been out since Week 6, but he practiced last week and was a game-time decision, so I expect he'll return to action this weekend. He's better than backup Blidi Wreh-Wilson, but before his injury, he allowed an NFL-high five touchdowns in Weeks 1-5. The Falcons are No. 32 in PFF coverage grade. UPDATE (Nov. 16): Trufant is in.
Texans at Ravens: 1 p.m. ET on Sunday
Texans WRs: Coming off the bye, the Texans might have a fully healthy receiver unit, but right now I'm pessimistic. Will Fuller (hamstring) hasn't played since Week 7, and Kenny Stills (groin) exited Week 9 early. Amazingly, Steven Mitchell Jr. played ahead of Keke Coutee after the Stills injury, and DeAndre Carter has maintained his tentative hold on the slot. If Fuller and Stills return, Mitchell and Carter will summarily be banished to the bench. But the matchup is tough: The newly formed three-headed corner unit of Jimmy Smith, Marcus Peters and Marlon Humphrey has played top-notch defense over the past two weeks. UPDATE (Nov. 16): Fuller is questionable. Stills is in.
Ravens WRs: Marquise Brown (ankle, thigh) played through his questionable tag last week without suffering a setback. Cornerbacks Bradley Roby (hamstring) and Lonnie Johnson Jr. (concussion) both missed Week 9 and are uncertain coming out of the bye. If they are out, safety Justin Reid will likely play as an exploitable substitute slot defender once again. UPDATE (Nov. 16): Brown, Roby and Johnson are all questionable. I'm tentatively projecting Brown in but Roby and Johnson out.
Cardinals at 49ers: 4:05 p.m. ET on Sunday
Cardinals WRs: For two straight weeks, the Cardinals have used a three-wide set as their base formation with Christian Kirk on the perimeter, although they haven't abandoned 10 personnel entirely, giving 26 snaps last week to Andy Isabella as the No. 4 receiver. Right cornerback Ahkello Witherspoon (foot) has been dealing with an injury since Week 4 and is uncertain for Week 11. Backup Emmanuel Moseley has played admirably in his stead. The 49ers are No. 1 in pass defense DVOA. UPDATE (Nov. 16): Witherspoon is in.
49ers WRs: The addition of Emmanuel Sanders and emergence of Deebo Samuel have pushed Kendrick Bourne and Dante Pettis into a rotation for the No. 3 role. Since returning from suspension, No. 1 cornerback Patrick Peterson has not been his former self, allowing a 79.2% catch rate, 284 yards and two touchdowns in four games. Slot corner Tramaine Brock (hamstring) missed last week and is uncertain for Week 11. Shadow matchup: Sanders vs. Peterson. UPDATE (Nov. 16): Sanders (ribs) was injured on Monday Night Football in Week 11 and did not practice this week. He's officially questionable, but I am pessimistic that he will play. In his absence, I expect Peterson will shadow Samuel. Brock is in.
Bengals at Raiders: 4:25 p.m. ET on Sunday
Bengals WRs: A.J. Green (ankle) is yet to play this season, and John Ross (clavicle, IR) has been out since Week 5. Both are doubtful for this weekend. In their place, Auden Tate and Alex Erickson will continue to see snaps. Slot cornerback Lamarcus Joyner (hamstring) seems likely to miss Week 11. As hard as this is to believe, backup Nevin Lawson might be worse. The Raiders have a bottom-five pass defense DVOA. UPDATE (Nov. 16): Green and Ross are out. Joyner is out.
Raiders WRs: Zay Jones has seemingly cemented his role as the No. 3 receiver. No. 1 corner Dre Kirkpatrick (knee) has been out since Week 7 and is yet to return to practice. Perimeter fill-in B.W. Webb is exploitable. The Bengals are earning their bottom-five PFF coverage grade. UPDATE (Nov. 16): Kirkpatrick is out.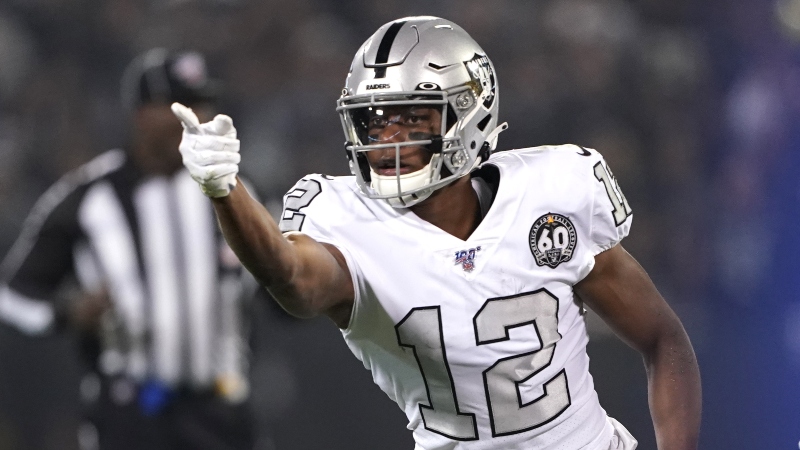 Patriots at Eagles: 4:25 p.m. ET on Sunday
Patriots WRs: In Week 9, Mohamed Sanu played a season-high 39 snaps on the perimeter. He still saw some interior snaps, but Julian Edelman remains the team's top slot receiver even with Sanu on the roster. Cornerback Avonte Maddox replaced Sidney Jones in the slot in Week 9 upon returning from a concussion injury, so the Eagles should have a fully healthy corner unit coming out of the Week 10 bye. UPDATE (Nov. 16): WR N'Keal Harry is in, although I expect him to play limited snaps.
Eagles WRs: DeSean Jackson (abdomen, IR) is out for the year, so backup Mack Hollins will likely resume his role as the irrelevant No. 3 receiver, although the recently re-signed Jordan Matthews might steal some snaps. The Pats are the league's most shadow-heavy team and rank No. 1 with a 93.0 PFF coverage grade.Shadow matchups: Alshon Jeffery vs. Stephon Gilmore, Nelson Agholor vs. Jonathan Jones, Hollins vs. Jason McCourty. UPDATE (Nov. 16): WR Alshon Jeffery (ankle) is out. 
Bears at Rams: Sunday Night Football
Bears WRs: With quarterback Mitchell Trubisky, all Bears receivers have diminished potential, and now they're facing a Rams defense that is No. 6 in PFF coverage grade. Shadow matchup: Allen Robinson vs. Jalen Ramsey. UPDATE (Nov. 16): All Bears WRs and Rams CBs are healthy. 
Rams WRs: Brandin Cooks (concussion) suffered his second head injury of the season in Week 8 and hasn't played since. Even without departed coordinator Vic Fangio, the Bears still have a top-10 pass defense DVOA. UPDATE (Nov. 16): Cooks is out.
Chiefs at Chargers: Monday Night Football
Chiefs WRs: Demarcus Robinson has played ahead of Mecole Hardman in three-wide sets for three consecutive games. As explosive as he is, Hardman is just a rotational player. No. 1 cornerback Casey Hayward Jr. didn't shadow Tyreek Hill last year, and I doubt he will this year. For the past three weeks, the Chargers have used Hayward almost exclusively at left corner. But in the slot, Tyreek will face All-Pro corner Desmond King II, and he'll still see Hayward for roughly half of his perimeter snaps, so this might be the toughest matchup Hill will have all year. UPDATE (Nov. 16): All Chiefs WRs and Chargers CBs are healthy.
Chargers WRs: Although Keenan Allen plays more in the slot than anywhere else, all Chargers receivers move across the formation regularly, and I expect that to continue in Week 11. Slot corner Kendall Fuller (thumb) has missed four straight games, and sixth-round rookie backup Rashad Fenton has been inconsistent in his place. UPDATE (Nov. 16): Fuller practiced fully on Thursday and Friday and is expected to return to action.
---
NFL Week 11 WR/CB Matrix
I take a cautious approach to injured players I expect to be questionable or out. If by the weekend it seems likely that they will play, I will include them in my updates.
Pos = left, right or slot WR or CB
Projected shadow matchups are CAPITALIZED
WR Exp = Wide Receiver Expectation: I rank from 3 to -3 how much I think we should adjust expectations for wide receivers based on matchups. 3: Large upgrade. 2: Medium upgrade. 1: Small upgrade. 0: No change. -1: Small downgrade. -2: Medium downgrade. -3: Large downgrade. 
Thanks to Scott Barrett for providing me with some of PFF's historical data.
How would you rate this article?
This site contains commercial content. We may be compensated for the links provided on this page. The content on this page is for informational purposes only. Action Network makes no representation or warranty as to the accuracy of the information given or the outcome of any game or event.