Koerner's Fantasy Football Tiers: Week 16 Rankings for QB, RB, WR, TE & More
Credit:
USA TODAY Sports. Pictured: Eagles RB Miles Sanders (26), Titans QB Ryan Tannehill (17), Dolphins WR DeVante Parker (11).
Sean Koerner sorts his Week 16 fantasy football rankings into tiers so you can kick playoffs off right.
Make all your start vs. sit decisions using his QB, RB, WR, TE, defense and kicker rankings below.
Week 16 means it's championship week! It also means no more thinking long-term. The only goal is to win this week and this piece will have very specific tips and tricks to give us every edge possible.
It's important to remember that these are essentially my initial rankings and they will change as we get more clarity on injury situations and as I have more time to analyze data, watch film, etc to ensure my projections are as sharp as possible. Be sure to check my updated rankings before making final sit/start decisions.
And if you're looking for streaming advice, you can find my favorite streamers here.
---
Go To: QB | RB | WR | TE | K | DEF
---
Week 16 Fantasy Football Tiers & Rankings
Quarterbacks
Tier 1
Lamar Jackson (@ CLE)
Jackson has been a league-winning pick this season as it's likely a high percentage of teams that drafted him made it to their fantasy football finals. He enters Week 16 in Tier 1 all by himself and will likely have another big game that should help a high percentage of the people that took him after the 10th round with a first place finish this year.
Tier 2
Deshaun Watson (@ TB)
Russell Wilson (vs. ARI)
Patrick Mahomes (@ CHI)
The tier just below Jackson all came at a much higher cost on draft day, but have all performed right in line with the high expectations we had for them this season. Watson and Wilson have dream Week 16 matchups, while Mahomes should be able to overcome a less than ideal one.
Tier 3
Drew Brees (@ TEN)
Dak Prescott (@ PHI)
Jameis Winston (vs. HOU)
Ryan Fitzpatrick (vs. CIN)
Matt Ryan (vs. JAX)
Ryan Tannehill (vs. NO)
Kyler Murray (@ SEA)
Back in Week 1, it would have been hard to believe I would be recommending Fitzpatrick and Tannehill to start for Championship week, but here we are. Fitz-magic always has a baked in low floor so we still need to treat him with some caution.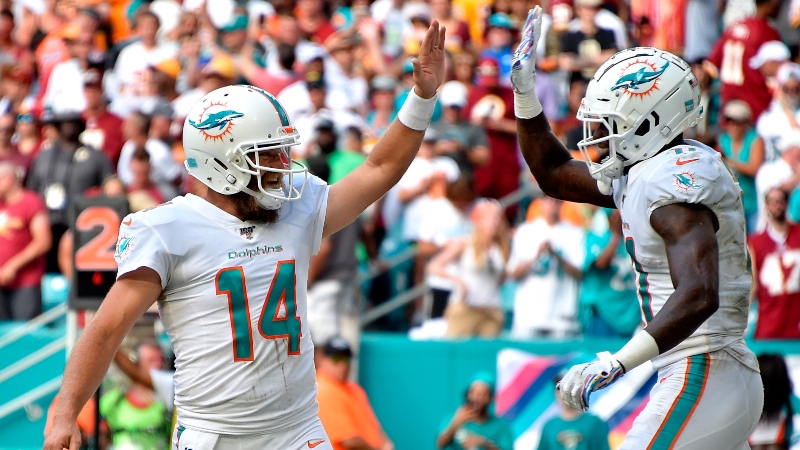 However,  his easy matchup against the Bengals, rushing ability, and chemistry with DeVante Parker right now make him a low end QB1 we can trust in a pinch this week.
Tannehill has been on fire and seems to have completely turned his career around on the Titans. It hasn't been a fluke as he is making smart decisions and fitting throws into tight windows. The only downside with him this week is it's a tough matchup against a Saints defense that could slow him down a bit.
Tier 4
Carson Wentz (vs. DAL)
Philip Rivers (vs. OAK)
Jimmy Garoppolo (vs. LAR)
Mitchell Trubisky (vs. KC)
Gardner Minshew (@ ATL)
Jacoby Brissett (vs. CAR)
Kirk Cousins (vs. GB)
This is the tier where I would start feeling uncomfortable having to start in a 12-team 1QB league. Each quarterback here either has a fairly low ceiling or a low floor except for Wentz. Wentz still possess the best floor/ceiling combo outside of the QB1 range this week, but with the Eagles' wide receiver depth decimated, we have to lower our expectations for him just a tad.
If you are a fairly big underdog this week and want to plug in a quarterback with a higher ceiling, go with either Trubisky or Minshew.
Both are in matchups where they may be forced to throw a bit more this week and both guys have a bit of a gunslinger mentality along with scrambling ability. This makes them capable of putting up top-10 numbers this week if they end up on the right side of variance this week.
Rivers and Garoppolo are better options if you are a massive favorite this week and just need a decent score from the quarterback position this week.
Tier 5
Aaron Rodgers (@ MIN)
Drew Lock (vs. DET)
It's well documented that Rodgers tends to struggle in Minnesota and this week there are certainly more compelling options at quarterback. This should be more of a run-heavy, low-scoring divisional affair, but I still consider Rodgers a high floor quarterback who you can start this week if he's been your quarterback all year. We just have to keep our expectations in check with him.
Tier 6
Andy Dalton (@ MIA)
Dwayne Haskins (vs. NYG)
Tom Brady (vs. BUF)
Jared Goff (@ SF)
I mentioned last week that Jared Goff predictably flops whenever he faces teams that generate pressure and can be very productive against teams that don't. Last week was no different. He struggled for about 57 minutes against the Cowboys, only to salvage on the final two drives of garbage time where Dallas played a soft prevent.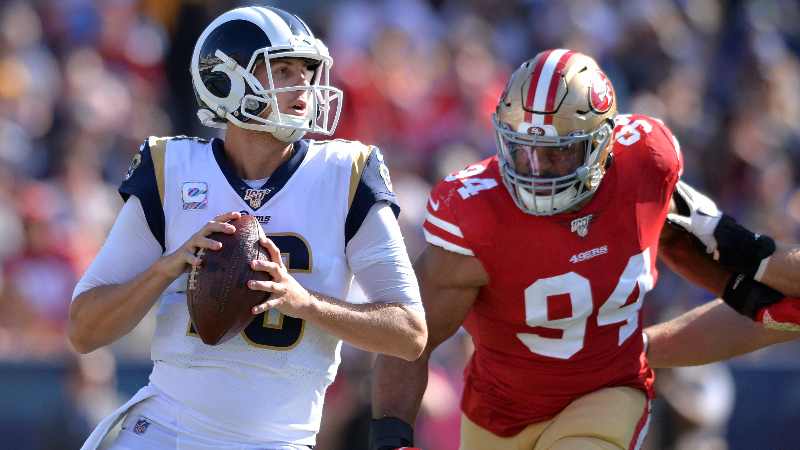 This week Goff is going up against the 49ers who rank third in generating pressure. Expect him to struggle again and not be able to bank on garbage time to bail him out. He's a sit this week.
Tier 7
Baker Mayfield (vs. BAL)
Josh Allen (@ NE)
Eli Manning (@ WAS)
Derek Carr (@ LAC)
Allen is a high variance player, which can make him more matchup proof than most passers. However, there is no reason to roll the dice on him against the Patriots. Yes, they have struggled more against mobile quarterbacks this season, but this spot is just too much for Allen to overcome.
Tier 8
Will Grier (@ IND)
David Blough (@ DEN)
Sam Darnold (vs. PIT)
Devlin Hodges (@ NYJ)
---
Running Backs
Tier 1
Christian McCaffrey (@ IND)
There's nothing left to say about CMC. If you were fortunate to draft him with the first or second pick you are likely playing in the finals this week. Fire him up as the undisputed RB1 this week. He is about four projected points higher than the next tier this week.
Tier 2
Ezekiel Elliott (@ PHI)
Chris Carson (vs. ARI)
Saquon Barkley (@ WAS)
Barkley has been a slight bust having been the No. 1 overall pick in  about 50% of drafts this season. However, in Week 15 he had a huge game when it mattered the most. It's likely that teams who own him made it to the semi-finals despite him, but he sure helped many teams advance to the finals this week.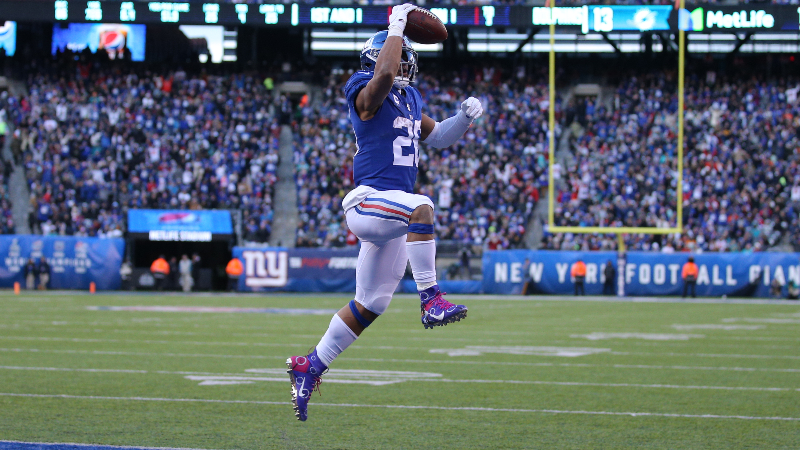 He admitted that his struggles since coming back from his high ankle sprain have been mental, not physical, so last week should boost his confidence to put up RB1 numbers this week. The Redskins have been torched by Aaron Jones and Miles Sanders the past two weeks, Barkley should make it two weeks in a row.
Tier 3
Leonard Fournette (@ ATL)
Dalvin Cook (vs. GB)
Derrick Henry (vs. NO)
The Vikings' running back situation is very murky to start the week and given they play Monday night I'm hoping we get more clarity by Friday.
There are many layers to a backfield's projections because each back's projection is correlated with the health/availability of the others so here are the tentative ranks for the different scenarios we could see this week.
All of these are pending the health and availability of Cook/Alexander Mattison, so expect even these to change once we have a a better idea.
Scenario  No. 1 (Cook/Mattison active)
Cook: RB6
Mattison: RB38
Scenario No. 2 (Cook active/ Mattison out)
Cook: RB6
Boone: RB40
Scenario No. 3 (Cook out/Mattison in)
Mattison: RB25
Boone: RB34
Scenario No. 4 (Cook out/Mattison out)
Boone: RB14
Abdullah: RB42
There are still many variables that will come into play so treat these as very tentative ranks.
Tier 4
Joe Mixon (@ MIA)
Alvin Kamara (@ TEN)
Nick Chubb (vs. BAL)
Miles Sanders (vs. DAL)
Last Saturday, I tweeted out to send me sit/start questions while I could answer them rapid fire for 30-45 minutes. The most common player I was asked about was Sanders. For nearly every question involving him, I had Sanders ranked higher and recommended him.
I figured that most people must have been concerned with Boston Scott's breakout game in Week 14. While I wouldn't be expecting a repeat performance of 32.2 fantasy points this week, I think we saw that Sanders' lead back role is in tact and Scott is simply a dynamic change of pace back in the mold of Darren Sproles.
The Eagles have been leaning more on their two tight ends and two running backs in the passing game, which is why both backs saw six-plus receptions last week. Jordan Howard's looming return is the only thing that could send Sanders down a tier or two.
We can handle a two-back committee from the Eagles, but once they return to a potential three-back committee is when it becomes a headache again. For now I'm assuming Howard will miss this week and Jay Ajayi is really more of an emergency back at this point.
Tier 5
Melvin Gordon (vs. OAK)
Josh Jacobs (@ LAC)
James Conner (@ NYJ)
Aaron Jones (@ MIN)
Todd Gurley (@ SF)
Austin Ekeler (vs. OAK)
Mark Ingram (@ CLE)
Devonta Freeman (vs. JAX)
Jacobs managed to gut out a 26-touch performance last week despite his dislocated shoulder in the Raiders' farewell game in Oakland.
With the Raiders all but eliminated from the playoffs it would not make sense to have their first-round pick take too many more unnecessary hits when he is clearly less than 100%. I'm still treating him as a RB2 this week, but he could have a lower floor than we realize.
Tier 6
Marlon Mack (vs. CAR)
Kenyan Drake (@ SEA)
Le'Veon Bell (vs. PIT)
Phillip Lindsay (vs. DET)
Adrian Peterson (vs. NYG)
Drake is the clear lead back for the Cardinals despite David Johnson being at or near 100% right now. I can't remember the last time we had a first-round back (top five even!) become nothing more than a change of pace back who is only good for five touches a game.
It says a lot about Drake being a perfect fit for this offense and he erupted for a 22/137/4 game on the ground last week. The Seahawks are pretty banged up on defense this week so look for him to keep it rolling. He has looked like a textbook league-winning pick up so far.
Peterson should see at least 20 touches this week in a game the Redskins are actually favored in. Positive game scripts are always going to favor AP, but we saw him run a route on 35% of drop backs last week and caught as many passes (3) as Chris Thompson.
His increase in passing game usage helps elevate his floor/ceiling combo even more this week.
Tier 7
Raheem Mostert (vs. LAR)
Devin Singletary (@ NE)
Kareem Hunt (vs. BAL)
Sony Michel (vs. BUF)
Mostert maintained the lead back role for the 49ers last week with 15 touches to Breida's six, and Coleman's four. His ECR was way too high last week at RB17, I had him at RB27.
Despite his fast start, he didn't do much in the second half and ended up as the RB26 for Week 15. I think the one thing people are overlooking is his lack of passing game involvement. All three backs split receiving downs fairly evenly and Kyle Juszcyk sees the most passing game work for a full back in the league.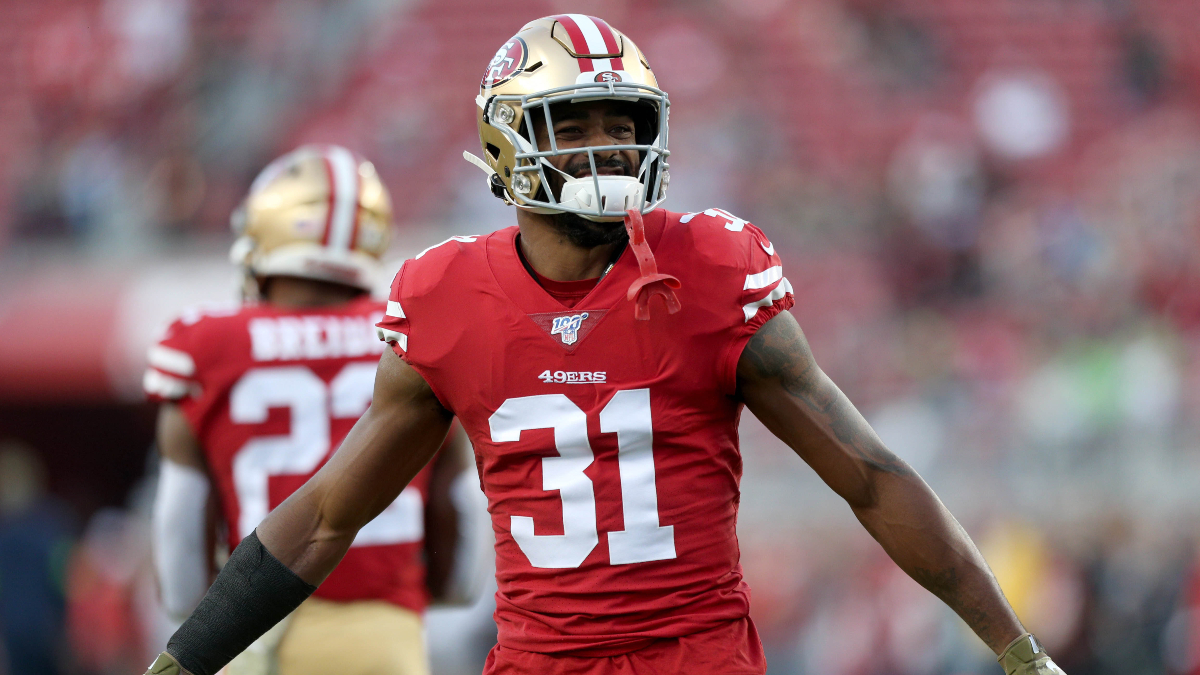 It leaves Mostert as a very touchdown dependent option in PPR formats. He's been able to muster up five touchdowns in the past four games, but if he can't keep up that unsustainable scoring production, I'm afraid he could cost people who are starting him over guys like Mack, Bell and AP this week.
Tier 8
Patrick Laird (vs. CIN)
David Montgomery (vs. KC)
Tarik Cohen (vs. KC)
Carlos Hyde (@ TB)
James White (vs. BUF)
Hyde is coming off a big game where he went 26/104/1 on the ground, but this week is a tough spot for him. The Bucs are an extreme pass funnel defense so I would expect them to lean on Hyde less and have Watson drop back to pass at a much higher rate this week. He's more of a RB3/Flex play this week with even less value in full PPR formats.
Tier 9
Ronald Jones (vs. HOU)
Boston Scott (vs. DAL)
Latavius Murray (@ TEN)
Royce Freeman (vs. DET)
Peyton Barber (vs. HOU)
Jamaal Williams (@ MIN)
Duke Johnson Jr. (@ TB)
---
Wide Receivers
Tier 1
Michael Thomas (@ TEN)
Tier 2
DeAndre Hopkins (@ TB)
Julio Jones (vs. JAX)
Tyreek Hill (@ CHI)
Davante Adams (@ MIN)
This tier is pretty much comprised of four mini tiers as each receiver is projected about one point above the guy directly below him. There isn't much else to say about this tier other than all four absolutely need to be in your lineup this week.
Tier 3
Keenan Allen (vs. OAK)
D.J. Moore (@ IND)
DeVante Parker (vs. CIN)
All three wide receivers in this tier offer extremely high floors to go along with decent ceilings. You can't ask for a better combo for championship week. It's important to note that Parker's only dud in the last 11 games was when he was knocked out of the game with a concussion in Week 14.
Based on his ADP of #220 overall, you could make the case that DeVante Parker was the league-winning pickup at receiver this year. A great game this week will only strengthen that case.
Tier 4
Terry McLaurin (vs. NYG)
Courtland Sutton (vs. DET)
Amari Cooper (@ PHI)
Tyler Lockett (vs. ARI)
Allen Robinson (vs. KC)
Julian Edelman (vs. BUF)
Kenny Golladay (@ DEN)
A.J. Brown (vs. NO)
Haskins had a breakout game in Week 15, which makes it easier to trust McLaurin as a solid WR2 going forward. However, with the Charmin soft matchup against the Giants this week, who just let Jenoris Jenkins go, he is elevated to WR1 status.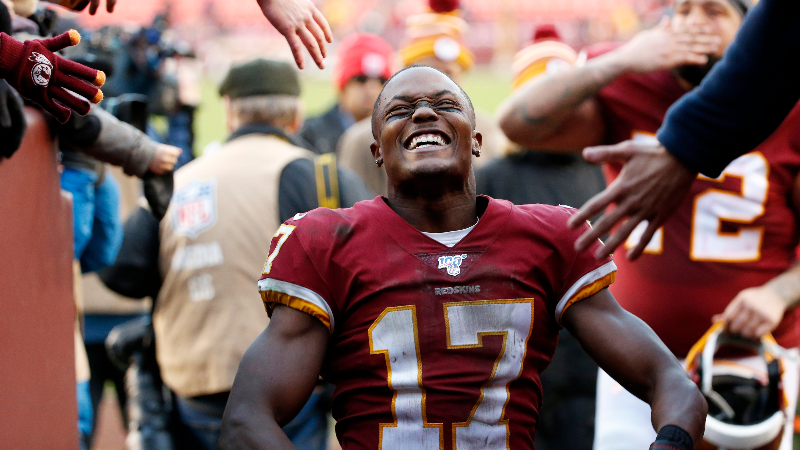 Sutton gets a similar boost this week as the Lions haven't been able to contain any receiver lately, let alone one of Sutton's caliber. I think we see get a ceiling game from him this week.
Brown is another rookie wide receiver that has seen his stock skyrocket over the past few games. He will face a tough test this week against Marshon Lattimore and the Saints. He is a bet on talent WR2 play this week, but we should lower our expectations for him just a tad.
Tier 5
Stefon Diggs (vs. GB)
Robert Woods (@ SF)
Cooper Kupp (@ SF)
D.K. Metcalf (vs. ARI)
Will Fuller (@ TB)
Jarvis Landry (vs. BAL)
T.Y. Hilton (vs. CAR)
Metcalf has yet to have a true ceiling game that I believe he has the potential of. A 7-140-2 type of game is what I have in mind and a matchup against the Cardinals is one where the chances of him hitting it are elevated.
He is a mid range WR2 this week with WR1 overall upside. Fuller is another high-ceiling receiver who is in a spot to have a monster game. The Bucs are the premier draw for WRs and he appeared to be fully recovered from the hamstring injury that cost him Week 14.
He ran a route on 94% of the dropbacks and didn't suffer any setbacks. Fire him up with confidence for your finals matchup.
Tier 6
Christian Kirk (@ SEA)
Mike Williams (vs. OAK)
Odell Beckham (vs. BAL)
Deebo Samuel (vs. LAR)
Emmanuel Sanders (vs. LAR)
Breshad Perriman (vs. HOU)
Tyler Boyd (@ MIA)
Anthony Miller (vs. KC)
Michael Gallup (@ PHI)
Perriman stepped up big in Mike Evans' absence with a massive 5/113/3 game in Week 15. It looks like the Bucs will be without Chris Godwin as well this week, which puts Perriman in the WR2/3 discussion.
A word of caution though. Perriman is sort of a one trick pony as the field stretcher in this offense. He should see around eight targets, but the majority will be high risk/reward deeper throws.
It makes his floor very low so I would be cautious with him. If you are a large favorite this week you should be making plans to start a safer option even if they are ranked a few slots lower than him come Saturday.
If you are a decent sized underdog this week, Perriman is the ideal WR3 to have in there as his ceiling (like we saw in Week 15) is massive and can help you overcome an opponent who has a stacked team.
Tier 7
Adam Thielen (vs. GB)
John Brown (@ NE)
Marquise Brown (@ CLE)
Zach Pascal (vs. CAR)
Chris Conley (@ ATL)
Robby Anderson (vs. PIT)
Sterling Shepard (@ WAS)
Danny Amendola (@ DEN)
Curtis Samuel (@ IND)
Dede Westbrook (@ ATL)
There is a chance that D.J. Chark is able to return this week. If he does, it would send both Conley and Westbrook down a Tier. Sterling Shepard erupted for a 9/111/0 game against the Dolphins last week. I want to urge to not just plug him in there this week expecting another big game.
The Giants offense can't support more than 2 pass catchers to have fantasy relevant games each week. Next week it could be Shepard who is the odd man out behind Golden Tate and Darius Slayton.
To make matters worse, it's possible that Evan Engram is able to return this week which is going to make the game of musical chairs in predicting which 1-2 pass catchers that will be the odd man out even tougher.
Tier 8
Darius Slayton (@ WAS) +
Juju Smith-Schuster (@ NYJ)
Jamison Crowder (vs. PIT) –
Justin Watson (vs. HOU) +
James Washington (@ NYJ) +
Russell Gage (vs. JAX) –
Sammy Watkins (@ CHI) +
Cole Beasley (@ NE) –
Golden Tate (@ WAS)
Brandin Cooks (@ SF)
High ceiling (+)
High floor (-)
There is a ton of upside in this tier for your WR3/Flex slot.
As always, I think you should make your decisions in this range based on if you are a favorite/underdog. The idea behind going for high floor if you are a favorite is simply to avoid a dud (think of an NFL team up big switching to a conservative run-first game plan).
If you are an underdog, you want to take on more high risk/reward type players to give yourself a better chance (think of a no huddle offense throwing it deep). We are always at the mercy of variance, but these are strategies we can use it to our advantage.
Tier 9
John Ross (@ MIA) +++
Corey Davis (vs. NO) +
Tyrell Williams (@ LAC) +
Diontae Johnson (@ NYJ) –
Keelan Cole (@ ATL) –
Larry Fitzgerald (@ SEA) –
Steven Sims (vs. NYG) –
Randall Cobb (@ PHI) –
Ross is the ultimate upside flier this week. Weeks 1 & 2 seem like a distant memory when he went for 7/158/2 & 4/112/1 to start the season. His Week 2 performance against the 49ers is even more impressive in hindsight. Since returning from IR he has seen his routes per dropback slowly climb up from 38% to 58%.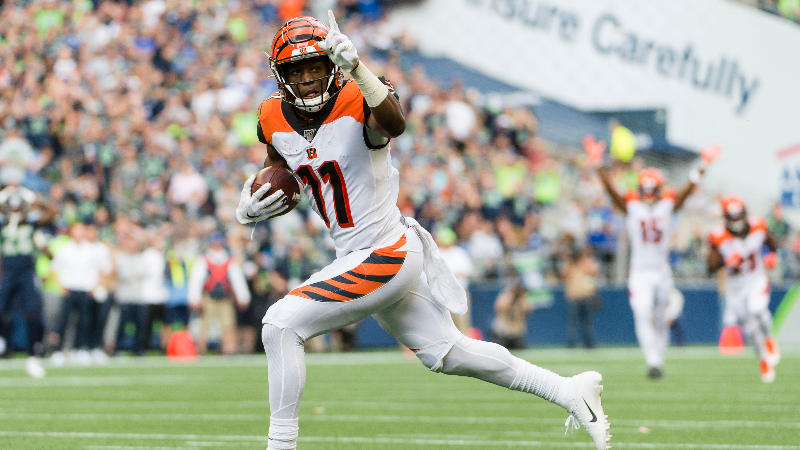 We can expect him to continue to regress up to the 80% rate he was averaging before the injury. If he comes anywhere close to that number this week it will put him in position to have a monster game against the Dolphins. I would use him if I was a 20-point underdog in a deeper league looking for a spark.

The exact opposite type of play from this tier would be Steven Sims. His underlying usage has been promising and I would say is the most likely receiver (Tier 8 or below) to catch four or more passes this week. He doesn't offer much of a ceiling, but if you are a massive favorite looking for a handful of guaranteed points from your WR4/Flex spot, he is your guy.
---
Tight Ends
Tier 1
George Kittle (vs. LAR)
Travis Kelce (@ CHI)
Kittle and Kelce notched 10-plus receptions each last week and were the No. 1 and No. 2  tight ends, respectively. Deciding whether to take a tight end in the first three rounds or wait was a tough decision during draft season, but it appears like going either way could have worked.
It's the tight ends that were targeted in the middle of the draft Howard, Engram, Henry, Cook was the danger zone that likely set teams back who went that route.
Tier 2
Darren Waller (@ LAC)
Zach Ertz (vs. DAL)
Tier 3
Austin Hooper (vs. JAX)
Tyler Higbee (@ SF)
Hooper was eased back into the lineup Week 14 with a 69% routes run on drop backs rate, then saw that spike up to 78% last week. That is right in line with the rate he ran before his knee injury. We can expect him to return to that pre-injury form this week.
It's worth noting that he was inches short of scoring last week. He made a shoe-laces catch that was ruled a touchdown, but was then overturned.
Last week I emphasized that Higbee's hot streak was not a fluke and as long as Gerald Everett continues to miss time we can bank on mid TE1 numbers from him.
Tier 4
Jared Cook (@ TEN)
Hunter Henry (vs. OAK)
Mark Andrews (@ CLE)
Jack Doyle (vs. CAR)
Evan Engram (@ WAS)
Engram could return this week, but since it is championship week, we can't just throw him in there and hope for the best. I will be monitoring his status closely this week and if there is any word that he may be limited or eased back in it could send him down a tier or two.
Tier 5
OJ Howard (vs. HOU)
Dallas Goedert (vs. DAL)
With Evans and Godwin out, it could be Howard who benefits the most this week. After an erratic first half of the season, Howard has turned his season around in the second half.
He's seeing a very steady rate of 65% routes run each week that has resulted in three-straight games of four or more catches. It's given him a bankable floor, but with so many targets up for grabs this week his ceiling is sky high this week and makes him a low end TE1 this week.
Tier 6
Michael Gesicki (vs. CIN)
Jacob Hollister (vs. ARI)
Greg Olsen (@ IND)
Gesicki and Hollister are both solid streaming options at tight end this week. Both tight ends run a route on 80-90% of the drop backs, which gives them the perfect floor/ceiling combo we want from cheaper tight ends. Olsen's return is a tricky one to project this week with Ian Thomas playing well in his absence.
I could see the Panthers opting to give Thomas more snaps this week as they plan for 2020 and beyond or let Olsen dominate snaps in what could be the final two games of his career. It's a dicey situation you may want to avoid if you can.
Tier 7
Cameron Brate (vs. HOU)
Jason Witten (@ PHI)
Noah Fant (vs. DET)
Jonnu Smith (vs. NO)
Kyle Rudolph (vs. GB)
Brate is another Bucs pass catcher who should be more involved with both Evans and Godwin out this week. He's likely the most widely available tight end of this group and worth a flier if you are desperate.
---
Kickers
Tier 1
Justin Tucker (@ CLE)
Jason Myers (vs. ARI)
Tier 2
Wil Lutz (@ TEN)
Ka'imi Fairbairn (@ TB)
Younghoe Koo (vs. JAX)
Matt Gay (vs. HOU)
Chase McLaughlin (vs. CAR)
Michael Badgley (vs. OAK)
Dan Bailey (vs. GB)
Harrison Butker (@ CHI)
Ryan Succop (vs. NO)
Robbie Gould (vs. LAR)
Tier 3
Kai Forbath (@ PHI)
Jake Elliott (vs. DAL)
Randy Bullock (@ MIA)
Jason Sanders (vs. CIN)
Nick Folk (vs. BUF)
Mason Crosby (@ MIN)
Brandon McManus (vs. DET)
Tier 4
Dustin Hopkins (vs. NYG)
Chris Boswell (@ NYJ)
Daniel Carlson (@ LAC)
Josh Lambo (@ ATL)
Zane Gonzalez (@ SEA)
Austin Seibert (vs. BAL)
Joey Slye (@ IND)
Greg Zuerlein (@ SF)
Aldrick Rosas (@ WAS)
Eddy Pineiro (vs. KC)

Tier 5
Steven Hauschka (@ NE)
Matt Prater (@ DEN)
Sam Ficken (vs. PIT)
---
Defenses
Tier 1
Denver Broncos (vs. DET)
Pittsburgh Steelers (@ NYJ)
New England Patriots (vs. BUF)
Tier 2
Indianapolis Colts (vs. CAR)
San Francisco 49ers (vs. LAR)
Washington Redskins (vs. NYG)
Baltimore Ravens (@ CLE)
Kansas City Chiefs (@ CHI)
Atlanta Falcons (vs. JAX)
Seattle Seahawks (vs. ARI)
New York Jets (vs. PIT)
Houston Texans (@ TB)
New York Giants (@ WAS)
Tier 3
Detroit Lions (@ DEN)
New Orleans Saints (@ TEN)
Dallas Cowboys (@ PHI)
Minnesota Vikings (vs. GB)
Los Angeles Chargers (vs. OAK)
Miami Dolphins (vs. CIN)
Tier 4
Cincinnati Bengals (@ MIA)
Jacksonville Jaguars (@ ATL)
Philadelphia Eagles (vs. DAL)
Buffalo Bills (@ NE)
Oakland Raiders (@ LAC)
Los Angeles Rams (@ SF)
Tampa Bay Buccaneers (vs. HOU)
Carolina Panthers (@ IND)
Green Bay Packers (@ MIN)
Chicago Bears (vs. KC)
Tennessee Titans (vs. NO)
Tier 5
Arizona Cardinals (@ SEA)
Cleveland Browns (vs. BAL)
How would you rate this article?