Grading Week 16 NFL WR/CB Matchups: Kenny Golladay vs. Chris Harris Jr.
Credit:
USA TODAY Sports. Pictured: Detroit Lions WR Kenny Golladay (19), Denver Broncos CB Chris Harris Jr. (25).
Detroit Lions WR Kenny Golladay is likely to draw shadow coverage from Denver Broncos CB Chris Harris Jr.
Matthew Freedman breaks down that matchup and grades every wide receiver/cornerback matchup for Week 16.
Wide receiver-cornerback showdowns might be the most important individual matchups in football.
In this piece, I leverage snap data from Pro Football Focus to project NFL Week 16 WR/CB matchups.
For more, see the FantasyLabs Matchups page, where we provide basic and advanced data — including fantasy and red-zone performance — for each offensive skill-position player based on his matchup.
Also consult our Week 16 injury report for status updates on receivers and corners. I will update my WR/CB projections over the weekend.
Let's start with this week's featured matchup and then run through all the potential shadow matchups and sort through my matrix featuring every matchup.
WR/CB Matchup of the Week
Lions WR Kenny Golladay vs. Broncos CB Chris Harris Jr.
Despite playing with three quarterbacks this year, having the unimaginative Darrell Bevell as his offensive coordinator and ranking No. 25 in the league with just 100 targets, Golladay is the only wide receiver this season with at least 1,000 yards and 10 touchdowns receiving.
He's a top-eight fantasy receiver, and in 2020 fantasy drafts, Golladay seems unlikely to be selected any later than Round 3. Nearing the end of his third NFL season, Babytron is all grown up — and that means he's likely to get shadow coverage this week from Harris.
Despite spending most of his career in the slot and being named to the All-Pro team for his work there in 2016, Harris has transitioned to the perimeter and regularly shadowed opposing No. 1 wide receivers in new head coach Vic Fangio's defensive scheme this season.
Despite having a career-low 66.4 PFF coverage grade, Harris has yet to allow 100 yards receiving and has yielded 75 just twice in 2019. He's still one of the best cover men in the league.
Last week, the Broncos — for just the third time this year — played him exclusively at left corner instead of letting him roam, but I suspect that had more to do with a desire not to leave Harris on an island with speedy, secondary-shredding wide receiver Tyreek Hill than with a long-term shift in Harris' defensive deployment.
In his shadow coverage against larger No. 1 receivers like Golladay, Harris has done well.
Allen Robinson (Week 2): 57.1% of routes | 2-13-0 receiving, four targets
Davante Adams (Week 3): 67.9% of routes | 2-36-0 receiving, two targets
Odell Beckham Jr. (Week 9): 79.1% of routes | 4-81-0 receiving, four targets
Keenan Allen (Week 13): 48.5% of routes | 2-16-0 receiving, two targets
DeAndre Hopkins (Week 14): 74.6% of routes | 4-52-0, five targets
With third-string rookie quarterback David Blough slinging the rock, Golladay had an underwhelming 44-yard performance last week.
Against Harris, Golladay might be in for his second straight disappointing game.
Potential Week 16 Shadow Matchups
Here are the other shadow matchups I'm projecting.
Saturday, 4:30 p.m. ET
Bills WRs John Brown, Cole Beasley & Isaiah McKenzie vs. Patriots CBs Stephon Gilmore, J.C. Jackson & Joejuan Williams: The Pats are the league's most shadow-heavy team, and they are No. 1 in PFF coverage grade. In Week 4, Gilmore covered Brown on 96.2% of his routes and held him to a manageable 4-68-0 receiving on nine targets.
But the Pats might be down two starters. Perimeter cornerback Jason McCourty (groin) has played just four snaps over the past month, and slot cornerback Jonathan Jones (groin) suffered an injury near the end of Week 14. Both are uncertain to play with the shortened week.
But Jackson is one of the league's best backup corners and has held receivers to a 49.0% catch rate for his career. And although Joejuan Williams is just a rookie, he's a talented second-rounder with great size and physicality.
Even without two starting corners, the Pats will probably be fine.
UPDATE (Dec. 20): Jones is out. McCourty practiced all week on a limited basis and is officially questionable. If he plays, Williams will return to the bench.
Patriots WR Mohamed Sanu vs. Bills CB Tre'Davious White: For the first six games of the season, the Bills used White almost exclusively at left corner, but since then he has typically shadowed opposing No. 1 receivers and made his case to be counted among the best cover men.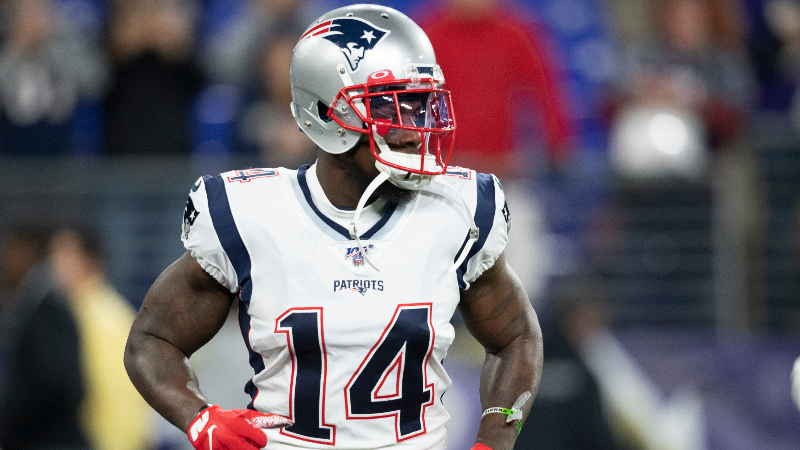 Last week, though, the Bills used him mainly at left corner, and White rarely plays in the slot, so it's doubtful that he will shadow No. 1 receiver Julian Edelman, and you have to wonder if the Bills will think it's worthwhile to have him tail a perimeter receiver as mediocre as Sanu.
Since entering the league in 2017, White has allowed a 52.7% catch rate. If he actually shadows Sanu, the veteran will be lucky to get more than two receptions.
Saturday Night Football
49ers WR Emmanuel Sanders vs. Rams CB Jalen Ramsey: Sanders is coming off his worst game with the 49ers — a paltry nine-yard showing — and even though he has flashed his playmaking ability with two 100-1 games since joining the team in Week 8, he has been inconsistent.
The Rams have used Ramsey heavily in perimeter shadow coverage since acquiring him in Week 7, and even though the Rams suffered a devastating 44-21 loss to the Cowboys, Ramsey held Amari Cooper to just 19 yards on two targets. For his career, Ramsey has held receivers to a low 56.3% catch rate.
Sunday, 1 p.m. ET
Falcons WR Julio Jones vs. Jaguars CB A.J. Bouye: Julio erupted last week against the stout 49ers secondary with a 13-134-2 performance, which gives him a real shot to extend his NFL-record streak of five straight 1,400-yard seasons into a sixth year.
In the post-Jalen Ramsey era, the Jags have heavily used Bouye in shadow coverage, but Bouye is not the player he once was. The No. 1 corner has steadily declined over the past few years, dropping from an elite 89.9 PFF coverage grade in 2016 to a below-average 57.2 mark this year.
Despite their formerly fearsome reputation, the Jags are No. 29 in PFF coverage grade.
Titans WR A.J. Brown vs. Saints CB Marshon Lattimore: In Week 15, Brown joined the near-elite cohort of rookie wide receivers to have three 100-yard games over the past decade — a group that includes Odell Beckham Jr., Julio Jones and Michael Thomas, among others — and since the Week 11 bye, he has amassed a 20-447-4 receiving line in four games. He looks like the clear No. 1 receiver for the Titans and is an emerging star.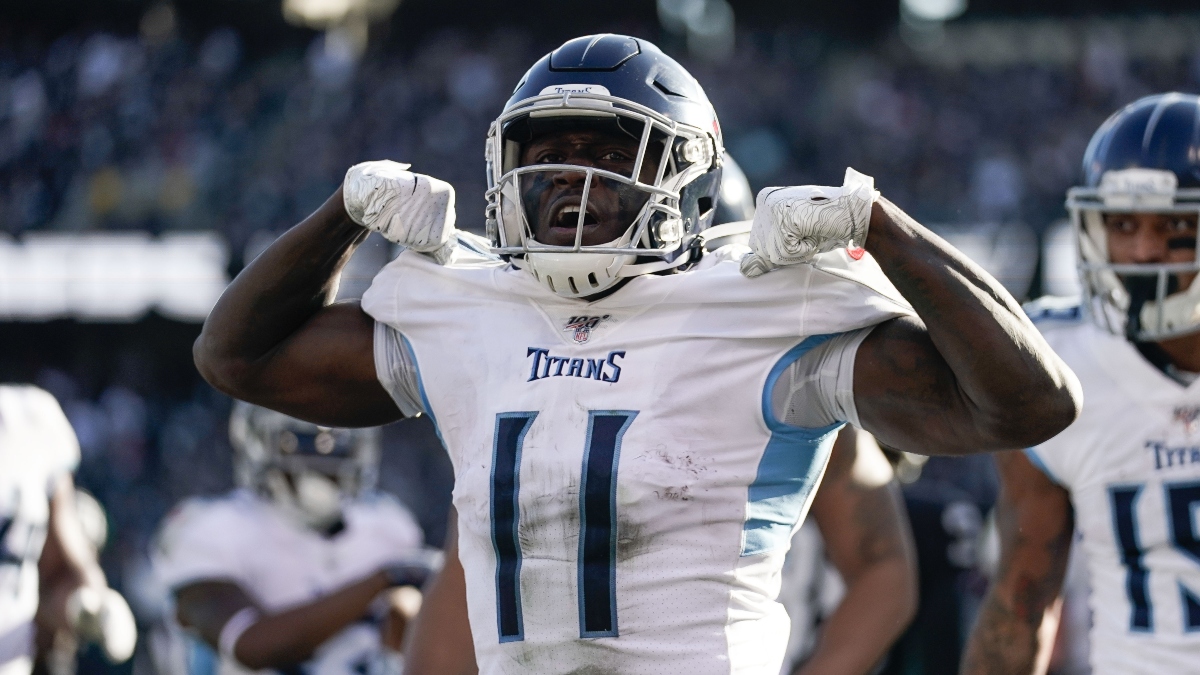 While the Saints have occasionally played sides, for the most part they have used Lattimore in shadow coverage this year. After a horrible first three weeks to the season, Lattimore has held opposing receivers to a catch rate of just 46.3%.
Panthers WR D.J. Moore vs. Colts CB Rock Ya-Sin: Since the Week 7 bye, Moore has emerged as not just the top option on his team but a full-fledged No. 1 wide receiver in the league, putting up a 53-749-3 receiving line on 84 targets in eight games. With his usage and production, Moore seems unlikely to go no later than Round 2 in 2020 dynasty startup drafts, and I think he might be worth a Round 1 selection.
It's hard to know what the Colts will do on defense because cornerbacks Kenny Moore II (ankle) and Pierre Desir (groin) are dealing with injuries, but since the Week 6 bye, the team has relied much more on shadow coverage, with Ya-Sin usually manning up against larger receivers. A physical second-round rookie, Rocky has some long-term potential and is no pushover, but he is simply outclassed against by Moore.
UPDATE (Dec. 20): On Monday Night Football in Week 15, Ya-Sin played primarily at right corner, and I expect the Colts will play sides against the Panthers. But because Moore lines up heavily wide to the left, he will still face Ya-Sin most. This is still likely to be a de facto shadow matchup.
Colts WR Zach Pascal vs. Panthers CB James Bradberry: The Panthers don't always use Bradberry in shadow coverage, but he tends to tail big No. 1 perimeter receivers: Mike Evans twice, Julio Jones twice, DeAndre Hopkins, Terry McLaurin and D.K. Metcalf. Pascal isn't in those receivers' class, and the Panthers might not have Bradberry shadow Pascal if true No. 1 wide receiver T.Y. Hilton (calf) suits up.
But Hilton isn't the type of player Bradberry typically shadows, and Hilton's availability for Week 16 is uncertain. If Hilton is out, I expect Bradberry will be on Pascal. For his career, Bradberry has allowed a catch rate of just 59.5%.
UPDATE (Dec. 17): Hilton returned to action on Monday Night Football in Week 15, and with Hilton back, Pascal played often in the slate. As a result, I doubt Bradberry will shadow Pascal in Week 16.
Dolphins WR DeVante Parker vs. Bengals CB Willie Jackson III: For most of the year, the Bengals have played sides, but without No. 1 corner Dre Kirkpatrick (knee, IR), they have used Jackson in perimeter shadow coverage.
So I expect he will match up with Parker, who has finally broken out as a fifth-year veteran. In his five full games without teammate Preston Williams (knee, IR), Parker has accumulated a 29-526-4 receiving line and looked every bit like a No. 1 receiver.
Sunday, 4:05 p.m. ET
Broncos WR Courtland Sutton vs. Lions CB Darius Slay: Sutton has had a few dud performances in his breakout campaign, but last week he crossed the 1,000-yard threshold for the year and had a season-high 10 targets. He's the clear No. 1 receiver for the Broncos.
He has an uncertain matchup against Slay, who — like Sutton — can be inconsistent. Against the Vikings in Week 14, he yielded an 8-128-0 receiving line on 10 targets. But for his career, Slay has allowed a catch rate of just 57.6%. Sutton could go off against Slay, but he could also struggle.
Raiders WR Tyrell Williams vs. Chargers CB Casey Hayward Jr.: It's been an up-and-down campaign for Williams. He scored a touchdown in each of his first five games, but over the past month he's gone for just 8-107-1 receiving on 17 targets. He's ostensibly the team's No. 1 wide receiver, but the passing offense really runs through tight end Darren Waller.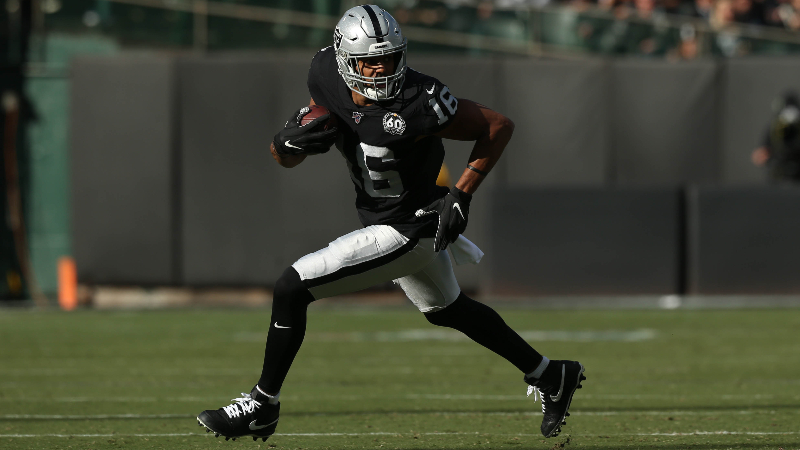 Against the Chargers in Week 10, Williams was 3-25-0 receiving on five targets, and I don't expect he'll have an easier go of it this week. In their last matchup, Hayward played exclusively at left corner, but he has shadowed No. 1 receivers in each of the past four games, and he's one of the league's best shadow corners.
Since joining the Chargers in 2016, Hayward has held opposing receivers to a 52.9% catch rate.
Sunday, 4:25 p.m. ET
Seahawks WR D.K. Metcalf vs. Cardinals CB Patrick Peterson: A three-time All-Pro defender, Peterson has massively regressed this season. After serving his six-game suspension, Peterson masqueraded as a shadow corner for a month, but he played so poorly that the Cardinals changed their tactics and just planted him at left corner.
Last week, though, the Cardinals used him to shadow Odell Beckham Jr., and Peterson played well: OBJ had only 66 scoreless yards on 13 targets. Pleased with his recent performance, the Cardinals might use him in shadow coverage again this week. Peterson rarely plays in the slot, so he probably won't tail No. 1 wide receiver Tyler Lockett, but he could follow Metcalf on the perimeter, just as the comparable Jalen Ramsey did in Week 14.
Metcalf had just 36 yards on two receptions and four targets last week, but for the season he has six touchdowns, and he has a shot to hit 1,000 yards. He could have a big game against Peterson.
NFL Week 16 WR/CB Matrix
I take a cautious approach to injured players I expect to be questionable or out. If by the weekend it seems likely that they will play, I will include them in my updates.
Pos = left, right or slot WR or CB
Projected shadow matchups are CAPITALIZED
WR Exp = Wide Receiver Expectation: I rank from 3 to -3 how much I think we should adjust expectations for wide receivers based on matchups. 3: Large upgrade. 2: Medium upgrade. 1: Small upgrade. 0: No change. -1: Small downgrade. -2: Medium downgrade. -3: Large downgrade.
Thanks to Scott Barrett for providing me with some of PFF's historical data.
How would you rate this article?