Freedman: The Championship-Bound Fantasy Football Teams That Beat Lamar Jackson in Week 15
Credit:
Evan Habeeb-USA TODAY Sports. Pictured: Baltimore Ravens quarterback Lamar Jackson (8).
Ravens QB and likely MVP Lamar Jackson has looked unbeatable for the entire NFL season.
Some fantasy teams, however, were up to the task when it mattered most.
It's Week 16: The fantasy football championship. It you're playing for a title this week, congratulations.
And if you're playing for a title because you beat Ravens quarterback Lamar Jackson in Week 15, take a bow. You are a fantasy icon.
Last week, Jackson went off on Thursday Night Football with a five-touchdown performance that saw him break Michael Vick's single-season rushing record.
In standard scoring, he put up a massive 37.1 points — his highest total of the season. It was a legendary performance.
And if you had the misfortune to face him, you probably assumed all of Friday and Saturday and maybe most of Sunday that your team was already dead.
And some of you were right. Lamar's epic TNF output was just too great for you to overcome.
But others of you somehow — against the odds — played like champions, and you took down the 2019 NFL MVP.
In the responses to this tweet, you'll find the championship-bound teams that beat L-Jax in Week 15.
If you made it to the fantasy Super Bowl by beating a team with Lamar Jackson in Week 15, respond with a screenshot of your lineup.

I need to see what your galaxy-defying team looks like.

— Matthew Freedman (@MattFtheOracle) December 17, 2019
Be sure to take a look for yourself, but here are some of my thoughts on these heroic lineups.
Quarterback-Wide Receiver Stacks
A good number of winning lineups had a quarterback-wide receiver stack, usually one of these three.
Drew Brees-Michael Thomas: Got to love that Monday Night Football performance.
Ryan Tannehill-A.J. Brown: Congrats to everyone who grabbed Tanny on waivers in Week 7. He's been a league-winning producer.
Jameis Winston-Breshad Perriman: I doubt I would have had the stomach to start Perriman, but everyone who did was richly rewarded.
First-Round Running Backs
Quite a few of the Jackson-defeating lineups had one of three first-round backs.
Christian McCaffrey: This guy has been winning fantasy matchups on his own all season. It was only appropriate for him to come through with a big game this week.
Saquon Barkley: 2019 has been a disappointment for Barkley, but this past week, he redeemed himself by doing against the Dolphins what everyone does.
Ezekiel Elliott: Zeke picked a perfect time for his first 100-yard, multi-touchdown game of the season.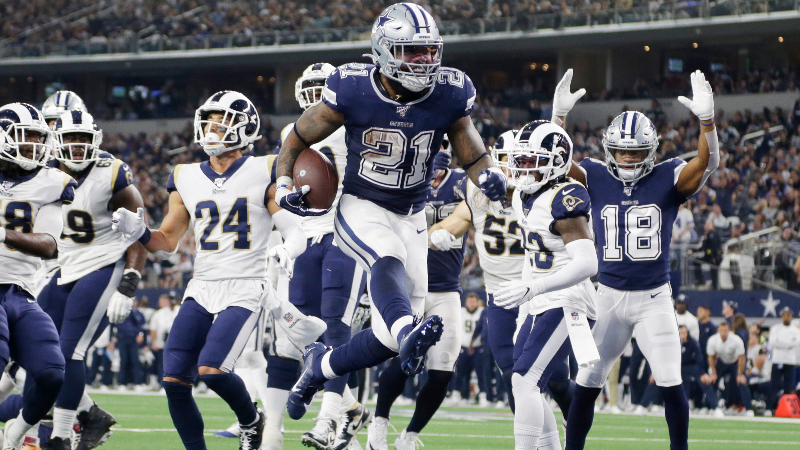 Mid-Round Running Backs
Most winning teams had multiple big-game backs: It would have been hard to beat Jackson without two-plus players at the position going off.
And paired with one of the aforementioned first-round backs, a lot of teams had one of these three mid-round producers.
Kenyan Drake: As disappointing as Drake was early in the season with the Dolphins, with the Cardinals he has flashed legitimate lead-back ability.
Miles Sanders: When the Eagles drafted the rookie in the second round, performances like his 172-yard, two-touchdown onslaught were what they had in mind.
Chris Carson: Facing the Panthers and their No. 32 run defense DVOA and freed from teammate Rashaad Penny's shadow, Carson had a season-best 137-yard, two-touchdown game.
Late-Round Wide Receivers
While some of the winning lineups had big-name receivers like Julio Jones and Tyreek Hill, others got some productive performances from wide receivers drafted in the later rounds, the most notable of whom (except for the previously mentioned Perriman) were these three guys.
DeVante Parker: In his five full games without teammate Preston Williams, Parker has 526 yards and four touchdowns and has looked like a true No. 1 receiver.
Terry McLaurin: This past week, McLaurin's #ShowerNarrative with college teammate and NFL quarterback Dwayne Haskins finally paid off.
Jamison Crowder: With a season-best 6-90-2 receiving line, Crowder was the Week 15 slot equivalent of Baby Yoda.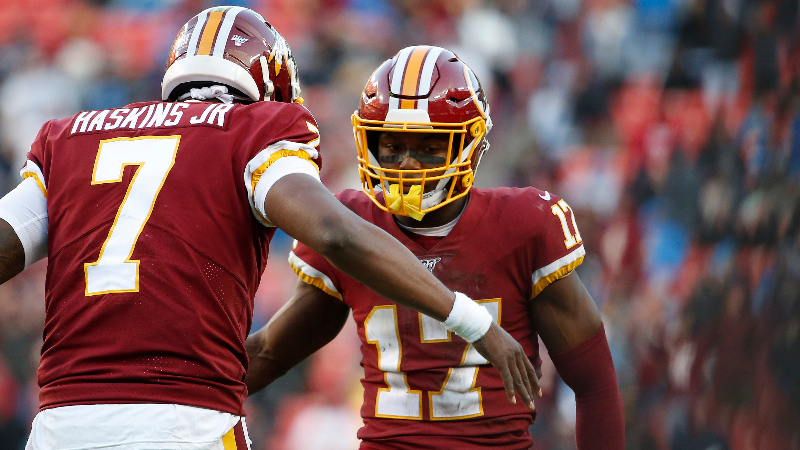 Waiver Wire Tight Ends
At tight end, I noticed quite a bit of two players who started the season on waivers in the vast majority of leagues.
Darren Waller: Although he plays tight end, the Raiders passing offense flows through Waller, and last week he racked up his position-leading fourth 100-yard game of the year.
Tyler Higbee: In his third consecutive game without former No. 1 tight end Gerald Everett, Higbee had his third straight 100-yard showing.
Defense Matters
The Patriots defense? Of course the Patriots defense. You can't take down the king without enlisting the aid of the evil empire.
How would you rate this article?