Will JuJu Smith-Schuster Thrive in Fantasy Football Despite Extra Attention This Season?
Credit:
Photo credit: Charles LeClaire-USA TODAY Sports. Pictured: JuJu Smith-Schuster
JuJu Smith-Schuster is obviously a great wide receiver, but what should we expect in 2019 without Antonio Brown by his side?
It's officially time to start fantasy football prep. I'll be answering the biggest questions heading into the 2019 season; this is part of that series.
---
JuJu Smith-Schuster has already achieved a lot during his short NFL career. Overall, he joins Randy Moss, Josh Gordon, Mike Evans, Amari Cooper, Larry Fitzgerald, Sammy Watkins and DeAndre Hopkins as the only wide receivers ever with at least 2,000 receiving yards before turning 23.
Good things have generally happened whenever the Steelers have gotten the ball in JuJu's hands.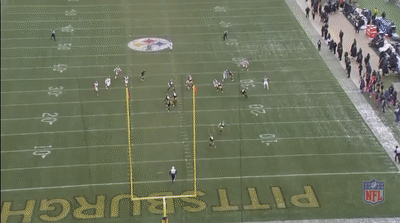 What follows is a breakdown on what makes Smith-Schuster such a great receiver, as well as what to make of his fantasy football value entering 2019.
JuJu has already established himself as one of the league's best receivers
Smith-Schuster will have to live without opposing defenses continuously doing everything in their power to contain Antonio Brown in 2019. AB's presence undoubtedly helped open things up for JuJu over the past two seasons.
We do have three games of evidence that Smith-Schuster is capable of producing at a high level without AB…
Week 16, 2017: 6 receptions-75 yards-1 TD (WR4)
Week 17, 2017: 9-143-1 (WR1)
Week 17, 2018: 5-37-1 (WR28)
…but his days of consistently seeing single coverage are likely over.
The good news for Steelers fans and future JuJu fantasy football investors is that he's already proven to be ready to compete against the best cornerbacks the game has to offer. Smith-Schuster will continue to see plenty of cozy matchups from the friendly confines of the slot, but the idea that he can't win on the outside against elite cornerbacks simply hasn't been true to this point.
Five players have produced double-digit games with 100-plus receiving yards during their first two seasons over the past 50 years:

Odell Beckham Jr.
Randy Moss
T.Y. Hilton
Torry Holt
…
JuJu Smith-Schuster 👀 pic.twitter.com/fNfvMXHhrr

— Ian Hartitz (@Ihartitz) June 19, 2019
It's also reasonable to expect Smith-Schuster to maintain his elite production thanks to his ability to rack up yards after the catch. He finished last season with a better separation rate and averaged more yards after the catch than AB, so it seems likely that the Steelers will continue to feature him on plenty of high-percentage pass plays.
To reiterate: JuJu is a problem in the open field with the ball in his hands.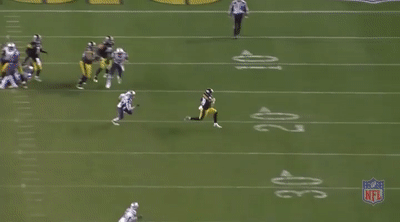 The biggest obstacle for Smith-Schuster could ultimately be whether or not his quarterback is still capable of achieving elite production without the assistance of AB.
Big Ben has a (brief but) not great history without AB
Ben Roethlisberger and Co. have won three of four games without Brown on the field since he became a featured receiver in 2011. This team success is good, but Big Ben hasn't demonstrated much upside without his No. 1 sidekick in this minute sample size:
Week 10, 2012 vs. Kansas City Chiefs: 9-18, 84 yards, 1 TD-0 INT
2015 Divisional Round at Denver Broncos: 24-37, 339 yards, 0 TD-0 INT
Week 16, 2017 at Houston Texans: 20-29, 226 yards, 2 TD-0 INT
Week 17, 2018 vs. Cincinnati Bengals: 31-45, 287 yards, 1 TD-1 INT
Note that Roethlisberger was injured shortly after the start of halftime in the Chiefs game and didn't return.
Quarterbacks performing worse without their No. 1 receiver on the field shouldn't be that shocking. With that said, the Roethlisberger-Brown connection wasn't quite what it used to be in 2018, as AB averaged only 7.7 yards per target — tied with Cole Beasley for the 49th-highest mark among 82 receivers with at least 50 targets.
Brown led the league in touchdowns (15) … and interceptions (11) thrown his way last season. Not all of these picks should be blamed on AB, but there's support behind the idea that the league's longtime No. 1 quarterback-receiver connection was on the decline prior to the front office shipping Brown off to the Raiders.
The good news for Steelers Nation is that the offense boasts a number of talented options capable of helping pick up the slack, and Smith-Schuster has the making of their next great No. 1 wide receiver.
Smith-Schuster is appropriately valued in fantasy football
The Steelers have an abundance of available targets this season, but we probably shouldn't expect too much of a target share increase for JuJu. This is because he was already being fed more than pretty much anyone else in the league last season:
Only Travis Kelce (12 targets), Michael Thomas (14) and DeAndre Hopkins (15) had more pass-game opportunities inside the 10-yard line than Smith-Schuster (11) last season.

Only six players averaged double-digit targets per game in 2018: Davante Adams (11.3), AB (11.2), Julio Jones (10.6), Smith-Schuster (10.4), Odell Beckham Jr. (10.3) and Hopkins (10.2)

Brown (168 targets) and Smith-Schuster (166) were already two of only five receivers with more than 160 targets last season.
A 'worst-case scenario' for JuJu would likely still yield more than enough targets for him to work as a WR1 in fantasy football.
The rest of the Steelers offense has potential, but the next top-three weapons in the passing game are far from proven commodities …
Vance McDonald has flashed big-play ability that's rare to see at the tight end position. Still, he's never played 16 games in a season since entering the league in 2013. McDonald set fairly modest career-high marks last season in targets (72), receptions (50) and receiving yards (610), but he appears to have good enough chemistry with Big Ben to maintain efficiency with a heightened workload.
Ben Roethlisberger adjusted yards per attempt to tight ends during his career (min. 10 targets):

1. Vance McDonald (8.54) 👀
…
Ladarius Green (8.21)
Heath Miller (7.88)
Matt Spaeth (7.42)
Xavier Grimble (7.34)
Jesse James (7.22)
David Johnson (7.14)
David Paulson (6.5) pic.twitter.com/heGjJ4fnvE

— Ian Hartitz (@Ihartitz) March 31, 2019
Donte Moncrief has a chance to work his way onto the field in 2-WR sets if he can regain some of the talent he demonstrated in Indianapolis with Andrew Luck. Moncrief scored 15 touchdowns in 34 games with Luck compared to seven touchdowns in 38 games with anybody else under center.
The potential big winner in the AB trade from a fantasy perspective is 2018 second-round pick James Washington. The former Oklahoma State field-stretcher needs some refinement on his routes and hands, but he has the type of jump-ball and big-play ability that's needed more than ever for the Steelers.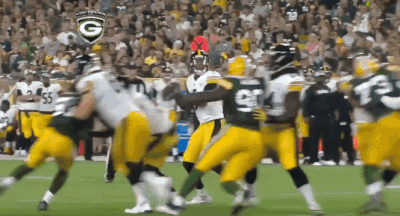 Smith-Schuster finished last season as the PPR WR8 thanks to both his own high-level ability as well as a hefty workload that consisted of a whopping 166 targets. He's appropriately priced as the PPR WR6 in average draft position, as each of DeAndre Hopkins, Davante Adams, Michael Thomas, Julio Jones and Odell Beckham Jr. have fewer questions about the potential upside of their overall offense.
There simply isn't a big history of receivers with huge workloads who don't ultimately provide solid fantasy football value.
37 WRs have had at least 160 targets in a season since 2010:
Top-12 PPR WRs: 36 (97%)
Top-8 PPR WRs: 31 (84%)
Top-5 PPR WRs: 27 (73%)
Top-3 PPR WRs: 17 (46%)

WRs with at least 160 targets in 2018:
Julio Jones
Davante Adams
JuJu Smith-Schuster
DeAndre Hopkins
Antonio Brown

— Ian Hartitz (@Ihartitz) July 6, 2019
JuJu possesses one of the wide receiver position's highest floor/ceiling combinations as Big Ben's featured No. 1 wide receiver. Don't be afraid to draft him sooner rather than later in fantasy drafts of all shapes and sizes.
How would you rate this article?