Kadarius Toney Dynasty Fantasy Outlook, Draft Profile & Prop Bets
Credit:
Kevin C. Cox/Getty Images. Pictured: Kadarius Toney
How does former Florida wide receiver Kadarius Toney project at the next level?
NFL draft and fantasy football analyst Matthew Freedman takes a closer look.
Find his analysis of Toney's NFL draft and dynasty prospects.
Kadarius Toney Draft Profile
| | |
| --- | --- |
| Position | WR |
| School | Florida |
| Height | 6′ |
| Weight | 193 |
| 40-Yard Dash | 4.41 |
| 2021 Age | 22 |
| Class | SR |
| Recruit. Stars | 3-4 |
| Projected Round | 1-2 |
---
Kadarius Toney Draft Props
While I rely on my own research, I also take a "wisdom of the crowds" approach by surveying an index of mock drafts. I find that these drafts — created by experts with established records of success — collectively give me a good sense of the realistic range of outcomes for what we might see with any given player or pick.
In not one of the surveyed mocks has Toney gone ahead of Ja'Marr Chase, DeVonta Smith or Jaylen Waddle. Even at his price of +10000 at FanDuel, Toney is unbettable as the top pass catcher in the class.
But he has a decent chance to go on Day 1. In 45% of indexed mocks, Toney is slated in Round 1. Ever since evaluation season started in February, Toney's draft stock has hovered right on the borderline of the top 32 (per Grinding the Mocks).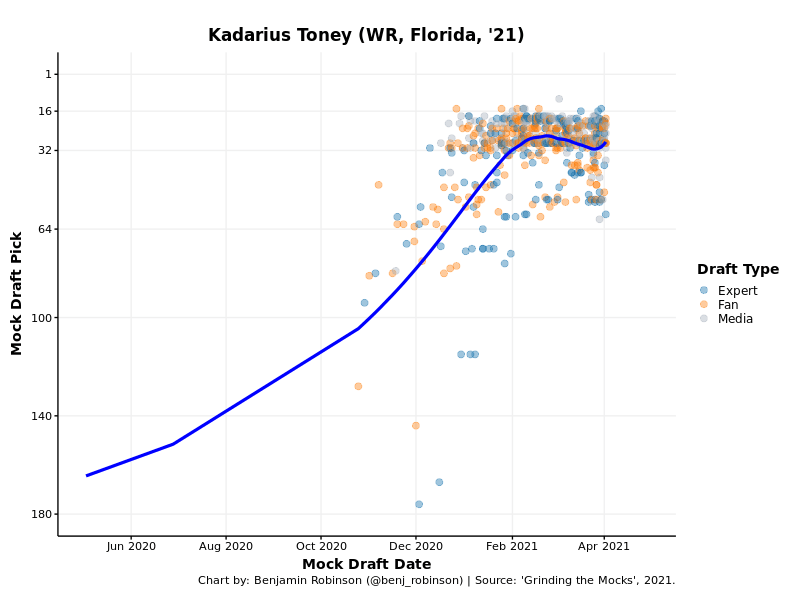 In my post-free agency mock draft, I have only four wide receivers going in Round 1, but it's likely I'll have five in my next update and Toney is a top candidate for inclusion.
As I noted in my Elijah Moore prospect profile, the over/under in the prop market for wide receivers in Round 1 is 4.5, and a significant arbitrage opportunity is available if you have access to multiple books.
I lean toward the over: More than 4.5 receivers go in Round 1 in 65% of the indexed mocks, so I have arbitraged the prop to free roll that side of the bet.
NFL Draft Prop Arbitrage …

Round 1 WRs Over/Under 4.5
– Over: -133 at FOX Bet
– Under: +190 at BetMGM

I prefer the over, so I'm betting 1.9 units at FB & 1.0 units at MGM to lock in a risk-free bet on that side.

If under hits, break even. If over hits, win +0.43 units.

— Matthew Freedman (@MattFtheOracle) April 10, 2021
If Toney finds his way into Round 1, the over will probably hit.
Dynasty Fantasy Analysis
Shall we come in hot? Sure, let's live as if this might be the last article ever published on the internet.
Toney looks exactly like the wide receivers teams draft on Day 1 and then cut unceremoniously two years later.
Sharp dynasty investors prioritize rookie receivers who break out early in college and then leave early for the NFL. Toney didn't break out until his senior season. LOLz.
So Toney isn't beloved in the analytics community, and yet he's also not esteemed by the film hive because he's an incredibly inconsistent and unnuanced route runner who plays to his smallish size, especially against physical and bigger cornerbacks.
As a receiver, Toney is limited. In his two final seasons he played the supermajority of snaps in the slot, and when he ventured to the outside, he was literally a negative in the passing game (per SIS, 2021 Sports Info Solutions Football Rookie Handbook.
Slot Route Rate
Total Points
With his speed and agility, Toney is incredibly strong against the softness of zone coverage, but he is much less capable against man defense (per SIS).
Positive Play Rate
Zone Coverage: 85%
Man Coverage: 58%
But aside from all of that, HE'S THE PERFECT PROSPECT.
I'm joking. He has more flaws.
In college, Toney regularly dealt with availability issues. As a freshman, he missed three games and struggled to play through others because of injuries. As a sophomore, he was suspended for the season opener because he pulled an airsoft rifle in an on-campus altercation and then a couple of months later was discovered to have an assault rifle in his car during a traffic stop.
And then as a junior he missed six games because of a shoulder injury.
Basically, he's Percy Harvin with some off-the-field issues and without 70% of the factors that made Harvin a special prospect.
And I mean that sincerely.
With his strong pro day performance, Toney exhibited some Harvin-esque athleticism.
Freakiest thing I saw at Florida's pro day: Kadarius Toney's first broad jump came in somewhere around 10'4" but he jumped up and out, not straight out. He got way high in the air and still cleared 10 ft. Once he did drill correctly, hit 11'4"

— Jeremy Fowler (@JFowlerESPN) April 1, 2021
And you see on the field that Toney is not a technician, but he's an explosive and agile playmaker capable of turning any touch into a touchdown against the most staggering of odds.
Thinking about submitting a piece to my editor that is just screen grabs of Kadarius Toney highlights with the caption "Kadarius Toney really scored on this play" pic.twitter.com/ppHLycD0zc

— Luke Johnson (@ByLukeJohnson) April 5, 2021
Every week of the 2020 season, Toney seemed to accomplish some athletic feat that made TV announcers verbally ooze themselves with the utmost of superlatives.
And he did it as a receiver, runner, and returner. Like Harvin, Toney gets his touches in a variety of ways. He is unapologetically versatile — for better and worse.
For the first three years of his college career, Toney was a general utility player who contributed in a part-time hybrid role as a wide receiver, running back, wildcat quarterback and return man.
2017 (8 games): 15-152-0 receiving | 14-120-1 rushing
2018 (12 games): 25-260-1 receiving | 21-240-0 rushing
2019 (7 games): 10-194-1 receiving | 12-59-0 rushing
In the worst of ways, he was a jack-of-some-trades offensive weapon, a gadget player. I say this without hyperbole: As a receiver, he was more valuable running the ball out of the backfield and on end-arounds than catching it.
For his first three seasons, Toney was an absurdist caricature of Antonio Callaway. A dual-threat high-school quarterback, Toney was always likely to have a steep learning curve as he transitioned to receiver in college. Unfortunately, he took almost the entirety of his undergraduate tenure to trek the hill of competence.
Finally, though, Toney reached the summit and transformed himself into a full-time all-around producer in his 11-game final season.
Receiving: 70-984-10
Rushing: 19-161-1
Punt Returning: 11-139-1
Kick Returning: 7-155-0
That Toney is athletic and versatile are undeniable factors in his favor. If you look at him only at his best, he can warrant some all-time comps.
But do not forget: Toney is a final-year breakout entering the NFL only after his collegiate eligibility has expired. That is a massive mark against him, even with his expected draft capital.
You add on top of that the fact that Toney is less of a football player and more of an athlete, and his most realistic comp all of a sudden seems much less enticing.
NFL Prospect Comp: Dante Pettis with more rushing production but a later college breakout and less returning production.
---
Matthew Freedman is 1,018-828-37 (55.1%) overall betting on the NFL. You can follow him in our free app.
How would you rate this article?
This site contains commercial content. We may be compensated for the links provided on this page. The content on this page is for informational purposes only. Action Network makes no representation or warranty as to the accuracy of the information given or the outcome of any game or event.